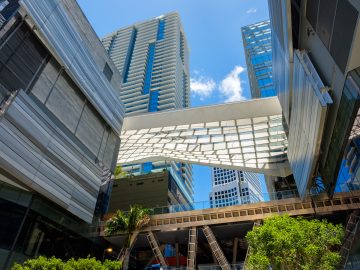 Royal Caribbean plans $300M office development at PortMiami
Royal Caribbean Cruises Ltd. scored approval for a $300 million office complex at PortMiami. The Miami-based cruise company is looking to build a new headquarters that would house 4,200 employees, an increase from its current 2,200 employees. Royal Caribbean hired HOK, a St. Louis, Missouri-based architecture firm, to design a 10-story, 350,000-square-foot office building on the site of the company's…
Miami looks at filling large bayfront FEC Slip
Maurice A. Ferré Park downtown has been saved from commercial development and Miami commissioners are now considering filling in the large FEC Slip next door to expand the waterfront park's footprint. Scores filled City Hall on April 11 with pleas to support commission Chairman Ken Russell's resolution to protect the park and slip from commercial development. The resolution ran counter to an active…
Miami-Miami Beach transit link advances, with water options
For more than five years now, Miami Commissioner Wifredo "Willy" Gort has pushed for studies and programs to improve public transportation on the area's waterways. Mr. Gort believes that with Biscayne Bay at our doorstep, and the long and winding Miami River and tributaries extending waterways inland, this area is ripe for more waterborne transportation services. Countless times he has…
Bridge replacement to cause three-year detour
Work is to begin the week of May 20 on a $67.2 million Florida Department of Transportation project to construct a new bridge to replace the 90-year-old bascule bridge along Southwest First Street from Southwest Second to Seventh avenues. During the three years of construction, the bridge will be closed and a detour will be in place. Besides replacing the bridge, the project will provide new bridge…
How much longer before we actually start to build Baylink?
No Miami-Dade corridor suffers more hours of intense traffic than the Mac-Arthur Causeway between Miami and Miami Beach. Think weekends and late nights, not just rush hours. Nowhere is need greater for rapid transit. So Miami commissioners' vote last week to join Miami Beach and Miami-Dade County to create cross-bay rapid transit was on point. That need has been apparent for decades. After…
US retailers have closed more stores this year than all of 2018
Retailers sent out 2018 on an optimistic note, with strong consumer spending and an unexpected comeback of brick-and-mortar stores. But 5,994 stores have closed in the U.S. so far this year, more than last year's total of 5,864, the Wall Street Journal reported, citing data from Coresight Research. "I don't think malls are out of the woods yet," S&P Global Ratings analyst Ana Lai told the Journal.
Is artificial intelligence overhyped in real estate?
A suite of new software applications will ease the leg work of tracking down the next big real estate play, but technological advances still can't replicate a broker's human touch. "At the end of the day, the big national players are calling you guys," Jason Doyle, CEO of zoning software developer Gridics, said to a group of commercial brokers, lenders and other real estate executives at a CCIM luncheon on…
Video: Crescent Heights implodes South Beach building
With the pull of a lever and 235 pounds of explosives, developer Russell Galbut imploded a building – paving the way for his mixed-use residential tower in South Beach. The former South Shore Hospital building at 5th and Alton is now demolished. Galbut and Terra developer David Martin, who recently joined the project, counted down before a crowd that included Miami Beach Mayor Dan…
A Tale of Two Downtowns. In Miami, Modern Retail Meets Shuttered Storefronts
In downtown Miami, start at Biscayne Boulevard and walk west on Flagler Street. A perfume shop gives way to a restaurant with outdoor seating and a discount luggage shop. Several jewelry shops later, you'll have seen shuttered storefronts and plenty of graffiti, some invited. After going past the historic Alfred I. DuPont Building and the vacant Macy's, head north, and the Virgin MiamiCentral station…
Judge bars Miami Beach from turning off water at properties owing short-term rental fines
The water will keep flowing in a single-family home in Miami Beach at the center of the city's crackdown on short-term rentals. Following an evidentiary hearing earlier this month, Miami-Dade Circuit Judge Jennifer Bailey upheld an earlier ruling that Miami Beach cannot shut water off at 3098 Alton Road because its owner owes $201,500 in illegal short-term rental fines.
Foreign Investors Continue to Prefer Industrial Assets, Latest AFIRE Survey Reveals
Once again in 2019, foreign investors in U.S. commercial real estate indicated they would most like to increase their allocations to industrial properties, according to this year's survey by the Association of Foreign Real Estate Professionals (AFIRE), an organization promoting cross-border real estate investment. Seventy-nine percent of 2019 survey participants said they would like to increase their…
The Fed: Is the rent too high? : Way more than 525,600 minutes of rent data
If you're a renter and have been complaining that your rent keeps rising, the statistics seem to back you up. In the graph, the purple line shows the evolution of rents in the U.S. as a whole, while the light blue line shows the general price level (CPI). Clearly, rents are increasing faster than prices overall. Of course, location matters for anything related to housing, and there are large regional differences: Rents in…
Move to cut business rent tax continues
The 2019 Florida legislative session is setting up to be busy for bills affecting the commercial real estate sector. Topping the industry's priority pile again this year is further reducing the business rent tax on commercial leases. Florida is the only state that imposes a sales tax on commercial rent and operating expenses, collectively known as CAM (common area maintenance). Because CAM is generally inclusive…
Big data could save physical retail. But privacy concerns are bubbling.
Concerns about consumer privacy are not just flourishing online but in brick and mortar stores as well. Retailers are already using Bluetooth technology to detect customers' smartphones when they walk into stores and hit them with promotions while they shop, and companies are also marketing facial-recognition technology to them, describing it as a way to flag shoplifters, according to the Wall…
Overtown apartments, retail store sell for $14 million
Six properties in Miami's Overtown neighborhood just sold for $14 million, signaling growing interest in real estate in the area. A company tied to Thomas Neary and Arthur Bartholomew of Fort Lauderdale-based Walnut Street Capital bought the properties spanning 2.2… 701 Northwest 5th Avenue, 451 Northwest 7th Street,  458 Northwest 7th Street, 448 Northwest 7th Street, 400 Northwest 7th Street…
Plans revealed for PMG's apartment tower at 400 Biscayne
Property Markets Group is seeking approval for a mixed-use tower at 400 Biscayne Boulevard in downtown Miami. The New York-based developer filed plans for a 49-story, 882,000-square-foot building with 646 residential units, nearly 48,000 square feet of office space, about 3,000 square feet of retail, car and bicycle parking. PMG Greybrook 400 Biscayne Trustee LLC is going before Miami's Urban…
Smoking mad: MedMen sues Miami Beach citing marijuana dispensary restrictions
MedMen is launching a legal attack on medical marijuana dispensary restrictions in Miami Beach, just as doubts are brewing about the financial health of the Culver City, California-based cannabis company. In a Miami-Dade lawsuit filed last month, MedMen alleges Miami Beach violated state law when the city commission adopted an ordinance in February that prohibits two or more dispensaries from…
Four red flags to spot before a construction dispute
Construction projects hold a considerable amount of potential and promise for project owners; you are bringing to life a new space, from the ground up. Whether it's residential or commercial space, you are ultimately creating a new, engaging environment. However, construction projects also bring several moving parts that may result in a significant dispute. As the project owner or property manager…
Video: Hartman Simons Partner Jeremy Cohen Discusses Retail from a Lawyer's Perspective
Jeremy Cohen, Partner at the law firm Hartman Simons, and the host of America's Commercial Real Estate Show Michael Bull review the retail market from a lawyer's viewpoint. They discuss trends in tenant defaults and mixed use developments, as well as the benefits and detriments of developing with a partner. There is a concentration on the e-commerce driven trends and effects on brick and mortar…
Maurice A. Ferré Park to remain green space with no commercial development
At least one large Miami public park will not see any new large-scale commercial development. In a meeting that drew pleas from residents of downtown and even former Miami Mayor Maurice Ferré, Miami commissioners voted unanimously on Thursday to keep the 30-acre Maurice A. Ferré Park in downtown Miami as a public park. The vote came after commissioner Joe Carollo sought bids to build…
Who owns this North Palm Beach river? Homeowners fight back against developer
A group of owners of properties along a river in North Palm Beach are fighting back against a company's claim that it owns the submerged land behind their properties. For more than 20 years, dozens of owners have received demands from North Palm Beach Properties Inc., which wants to sell off the Earman River it says it has owned since it began building homes there in the 1950s. But the…
New concepts join food hall at Virgin MiamiCentral, other South Florida restaurant news
Virgin MiamiCentral released new food and beverage concepts opening soon at its food hall, according to a release. The recently re-branded station, at 600 Northwest First Avenue, will include: World Famous House of Mac, a food truck concept; Bucks Crepes, a crepe and galette restaurant from France; Patagonia Flavors by Delicatessen Patagonia, an Argentinian cafe; Bio Bio Gelato; Art de…
Main types of construction defects that may lead to lawsuits
There are construction projects occurring every day in Florida. Many homes, offices, apartment buildings and other buildings are being built and there are many designers, construction companies, suppliers and construction workers that are involved in these projects. There are also many different phases of the project and different companies that complete these various phases. This means that there are…
Renderings revealed: Beckham group's Miami stadium
Inter Miami CF, the Major League Soccer team owned by David Beckham, Marcelo Claure, Jorge and Jose Mas and their partners, unveiled new renderings of its future home. Miami Freedom Park would be the permanent home for the team. The Beckham group is pursuing another site in Fort Lauderdale for a temporary stadium, where the owners would spend more than $60 million to redevelop the now…
Dubai-based consultants allegedly scared off Skyrise Miami's Middle East investors: lawsuit
Skyrise Miami lost a slate of Middle East investors after a pair of Dubai-based lawyers allegedly frightened them with false claims that the proposed observation tower in downtown Miami would not get built, according to a recently filed lawsuit in Miami-Dade Circuit Court. Skyrise Miami Tower Investors LLC, a project lender incorporated in Delaware, claims it paid $720,000 in commissions to Step…
Video: Hines Leasing Direct Nick Garzia Presents Retail Forecast & Review
Nick Garzia, Director of Leasing at Houston based developer – and owner of Doral Corporate Center at 3750 NW 87th Avenue – Hines – appears on this commercial real estate related show to discuss the final quarter of 2018, which retailers excelled and which rather flopped and what these scores and fails mean for the future (of retail) to come. He discusses Amazon versus Walmart, who will win, and mixed…