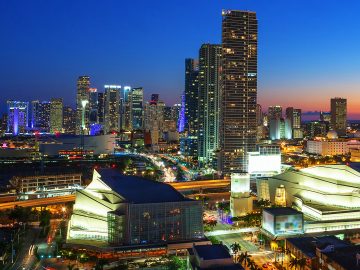 American Dream Miami mega mall heads to county commission for final approvals
More than a year after securing initial approvals from Miami-Dade County for what is planned to be the country's largest mall, Triple Five Group will return to the county next month for a final OK. A development impact committee moved the $4 billion, 3.5-million-square-foot project along at a meeting on Tuesday. From there, it will go before the county's planning advisory board on May 7 and a final vote…
82-story skyscraper headed for heart of downtown Miami
The heart of downtown Miami is set to change in a big way – literally – when the 14-story Marriott hotel comes down to make room for an 82-story skyscraper known as 2nd & 2nd. A developer plans an 898-foot mixed-use tower at 200 SE Second Avenue, with a hotel, rental apartments, retail and a two-story corner bar in a glass circle. The site today is home to a Courtyard by Marriott. Miami…
Chicago Developer Sterling Bay plans Wynwood office tower
A Chicago development company whose client list includes Google and McDonald's plans to build a large office building in Wynwood.
Sterling Bay LLC is the applicant and development partner of the owner of contiguous properties at 537-557 NW 26th Street and 530-550 NW 27th Street in Wynwood. The proposal is for a 10-story mixed-use office building with ground floor retail, to be called 545 WYN.
Amazon discreetly visits HQ2 cities in Phase 2 of extraordinary second headquarters competition
Amazon is on tour. The Seattle tech titan is visiting the 20 cities competing for its second headquarters, collecting data and touring potential sites for the project to inform the company's final decision. Reports of visits from Amazon officials are starting to pop up in some of the cities, like Toronto and the Washington, D.C. region. Three cities from the D.C. metro made it onto Amazon's short list…
Report: Signs point to Boston or Washington D.C. for Amazon HQ2
Given some of the key factors behind what Amazon is looking for in a city to host its second headquarters — including being in a major metro area with a "strong university system" — the Conference Board's economic research group determined that Boston and Washington, D.C. are likely to top Amazon's list, per MarketWatch. Their findings: Conference Board analysts found that Amazon's job…
By the numbers: Is Amazon HQ2 all that?
Ever since Amazon announced last fall that it was looking for a new location for a second headquarters, aptly dubbed HQ2, North American cities have been tripping over themselves to woo the retail giant. But opinions differ on what the $5 billion Amazon campus would mean for residential prices, congestion and the local economy more broadly. And some have characterized the competition as a…
City seeks to retain National Oceanic and Atmospheric Administration
Miami city commissioners are urging the federal government to retain the National Oceanic and Atmospheric Administration (NOAA) Fisheries Headquarters at its current location on Virginia Key. NOAA is reportedly considering relocating its Southeast Fisheries Science Center to St. Petersburg because the fisheries center on Virginia Key is outdated and needs improvement. NOAA's facilities on the barrier…
MCM, contractor behind collapsed FIU bridge, sued over deal to build Guantanamo Bay school in Cuba
The contractor behind the collapsed Florida International University pedestrian bridge is being sued by a Florida construction company over a $63 million contract to replace a military school in Guantanamo Bay, Cuba. Islands Mechanical Contractor alleges in the suit, filed in Miami-Dade County Court, that Miami-based Munilla Construction Management (MCM) failed to honor an agreement for…
Retail rents are rising in Miami-Dade: Q1 report
Retail rents are on the rise in Miami-Dade County, despite the doom and gloom surrounding retail nationwide. A first quarter report from Colliers International South Florida shows asking rent increased to $39.59 per square foot, up 14.5 percent from $34.56 per square foot a year ago. The vacancy rate increased slightly to 3.8 percent, up from 3.6 percent in the first quarter of 2017. About 1.9 million square feet…
How real estate developers are using artificial intelligence in Miami: eMerge Americas panel
As big data and artificial intelligence keep pushing into the real estate sector, Miami developers say they are beginning to embrace the technology for analyzing acquisition opportunities and potential development deals, as well as uncovering regulatory hurdles and market conditions that could hurt their plans. Vagabond Group founder Avra Jain recently started…
Michael Stern's JDS scores Miami's largest condo construction loan in nearly a year
Michael Stern's JDS Development scored a $137 million construction loan for a South Beach condo project known as Monad Terrace, in what appears to be the largest financing deal in Miami's market in nearly a year. Madison Realty Capital, a New York-based real estate investor and lender, provided the financing for the 59-unit, Jean Nouvel-designed project at 1300 Monad Terrace. The loan isn't…
HealthGains scoops up Integra's medical office condos at Aventura ParkSquare
HealthGains just bought the entire ninth floor at Integra Investment's ParkSquare Wellness development, and has scored construction financing to build out the space, property records show. Park Square Holding LLC, led by HealthGains' Mark White, paid a little more than $7 million for 11 units at ParkSquare Wellness, a 41,000-square-foot wellness medical center at 2920 Northeast 207th Street. The total…
Luxury condo developers could benefit from tax provision meant for low earners
A provision in the new tax law that was designed to help spur economic development in low-income neighborhoods could be exploited by real estate developers who want to build luxury condominiums. The little-known change in the tax code passed late last year would allow states to designate "opportunity zones" in low-income areas, Bloomberg reported. Some community groups and tax policy experts…
Related, partner to close $33 million loan for Lenny Kravitz-designed Wynwood project
The Related Group and Block Capital Group broke ground on a mixed-use development in Wynwood with plans to close on a nearly $33 million construction loan later this month. The joint venture is building the Bradley, a 175-unit apartment building with about 32,000 square feet of retail space and an underground parking garage on the site at 51 Northwest 26th Street. Related vice president Jon Paul…
MMG Equity Partners picks up Pinecrest Shoppes, plans renovations
An affiliate of MMG Equity Partners just paid $6.2 million for a shopping center in Pinecrest, with plans for a major renovation. Pinecrest Shoppes, a 14,560-square-foot shopping center at 11635 South Dixie Highway, traded hands for about $425 per square foot. The seller, Penn Suniland LLC, bought the property in 2007 for $6.85 million, meaning it sold at a loss since the height of the market before the…
Will self-driving cars accelerate development?
If driverless cars and buses become the standard mode of transport, developers could have a lot more land to play with. Parking lots, garages and street-level parking could become less vital, leaving more room for projects, an executive focused on the self-driving car and autonomous vehicle space said at the Greater Miami Chamber of Commerce's annual real estate awards Friday. "In some cities, as much…"
PriceSmart Finds No Shortage of Tenants for Old Digs in Medley
When PriceSmart moved most of its operations last year to Flagler Station III in Medley, FL, the warehouse club operator still was on the hook for a large block of industrial space at Flagler Station II. But two recent deals have made PriceSmart's commitment a lot less burdensome. It signed a sublease for 70,424 square feet with Dade Paper & Bag at Flagler Station II at 10800 NW 100th Street
Large Corporations Leasing More Space from Co-Working Providers
Co-working options – offered by shared office space providers such as WeWork, Axis and Quest – are on the rise in Miami. The Miami Downtown Development Authority (DDA) reports at least 30 co-working spaces have popped up in downtown Miami alone and have attracted a number of large corporations as tenants. Twitter, Spotify, TripAdvisor, Microsoft and Wix have all taken shared office space…
Sergio's to open fast-casual concept in Brickell & other restaurant news
Sergio's Restaurants is bringing its fast-casual concept to Brickell. Sergio's Cuban Kitchen + Bar signed a 10-year, nearly 2,600-square-foot lease at 40 Southwest 12th Street, RKF managing director John Ellis said. Ellis and Aaron Labovitz represented the landlord, real estate developer Bernard Wolfson. Wolfson owns the building, the Hampton Inn & Suites by Hilton Miami Brickell Downtown above. Sharon…
'One unit per floor' condos are coming to Bay Harbor Islands
The seven units in the Bermello Ajamil-designed boutique property start at $4.4 million Unlike any other property in Bay Harbor Islands, OPUS Bay Harbor, an 8-story boutique condominium, will be made up of only seven units. Brokerage firm, Compass, released renderings of the residency, which is slated to break ground in Fall 2018. Designed by award-winning architect Bermello Ajamil, OPUS Bay Harbor…
Miami Beach rising seas strategy needs more solutions: ULI panel
To combat rising seas, Miami Beach needs to build taller seawalls throughout the island, use green spaces to sponge off water, and should consider commissioning art installations in parks that can catch stormwater runoff, according to a group of Urban Land Institute architects, engineers, market analysts and real estate professionals. Miami Beach is off to a good start mitigating the impact of rising…
Developers close on $21M construction loan for AC Hotel in Edgewater
An AC Hotel by Marriott will soon go vertical in Miami's Edgewater neighborhood. Property records show a company tied to Aztec Group's Boaz Ashbel just scored a $21.3 million construction loan for the hotel development, set to rise on the former Midtown Inn Miami site at 3400 Biscayne Boulevard, near the Julia Tuttle Causeway. Midtown Lodging 2 LLC, an affiliate of Aztec and Tennessee-based 3H…
Miami home prices feeling the impact of sea level rise, new research suggests
It looks like sea level rise is beginning to impact home prices in Miami. Prices of single-family homes at lower elevations are rising at a slower pace than those at higher elevations, new research conducted by the Journal of Environmental Research Letters shows. James Keenan, who authored the study, told the Wall Street Journal that homeowners appear to be factoring in the future of sea level rise into…
Estate Investment Group nabs loan for latest West Miami resi project
Estate Investment Group closed on a $57.8 million construction loan for Soleste Twenty2, an apartment complex planned for West Miami.
Florida Community Bank is providing the financing for the project at 2201 Ludlam Road. It marks one of six rental developments that Estate, led by Robert Suris, has built or is planning to build in West Miami. Soleste Twenty2 will be delivered in mid-2019. The 338-unit…
Global Horizons Group picks up three apartment complexes in Miami-Dade
Property management and investment firm Global Horizons Group just paid $6.3 million for a portfolio of apartment complexes scattered throughout Miami-Dade County. The 78-unit portfolio consists of the 18-unit Verona Apartments at 9050 NE 8th Avenue in Miami Shores, the 24-unit Monterrey Apartments at 575 NE 143rd Street in North Miami, and the 36-unit Pris Apartments near Opa-Locka. The deal…
Getting back to normal? : Normalization of the federal funds rate may not look so normal
This FRED graph shows the federal funds rate for approximately the past 10 years. This is the interest rate that the Federal Open Market Committee (FOMC) targets. It's easy to see that this interest rate has been low for most of the period shown here. But lately it's been soaring. Or so it seems. The FOMC is currently pursuing a policy of normalization: They're getting the federal funds rate back to "normal."
Getting back to normal? Part 2 : Are real interest rates trending down to "normal"?
In our previous post, we mentioned that the Federal Open Market Committee (FOMC) is trying to normalize interest rates by gradually increasing the target for the federal funds rate. But what is the "normal" interest rate? Some people are arguing that it's actually lower than what it has been before. One way to try to identify this normal state is by looking at long-term trends in interest rates: Presumably…
The amount of retail space closing in 2018 is on pace to break a record
Toys R Us. Sam's Club. Sears. Now, Bon-Ton. The amount of retail space going dark in 2018 is on pace to break a record, as companies with massive floorplans are either trimming back their store counts or liquidating entirely. Department store chain Bon-Ton earlier this week was forced into liquidation, after a plan to restructure the business and keep some stores open fell through. The retailer, with a…
Sign of the times: Masoud Shojaee scraps plans for luxe townhouse project Eleven on Lenox in favor of lower-priced condos
Responding to the luxury market slowdown, Masoud Shojaee's Shoma Group is scrapping plans for the multimillion-dollar townhome project Eleven on Lenox in South Beach, The Real Deal has learned. The developer will instead build lower-priced condominiums. The move marks a reversal to an original idea he had for the site near Lincoln Road a few years ago. He said it was brought on by a tough…
Developer scores approval for $40M office project next to Baptist Hospital
AJP Ventures Corp. and Mas Group are one step closer to building a $40 million office development that would replace a former synagogue in Kendall, near Baptist Hospital. The developer received unanimous approval from a community council meeting on Tuesday to move forward with its plans to build a 116,000-square-foot office plaza at 9408 Southwest 87th Avenue and…
Yoram Izhak's IMC Equity Group buys Doral office building
Real estate investor Yoram Izhak continues to make moves in South Florida – this time adding an office building in Doral to his commercial portfolio. Records show the Israeli-born real estate investor paid $8.75 million for a 43,500-square-foot office building at 2555 Northwest 102nd Avenue, just north of Northwest 25th Street, through the company Good Homes Orlando LLC. The seller, Point at Doral…
Henley USA pays $15M for Miami and Miami Beach hotels
The U.S. arm of United Kingdom-based private equity firm Henley paid $15.4 million for two hotels in Miami and Miami Beach, property records show. Husa LH JZ LLC, a company controlled by Garrett Solomon, paid $8.6 million for the Jefferson Hotel at 528 and 534 Southwest Ninth Avenue and $6.8 million for the Jazz on South Beach, a hostel at 321 Collins Avenue. The Henley affiliate financed the…
MHP Real Estate Services, Banyan Street Capital Forge Alliance
New York-based MHP Real Estate Services has teamed with Banyan Street Capital of Miami to form one of the nation's largest private commercial real estate companies with a combined portfolio valued at more than $3 billion. The two firms own and manage office buildings totaling more than 15 million square feet across the Eastern U.S., and will coordinate efforts while continuing to operate under…
$380 Million Development Bringing Rentals, Retail to Miami Riverfront
The banks along the Miami River are mostly closed off to the public. Developer Andrew Hellinger is determined to fix that. "It's not as inviting as it ought to be," said Hellinger. "What we're trying to do is open up the river and invite the people of Miami-Dade County to come hang out with us." Hellinger's $380 million River Landing Shops and Residences is under construction along the river's north bank…
Walmart's $200 Million Plan in Miami-Dade and Rest of Florida
Walmart says it's investing $200 million in Florida to build and improve 43 stores while also testing new technologies and innovations across the state. The retailing giant plans to open five of its smaller-formet Neighborhood Market grocery stores statewide in 2018, including three in Miami-Dade and Broward counties. A sixth grand opening will be a Supercenter in Jacksonville. Meanwhile, 37 stores…
Massirman of Miami City Self Storage on the Self-Storage Business
Jay Massirman's specialty is self-storage, one of the more humdrum – but potentially lucrative – niches in commercial real estate. Massirman's Miami City Self Storage (MCSS) recently opened a 1,000-unit facility at 490 NW 36th St. in Miami, close to the emerging neighborhoods of Wynwood and the Design District. MCSS and other developers saw opportunity following the housing bust…
Industry Veterans Start Portfolio Lender
Three commercial real estate finance executives have launched 3650 REIT, a Coconut Grove, FL-based private portfolio lender. The new company name comes from the number of days in a 10-year loan, one of its two primary products. "If you're our borrower, we have a relationship with you for 3,650 days," co-founder Jonathan Roth told CoStar News. "We really want to communicate that we're a…
DSV Air & Sea Renews 95,000 SF in Miami
DSV Air & Sea Inc. renewed its lease for 95,000 square feet in the industrial building at 12200 NW 25th Street in Miami, FL. DSV is a global supplier of transport and logistic services. The company will continue to occupy its space in suite 115, housing its warehouse operations. The 206,000-square-foot building was constructed in 2006 in the Miami Airport West Industrial submarket. The property…
Apartment development drives housing starts in Florida, elsewhere
Anyone with eyes can see that residential construction is booming in Miami and throughout South Florida. Much of this boom is due largely to major, multi-million-dollar apartment and condominium developments. Given the increasing population in South Florida, the addition of so many new housing units will help to keep the area somewhat affordable for residents. However, with a boom in…
City of Miami task force issues dozens of violations to landlords in Little Havana
The task force, which targets blight and safety, is part of the City of Miami's Safe City Initiative A two-day task force inspection culminated in dozens of violations for residential properties in Little Havana. The task force is part of the City of Miami's Safe City Initiative, which targets blight and safety. Its purpose is to protect tenants' rights by holding landlords accountable. "The health and safety of our…
A mini revolution: The strategy behind YotelPad's first East Coast hotel-condo project
For its first micro-unit hotel-condominium on the East Coast, the Yotel chain chose a market that is awash in new development: Miami.
But the chic London-based hotel brand, which focuses on international hub cities and up-and-coming urban neighborhoods, sees an opening for its planned location in downtown Miami, which is gentrifying and redeveloping, said Yotel CEO Hubert Viriot. "Miami has…"
Seminole Hard Rock becomes the battleground for businessmen with Trump ties
Robert Toussie — a New York developer with enough clout to secure a presidential pardon for his son in 2008 that was revoked the same week it was issued — bragged about using his friendship with Donald Trump as part of an alleged revenge scheme against a former business partner who also has ties to the president, according to an explosive lawsuit filed in Miami-Dade Circuit Court last month.
Rich Turn to Crowdfunding for Properties From Offices to Hotels, Including Miami Hotelier
Driftwood Acquisitions & Development LP, a Miami-based hotel owner, took a different path to a similar strategy, says Carlos Rodriguez Jr., the chief operating officer. During the recession, the company saw cheaply priced hotels it wanted to acquire, but found that institutional partners it had relied on when the economy was growing had less appetite for risk during the downturn. Rodriguez and his…
Miami Streets Could Flood Every Day By 2070, But Businesses Will Adjust, Local Experts Say
A recently released federal report says that even by conservative estimates, Miami will experience increased daily flooding by the end of the century. Area businesses are keeping an eye on future sea level rise, but some experts that spoke to Bisnow say there is no need to panic. Maxstrz via Flickr Creative Commons Flooding on South Beach in 2009. "Miami is going to be a great place 50 years from now…
South Florida's Office Market Slow Out Of The Gate In 2018
South Florida's office market this year is "off to a quiet start," JLL research shows. Tenants are moving to high-quality offices, but the pace has slowed, and older, vacated spaces are becoming more challenging to lease up. "Most net absorption gains in Class A assets were largely mirrored by losses in the Class B segment of the market, especially in suburban markets," the JLL report said. Specifically, in Coral…
Guitar-Shaped Hotel Rises In South Florida
With kids these days into their rap music and their electronic dance, sales of musical instruments are so slow that Guitar Center's corporate credit is rated as junk, and Gibson Guitars is facing bankruptcy. But the allure of the six-stringed instrument is still powerful. That is the bet being made by the Seminole Tribe, whose Hard Rock International is in the midst of building a 600-room, $1.5B hote…
The indicator with an almost perfect record of predicting US recessions is edging towards a tipping point
The US yield curve is flattening, a normal scenario at a time when the US Federal Reserve is lifting interest rates. When the curve has turned negative in the past — where short-dated yields are higher than for longer-dates — it has almost always indicated that a recession will occur within two years. Macquarie Bank doesn't expect the curve to turn negative until the end of 2019, but it says 2020 will be a…
Average construction costs jumped nationally year-over-year
Average construction costs across the U.S. rose 4.2 percent last year, with Los Angeles logging the largest uptick, according to a new report. Costs jumped 7.59 percent from January 2017 to January 2018, followed by San Francisco (6.23 percent) and Portland (6.05 percent), a report by construction consultancy firm Rider Levett Bucknell shows. New York City saw a 3.29 percent increase, putting it…