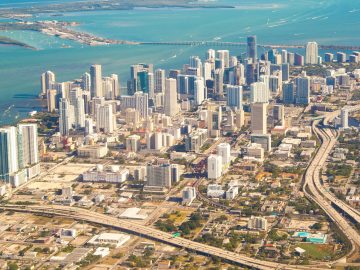 What is Melreese really worth? Experts consider value of Beckham's proposed soccer site
Miami voters will decide in November if an ownership group led by David Beckham and the Mas brothers can build a $1 billon mixed-use development on the site of the Melreese Country Club. The ambitious proposal would be anchored by a 25,000-seat stadium that would be home to Miami's Major League Soccer team. But some real estate developers and experts are crying foul about the price and…
Moishe Mana expands Allapattah portfolio
Moishe Mana is expanding his holdings in Allapattah. The Wynwood/Miami investor paid $5 million for a 1.46-acre assemblage… The sellers are Jose Holdings, Seventh Avenue Holdings and R & R Real Investments, all companies led by Jorge Salazar. The deal included the lots at 675 and 685 Northwest 23rd Street; 664 and 680 Northwest 24th Street; 2315, 2319, 2335 and 2343 Northwest Seventh Avenue.
Major Miami Mixed-Use Project in Aventura Reaches Completion
Aventura ParkSquare, a $300 million mixed-use destination totaling 1.2 million square feet in Aventura, Fla., has reached completion. Developer Integra Investments wrapped up the project following Miami-Dade County's granting of the temporary certificate of occupancy for the last two structures at the five-building property. Integra broke ground on ParkSquare, sited at the intersection of 2900…
Developer Of Midtown Miami Hotel Gets Financing To Buy Out JV Partner
A stalled hotel project in midtown Miami might be poised to move ahead after some shuffling of financing. This week, LV Lending — a Miami-based private lender, and an affiliate of Linkvest Capital and Linkpoint Properties, focusing on mortgage loans — announced that it arranged a $15M senior loan for Aventura Hotel Properties to help refinance a previous $9.7M loan and buy out its partner, JQ Group…
Public-Private Venture Breaks Ground on 123-Unit Affordable Seniors Housing Community in Miami
A public-private collaboration between Miami-Dade County, Pinnacle Housing Group and the South Miami Heights Community Development Corp. has broken ground on Caribbean Village, an affordable seniors housing property in Miami. Located in the South Miami Heights submarket, Caribbean Village will offer 123 units. The development is part of a two-phased plan to develop transit…
Miami Worldcenter developer hails progress of Brightline
Downtown Miami development may have its share of competing interests, but when it comes to transportation solutions, one developer said he's happy with the big moves his immediate neighbor is making in the area. Early pieces of the 27-acre, $2 billion mixed-use Miami Worldcenter puzzle are nearing the finish line, complete with transit infrastructure improvements to accommodate the project – the…
Arnaud Sitbon: Heads charter schools, Jungle Island realty investments
As president and CEO of ESJ Capital Partners, Arnaud Sitbon oversees a commercial, residential and educational real estate portfolio valued at $700 million and totaling 3 million square feet. Mr. Sitbon co-founded ESJ in 2007, just before the world financial crisis. In ensuing years, he led the company – ESJ stands for "equity," "syndication" and "joint venture" – to exponential growth. He attributes…
South-Dade Transitway gets $100 million, but for bus or rail?
In one of history's shortest government meetings, the Transportation Planning Council on Monday committed $100 million to build "premium transit infrastructure" on the South Dade Transitway along US 1 from Kendall Drive to Florida City. The council, which advises the Transportation Planning Organization (TPO), in less than a minute OK'd amendments to Miami-Dade's 2040 transportation plan…
Deutsche Bank Closes $192 Million Acquisition Loan for MIA Office and Industrial Portfolio
Deutsche Bank has provided a $192 million acquisition loan to Walton Street Capital and Crocker Partners for their purchase of The Landing at MIA, an office and industrial portfolio adjacent to Miami International Airport, Commercial Observer has learned. CBRE Capital Markets' James Millon, Tom Traynor, Amy Julian and Ethan Gottlieb arranged the balance sheet financing. Officials at CBRE declined…
Residences by Armani/Casa tower reaches 649-foot final height
The exclusive Sunny Isles Beach project is now topped off After climbing to its halfway point in March, the upcoming Residences by Armani/Casa condo project in Sunny Isles Beach has officially topped out at 649 feet. Designed by the firm of internationally recognized architect Cesar Pelli, the glassy tower features sleek interiors by Armani/Casa Design Studio and represents the firm's first self-branded…
California teachers' fund and Miami based 3650 REIT launch $200 million fund
Miami-based 3650 REIT just announced a partnership with the California State Teachers' Retirement System to form a $200 million joint venture focusing on bridge and short-term real estate financing. The new fund will provide loans for ground-up construction, recapitalizations, acquisitions and repositions in some U.S. markets where traditional capital is unavailable. After the initial $200…
National Security Review of Foreign Investments to Escalate
With its roots in the Exon-Florio Amendment to the Defense Production Act, the Committee on Foreign Investment in the United States (CFIUS), is an inter-agency committee that reviews certain foreign investments in the United States that implicate national security concerns. CFIUS generally determines its own jurisdiction within the parameters of regulatory framework ascribed to it by the federal…
Apartment Construction Is Expected to Slow Down in 2018 After a 6-Year Upward Streak
Almost 283,000 new apartments are expected for completion by the end of 2018, 11% less than last year. Apartment construction peaked in 2017, finally slowing down in 2018. In spite of the year-over-year slowdown, the past three years' total deliveries are projected to pass the 900K mark by the end of this year – the highest since the mid-'80s. Continuing the trend seen in recent years, Texas is leading the…
Developers in Miami, Other Major Cities, Forced To Wean Themselves Off Chinese EB-5 Funding As Visa Waitlist Balloons
The EB-5 program, for years a reliable source of capital for builders in Miami, New York and other major U.S. cities, has been beset with fraud, long waits and uncertainty. Chinese investors, who made up 85% of all EB-5 investors, are now facing up to a 15-year wait between the time they file their initial petition and the time they receive a green card. With such a backlog, developers are turning to investors…
What Has Happened to the Yield Curve Since Liftoff?
What has happened with the yield curve since the Federal Reserve started raising its policy rate from near zero in December 2015 (so-called liftoff)? In this video, taken from a Dialogue with the Fed presentation on May 22, St. Louis Fed Director of Research Chris Waller discusses how the yield curve has flattened since liftoff. He also discusses reasons why rates would potentially be pushed up faster at the…
Voters to decide on two major projects in Miami and South Miami
Miami and South Miami residents are voting on the futures of two major projects in the Aug. 28 primary: the proposed Jungle Island hotel, and a land-use amendment that could allow the Shops at Sunset Place to be redeveloped. Early voting is underway. ESJ Capital Partners wants to build a hotel limited to 300 rooms and 130 feet tall on the Jungle Island land it leases from the city of Miami. The…
Ram Realty scores $65 million loan for Whole Foods-anchored project
Ram Realty Advisors just closed on land in Fort Lauderdale and scored $65 million in construction financing to build its long-planned 501 Seventeen mixed-use project. Property records show Hudson Capital sold the the 3.2-acre development site, on the northwest corner of Federal Highway and Southeast 17th Street, to Ram Realty affiliate RRPIV WF FTL for $18.5 million. Ram was under contract to purchase…
Anbang is looking to unload a $5.5B portfolio of 15 hotels in Miami & Other Major Cities
Anbang Insurance Group is switching strategies: Instead of selling hotel properties one-by-one, the Chinese conglomerate is looking to shed the entire $5.5 billion portfolio all at once. The portfolio of 15 hotels includes Essex House Hotel in Manhattan and the InterContinental Hotels in Chicago and Miami. Angbang purchased the properties from the Blackstone Group in 2016 for $5.5 billion…
Miami broker sues for allegedly unpaid commissions tied to financing for a hotel and gym
A Miami-based broker who assists developers in obtaining financing is accusing a Phoenix-based construction firm and former NFL player Donald "Dre" Bly of stiffing him for a combined $8.91 million in commission fees, according to a pair of lawsuits filed in Miami-Dade Circuit Court. Harvey Burton sued Palacio Development Group and its executives, president Young Troung and vice presidents Craig Ball…
South Florida by the numbers: Win-Wynwood situations
"South Florida by the numbers" is a web feature that catalogs the most notable, quirky and surprising real estate statistics. We all love Miami's Wynwood district for its cool and funky vibe, its dining and entertaining options, and of course the incredible street art. But the story of Wynwood's dramatic rise to real estate prominence (in such a short time span) probably deserves a towering, eye-catching…
PMG's New Concept for X Miami: Mash Up Co-Living With Hotel
Airbnb blurred the line between hotels and homes. Co-living blurred the line between dorms and apartments. Now, here comes another level of mashup: part co-living, part hotel. Property Markets Group — a New York-based firm that has developed 85 residential buildings, including Mei Miami Beach and Echo Brickell — launched a new co-living division called X Social Communities, which basically arranges…
Will the Hurricane of New Construction Hurt Miami's Apartment Market?
There's a storm of new development coming to the Miami apartment market—and it's likely to hurt the prices investors are willing to pay for apartment properties there. So far, however, cap rates in the city have remained stable as storm clouds gather. "CoStar expects cap rates to increase in the face of these conditions," says Pamela Stergios, market analyst for research firm CoStar Group. "But we aren't yet…"
Contaminated land? No worries. Developers aren't shying away in South Florida
In its heyday, the Cuyahoga Wrecking company in Opa-locka was one of the most active demolition contractors in South Florida. During the 1970s and 1980s the company, run by the Schwab family, dismantled as many as 275 buildings. And up until abandoning the property in the late 1990s, the ownership also haphazardly managed to leave behind mounds of toxic debris that festered for decades and…
Video: Nelson Mullins Partner Rusty Fleming Discusses Lender Trends
On this episode of Michael Bull's America's Commercial Real Estate Show, Rusty Fleming, a partner with the law firm of Nelson Mullins, joins show host Michael Bull to discuss various commercial real estate legal concepts today, including loan underwriting, trends in commercial property lending, commercial property equity investing, relations between borrowers and lenders relations, borrower…
Miami Among America's 10 most liveable cities, according to The Economist ranking
Though American cities didn't fare well in The Economist's annual global ranking, there were a handful of stars. Known as The Global Liveability Index, the publication's ranking report is published every year based on a number of factors like education, healthcare, stability and infrastructure. In the 2018 report, only 10 U.S. cities made it into the top 50–and none of those cities made it into the world's top 20…irbnb partnered with Miami-based developer Newgard Development Group for the venture now known as "Niido Powered by…
Five-story mixed-user unveiled for Coconut Grove
The five-story project includes an office, retail, and hotel component A vacant stretch of Grand Avenue in Coconut Grove will be the site of a newly unveiled five-story, mixed-use development. Named 'Metronomic Place' after its developer Metronomic, Inc., the upcoming building will deliver 5,000 square feet of office space, 3,200 square feet of ground-floor retail, and a 44-room All-Suite Hotel. Designed…
Coral Gables condo hotel sues city over approval of neighboring project
The David William Hotel Condominium Association is suing the city of Coral Gables, demanding it appeal the approval of a neighboring condo project. The David William, at 700 Biltmore Way, and Jorge Guarch Jr., who owns a unit in the building, filed a complaint for Writ of Mandamus, or as an alternative, complaint for declaratory judgment and injunctive relief, that would allow the hotel condo association…
Qatari owner of St. Regis Bal Harbour scores $132 million refi
Al Rayyan Tourism Investment Company just closed on a $132 million refinancing of the St. Regis Bal Harbour Resort. The Qatari owner secured the floating-rate loan from Mack Real Estate. The four-year deal has a one-year extension, according to a press release. HFF arranged the financing. ARTIC paid $213 million for the St. Regis, at 9703 Collins Avenue, in 2014, a deal that broke down to more than…
Metronomic launches mixed-use project on Grand Avenue in Coconut Grove
Metronomic plans to build a mixed-use office, retail and hotel project on Grand Avenue, marking another example of development pushing west in Coconut Grove. The firm, led by Ricky Trinidad, paid $4.1 million for the 13,000-square-foot site at 3280 Grand Avenue in June, property records show. It's planning to build Metronomic Place, a five-story building with about 5,000 square feet of Class A office…
Advenir drops $60M on apartment complex near FIU
The Rilea Group sold an apartment complex near Florida International University to Advenir for $59.75 million. Vista Verde at Westchester, a 302-unit complex at 10491 Southwest 14th Terrace, just east of the university, sold for about $198,000 per apartment. Cushman & Wakefield's Robert Given, Troy Ballard, Zachary Sackley and James Quinn represented Rilea, according to a release. The property was…
SoFla's biggest multifamily deals in July
South Florida's multifamily market continued to have another strong month in July. The growing demand for properties outside of South Florida's major metros, like Lake Worth, is likely driven in part by South Florida's lack of affordable housing, which has pushed renters outside of the urban cores. The July investment sales figures were compiled from Miami-Dade, Broward and Palm Beach County…
Multifamily Property Near Florida International University Fetches $60M
The 302-unit Advenir at University Park apartment complex in Miami. Advenir, a real estate investment company, paid $59.75 million, or nearly $198,000 a door, for an apartment complex adjacent to Florida International University in Miami. The seller, Miami-based Rilea Group, built the 302-unit property in 1993 at 10495 SW 14th Terrace. It's now called Advenir at University Park, but formerly was known…
Miami Based 3650 REIT Forms New Commercial Real Estate Finance Joint Venture
3650 REIT, the national commercial real estate lending, investment and services firm, today announced a new joint venture with the California State Teachers' Retirement System. The JV is dedicated to 3650 REIT's bridge and event driven lending strategy and will include an initial $200 million commitment with an accordion feature for a potential total commitment of $500 million.
Colliers Broker Joins MMG Equity Partners in Bet on South Florida Shopping Centers
­­A private investment firm in South Florida has hired Colliers International broker Marcos Puente to build its commercial property portfolio, making a bet on large shopping centers in the region. Puente will be director of acquisitions for MMG Equity Partners, based in Pinecrest, FL. The firm currently has about 40 properties totaling more than 2.5 million square feet. The Navarro family started MMG in 2008 after…
Allapattah's Miami Produce Center Surely Among America's More Unique Redevelopment Projects
Robert Wennett's plan to rebuild the Miami Produce Center may be among the most unique redevelopment projects in America. A new description from architect Bjarke Ingels, along with an analysis of the developer's zoning application, reveals just how innovative the design is. The redeveloped Produce Center will include urban farming plots (either between buildings or on "roofscapes,") co-living…
Badia Spices peppers its portfolio with the $9.5M purchase of a Doral warehouse
Badia Spices is peppering its portfolio with the purchase of a Doral warehouse for $9.5 million. The global spice company headquartered in Doral purchased the 54,361-square-foot warehouse at 2101 Northwest 82nd Avenue from Lagunita Holdings, records show. The price equates to $175 per square foot for the warehouse, which sits on a 119,535-square-foot lot. Lagunita Holdings, led by Holy Rincon…
McDonald's to spend $6B updating restaurants nationwide
McDonald's is making a supersized effort to modernize its restaurants across the country. The ubiquitous fast food joint and its franchisees plan to spend $6 billion renovating and updating its U.S. restaurants by 2020. Much of that will be spent incorporating tech and infrastructure to cater to new trends in fast food, the Associated Press reported. The new restaurants will feature digital self-order…
HES Group buys out partner on Triptych project in Midtown Miami
HES Group refinanced the site of a planned mixed-use hotel across from Midtown Miami Shops and bought out its former partner, JQ Group of Companies. Property records show HES affiliate Aventura Hotel Properties scored two loans for $15 million and $8.2 million from LV Midtown LLC and QR Triptych LLC, respectively, for the development site at 3601 North Miami Avenue. Jose Herrera, HES Group…
Miami Stadium Apartments developer scores $36 million HUD-insured refi
Low-income and market-rate housing developer Lewis Swezy just closed on a $36 million refinancing of Miami Stadium Apartments in Miami-Dade County's Allapattah neighborhood. The 336-unit affordable housing community at 2625 Northwest 10th Avenue sits on the former site of the Miami Marlins stadium, built in 1949 and razed in 2001 to make way for apartments, which were completed a year later.
South Florida's biggest retail property sales in July
As legacy retailers close their doors and the so-called "retail apocalypse" nears, South Florida remains somewhat of an exception. Retail in the area has performed better than the national average and with the approval of the American Dream mega-project earlier this year, the region will eventually be home to the largest mall in the country. A few notable properties traded hands in July, including one…
In Miami, Armani-Branded Condo Tower Tops Off
The 56-story, 649-foot Residences by Armani Casa, which was announced in 2014, has topped off in Sunny Isles Beach. The project is being developed by Dezer Development and Related Group. It is expected to open in 2019. The Armani project is part of a bigger trend of brand-name condos in Miami. An Aston-Martin-branded condo tower is going up on Biscayne Boulevard and a Missoni condo in…
How Well Do Yield Curve Inversions Predict Recessions?
The yield curve plots rates on similar assets with different maturities, such as the 10-year U.S. Treasury note and the three-month U.S. Treasury bill. Typically, the difference between the rates (also called the "term spread") is positive, meaning longer-maturity assets have a higher return than shorter-maturity assets. However, the yield curve can invert, meaning shorter-term assets have higher interest rates…
South Florida Retail Summary (Q2 2018)
Market Snapshot for South Florida Retail A summary of the highlights, trends, and current market activity of Q2 2018 for South Florida commercial real estate focusing on Miami-Dade County: Analysis derived and compiled from leasing data and transaction reports in order to better understand the overall health of the CRE market in Miami-Dade County.
$120 Million Refinancing Secured for Mixed-Property Portfolio in Metro Miami
Walker & Dunlop has secured a $120 million loan for the refinancing of the Graham Portfolio, a 29-property portfolio in Miami Lakes, a master-planned community located less than 20 miles northwest of Miami. The 1.2 million-square-foot portfolio includes retail, office, industrial, flex, multifamily and ground lease assets. Al Rex, Marty McGrogan and Ariel Zucker of Walker & Dunlop arranged the 15-year…
Opa-locka residents of join forces to make a change in housing conditionsg
The residents of Cordoba Courts Apartments in Opa-locka are not backing down. Faced with widespread substandard housing conditions, they are joining together to demand their right to the provisions of the Fair Housing Act. An Aug. 16 Cordoba Courts Community Tenant Association meeting to address the faulty living conditions and safety was packed with residents. Also in attendance were Opa-locka…
Lagging Formula One talks now target Miami Grand Prix race here in 2020
The roar of Formula One racing engines won't be echoing off of skyscrapers in downtown Miami next year as planned. Prolonged negotiations have led the car racing organization to move the anticipated inaugural of the Miami Grand Prix one year to the fall of 2020. A proposal for the city to host the race for a 10-year period was on the Miami City Commission's July 26 agenda but was deferred to…
Planning collaboration targets affordable housing shortage in Miami
City of Miami leaders are turning to master planning work to help address the critical shortage of affordable housing in the growing city.
The Miami City Commission recently approved a resolution establishing collaboration between the city and Florida International University's Metropolitan Center to work on the preparation of the city's Affordable Housing Master Plan. The move allows the FIU…
$56 million pact kicks off Golden Glades' park-ride
The Florida Department of Transportation has awarded a contract for a $56 million multimodal transportation facility and truck travel center in the current Golden Glades park-and-ride lot. The contract went to LEAD Engineering and Construction and Kaufman Lynn Construction. Work on the park-and-ride hub that is to become a gateway to Miami-Dade County and unite several modes of…
$138.1 Million Construction Loan Secured for 57-Story Condominium Tower in Miami
Walker & Dunlop has arranged a $138.1 million construction loan for Elysse, a 57-story condominium tower in Miami. The 100-unit community, located at 788 N.E. 23rd St., overlooks the Intracoastal Waterway in Miami's Edgewater neighborhood. Kevin O'Grady and Eric McGlynn of Walker & Dunlop arranged the financing through JPMorgan Chase Bank on behalf of Two Roads Development, which is…
North Miami moves closer to Chinatown architectural plan
The proposed Chinatown in North Miami is moving closer to solidifying some design plans. The city could be requesting proposals for architecture firms in the next few weeks, according to City Manager Larry Spring Jr., who said the city also plans a surprise public announcement in the next three to four weeks. "Currently, our in-house engineers are looking at storm water plans so that we can to…
Massive ParkSquare Aventura development now complete
The 1.2 million-square-foot project emphasizes pedestrian friendliness in a traditionally auto-centric area After many months of construction, the mixed-use Aventura ParkSquare development is nearly ready to welcome residents, commercial tenants, and shoppers to the corner of Waterways Boulevard and NE 207th Street. In discussion since at least 2014, the 7.4-acre project broke ground in 2016…
Realterm Logistics pays $10M for Medley industrial site
Realterm Logistics just purchased an industrial site in Medley for nearly $10 million, property records show. Realterm Logistics is an affiliate of the real estate private equity firm Realterm. The recent deal gives the company control of more than 10 acres of industrial land at 7500 Northwest 82nd Place, including a two-story, 28,000-square-foot warehouse. The seller, Dones & Krissel Management, is led by…
Qatar-based Investor Receives $503M Refinancing for Hotel Portfolio in Miami, NYC, D.C.
Qatar-based Al Rayyan Tourism Investment Co. (ARTIC) has received $503 million in refinancing for a three-property hotel portfolio totaling 1,049 rooms in New York City, Miami and Washington, D.C. HFF arranged three floating-rate loans through Mack Real Estate Credit Strategies for the refinancing. The breakdown includes: a $290 million loan for The Manhattan at Times Square Hotel; a $132…
LA investment group drops $16.5 million on property next to Miami Worldcenter
A Los Angeles-based family office just picked up a piece of the Miami Worldcenter pie. Romie Chaudhari's Chiron Investments paid about $16.5 million for the former nightclub building at 90 Northeast 11th Street in Overtown, property records show. The seller is Miami First LLC, led by Miami Worldcenter developer Nitin Motwani. Chiron affiliates Pug44 and Pug45 LLC financed the deal with a $10.5 million…
PMG adds hotel to apartment high-rise in downtown Miami
Property Markets Group is bringing a hotel component to X Miami, its newly completed apartment tower in downtown Miami. The Guild Hotels, a tech-oriented, boutique hotel group, is opening on four floors with 64 units of the 32-story, 464-unit building at 240 Northeast Fourth Street. Hotel guests will have access to X Miami's amenities, which include a gym, sky dog park, screening lounge, co-working…
Two Roads scores $138 million loan for Elysee condo in Edgewater
Two Roads Development just secured a $138 million construction loan from JPMorgan Chase for its 57-story luxury condo tower Elysee in Miami's Edgewater neighborhood. The developer, which completed the nearby Biscayne Beach condo tower last year, has secured nearly 50 percent in presales, according to a release. Traditional construction lenders typically require at least 50 percent in presales.
Homestead Convinced $100 Million Downtown Revitalization Key to its Future
Decades after suburban shopping malls left downtowns in disrepair, communities across the country have been making the city centers relevant again as "live-work-play" destinations. That's not hard to do in major cities such as Seattle, Atlanta and Miami, where thousands of new apartments, condominiums, shops, restaurants and offices cater to pedestrian crowds dominated by millennials. Achieving that…
Ugo Colombo can seek punitive damages from Craig Robins in fight over private jet
An appellate court denied a petition by Craig Robins to prevent another leading real estate developer in Miami, Ugo Colombo, from seeking punitive damages in long-running litigation over a private jet they owned. After Miami-Dade Circuit Judge Barbara Areces allowed Colombo to amend his lawsuit against Robins to seek punitive damages, the Third District Court of Appeal denied a petition by Robins…
$59.8 Million Sale of Multifamily Community in Miami Arranged
A broker has arranged the $59.8 million sale of Vista Verde at Westchester, a 302-unit apartment community located at 10491 SW 14th Terrace in Miami. Robert Given, Troy Ballard, Zachary Sackley and James Quinn of Cushman & Wakefield arranged the transaction on behalf of the seller, Rilea Group. Advenir Inc. acquired the asset, which is located adjacent to Florida International University, a public…
Two-building industrial property in Miami sells for $10.4M
A two-building industrial property in the West Little River neighborhood of Miami has been sold for $10.4 million. The buyer paid $211 per square foot for the buildings at 7101 North Miami Avenue and 7111-7119 North Miami Avenue, which span a total of 49,260 square feet. The new owner is 7101 N. Miami Ave. LLC, managed by Alan P. Matthews and John Matthews. The seller was Miami-based 170 NE…
Judge strikes down claims brought against former Canyon Ranch condo-hotel
At least one major component of a long and complicated legal battle between the owner of the Carillon hotel in Miami Beach and a homeowners association has finally reached a verdict. A Miami-Dade County Circuit Court judge dismissed a number of claims with prejudice brought by the Central Carillon Beach Condo Association against a company affiliated with Z Capital, the development group…
Integra completes $300M Aventura ParkSquare project
Integra Investments completed the final pieces of its $300 million Aventura ParkSquare mixed-use development by securing temporary certificates of occupancy for the residential and office condo components. In all, the 1.2-million-square-foot project, at 2920 Northeast 207th Street, includes a 131-unit luxury condo building, a 100,000-square-foot Class A office component, 55,000 square feet of ground…
Could co-working offices save malls?
A new kind of co-working space is seeking to capitalize on two current market trends: the increasing number of freelance and remote-location workers, and the loss of tenants in the retail sector. The idea? To combine vacant retail space with co-working offices. Commercial real estate firm JLL conducted a nationwide study of 75 co-working offices occupying more than 1 million square feet of former retail…
Miami Beach Convention Center shows off its new exterior fins
Here's a first look at the three-year-long construction project As work on the $620 million transformation of the Miami Beach Convention Center rounds the home stretch, the project's design team of Fentress Architects, Arquitectonica, and West 8 have released new images of the building's dramatic undulating exterior and bright interior lobby. Made up of 500 aluminum "fins" arranged to mimic nearby ocean…
Paramount Miami Worldcenter tops out at 700 feet
Workers celebrated the milestone by flying the flags of 50 countries representing the tower's many international buyers After reaching the half-way point back in December, downtown's upcoming Paramount Miami Worldcenter has achieved its final height of 700 feet. The construction milestone saw crews fly the flags of the 50 countries that comprise the project's geographically diverse condominium…
This downtown Miami building just sold — but not to Moishe Mana
A Wynwood investor paid about $5.4 million for the World Precious Metals building in downtown Miami's Flagler district — and it wasn't Moishe Mana. First & First Investment Associates LLC, managed by Vicken Bedoyan, sold the property at 40 Northeast First Avenue to Downtown NS, city records show. The buyer entity is tied to Elliot Antebi, who has owned properties in Wynwood, according to records.
American Dream mega-mall approval hits a snag
The South Florida Regional Planning Council voted against American Dream Miami, a mega-mall planned for northwest Miami-Dade County. Five of the nine-member board voted against the 6.2 million-square-foot mixed-use development. The council's vote is used as a recommendation for the Florida Department of Economic Opportunity, which has final approval of the 174-acre project, according to…
Dezer pays $20 million for Nova Southeastern's North Miami Beach campus
Dezer Development just picked up a development site currently home to Nova Southeastern University's North Miami Beach campus for $20 million. Property records show Nova Southeastern University sold the 8.28-acre property at 1750 Northeast 167th Street to the Sunny Isles Beach-based development firm, less than a year after it hit the market for $32 million. NSU, which has its main campus in Davie…
Rich New Yorkers are flocking to Florida. But soaring prices might offset the tax perks
The tax overhaul is fueling a luxury home boom in Florida. Prices for luxury properties in the state climbed 16 percent in the second quarter versus a year earlier, according to Bloomberg. And values for the top 5 percent of properties rose at the fastest pace in five years, even as prices in the rest of the Florida market increased only 7 percent. "The trigger is tax reform," Jay Phillip Parker, CEO of Douglas…
Political infighting is choking efforts to reveal kleptocrats and terrorists using U.S. real estate to wash dirty money
A Malibu mansion and Gulfstream jet were seized from the playboy son of the president of Equatorial Guinea, who pilfered hundreds of millions of dollars from his starving country. Authorities retrieved $100 million from a bank used by Hezbollah to wash money from drug trafficking. And a foreign not-for-profit is facing charges that it helped Iran evade sanctions by secretly investing in a Manhattan…
3-D Architecture, Urban Farming Part of Proposed Development for Miami's Allapattah Neighborhood
An innovative development featuring three-dimensional architecture, urban farming and co-living apartments could be coming to the rejuvenated Allapattah neighborhood in Miami. Developer Robert Wennett and Danish architect Bjarke Ingels have proposed the project on 8.3 acres known as Miami Produce Center, located at 2140 NW 12th Ave. The development also would include restaurants, shops…
BIG unveils stilt-supported Miami megaproject
At 1.36 million square feet, the project is a BIG deal World-famous Danish starchitect Bjarke Ingels is behind the design of a newly revealed proposal calling for a massive, stilt-supported development in Miami's Allapattah neighborhood. Dubbed 'Miami Produce Center,' the project comprises eight interconnected rectangular buildings rising near the intersection of 12th Avenue and 21st Street.
Greater Downtown Miami may have 5 years of excess luxury condo inventory: report
In Greater Downtown Miami, it's a true buyer's market. The area is facing a glut of luxury condo inventory, with about five years of excess supply, according to a new report from Condo Vultures Realty. Nearly 560 luxury units asking at least $1 million are on the market. During the first half of 2018, about eight high-end units sold each month in Greater Downtown Miami. That means that there are about 70…
Macerich partners with Industrious to bring co-working into malls
Mall owner Macerich announced a partnership with co-working company Industrious to turn unused retail space into flexible offices. The first Industrious-managed co-working space inside a Macerich mall is set to open in Scottsdale, Arizona, in January 2019. "We feel very confident that integrating co-working into retail will be a slam dunk in urban areas," Industrious' CEO Jamie Hodari told CNBC…
The basics of mechanic's liens for construction contracts
There are many new construction projects starting in Florida almost all the time. These construction projects could include just improvements to existing structures and dwellings or could involve construction of completely new buildings. These construction projects generally begin with the owner of the property signing a contract with a contractor in which the contractor agrees to complete the…