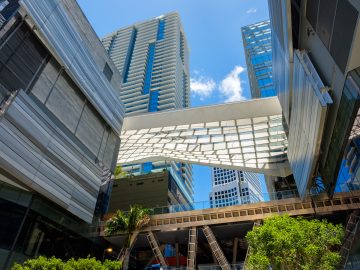 Mall reuse 2.0: This LA firm wants to turn vacant mall space into transitional housing
As landlords consider what to do with their faltering shopping malls, one idea is gaining traction statewide: repurposing unused space into housing for the homeless. Irvine-based KTGY Architecture + Planning is developing a new concept called Re-Habit, which would redevelop empty big-box stores into mixed-use spaces focused on transitional housing and social servicesca, according to Re Journals.
Sorry, buyers: Survey says market won't go your way until 2020
Buyers will have to wait another two years for the market to go their way. A survey of economists conducted by Zillow and Pulsenomics found that the real estate market won't favor buyers until 2020, Inman reported. "For the past several years, home sellers held all the cards at the negotiating table, fielding multiple offers while buyers faced stiff competition and a fast-moving market," said Aaron Terrazas…
Rubber-tire travel for South Dade Transitway gains traction
Support for bus expansion on the South Dade Transitway is mounting ahead of the pivotal vote today (8/30) to determine the fate of Miami-Dade's southernmost transportation corridor, as the Greater Miami Chamber of Commerce last week joined Mayor Carlos Giménez's administration in throwing weight behind a rubber-tire solution. On Aug. 21, the chamber's board of directors voted 92% in…
Negotiations to develop school board land across from the Adrienne Arsht Center for the Performing Arts nears completion
Negotiations to develop school board land across from the Adrienne Arsht Center for the Performing Arts are nearing completion, according to Miami-Dade County Public Schools Superintendent Alberto Carvalho. "We are well on our way," Mr. Carvalho told Miami Today. "We selected one business entity and partnership with the Arsht Center, as well as the county, and in the coming months we'll…
Ritz-Carlton Residences Miami Beach developer hit by another lawsuit over construction delays
The development group behind the Ritz-Carlton Residences, Miami Beach is facing another lawsuit from a prospective buyer over the luxury condo development's construction delays. A couple from Beijing recently filed a lawsuit in Miami-Dade County Circuit Court against 4701 North Meridian LLC, a partnership between Lionheart Capital and Elliott Management Corp., alleging breach of contract. The…
Sonesta sells Coconut Grove hotel to Nevada firm
Sonesta International Hotels Corp. sold its Coconut Grove hotel to the Kishan Group, a Reno, Nevada-based hotel company that will rename it the Hotel Aria, The Real Deal has learned. Boston-based Sonesta sold the 31,000 square feet of common space, which included the lobby, restaurant and event space at 2889 McFarlane Road, for an undisclosed amount. The deal closed on Monday and is the first…
Sears is struggling. But its real estate isn't
As Sears continues to struggle to stay afloat, a real estate investment trust that bought more than 200 of its stores is seemingly thriving.
Seritage Growth Properties, a spinoff company created to convert former Sears and Kmart stores, bought 235 of of the retailers' stores three years ago. The company plans to convert a store in Hicksville, Long Island, into a 600-unit apartment complex…
Trump's "new NAFTA" deal with Canada could be relief for developers
With a tentative bilateral trade deal in their pockets, both American and Mexican officials have their sights set north of the U.S. border with hopes of negotiating new trade deals with Canada. That could be big news for U.S. property developers. A deal with Canada that resolves the 25 percent import tax on steel imposed by President Donald Trump's administration would be a relief…
SoFla lease roundup: Logistics company inks $3.5M lease at Flagler Station, other leasing news
Interworld Freight Line inks 63,300 sf lease at Flagler Station: International logistics and distribution company Interworld Freight Line just secured a 63,300-square-foot lease at Flagler Station in Medley. The seven-year lease at 9705 Northwest 108th Avenue is valued at $3.5 million, according to a press release. The company was previously at Blue Lagoon, a business park owned by Prologis at 6703 Northwest…
Second Hotel Coming to Miami Worldcenter
CitizenM, a Netherlands-based hotel chain in the so-called affordable luxury sector, plans to open at Miami Worldcenter, one of the largest mixed-use developments currently under construction in the United States. The 12-story, 348-room hotel will be situated next to the retail promenade at Worldcenter, a 10-block project on 27 acres in downtown Miami that developers assembled over a decade.
Netherlands-Based Hotel Chain to Open 348-Room Location at Miami Worldcenter
Netherlands-based hotel chain citizenM has unveiled plans to open a 348-room hotel at Miami Worldcenter, a $2 billion mixed-use development in downtown Miami. The 12-story hotel will total 128,000 square feet and will be located along 2nd Avenue, adjacent to Miami Worldcenter's pedestrian-only, open-air shopping promenade. The hotel will feature a swimming pool, bar and sun deck…
Tech And Manufacturing Is Driving Growth In The Southern U.S. Markets
From her 25th-floor office in downtown Austin, Texas, Carey Gunn Venditti, a partner in the real estate practice group at international law firm DLA Piper, stops talking about the vitality of the city's economy and glances out the window at the construction cranes dotting the skyline. "Today, I count eight cranes working on both office and residential high-rise projects," Gunn Venditti says. "That's proof that…"
Retail Property Sales Lighting Up in Hialeah
The commercial property market in Hialeah just keeps getting hotter. Cervera R.E. Ventures just paid $11.3 million for a property it intends to renovate at 3800 West 12th Avenue, its first acquisition in the city of Hialeah, according to sources. The sales price for this two-story retail plaza, built in 1984 and sitting on just under 3 acres of land fronting Ludlam Road, reportedly works out to about $150 per square…
ARTIC Refinances Bal Harbour St. Regis, Two Other Luxury Hotels for $503 Million
Qatar-based Al Rayyan Tourism Investment Co. (ARTIC) has refinanced three of its luxury hotels for a total of $503 million, according to HFF, which arranged all three loans. The hotels, which total 1,049 guestrooms, are The Manhattan at Times Square Hotel; the St. Regis Bal Harbour Resort, in Miami; and the St. Regis Washington, D.C. The three floating-rate loans were placed with Mack Real Estate Credit…
Rising Risks: 'Climate gentrification' is changing Miami real estate values – for better and worse
A new Harvard study claims climate change is altering home values both on the coast and inland, coining the term, "climate gentrification." "Higher elevation properties are essentially worth more now, and increasingly will be worth more in the future," according to Harvard's Jesse Keenan. Universities, climate research groups and the National Oceanic and Atmospheric Administration have made…
LeFrak seeks to benefit from Opportunity Zones at SoLē Mia project
Tony Blair, Lloyd Blankfein, Steven Mnuchin and others gathered for a four-day conference in the Hamptons sponsored by the Milken Institute to talk about some of the world's most pressing topics. One of the sessions focused on affordable housing, where U.S. Treasury Secretary Steven Mnuchin discussed the importance of a new federal tax incentive called Opportunity Zones, according to Bloomberg.
Video: RealPage Director of Analytics Jay Parsons on Whether the Multifamily Sector Remains Viable
New supply of multifamily property units, changing demographics, and rising interest rate levels are all combining to have a big impact on the multifamily market. Jay Parsons, Director of Analytics at RealPage, a company that provides property management software solutions for multifamily, commercial, single-family and vacation rental property owners, appears on America's Commercial Real Estate Show to…
The Yield Curve vs. Unemployment Rate in Predicting Recessions
Economists look at several indicators when gauging whether the economy is heading toward a recession. A recent Economic Synopses essay examined the predictive power of two of the most commonly used indicators: the yield curve and the unemployment rate. Business Economist and Research Officer Kevin Kliesen explained how these two indicators are used in evaluating the likelihood of a recession…
Notable Retail Leases Signed in South Florida Q2 2018
Commercial real estate in South Florida continues to be a healthy market as exhibited by metrics in the Q2 2018 report. While there are a number of construction projects as well as acquisitions, retail leasing is also striving with several major retail leases closed in the past 3 months. We've compiled a comprehensive list of the top retail leases signed by square footage in South Florida during Q2 2018.
What's up (or down) with the yield curve? : Analyzing the new most-popular series in the St. Louis Fed's FRED Portal
For as long as we can remember, the most popular series in FRED has been the consumer price index (CPI). Well, not anymore. Recently, the series describing the difference between the 10-year and 2-year Treasury constant maturity rates became the most popular. Why this sudden interest? It has to do with the concept of the yield curve: Under normal circumstances, long-term interest rates are higher than…
Staybridge Suites Opens Miami Hotel
InterContinental Hotels Group has opened Staybridge Suites Miami International Airport, a 153-key hotel in Miami. Grapeland Hospitality Development owns the property, while Buffalo Lodging Associates manages it. Located at 3651 NW 25th Street, the all-suite hotel is close to Miami Jai Alai, Grapeland Water Park and Magic City Casino. Major hospital centers and Marlins Park are also nearby. Additionally…
Miami-Dade To Decide Its Transit Future: Rail, Finally, Or More Buses?
Some story plots are as old and predictable as the ages. The bad witch always gets her comeuppance, Sherlock Holmes always solves the case, and municipalities always struggle to find and to fund transit solutions. Bisnow/Deirdra Funcheon From the 43rd floor of Paramount Miami Worldcenter, you can see the American Airlines Arena (the round building), where the Miami Heat play. The bridge leads to Port…
SoBe hotel under construction asks $11M
A Venezuelan businessman is sticking to the non-real estate businesses he knows – and is looking to sell a hotel under construction in Miami Beach's South-of-Fifth neighborhood. RG Michigan 2014 LLC, led by Gianfranco Rondón, hired Jeff Cohen of Brown Harris Stevens to list the partially developed boutique hotel at 411 and 419 Michigan Avenue for nearly $11 million. Rondón has reportedly had his…
Rubell family scores $20M refi for Albion Hotel in Miami Beach
The Rubell family just scored a $20 million refinancing for its Albion Hotel in Miami Beach, which is undergoing renovations. Property records show a company led by art collector and property investor Jason Rubell, of the family-owned Rubell Hotels, secured the mortgage from Bank of America. It takes over a previous $17.6 million loan that was issued in 2008 by the same lender, and adds about $6 million…
Atlanta developer opens new 19-story apartment building in Coral Gables
Atlanta-based Gables Residential opened its newly built 19-story apartment building in Coral Gables with monthly rents starting at $2,306. The 200-unit building at 60 Minorca Avenue, called Gables Columbus Center, has apartments ranging in size from 770 to more than 1,500 square feet. Gables Residential, a real estate investment trust, built common-area amenities that include a mid-level…
Newest addition to Miami's skyline has unusual basket-weave façade design
Construction of Solitair Brickell, a 50-story apartment building, has been completed, adding a new high-rise with an unusual façade to Miami's skyline. Global architecture and design firm Stantec created the angular, basket-weave design of Solitair Brickell's exterior. According to Stantec, the design of the building's zigzag, serrated balconies was inspired by the texture of the Medjool date palm tree…
New Hotel Headed for Downtown Miami
Dutch hotel chain citizenM plans to open a 348-key, 128,000-square-foot property at Miami Worldcenter, a new, 27-acre mixed-use development underway in Downtown Miami. Gensler Architects is handling design. Located along Second Avenue between Seventh and Eighth streets, the new hotel will be situated next to Miami Worldcenter's pedestrian-only, open-air shopping promenade, which will…
Angular palm tree-inspired tower joins Miami skyline
The angular high-rise includes 438 rental units and many amenities The 50-story Solitair Brickel rental tower is complete and ready to show off its unique basket-weave design said to be inspired by the angular trunk of a Medjool date palm tree. Designed by the Miami offices of global architecture firm Stantec, the high-rise has been under construction since mid 2015. "The unique design of the building…
Inside gubernatorial candidate Philip Levine's real estate holdings
Florida gubernatorial candidate Philip Levine may be known best locally as the former mayor of Miami Beach, but he is also a developer with a sizable real estate portfolio of more than $79 million that stretches from Miami to New York City's Park Avenue. Earlier this summer, he and his real estate partner Scott Robins sold a major retail portfolio they had developed in Miami Beach's Sunset Harbour…
FPL puts 69-acre Palmetto Bay waterfront site on market
Florida Power & Light is putting a 69-acre waterfront property in Palmetto Bay back on the market where it will likely go for at least $50 million, sources said. Once home to a power plant, the property at 6525 Southwest 152nd Street is one of Miami-Dade County's largest undeveloped waterfront properties. The site, known as Cutler Plantation, could be the site of a luxury home development, according…
Here's why retail is making a comeback
The retail sector may be bouncing back. In the face of challenges, companies like Walmart, Target, Nordstrom and Best Buy have expanded their services. And it appears to be paying off: Walmart reported its best quarterly sales gain in a decade, while Target saw the biggest jump in 13 years, according to Bloomberg. "The American retail sector is enjoying a renaissance," Neil Saunders, managing…
If they drive, they will park (Or if they park, they will drive?) : Correlation does not always equal causation
This graph shows that the more people drive, the more they park and generate revenue for parking lot and garage operators. While there's clearly a correlation between these two indicators, it isn't clear that there's a straightforward causality between them. In fact, a third indicator may be affecting the other two: the number of cars in use, the size of the road network, economic activity in general…
Florida's First Radisson RED Hotel Tops Off
RivieraPoint has topped off its six-story Radisson RED hotel in Miami, less than nine months since construction started on the project. Featuring 155 keys, this is the brand's first hotel in Florida. Besides loans and private equity, the developer is using EB-5 funds to finance the $34.5 million hotel. Located at 3401 N.W. 25th St. on a 1.1-acre site in Miami's Lake Palmer area, the hotel will be near Miami…
Hundreds of protesters call on NFL to boot Related's Steve Ross from committee
Thirty-seven protesters were arrested by NYPD officers Wednesday night for blocking Park Avenue. The protesters called on NFL to boot Related's Steve Ross from a committee on social and racial justice. After briefly blocking traffic on Park Avenue, 37 protesters wearing T-shirts saying "Step down Steve Ross" were arrested on Wednesday and carted off in a large white police bus. The arrests were expected…
Shuttered Toys "R" Us location near Dadeland selling to Chevy dealer
Gone are the toy Corvettes and Camaros, and in their places will be the grownup versions when Chevy dealer Arnaldo Bomnin closes on the former Toys "R" Us building on U.S. 1 near Dadeland Mall. Bomnin submitted the winning bid of $25 million for the property at 8325 South Dixie Highway, The Real Deal has learned. Bomnin, president and CEO of Bomnin Auto Group, beat out bidders like Baptist…
Blue Road scores $17M loan for Miami Beach hotel project
Blue Road just secured a $16.9 million loan from Mercantil Bank to finish renovating the Sadigo Hotel in Miami Beach. Kobi Karp is designing the renovation and expansion of the hotel at 334 20th Street. The project, which will turn the property into a 30,000-square-foot hotel with 80 rooms, is scheduled to be completed next year. In 2016, the Miami Beach Historic Preservation Board approved…
Turkey's economy is melting down. Will it hurt US real estate?
As Turkey's meltdown continues, so do fears that it could turn into a broader emerging-market malaise. But in the U.S. commercial real estate industry, the crisis hasn't caused any jitters — and with good reason. Companies from Turkey have bought just $231.4 million worth of commercial properties in New York City since 2000, according to data from research firm Real Capital Analytics…
Photos: An Update on the Cocowalk Construction
This is the state of CocoWalk this weekend. I checked it out yesterday morning. I had seen it from the 24 Hour Fitness gym across the street. I was looking out from the second floor window and for some reason, the empty space reminded me of the space so many years ago. For some reason on that corner, I'm picturing a closed down, abandoned gas station and I can vaguely remember people have…
Sears to close 46 more stores nationwide, 1 in Miami
The bleeding hasn't stopped at Sears Holdings Corporation. The once-ubiquitous big-box retailer said it will close another 46 Sears and Kmart stores around the country in November, according to CNBC. The locations include those in Los Angeles, in Miami, and in Long Island, New York. The company has seen a decline in sales each quarter since 2011. Sears has steadily shed properties in recent years…
Tulip-Shaped Tower Planned for Miami Skyline
Turkish billionaire Bekir Okan met with architect Robert Behar last year and asked him to design a skyline-altering development in downtown Miami. As a result of that chat, he says construction scheduling is now underway on Florida's tallest building. Behar wanted to create a symbolic reference to Okan's homeland and came back to him a few weeks after their discussion with an unusual idea: a tower…
CitizenM joins Miami Worldcenter project
Netherlands-based citizenM Hotels is joining the Miami Worldcenter project. The Dutch hotel chain will buy the land, along Northeast Second Avenue between Seventh and Eighth streets in downtown Miami, from Miami Worldcenter Associates, a spokesperson said. CitizenM will build a 12-story, 348-key hotel on the site and be part of the master-planned, mixed-use development. The 128,000 sf…
Video: Miami Filmmaker Makes 360° VR of the Demolition of Cocowalk
Richard Fendelman, a Coconut Grove based film maker, has created a 360 degree virtual reality video – embedded herein – showing the demolition underway at Cocowalk, "The Demise of Cocowalk as We Know It in 360° VR." and Grovite, sent me this video he took of the final stages of CocoWalk called, "The demise of CocoWalk 360 degrees." It seems like only yesterday that tourists would ask for…
Developer Snags $138M Construction Loan Even as Miami's Condo Market Sputters
Rendering of the 100-unit Elysee waterfront condominium tower in Miami. A developer secured a $138 million loan to finance a 57-story waterfront condominium near downtown Miami, an impressive feat according to one analyst who says the city's saturated condo market is well past its peak. The financing from JPMorgan Chase Bank comes with the 100-unit Elysee nearly half sold and in the early stages…