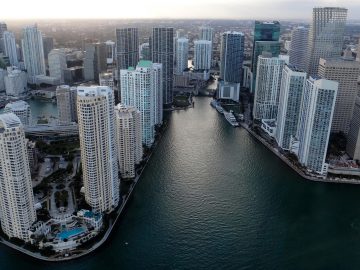 Project manager dies from injuries in Miami Beach building collapse
A project manager died Friday from his injuries in what appeared to be a flawed effort to demolish the old Marlborough House condominium in Miami Beach. AlliedBean Demolition project manager Samuel Landis, a 46-year-old father and Lighthouse Point resident, had been in critical condition since July 23, when the Marlborough House collapsed after it was prepared for demolition. Landis was hit…
South Florida's favorable tax environment, affordable cost of living and diverse economy contributes to Miami's reputation of an ever-growing market. The metro mainly depends on organic expansion rather than large-scale corporate migration. Brightline, the high-speed rail service from All Aboard Florida, is a major step toward an elaborate infrastructure. The project will benefit the metro's economic…
$23 Million Sale of Industrial Campus Near Miami Airport Secured
Cushman & Wakefield has brokered the $23 million sale of Airport East Distribution Center, a 397,585-square-foot industrial campus located at 7000 N.W. 32nd Avenue, roughly five miles north of Miami International Airport. Wayne Ramoski, Mike Davis, Gian Rodriguez, Rick Brugge and Michael Lerner of Cushman & Wakefield arranged the transaction on behalf of the seller, Equitable Real Estate Partners.
Topgolf to Open Second Miami-Area Location on Friday
Golf entertainment concept Topgolf will open its second Miami-area location on Friday, Aug. 10. The three-level, 65,000-square-foot venue is located at 11850 N.W. 22nd Street in Doral, roughly 15 miles northwest of Miami. Topgolf features food and beverage options, big screen TVs, private event spaces and music in climate-controlled hitting bays. The entertainment concept has four existing locations…
Brightline's Boost to Multifamily Development
Many expected the Brightline high-speed rail system to boost South Florida's economy. So far, its biggest impact has been to spur multifamily development in the urban cores. As of July, there are 6,400 apartment units under construction within a half-mile radius of the three South Florida Brightline stations. There has not yet been a measurable impact on other commercial real estate variables, such as…
Construction Surge Dilutes Rent Growth in Miami
Miami's multifamily market remains relatively healthy amid population and job gains, producing growth across asset classes, as rent increases continue to be on par with the national figure. However, following another record-breaking year for deliveries, the metro is on the verge of oversupply, with the accelerated rhythm of inventory expansion expected to linger. The metro added 24,000 jobs in the 12…
KHP Capital Partners pays $109M for Key West Inns
A San Francisco private equity firm just paid $109 million for the Key West Inns, a portfolio of six boutique hotels in Key West. Julie Fondriest, who began assembling the 222-key portfolio in 1997, sold the Key Lime Inn, Lighthouse Court, Albury Court, Merlinn Inn, Chelsea House and Cypress House to KHP Capital Partners, a hotel investment firm that also owns the Hilton Key Largo, a 200-room…
Miami orders audit of Melreese Golf Course as it seeks retail-office-soccer complex
What exactly has been going on behind the scenes at the Melreese golf course in Miami? City of Miami officials are seeking to find out. The city-owned property, about 131 acres with an 18-hole golf course, has been thrust into the spotlight this summer after David Beckham and his business partners showed an interest in securing the site for redevelopment and home to a new professional soccer…
Tri-Rail targets third quarter 2019 runs to downtown Miami
Mobility options are expected to widen for residents in Miami-Dade, Fort Lauderdale and West Palm Beach late next year. Tri-Rail trains are to arrive in downtown Miami by the third quarter of 2019, opening up a larger labor force to employers and more access to attractions and entertainment across South Florida. All Aboard Florida's express passenger rail project Brightline and the South Florida Regional…
Site work on Grand Station in the heart of downtown Miami takes root with tree mitigation
Site work has begun on a high-profile parcel in the heart of downtown Miami that will bring one of the first new residential towers to an area anchored by many institutional buildings. "They are moving fast," said Miami Parking Authority CEO Art Noriega regarding developer Grand Station Partners LLC. Construction fencing has been erected around the vacant corner lot next door to the parking agency's…
County looks at putting trails under Florida Power and Light lines
Miami-Dade County is considering developing park space under Florida Power and Light (FPL) transmission lines and easements as bicycle trails and walking paths. Commissioners in July accepted a report from Mayor Carlos Giménez detailing how the county could best work with the power company to create a 1.76-mile trail system under FPL lines on land managed by the county's parks department. The…
New airport use agreement puts American Airlines first
American Airlines went to the front of the line at up to 61 gates as Miami-Dade commissioners approved a 15-year agreement granting high-volume airlines priority use of concourse gates and changing how domestic and international carriers pay for facilities and services at Miami International Airport – but not before Commissioner Barbara Jordan ensured tougher language was included to eliminate living…
Owners who cap rent rises will see lower finance costs under new Freddie Mac plan
Freddie Mac is launching a new program to help keep rents down. The initiative will offer owners who cap rent increases for the duration of their loans lower-cost financing, according to the Wall Street Journal. It works similar to rent control but is a voluntary program. Freddie Mac plans to announce the program on Tuesday and launch it immediately. The firm will provide mezzanine debt to owners at below…
Feds look to seize Porsche Tower condo unit tied to $1B money laundering case
Federal officials are seeking to seize a condo unit at Porsche Design Tower in Sunny Isles Beach that they allege is tied to a $1 billion Venezuelan money laundering scheme. Prosecutors allege the scheme laundered money out of Venezuela's state-run oil company, PDVSA, and into fraudulent investments and Miami real estate. One deal allegedly involved was the $5.3 million purchase of unit 2205…
Midtown Capital Partners buys Coral Gables office building
Midtown Capital Partners just paid $14.75 million for a Coral Gables office building as part of a sale-leaseback deal. Steiner Management Services, the parent company of One Spa World, which has its headquarters at the property, sold the 58,500-square-foot building at 770 South Dixie Highway to Midtown Capital Partners, a commercial investment firm led by Alejandro Velez and Alexander Saieh. The buyer…
Mast Capital just sold a historic French chateau in Brickell that was to become restaurant
Mast Capital just sold a historic French chateau on Brickell Avenue for $6.25 million, where it planned to bring an Italian restaurant. Mast Capital sold the 5,837-square foot building at 1500 Brickell Avenue to Chateau Petit Douy LLC for $1,070 per square foot, property records show. Camilo Miguel, CEO of Mast Capital, said Chateau Petit Douy is controlled by the hospitality group that is bringing a restaurant to…
Paramount Miami Worldcenter – Miami's tallest building – tops off
The developers of Paramount Miami Worldcenter topped out the luxury condo tower on Friday along with hundreds of construction workers, engineers and subcontractors. Paramount developers Dan Kodsi, Nitin Motwani and Art Falcone hosted the event along with the project's general contractor, CoastalTishman. The 60-story, 500-plus unit tower is part of Motwani and Falcone's mixed-use, master…
Popeyes Moving Headquarters to Miami From Atlanta, Reports Say
A rendering of the building that Popeyes and Burger King will share when the brand moves to Miami, Florida. After building a base in Atlanta, the Popeyes restaurant chain appears to be moving its headquarters to Miami, according to published reports. The South Florida Business Journal reported last week that Restaurant Brands International, which owns Popeyes, Tim Hortons and Burger King, will…
Video: Reis Economist Barbara Denham Presents Retail Property Sector Update and Forecast
Brick and mortar retail has been getting a bit of a bad review. Should that be so? Barbara Denham, Economist with Reis, appears on America's Commercial Real Estate Show to discuss the retail property sector within the overall commercial real estate market. In this video, she provides updates and forecasts on retail properties, discussing vacancy rates, occupancy rate trends, some sample rental rates, and…
Fed Chart: Is there a skills gap in the South? Mapping education and unemployment across the U.S.
Much research has been published on the labor market transition from low-skill and routine jobs to high-skill and non-routine jobs at both a national and a local level. But is this job polarization occurring to the same degree across the country? A recent report co-sponsored by the St. Louis Fed looks at the issue of workforce development in light of this changing economy, especially in southern…
LatAm logistics firm takes Doral sublease, other big lease news
A Latin American and Caribbean logistics and e-commerce company that was recently acquired by PriceSmart just inked a 106,300-square-foot sublease at the International Corporate Park in Doral… at 9950 Northwest 17th Street. Boutique yacht brokerage and charter firm 26 North Yachts just expanded to Miami Beach… at 520 West Avenue, with plans to hire up to six additional brokers over the next…
Retail Sizzling: Terranova Welcomes Multiple New Tenants
Terranova Corporation… has announced a plethora of new tenants opening in two of its most prestigious retail locations in Miami-Dade County – Coral Gables' Miracle Mile and Miami Beach's coveted world-famous pedestrian thoroughfare Lincoln Road. On Lincoln Road, three new restaurants and a café embracing the diversity of Miami Beach's local and tourist populations, join the vibrant mix of dining…
Newark Gets Ready to Pitch Amazon a $1 Billion Tax Package for HQ2 for a Leg Up on Miami, Other Remaining Contenders
As the battle to land Amazon.com Inc.'s second headquarters comes down to the wire, one of the less glamorous contenders is poised to add as much as $1 billion in tax breaks to its pitch. Newark, New Jersey, is expected to approve the big bag of cash, part of a $7 billion package the state is dangling in front of Amazon to capture HQ2, as it's called. A trio of ordinances up for adoption at a city council…
Wynwood 25 Among Properties Adding Smart-Lock Technology to Let the Dogs Out and the In-Laws In
Let your dog walker into your apartment while you're at the office. Or grant your in-laws access to the building's gym while you're sunning on a beach. It'll be possible at new projects by some of the biggest U.S. builders. Toll Brothers Inc., Brookfield Property Partners LP, RXR Realty and Related Group of Florida are… Related Group is adding it to Wynwood 25, a Miami-area rental-and-retail project.
Little Havana driving medium-density apartment growth in the city of Miami
When the Miami City Commission rejected a proposal last year to upzone east Little Havana, it did so in the name of protecting the area from overdevelopment, commissioners said. Now, developers have adapted, and mid-size projects are on the rise. In the first half of 2018, the number of planned rental units in medium-density zones rose nearly 40 percent to 196 over the same period last year, when planned…
Brookstone files for bankruptcy, will close its 5 stores at South Florida malls
Brookstone, a retail chain that sells massage chairs and other novelty merchandise, filed for bankruptcy and plans to close all of its 102 stores in shopping malls, including five in South Florida. Brookstone's mall locations in South Florida include Aventura Mall, Boca Town Center in Boca Raton, Dadeland Mall in Miami, the Galleria in Fort Lauderdale and the Gardens at Palm Beach in Palm…
The next phase of Monterra would include 175 age-restricted apartments
The Monterra residential community in Cooper City may expand to include more rental apartments and commercial space. The next phase of Monterra's development would include a four-story apartment complex with 175 units for tenants 55 and older. Plans for the seven-acre apartment complex, called The Residences at Monterra Town Center, include a gym, swimming pool, community garden and bocci…
Miami-based landlord gets $26.5 million loan to refinance 6-building industrial portfolio
A Miami-based landlord got a $26.5 million loan to refinance of a six-property industrial portfolio in Jacksonville, Orlando, Tampa and the Miami-Fort Lauderdale area. The Federated Companies of Miami got a 10-year, fixed-rate loan from a national insurance company to refinance debt on the portfolio. The portfolio comprises six buildings with about 600,000 square feet of fully occupied industrial space.
Aventura firm makes $45M addition to its portfolio of school properties
Aventura-based ESJ Capital Partners, LLC, acquired four charter school properties for $45 million. ESJ bought the four school properties totaling 176,000 square feet from publicly held EPR Properties, listed on the New York Stock Exchange under ticker symbol EPR. The schools in Arizona, Ohio and Washington, D.C., serve more than 3,000 students, from kindergarten through eighth grade. The operator…
Closed since Hurricane Irma, landmark Hawks Cay Resort in the Florida Keys set to reopen this month
Closed since Hurricane Irma, a landmark resort in the Florida Keys is scheduled to reopen August 30 following a $50 million renovation.
Hawks Cay Resort will reopen with a fresh design for its main hotel, two new restaurants and expanded programming for guests. Hawks Cay has 177 guest rooms, 250 villas with two or three bedrooms, six restaurants, five swimming pools a saltwater lagoon and a…
Trump Doral to pay tenant's legal fees tied to lease dispute
Trump National Doral Miami is running up an expensive tab in a long-running legal war it's losing against Florida Pritikin Center, a rehabilitation spa leasing space at the luxury resort. On Wednesday, the Third District Court of Appeal affirmed a 2017 final judgement ruling by Miami-Dade Circuit Judge Jose Rodriguez against Trump Endeavor 12, the entity that owns the Doral golf resort managed by…
Bjarke Ingels teams up with 1111 Lincoln Road developer on Allapattah complex
The developer behind Miami's most famous parking garage is planning a massive mixed-use complex designed by Danish starchitect Bjarke Ingels in Miami's Allapattah neighborhood, The Real Deal has learned. A special area plan filed with the city of Miami reveals Robert Wennett's Miami Produce Center LLC is proposing to build an eight-building complex with residential, office, retail, hotel and school…
Private real estate fundraising drops to lowest level since 2013: report
New private real estate funds closed with $22 billion in investor commitments in the second quarter, according to a new report by research firm Preqin. That's the lowest fundraising volume since the first quarter of 2013. In last year's second quarter, $37 billion worth of new private real estate funds closed around the globe. Preqin blames a "lack of mega funds" for the decline. In the first quarter of 2018…
60-Story Miami Worldcenter Condo Tower Caps Change to City Skyline
Paramount Miami Worldcenter developers are completing vertical construction on the 60-story residential luxury tower, capping an almost $4 billion project that's changing one of the biggest skylines in the U.S. Southeast. The last beam was placed Friday atop the highest point in the condominium covering 10 blocks sprawling 27 acres in Miami's downtown. Developers say the project is one of the…
South Florida Retail Summary (Q2 2018)
A summary of the highlights, trends, and current market activity of Q2 2018 for South Florida commercial real estate focusing on Miami-Dade County: Analysis derived and compiled from leasing data and transaction reports in order to better understand the overall health of the CRE market in Miami-Dade County. In Q2 2018 Miami-Dade County's vacancy rate moved up a fraction of a percent to 3.9% from…
Long-term lease on Lincoln Road up for grabs – again – with plans for a hotel
The leasehold interest in an iconic corner of Lincoln Road is back on the market, complete with plans for a developer to build a mixed-use hotel. The Wexler family is offering the 29,448-square-foot site at 200 Lincoln Road for a whisper price of $4 million a year for a 99-year lease. The 25,594-square-foot building is leased to Alvin's Island, a beachwear shop, until April 2019. The family put the property on the…
3H Group Hotels buys dev site in Edgewater
3H Group Hotels continues to target Miami's Edgewater neighborhood. The hotel development firm just picked up a property at 3047 Biscayne Boulevard with approved plans to build a 13-story hotel with 137 rooms. The company, led by developer Hiren Desai, is also building an AC Hotel by Marriott just a couple of blocks north with partner Aztec Group. Records show Biscayne Point Lodging LLLP paid…
Regalia developers score $29 million condo inventory loan
Regalia Beach Developers secured a $29 million condo inventory loan for its two remaining unsold developer units — the penthouse and "beach house." Atalaya Capital Management, a New York-based alternative investment advisory firm, provided the non-recourse financing, Lotus Capital Partners' Faisal Ashraf said. Lotus, an independent real estate bank also based in New York, arranged the loan. A group led…
After 85 Years, Miami Shores Finally Gets A Bar
The village of Miami Shores has existed for 85 years. It has a wonderful recreation center, architecturally interesting homes and a family-friendly vibe. But it's never had a wine bar, until now. Mika Stetsovsky via Flickr Creative Commons Flight Wine Bar has opened in Miami Shores. Residents Kim Flower, an architectural designer, and Andy Wagner, a host on WLRN public radio, opened Flight Wine Lounge…
What is fraudulent misrepresentation in contract disputes?
When businesses in Florida interact with other businesses and individuals, generally it is done through contracts. The parties to the contract agree to do certain things in exchange for something else, and when the parties reach an agreement it is generally then written down and the parties will sign a formal contract. When businesses enter into these contracts though, they have to have some assurances…
South Beach condo tower takes key step forward
The taller, more narrow design for 500 Alton Road leaves more room for a public park The long, drawn-out saga to redevelop SoBe's vacant South Shore Hospital at 500 Alton Road made meaningful progress last week when the Miami Beach City Commission's Finance Committee reached an agreement supporting a new 44-story tower. The latest plan was reached after many meetings and intense…