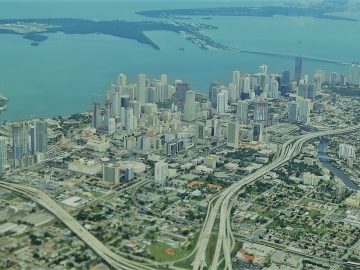 CitizenM moves ahead with Brickell hotel on Perricone's site
CitizenM is moving forward with plans for what could be its first Miami hotel. The Dutch hotel chain is seeking a building permit for a hotel at 955 South Miami Avenue, on the site of Perricone's Marketplace & Café in Brickell. Steven J. Perricone sold the property to citizenM last year for $16.2 million. The deal was part of a sale-leaseback agreement with the hotel company, a Perricone's spokesperson…
Hialeah Is Getting Its First Major Mixed-Use Project In 20 Years
Miami Beach transformed from a granny paradise to a jetsetter's playground. Coconut Grove went from bohemian to bourgeois. Could Hialeah — the wonderland of pawn shops, mechanics and Cuban bakeries — be the next to gentrify? Developers say they are planning the first major mixed-use development in the area in more than 20 years. On 9 acres at 2901 West 16th Avenue, the former site of Sunny…
Richard Branson's Virgin Group Will Soon Have Planes, Trains And Cruise Ships Operating Out Of Miami
Sir Richard Branson might be among the world's most famous Brits, but he can't seem to get enough of Florida. Bisnow Archives/Julia Bunch Sir Richard Branson, photographed in Dallas riding a horse in 2016 His Virgin Airlines has been operating direct flights between Miami and London since 1986. It will soon be possible for U.K. travelers to take that flight then hop on a Virgin Voyages cruise through…
Billionaire Buzzkill? Developer Jeff Greene Offers Counterpoint To Sunny Real Estate Predictions
More than a dozen panelists spoke at Bisnow's State of the Market event in West Palm Beach Tuesday, and their outlook for the economy ranged from "bullish" to "cautiously bullish" to "optimistic" to "cautiously optimistic." Then there was billionaire Jeff Greene. Bisnow/Sam Markovich Arthur J. Gallagher Area Vice President Lisa Neumayer, BET Investments principal Bruce Toll, independent investor Jeff Greene…
Can the Mooch turn institutional investors on to Opportunity Zones?
Anthony Scaramucci was still joking around with his partners when the microphones went live during a Tuesday afternoon conference call meant to draw in investors for his hedge fund SkyBridge Capital's plan to raise a $3 billion Opportunity Zone fund. Indistinct male voices cajoled one another: "Come on!" said one man. "If you can't take it nobody can take it," said another, as classical hold music played on.
World's First 'Robotic Supermarket' Coming To Miami
It's the quintessential problem for the modern American supermarket: how to offer the wide selection that customers expect, yet still turn a profit after having to pay for its real estate and operating costs. A Massachusetts company, Takeoff Technologies, has devised a solution and is partnering with Miami-based Sedano's grocery stores to roll it out. Phillip Pessar via Flickr Creative Commons Sedano's is a…
Lightstone Closes $73 Million Financing for Moxy South Beach
National real estate investor and developer Lightstone today announced the close of $73 million in financing from Canyon Partners Real Estate LLC® ("Canyon") and CapitalSource, a division of Pacific Western Bank, to develop the 7-story, 202-key Moxy South Beach. The financing package consisted of a $55 million senior loan from CapitalSource and an $18 million preferred equity investment from Canyon.
Michelle Bernstein opening Little Havana restaurant later this month, other restaurant news
Chef and restaurateur Michelle Bernstein is back with a new restaurant, Café La Trova, a modern Cuban concept in Little Havana. Bernstein and bartender and mixologist Julio Cabrera plan to open the new bar and restaurant at 971 Southwest Eighth Street later this month in a 5,000-square-foot space. Carlos Fausto Miranda of Fausto Commercial Realty brokered the deal, along with Daniel Egipcia…
Video: Deloitte 2019 CRE Outlook; Jim Berry on Investing in Talent and Cyber Risk
Jim Berry, Partner and Vice-Chairman with Deloitte, appears in this episode of America's Commercial Real Estate Show to talk about his firm's 2019 Commercial Real Estate Outlook. Topics in this segment include cyber security and talent acquisition with respect to commercial real estate. Among the interesting discussions is that about chart covering appeal of the industry to the next generation…
Brickell City Centre set for OK for two more towers
The continuing evolution of Brickell City Centre is set to be considered this week by Miami city commissioners. On the commission's agenda today (12/13) is a third amendment to a Special Area Plan (SAP) for Brickell City Centre and a second development agreement for the large mixed-use project that has already taken over several city blocks just south of the Miami River. These latest proposals request…
Coral Gables tinkers with fate of oldest downtown building
The final document to pull a demolition permit for the old LaSalle Cleaners building in downtown Coral Gables at 2341 Le Jeune Road was to be submitted Wednesday of this week, according to the lawyer for Mirella LaSalle, the owner of the building. The demolition plan, the last missing piece, was delayed because of trouble finding a civil engineer to prepare and sign off on the plan. Ms. LaSalle has said that…
Artists find few affordable gallery spaces in Wynwood
Fewer artists are finding affordable gallery and studio spaces in Wynwood, and many are forced to say goodbye to its mural-decorated streets. Some are determined to stay, but most newcomers are looking elsewhere for lower rent. Rents are on the rise as Wynwood gains popularity. Artist and co-owner of Projects Gallery Frank Hyder says the area now is much less affordable. He remembers paying $950…
Grove garage getting new terms, to play key role in Regatta Harbour
Miami's newest parking garage is expected to be finished next spring, playing a key role in a new development on the Coconut Grove waterfront called Regatta Harbour. The City of Miami and the Miami Parking Authority are partners in the public-private partnership bringing the new garage and related development to the site, and city commissioners are today (12/13) set to consider amendments…
Expense is key obstacle in keeping North Dade rail pledge
When planners last week certified 13 miles of North Dade elevated rail as the future, it symbolized a promise kept. But was it purely symbolic, with little chance of happening soon – or ever? Planners four decades ago promised that Metrorail would run there. But it was never built, and residents are still waiting. Last week, though, they celebrated as rail was pledged to finish the job under a 2½-year-old…
Gun maker pulls the trigger on Miami Gardens building
Gun manufacturer Taurus International just sold a warehouse in Miami Gardens for $12.2 million to a company tied to the home appliance wholesaler Kalorik. Taurus International sold the 120,739-square-foot facility at 16175 Northwest 49th Avenue for about $100 per square foot, property records show. The buyer, Sunway Holdings, is managed by David Murad, who is a principal of the home appliance…
Freshwater under contract to buy Little Havana condos and apartments
Freshwater Group is under contract to pay $12.1 million for the Oleander Park apartment building and units at the Oleander House condominium in Little Havana, Freshwater partner Joseph Sayegh confirmed. The Brooklyn-based real estate investment firm would pay roughly $7.6 million for condo units at the Oleander House at 406 Northwest 22nd Avenue, giving Freshwater control of 42 out of the 52…
City of Miami sues FDOT over long-delayed Flagler project
The city of Miami is trying to pressure the Florida Department of Transportation into completing the long-delayed West Flagler Street construction project by the end of this year. FDOT was supposed to complete the $45 million project, which called for replacing an aging water main, rebuilding sidewalks, adding a bike lane and upgrading drainage to 12 blocks, in late 2017. Construction began in 2016.
Sears hires JLL to shop hundreds of stores, while weighing takeover bid
Sears Holdings hired JLL to market about 500 Sears and Kmart stores in the United States, two months after filing for bankruptcy protection. The brokerage is already drawing interest from potential buyers in major markets while Sears still considers a takeover bid from its chairman. Bids have come in from retailers, mall owners and others interested in potentially adaptive reuses of the stores…
Related files plans for affordable housing projects in Miami
Companies tied to the Related Group recently filed plans for three new affordable housing buildings in Little Havana. Related's The Gallery at River Parc LLC submitted plans to the city of Miami's building department for a 150-unit building at 750 Northwest 13th Avenue and its Brisas del Rio Apartments is planning a 168-unit building at 800 Northwest 13th Avenue. The property is currently…
Student housing developer buys site near University of Miami
Masoud Shojaee's Shoma Group just sold a site in Coral Gables to Landmark Properties, a student housing developer, for $30 million. Shoma sold the site at 1515 San Remo Avenue and 1500 Venera Avenue to Standard at Coral Gables LLC, an affiliate of Athens, Georgia-based Landmark, according to property records. Shoma paid a combined $15.2 million to buy out the 47 condo unit owners…
Lightstone scores $73M loan for Moxy South Beach hotel
Lightstone just scored $73 million in financing to develop its Washington Avenue hotel in South Beach. The New York-based real estate investment company secured the financing from Canyon Partners Real Estate and CapitalSource. The funds will be used to build the first Moxy-branded hotel in Florida, a seven-story, 202-key hotel at 915 Washington Avenue. The financing package includes a $55 million…
The Miami Design District and Wynwood Are Competing for a Tri-Rail Station. Which One Will Win?
Tri-Rail is coming to Downtown Miami sometime next year. When you consider that South Florida's commuter rail network is finally accessing South Florida's urban core, this is big news no matter how you slice it. First, Tri-Rail will head into Downtown Miami by taking an east-west rail line at 73rd Street and then heading south on the Florida East Coast Railway (FECR) tracks, thereby connecting it with the…
Strip Club Found Liable For Shooting On Property
The recently closed King of Diamonds strip club is known around the world because countless rappers have immortalized it in song. Not far away, though, was a perhaps more notorious club. Google Maps 1430 NW 119th Street in Miami Coco's over the years had been the site of multiple shootings and the arrest of a drug and weapons dealer named King Dread. One reviewer on Facebook warned in 2016…
Multifamily investors should keep an eye on this market
Multifamily investors looking for places to put their cash may want to consider workforce housing. The market — which is rental communities for low- to median-income workers — has outperformed the broader multifamily market, according to a new CBRE report cited by HousingWire. The segment has gotten a boost from low vacancy rates and above-average rent growth, and, because a small…
Some luxury condo developers add landing pads for flying cars
As the development of personal transportation drones advances, landing pads are emerging as the latest must-have amenity at condominiums for the wealthiest buyers. For example, three luxury condos will feature flying-car landing pads in Miami, where the 1 percent would be able to travel by air while the other 99 percent are stuck in the city's notorious traffic congestion. "These flying-car…
Inside look: Photos from TRD's tour of One Thousand Museum
One Thousand Museum is months away from opening and The Real Deal got an inside look. Construction on the 62-story luxury condominium building is expected to wrap up by March 2019. Housing 83 units, the building is 82 percent sold, according to the building's sales director, Harvey Daniels of ONE Sotheby's International Realty. The development team, which includes Louis Birdman…
Industrial development slowing slightly nationwide, after strong growth: report
The number of industrial buildings coming online nationally slowed slightly in the first nine months of 2018, after several years of strong growth. A total of 237 million square feet of new industrial space was delivered across the country from January through September, down slightly from 243 million square feet year over year, according to a new report by Avison Young. The slowdown follows a major…
EB-5 visa program extended…until Dec. 21
The federal EB-5 visa program received another extension as part of the larger federal spending bill, this time until Dec 21. EB-5 had been set to expire on Dec. 7. Congress now has two weeks to decide whether to extend again or shut down the controversial green card initiative. The program gives foreign investors the opportunity to obtain a green card if they invest at least $500,000 in a project and…
Appeals court overturns Airbnb victory against city of Miami
A new development in the ongoing fight between the city of Miami and Airbnb has both sides claiming victory.The Third District Court of Appeals ruling on Wednesday overturned a lower court injunction that prevented the city from enacting new regulations clamping down on short-term rentals in single-family neighborhoods. In a statement, Miami Mayor Francis Suarez said the city is pleased with the…
Hundreds of Sears stores could survive in "last-ditch effort" to save chain
Hundreds of Sears stores across the U.S. could be saved in what one analyst called "a last-ditch effort" by company chairman Edward Lampert to buy the company out of bankruptcy. Lampert' ESL Investments already is Sears Holdings' biggest shareholder and creditor. On Thursday, he outlined a $4.6 billion bid to take over the rest of the century-old retailer, according to Bloomberg…
Las Vegas billionaire buys 21-acre Casino Miami, plans hotel
Las Vegas billionaire Phil Ruffin is gambling on a new city. Ruffin, who owns the Treasure Island Hotel and Casino in Vegas and a number of other businesses, bought Casino Miami, a 21-acre casino near Miami International Airport at 3500 Northwest 37th Avenue, according to a press release. Property records show Fronton Holdings LLC, tied to Boston-based Summit Partners, sold the sprawling site. The 200,000…
Chinese investors sold $1B in US real estate in Q3
Chinese investors keep retreating from the U.S. real estate market. They offloaded more than $1 billion in U.S. properties in the third quarter, the Wall Street Journal reported. Meanwhile, insurers, conglomerates and other big investors from the country purchased $231 million of property. "This has to do more with a change in how capital is permitted to behave rather than Chinese investors saying…
Aspen Capital buys apartment complex near North Beach town center
A company tied to private equity firm Aspen Capital just bought a newly renovated apartment complex on Normandy Isle in Miami Beach for $5.25 million. Hervé Barbera's Bar Invest Group sold the 30-unit building at 6905–6921 Rue Vendome for about $175,000 per unit. Records show Barbera bought Rue Vendome in 2012 for $2.6 million. The complex recently underwent a renovation that included…
Video: PwC Partners Mitch Roschelle and Byron Carlock on the Top Trends to Follow ~ PwC/ULI Emerging Trends in Real Estate 2019
Mitch Roschelle and Byron Carlock, partners at PwC, join America's Commercial Realty Show in studio to discuss the PwC/ULI Emerging Trends in Real Estate 2019 Outlook. Discussions in this segment include the intensifying ongoing transformation of commercial real estate, easing into the future, and 18 hour cities.
Obligations when there is an anticipatory breach of contract
Businesses in Florida enter into contracts every day and by doing so they are agreeing to be bound by the terms of the contract. This means they must perform the obligations they agreed to perform. This could be either to perform certain services, provide certain products or perhaps simply pay for another company's goods or services. Another aspect of many contracts is that the parties to the…
Once-contentious Sunset Harbour project scores approvals from Miami Beach
Deco Capital Group secured key approvals from two Miami Beach boards over the past week and is moving forward with its plans for a scaled-back development in the Sunset Harbour neighborhood. Bradley Colmer, managing principal of Deco Capital, said the developer has all the city approvals it needs now that it got the OK from the planning and design review boards, but it's still facing opposition…
Benderson buys shuttered Toys "R" Us store in Doral
Benderson Development Company is creating a niche: It just bought another former Toys "R" Us store this week. Property records show an entity tied to the company paid $8.5 million for a location in Doral. The 44,542-square-foot building at 1645 Northwest 107th Avenue traded hands for $191 per square foot. The property spans 4 acres and sits just west of Miami International Mall. Records show Toys…
Video: Deloitte 2019 CRE Outlook; Jim Berry on Global Capital Flows
Jim Berry, Partner and Vice-Chairman with Deloitte, joins the host of America's Commercial Real Estate Show via Skype to talk about his firm's 2019 Commercial Real Estate Outlook. In this segment, topics that are discussed include capital flows and property technology (proptech). He discusses that over 97% of investors surveyed plan to increase their allocation to commercial real estate, but that most…
South Florida Year In Review: The Top CRE Stories Of 2018
The year 2018 is almost a wrap. Commercial real estate pros across the country spent much of the year marveling that the economic expansion has gone on for a decade, wondering how much longer it could possibly last, and enjoying the spoils for as long as it does. South Florida saw high rents, high land costs, continued population growth, and thankfully no hurricane. Plus, climate change hasn't…