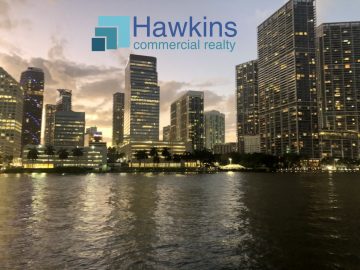 Michael Stern pays $24M for future site of 62-story Brickell tower
Developer Michael Stern closed on an assemblage of properties in Miami's Brickell neighborhood where he plans to build a 62-story tower, The Real Deal has learned. Stern, who leads New York-based JDS Development Group, paid $9 million for property at 191 Southwest 12th Street. The seller is a company tied to John Polit. Stern also bought adjacent land from…
South Florida Retail Dodged Bullets This Year, But More Shakeout Is Expected In 2021
In spite of the coronavirus, Miami-based real estate investment firm Tricera Capital completed 45 new office and retail leases in 2020. "Buy the best-located properties at the right basis, in the core of emerging growth markets, with a heavy focus on service and convenience," said co-founder and Managing Principal Ben Mandell about the firm's guiding strategy.
Signature Miami bridge rising as contractor pumps out water
Work forges ahead on the expansive I-395/SR 836/I-95 Design-Build Project in Miami, a project of the Florida Department of Transportation (FDOT) in partnership with the Miami-Dade Expressway Authority and its contractor, the Archer Western-de Moya Group Joint Venture. Work along I-395 from I-95 to the MacArthur Causeway; SR 836 from west of Northwest 17th…
Office Developers, Miami Beach Wants You — With Some Caveats
Miami Beach is known for sun, sand and hotel rooms. City leaders say it's also a great place for an office. With high-profile businessmen like Barry Sternlicht and Carl Icahn having moved to the Miami area, part of an exodus from high-tax states to business-friendly Florida, the city of Miami Beach is seeking letters of interest from developers who might want to…
Court takes hard line on late rent payment into court registry during COVID-19
Under a particular Florida statute, in a commercial eviction, where there is a court order requiring the tenant to pay rent into the court registry during the lawsuit and the tenant fails to pay, the tenant is considered to have waived its defenses and the landlord is entitled to an immediate default for possession. How strictly that rule is applied was recently put to the test.
Short-Term Woes Could Yield Long-Term Wins for Alert Office Investors
In classic contrarian fashion, investors in office space might want to watch closely in the coming weeks and months for the opportune moment to strike some deals downtown. Downtown office space is taking a beating during the pandemic, and there's certainly a lot of reason to believe that working from home (WFH) is as much permanent reality as temporary…
Trusts benefitting Masoud Shojaee's daughters sue to access his company's financial records
Masoud Shojaee is facing another legal entanglement involving his daughters. Two trusts benefitting Anelise and Lilibet Shojaee sued a company managed by the Coral Gables-based developer that's tied to a recently completed Doral mixed-use project. The lawsuit follows a separate complaint filed earlier this year by another trust benefitting his…
Housing drives rise in construction spending October
Residential construction accounted for 44% of spending in October. (iStock) A strong housing market continued to fuel construction spending this fall. Construction spending grew an estimated 1.3 percent in October to $1.43 trillion, seasonally adjusted, compared to $1.42 trillion in September, according to the U.S. Census Bureau's monthly report. Private housing…
At The 57-Story 830 Brickell Office Tower, 8-Story Parking Garage Now Nearly Complete
In Brickell, contractors working on the 830 Brickell office tower appears close to completing a parking garage, new photos show. The eight story parking facility appears to now be nearly complete. The garage runs from level 2-8, followed by office space starting on level 14. There is strong interest by tenants in the building, brokers say. Brian Gale, Vice Chair…
Where retail sales have been booming : Sporting goods, home project supplies, and groceries are way up
We recently discussed how some areas in the retail sales sector have suffered dramatic declines during the pandemic. Today, we highlight three areas where sales have actually been booming. FRED just added monthly state retail sales data from the Census Bureau, and we can enlist the help of GeoFRED to show the details. In the first map, we see that sporting goods…
Reuben Brothers takes over $132M loan backing St. Regis Bal Harbour
British billionaire brothers David and Simon Reuben are picking up the senior loan behind the St. Regis Bal Harbour resort, as the hotel market continues to struggle. Their private equity and investment firm, Reuben Brothers, acquired the $132 million mortgage from Mack Real Estate, according to a spokesperson for Reuben Brothers. Tarek El Sayed, CEO…
Retail foot traffic tanks on Black Friday
Spending outpaced foot traffic because shoppers purchased at the stores they did visit (Getty) Foot traffic in stores on Black Friday was about a half of what it was last year. But the decline in spending at physical stores was not as bad, according to the Wall Street Journal, citing findings by several analytics firms that track retail. Spending outpaced foot traffic because…
Notable Retail Leases Signed in South Florida Q3 2020
South Florida Retail Leases 2020 We've compiled a comprehensive list of the top retail leases signed by square footage in South Florida during Q3 2020. This quarter was busy overall, especially considering the current pandemic, and saw several big box leases signed and sealed. Despite the sentiment that the traditional retail market is suffering due…
Chart: September Miami-Dade Unemployment Rate Approaches Prior Peak After Prior Month Respite Head Fake
Miami-Dade County, Florida Unemployment Rate Year Ending September 1, 2020 As can be seen in the chart above of the unemployment rate in Miami-Dade for the year ending September 1, 2020, the unemployment rate as of September 1 went back up to 13.0%, not so far from its peak of 14.5% reached two months prior. This followed a welcome decline in the month…
Real estate deals dominate Opportunity Zones. Is that bad?
Investment in Opportunity Zones is growing at a rapid pace, and so is skepticism about the program — and whether its incentives for pouring cash into low-income communities amount to a tax dodge. The Economic Innovation Group, a policy group that's a proponent of the program, identified 186 real estate and business investments in Opportunity Zones…
Pandemic takes drastic toll on dry cleaners
At J's Cleaners, business had clawed up to 40 percent of pre-pandemic levels last month. But now, with Covid-19 soaring again, that number is expected to plummet. "If this thing keeps dragging, many small businesses will close. Maybe I could be one of them," owner Albert Lee, who plans to permanently shutter four of his 15 locations, told Bloomberg. He is losing…
Miami Beach may create incentives for affordable housing developers
Miami Beach's success in attracting luxury developments means there's little to no room for affordable housing developers to build projects. But the city commission's land use committee is hoping to solve that problem. Committee members Mark Samuelian, Michael Gongora and Ricky Arriola, who are also commissioners, on Tuesday directed Miami Beach…
South Florida October construction starts drop, year-over-year
October construction starts in South Florida rose from September, but lagged behind amounts seen a year prior, according to a recently released report. Total construction starts for Miami-Dade, Broward and Palm Beach counties fell 10 percent from October of last year to $964.3 million, according to Dodge Data & Analytics, a Hamilton, New Jersey-based…
Miami to Disney? Brightline announces station that would connect South Florida to Mickey Mouse
South Floridians may eventually have a quicker way to get to Walt Disney World. Brightline and Disney announced Monday an agreement for the higher-speed passenger train to build a station at Disney Springs, the shopping and entertainment complex at the Central Florida resort. The project is pending local government approval. Brightline already has…
ROVR Development Buys Miami manufactured housing community for $15M
A ROVR Development-led partnership has acquired Paradise manufactured housing community in Miami for $15 million… An entity affiliated with Raul Nunez sold the property… Located at 2750 NW South River Drive along the Miami River, the property is located within a dense residential area, some 3 miles from Miami International Airport…
Mill Creek, Invesco sell Fort Lauderdale apartments for $180M
Mill Creek Residential and Invesco sold a 555-unit apartment complex in Fort Lauderdale for $180 million, marking one of the largest commercial deals to close in South Florida this year. The buyer, NM-Port Royale LLC, is tied to Northwestern Mutual. The deal includes the Emera Port Royale apartments, formerly called Modera Port Royale, at 3333 South Port…