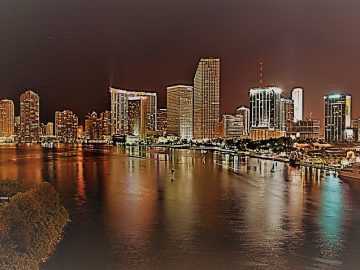 Karakhanian sells Design District building
Developer Alex Karakhanian sold a building housing an international fashion school in the Miami Design District to Stockbridge Capital for $22 million. Karakhanian's Lndmrk Development sold the property at 3701 Northeast Second Avenue for $1,000 per square foot, according to a press release. Milan-based Istituto Marangoni is leasing the 22,000-square-foot, seven-story building. The fashion school…
Airbnb Is Getting a $200 Million Boost to Build Its Hotel-Like Apartment Business in Miami, Other Major Cities
If you can't beat 'em, join 'em, as the old saying goes. That seems to be ringing true for some multifamily housing developers, who are just now beginning to explore the opportunities of building "Airbnb-friendly" apartments. Today, you can count Brookfield Property Partners and Silverpeak Real Estate Partners as two of those landlords who see dollar signs in working with homesharing giant Airbnb.
Istituto Marangoni's first U.S. campus set to open in Miami's Design District
Istituto Marangoni, the leading Italian fashion, art and design school, an-nounces the group expansion into the Americas with the opening of the first U.S. School in Miami's Design District, the 10th in the world. Istituto Marangoni, which was founded in 1935 in Milan and has more than 80 years of history and success in training the top professionals of fashion and design, can praise itself for the education of…
UniVista Insurance buys new HQ along Miami River
Miami-based UniVista Insurance just purchased a new office building along the Miami River where it plans to move its headquarters. Property records show Riverside Property Building LLC, led by UniVista CEO Ivan Herrera, paid $10.2 million for a four-story office building at 528 Northwest 7th Avenue. The 15,000-square-foot building sold for about $680 per square foot. The seller, GLF Construction Corp…
TBD Group sells Edgewater dev site on Biscayne Blvd. for $5 million
A Miami real estate investment and development firm just flipped a site in Edgewater for $5.24 million. Property records show an affiliate of TBD Group, a Key Biscayne company owned by Miami architects Tamara and Bernadette Despujols and their parents Leonor Ortega and Claudio Despujols, sold the 0.37-acre lot at 3200 Biscayne Boulevard to Green Circle Development, led by Sexton E. Garcia. It sold for…
Foreigners Are Unloading CRE Assets — In Miami, At Least
For the past decade, foreign investors looking to stash capital in a safe place bought up Miami condos like kids dropping pennies in their piggy banks. Fearing that prices were plateauing, many investors moved into commercial real estate in major U.S. cities. Now they are cashing out, Marcus & Millichap Senior Managing Director Alex Zylberglait said. Foreigners began moving into CRE in 2015, Zylberglait…
'I Hand-Pick All My Tenants': Miami Developers Curate Retailers To Create Cool Neighborhoods
The Little River area of Miami is a large jigsaw puzzle, MVW Partners principal Matthew Vander Werff said, and because he quietly bought almost 80 properties there before the area got too hot, he is able to act like a master hand, guiding a distillery here, a vintage motorcycle shop there, making the neighborhood fit together just so. Deirdra Funcheon MVW Partners principal Matthew Vander Werff pictured at…
Coconut Grove reinventing itself as a luxury enclave
Coconut Grove has long played an important role in Miami's transformation into a bustling metropolis. Discovered in the early 19th century by mariners attracted to bubbling freshwater springs along its coastline, it was one of the city's earliest settlements founded by maritime traders from the Bahamas and Europe. After its official founding in 1873, Coconut Grove went through several evolutions…
Major League Soccer approves David Beckham's 3 new partners in Miami dream
After four years of pushing for Miami's very own Major League Soccer team and stadium, David Beckham announced more progress Thursday. He now has the backing of two wealthy Cuban-Americans and a multi-billionaire from Japan. The MLS board of governors approved a new ownership group that aims to celebrate the team's first game in a new Overtown stadium in 2020. Todd Boehly…
Amid Coconut Grove Playhouse intermission, garage shrinks
Historic preservationists may have won a partial victory with a Miami Parking Authority vow to shrink the height and scale of a garage planned in efforts to save the shuttered Coconut Grove Playhouse. Beyond that, it appears preservationists fighting to save the entire structure – including the 1,100-seat auditorium – have found powerful allies at the city and county level. The Miami City Commission…
Miami-Dade looks at rolling circulator buses across county
Though many municipalities provide low fare and free bus circulators to their residents, unincorporated Miami-Dade residents are left to rely exclusively on the Metrorail, Metrobus and Metromover systems. To provide more options to residents in unincorporated areas of the county and make existing systems more accessible, commissioners are asking the mayor's office to explore county-run bus circulator…
Ransom Everglades School expanding in a big way
The latest plan will expand the Upper School campus by nearly 7 acres by adding adjacent property known as La Brisa, purchased in 2016. School officials are seeking approval from the City of Miami for an amended Special Area Plan or SAP for Upper School at 3575 Main Highway, and an amended development agreement with the city. The city commission on Dec. 14 unanimously approved both…
Developer scores construction loan for Casa Grove rentals
Miami-based MEC Development Associates and and B Developments just closed on a $27 million construction loan for Casa Grove, a luxury apartment tower planned for Coconut Grove, according to a press release. The transit-oriented project is being developed by a joint venture between the two firms. Construction of the 130-unit project at 2900 Southwest 28th Lane is set to begin next month…
Connectivity key in building our next generation economy
Amazon's announcement that the company will build a second headquarters in North America led to almost every major city across the US scrambling to put together the best package possible to convince the online behemoth that their city is the right fit for the aptly named Amazon HQ2. Amazon's request for proposal (RFP) laid out several "paramount" prerequisites for any city hoping to land HQ2.
Anatomy at 1220 to anchor Avra Jain project near Midtown Miami
Miami Beach gym Anatomy at 1220 is bulking up with a second location. Owners Chris Paciello and Marc Megna signed a lease for 15,000 square feet at 3415 Northeast Second Avenue in Miami, broker Lyle Chariff told The Real Deal. Avra Jain and Joe Del Vecchio of Vagabond Group paid $13 million in May for the building, which sits just east of Midtown Miami near Edgewater. Chariff, Luis Guevara and…
DHL Inks 100,000 SF Lease Renewal At Beacon Centre In Doral
Transwestern's South Florida industrial team closed a long-term lease renewal for approximately 100,000 square feet with global logistics provider DHL at Beacon Centre, a Class A business park located at NW 25th St. and NW 84th Ave. in Doral. Rhis renewal maintains 100 percent occupancy at the 180,000-square-foot building at 8400 NW 25th Street. "Beacon Centre is centrally located in Doral, just 2 miles…"
CRE will hit "the jackpot" with GOP tax plan

Commercial real estate owners who hold properties through pass-through companies could fare quite well under the final Republican tax bill compared to other companies using the same structure. The proposal gives a 20 percent deduction on taxable income to pass-through companies owned by individuals who make less than $157,500 and joint filers who make less than $315,000, the Wall Street…
Doral Is One Of Only Four Cities To Nab Prestigious Platinum Certification
The World Council on City Data has recognized the City of Doral with the ISO 37210 Platinum certification. This certification is awarded to cities who reach the highest standard in collecting and sharing data, using it for effective decision-making. The City of Doral is the fourth city to receive ISO 37120 certification in the U.S., joining a global network of over 50 cities worldwide, including Dubai, Barcelona, and…
Construction of Brightline link to Orlando to start in first quarter
All Aboard Florida expects in the first quarter of 2018 to start construction to extend its Brightline passenger rail service to Orlando and to launch service to Miami. The Federal Railroad Administration on Friday approved All Aboard Florida's plan to link Orlando to its pending Brightline service in South Florida. The Brightline rail service is expected to start between downtown stations in West Palm Beach…
Miami apartment building Casa Grove to begin construction in January
Just northwest of Coconut Grove A new luxury apartment building in Miami is preparing to begin construction next month after securing the necessary construction funding. The 130-unit Casa Grove will rise at 2900 Southwest 28 Lane (just northwest of US1 and next to the Coconut Grove Metrorail Station) after the development team, comprised of MEC Development Associates and B Developments, closed…
Miami's 26 Edgewater expecting early 2018 opening
Over 90% sold Another new condo project is nearing completion in Miami with 26 Edgewater expecting to open early next year. Located at 321 Northeast 26th Street and designed by Modis Architects, the 10-story mixed-use development is currently over 90 percent sold. It's comprised of 86 units, ranging from one to two bedrooms and 560 to 998 square feet. It's the first boutique development in Edgewater.
Miami Jewish Health Systems nabs approval, breaks ground on Buena Vista campus
The Miami Jewish Health Systems broke ground on the redevelopment of its Buena Vista campus on Friday, a day after securing approval from the Miami City Commission for its special area plan. The commission approved the plan for a linear park on Northeast Miami Place and 50th Terrace, according to a press release from Greenberg Traurig. The SAP will also allow property owners of nine or more acres…
The Ritz-Carlton Residences, Miami Beach offers an aquatic helicopter experience
The latest in over-the-top amenities Miami's condo amenity game has officially reached absurd levels. The Porsche Design Tower has its car elevator. Paramount Miami Worldcenter will have its theme park of an amenity deck. Estates at Acqualina will house an ice skating rink. The latest over-the-top amenity: A navigable marine helipad coming to The Ritz-Carlton Residences, Miami Beach, which is…
Battle for the $1 billion Island Gardens project
Flagstone Property Group fi led suit against the city of Miami after the developer was kicked out of Watson Island and the Island Gardens project. From the latest issue: For well over a decade, Turkish entrepreneur Mehmet Bayraktar has been on a seemingly quixotic quest to transform a barren patch of prime waterfront land in Miami into a billion-dollar ultraluxury resort with a supersized wharf…
$20 million Coconut Grove Playhouse renovation plan booed off stage
Miami commissioners closed the curtains on an initial $20 million plan to renovate the Coconut Grove Playhouse that entailed razing the playhouse's deteriorated 1,100-seat auditorium and replacing it with a modern 300-seat theater. In a 3-2 vote on Thursday, the commissioners moved to preserve the exterior facade of the theater — a motion carried out by Commissioner Ken Russell, according…
Toys "R" Us could close as many as 200 locations
Toys "R" Us is reportedly considering closing 100 to 200 U.S. stores, according to Bloomberg. The toy chain's sales during the critical holiday season have declined 15 percent, compared to last year, Bloomberg reported, citing anonymous sources who were briefed on the matter. Toys "R" Us spokeswoman Amy von Walter referred to the report as "speculation." "Final decisions about our real estate…"
Related closes on construction loan for Liberty Square redevelopment
The Related Group's affordable housing division just closed on construction financing for a mixed-income redevelopment of Liberty Square in Miami's Liberty City neighborhood. Related Urban Development Group secured the $23.1 million construction loan from Bank of America, according to the developer. The financing will be used to build 204 units in six garden-style buildings as part of the first phase…
Miami Open moving to Hard Rock Stadium in 2019 under new deal
After a two-week standoff, Miami-Dade county officials agreed Tuesday to move the Miami Open from the Crandon Park tennis complex in Key Biscayne to Hard Rock Stadium in 2019. Mayor Carlos Gimenez and IMG, the sports giant that runs the tennis tournament, agreed earlier this month to make the move to the Miami Dolphins stadium owned by developer Stephen Ross, but negotiations fell through…
NFL star's $18.2 million North Miami buy sparks three-way battle for commission fee
A fight over commission from the $18.2 million sale of five North Miami apartment buildings to an NFL star last year… Dumervil's company bought five low-rise and mid-rise apartment buildings totaling 233 apartments at 1525 Northeast 125th Street, 13020 Northeast Sixth Avenue, 13055 Northeast Sixth Avenue, 14050 Northeast Sixth Avenue and 400 Northeast 137th Street…
Miami real estate loves Bitcoin – will Bitcoin love it back?
A condo for sale in Miami hit the market earlier this month accepting only Bitcoin, grabbing headlines as one of the only U.S. real estate listings to limit itself to the cryptocurrency. The one-bedroom pad at 480 Northeast 30th Street listed on Dec. 8 for 33 Bitcoin, or about $550,000 at the time, according to the listing agent. But as of Tuesday, 33 Bitcoin is now equal to about $603,000. In dollar terms, that's…
Link Real Estate, Jameson Equities team up on creative office project in Wynwood
A partnership between Link Real Estate and Jameson Equities paid $5.4 million for a building in Wynwood where it's planning a creative office project. The Schenker family, which operated a printing press at the building, sold the property at 2509 North Miami Avenue, Lombardi Properties broker Jonathan Eismann told The Real Deal. Eismann had the site on the market for $6.5 million. Andy Charry of…
Miami Investor Spends $42 million for Broward County Office Bldg
A Miami-based investor paid a reported $42 million, or about $293 per square foot, for Pembroke Pointe 880, a four-story office building in Pembroke Pines, FL, a western suburb of Fort Lauderdale, public records show. Midtown Capital Partners LLC bought the 143,535-square-foot property at 880 SW 145th Ave. from Duke Realty Corporation. The building opened in 2015. It fronts Interstate 75 in…
Xceligent shuts down, files for Chapter 7
Real estate data firm Xceligent, which has been embroiled in a multimillion-dollar lawsuit with CoStar Group, shut down operations Thursday and filed for Chapter 7 liquidation, according to a source familiar with the matter. A note was sent out to staff Thursday informing them about the decision, according to a source who read it. Employees were asked to vacate the building immediately…
DHL Renews 100,000-SF Lease in Doral
Global logistics provider DHL has renewed its lease for 100,044 square feet in the Beacon Centre business park in Doral, FL. The renewal keeps the 180,000-square-foot Building 26 at 8400 NW 25th Street fully occupied. The property is part of a four-building, 425,000-square-foot portfolio within Beacon Centre that's owned by institutional investor RREEF. "Beacon Centre is centrally located in Doral, just two…
Alex Karakhanian sells building on Wynwood-Edgewater border to Morgan Reed Group
Developer Alex Karakhanian sold a building at the border of Wynwood and Edgewater to Morgan Reed Group for $10.7 million. The Miami-based real estate firm bought the property at 1900 Northeast First Street with plans to convert it into a creative office building, brokers Tony Arellano of Metro 1 and Devlin Marinoff of Whitehall Realty told The Real Deal. It was on the market for $13.7 million…
Calypso St. Barth to Liquidate Coral Gables Store and All Stores Nationwide
Luxury women's lifestyle brand Calypso St. Barth is liquidating and closing all of its stores following its bankruptcy filing late last month. Founded on the Caribbean island of Saint Barthélemy in 1992, the luxury lifestyle brand operated 26 boutiques in New York, Georgia, Massachusetts, Colorado, California, Florida, Arizona, Maryland and South Carolina. Valued at a total of $15 million, the…
Miami Beach broker files plans for Wynwood hotel
A Miami Beach broker submitted plans last month for an eight-story hotel in Wynwood, The Real Deal has learned. High Cube LLC, a company controlled by Sterling Equity Realty broker Robert Ziehm, filed a building permit with the city of Miami for an eight-story, 95-room hotel at 51 and 45 Northwest 28th Street, according to documents obtained by TRD. Ziehm confirmed he plans to develop the…
Florida developers react to millennials' generational disruption
The burgeoning population of millennials in Florida is having a profound effect on commercial real estate transactions in the state. At more than 75 million individuals, millennials – those born between 1980 and 1997 – are the largest consumer group ever to have to lived in the United States. And their collective decisions are making an impact on real estate development in the Sunshine State. Trends…
Mas bros. team up with Beckham in pitch for Miami MLS stadium
Score! David Beckham has brought in powerful Miami siblings Jorge and Jose Mas to his investment group planning a multimillion-dollar Major League Soccer stadium in Overtown. The MasTec brothers, whose father founded the engineering and construction firm, have joined the venture, while majority partner and Los Angeles Dodgers co-owner Todd Boehly has bowed out, according to the Miami…
Tax Overhaul Could Be Big Win for U.S. Real Estate Investors
U.S. commercial real estate is a likely winner in the evolving Republican tax overhaul, which is poised to lower rates for property owners, spur new investment and increase demand for rental housing, according to a new report. Owners and developers of commercial real estate stand to gain from a new tax break for "pass-through" entities, which don't pay corporate tax but instead pass income through…
East 41 mixed-use project in Hialeah scores approval
East 41, a mixed-use project that will bring retail, self-storage and more than 400 residential units to Hialeah, is underway after the city council approved to extend its business district regulations where the project's developers plan to build. The current property owner, J.R. Realty Corp., led by David Small, is under contract to sell the development site to 1100 E. 41st Street LLC, led by Miami investor Rolando…