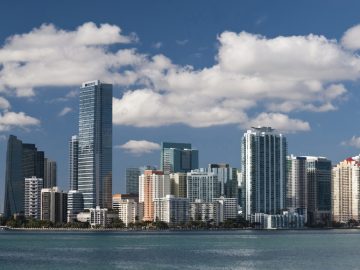 Massa Investment pays $11.5M for retail space at Axis Brickell
A company tied to Massa Investment Group just paid $11.5 million for retail space at Axis Brickell in Miami, records show. Lmnr Axis Properties LLC, which is managed by Menin Hospitality's Keith Menin, sold the 13,724-square-foot property at the ground floor of the condo development. The property at 79 Southwest 12th Street includes the popular Miami taco shop Coyo Taco and Marion Miami…
Sterling Bay Enters Miami With Creative Office Project
Sterling Bay, the Chicago-based developer known for developing urban campuses for companies like Google, McDonald's, Uber and Tyson Foods in the city's West Loop and Fulton Market, and institutional investors advised by J.P. Morgan Asset Management, have completed the purchase of property at 545 NW 26th Street in Miami's Wynwood district for $18.9 million. To be called 545wyn…
Real estate firms flocked to Israel in search of cheap debt. Now the market's turning.
After weeks of declines, defaults, and troubling disclosures, bonds issued by American real estate firms in Israel are falling at unprecedented rates. Over the weekend, the Tel Bond Global, an index which tracks bonds issued by American real estate companies, fell four percent, closing with an average yield in the double-digits Sunday, and falling a further two points on Monday. Some of the bonds…
Joe Martinez: Commissioner puts housing atop list of urgent problems
Miami-Dade Commissioner Joe Martinez next year will celebrate 35 years in public service, about half of which he spent rising through the ranks of the county police force while earning more than 70 awards and commendations, including two Gold Medals of Valor and numerous "Officer of the Year" honors. The skills he sharpened in law enforcement, he said, informed his approach to legislation and…
Gables Aventura tops list of South Florida's biggest multifamily deals in 2018
Gables Residential's sale of Gables Aventura for $149 million to RREEF marked South Florida's largest apartment deal in 2018. RREEF, a publicly traded real estate investment trust and an affiliate of Deutsche Bank, paid about $372,500 per unit for the apartment and townhome community at 19920 West Dixie Highway near Aventura, property records show. Rents at the 400-unit complex rents range…
European Embassair to develop 10 acres for luxury jets in Opa-Locka
Miami-Opa Locka Executive Airport's luxury services are due to expand, as Miami-Dade commissioners approved without a word an up to 35-year lease with European aircraft company Embassair to develop 10.2 acres on the airport's south end. The 11-2 vote last week OK'd Barbara Jordan and Sally Heyman's request to approve a 30-year development lease and five-year renewal option for Embassair to build…
Plaza Coral Gables advances, adds funding for public
The Plaza Coral Gables' second amended development agreement passed unanimously in the city commission last week with one small change – a $2.7 million gift from developer Agave Plaza Trustee LLC will have its preferred use be for Art In Public Places instead of the city's new public safety building. The ordinance reads that any amount of it could go to either one, depending on the commission's…
Makeover of CocoWalk a step-by-step process
Grass River Property Principal Thomas Roth is seeing his vision of a modern take on CocoWalk rise quarter by quarter. He aims to complete the project come the first quarter of 2020, a plaza that honors the village-like style of the community and better serves those who live in the area. The project is organized into two phases with the ultimate plan to expand the 200,000 square feet to about 250,000…
Overtown hotel planned for business travelers
A developer has plans to build a new hotel in Overtown, catering to the business traveler. Central District Miami Redevelopment Group V, LLC has submitted its proposal to build a Cambria Hotel to the City of Miami. The project was reviewed Dec. 19 by the Urban Development Review Board, which recommended approval by the planning director. The hotel is planned for five parcels at the…
Six-phase mixed-use project for Wynwood gets supportive vote from city
The first phase of what promises to be a six-phase mixed-use project for Wynwood, bringing condos, retail stores and hotel rooms to the rapidly evolving neighborhood, has earned a supportive vote from a City of Miami review board… Wynwood Quarter. The developer is ready to start the first phase on what it refers to as Parcel A, at 115, 127, and 139 NW 28th Street and 145, 157, and 161 NW 28th Street…
Alan Faena is known for his artsy taste, for always wearing white and for creating the Faena District in Miami Beach. Faena was born in Argentina, and his life has taken several turns, including modeling, owning a major fashion company and developing the Faena District in Buenos Aires — all before founding his namesake district in Miami Beach with partner Len Blavatnik. Like some other notable people in…
Golf anyone… anyone? Developers reimagine South Florida's money-losing courses
The Carolina Club, an 18-hole championship golf course in Margate, has served as a qualifying site for the PGA Honda Classic and is known for its fast, well-manicured greens and contoured fairways. But the semi-private club, built in 1971, isn't making the cut. Miami-based developer 13th Floor Homes plans to acquire the 140-acre facility and completely transform it into a 350-unit residential…
The last decade of Stuart Miller's 20-year-plus tenure as CEO of Lennar was one for the books. Before announcing his move into the role of executive chairman this past April, the Miami native — and the company — had weathered some significantly stormy weather. Miller led Lennar through one of the worst housing collapses in U.S. history, fended off an alleged extortion scheme by a convicted fraudster…
South Florida's most head-turning lawsuits of 2018
In 2018, South Florida's real estate industry saw longtime business partners going through bitter divorces, buyers seeking to get out of luxury condo deals by accusing developers of construction delays and false advertising, foreign governments and investors suing local companies over allegedly fraudulent real estate investments and sizzling disputes over allegedly unpaid six-and-seven-figure…
Pinnacle scores financing for Verbena affordable housing in south Miami-Dade
Pinnacle Housing Group just scored $31.2 million in financing to build Verbena, a new 110-unit transit-oriented affordable housing development in Leisure City's Modello neighborhood in south Miami-Dade. The project will consist of a six-story building and a five-story building that will rise on 2.4 acres of land right off the Miami-Dade Transit Busway at 28140 South Dixie Highway. Records show Pinnacle…
January panel: How transportation is changing the future of the SoFla real estate market
The arrival of Brightline in Miami this year sparked a lot of chatter in the industry about how the new line would impact real estate in the area. To dig deep into the issue for our readers, The Real Deal will convene a panel of experts at MiamiCentral on Jan. 16. Join TRD along with Miami Worldcenter's Nitin Motwani, Blanca's Tere Blanca, Terra Group's David Martin, the Greater Fort Lauderdale Alliance's Bob…
South Florida's largest industrial leases in 2018
The thirst for industrial space led to Nestlé Waters North America's 257,000-square-foot lease at the Airport North Logistics Park. The company filled an entire building at 8501 Northwest 80th Street, and takes nearly one-third of the space at the 900,000-square-foot, three-building logistics park in northwest Miami-Dade. L&B Realty Advisors, based in Dallas, owns the industrial park. Cushman…
Miami #1, New York City rank among top "dream" retirement destinations: survey
The city that never sleeps may not be a bad place to hang things up. New York City ranked No. 4 among the top destinations where Americans want to live when they retire, according to a new survey. Provision Living, which operates senior-living communities, asked 2,000 people about their dream retirement. Miami, with its warm weather and sunshine, was the No. 1 choice…
Pop-up stores are becoming an increasingly viable option for mall owners
Malls are no longer saying no to pop-up shops. Macerich, a publicly-traded mall landlord that owns more than 50 shopping centers, is now offering leases for 180 days, according to Bloomberg. The company launched a leasing program called BrandBox last month that lets online retailers set up temporary pop-up stores in an attempt to revive a sector hit hard by bankruptcies at former anchor tenants like…
River Landing changes course: adds office, reduces retail
The developers of a $424.8 million mixed-use project on the Miami River are reducing its retail footprint and adding office space. Developer Andy Hellinger, a principal at Urban X Group, and Coralee Penabad are adding 135,000 square feet of office space to River Landing Shops and Residences. The project is under construction and set to open in early 2020 at 1400 Northwest North River Drive.
Baywood sells Quality Inn Miami Airport for $14 million
A Quality Inn-branded hotel in Doral just traded hands for $13.9 million, property records show. A company led by investors Michel and Salvatore Ciniglio and Antonio Pecorelli purchased the three-story Quality Inn Miami Airport at 3959 Northwest 79th Avenue. Records show the buyers financed the deal with a $9.1 million loan from Ocean Bank. Doral Hospitality Inc., which is tied to Baywood Hotels' Amit…
Triarch Capital expands industrial portfolio with purchase in north Miami-Dade
A Triarch Capital Group affiliate acquired a warehouse in north Miami-Dade County in a off-market deal, adding to its growing industrial portfolio. Aventura-based Triarch's WH 95 Capital LLC paid $5.85 million for the 61,462-square-foot industrial building. The price for the property, at 17850 State Road 9, penciled out to $95 per square foot. The seller is National Industrial Park, linked to Walston E Helms Jr.
South Florida's biggest retail sales in 2018
Investment sales in South Florida remain strong despite the latest wave of store closures across the country. The majority of the top deals in 2018 were for new or recently renovated shopping centers in suburban neighborhoods throughout the tri-county region, according to data from brokerages that include Cushman & Wakefield and Colliers International South Florida. "You're seeing institutional…"
Verzasca scores $26 million construction loan for Aurora Condo in Sunny Isles Beach
Verzasca Group just scored a $25.7 million construction loan for its Aurora condo project in Sunny Isles Beach. The firm secured the loan from New Wave Loans, a nonbank lender based in North Miami Beach, which it will use to build the 17-story, 61-unit condo tower at 17550 Collins Avenue. The project will go vertical in the first quarter of 2019 and is expected to be completed by the end of 2020…
French firm partnering with Spanish hotel group to rebuild historic downtown Miami hotel
Paris-based Immocorp Capital is moving forward with its plans to build a new hotel in downtown Miami and is bringing on a Spanish hotel group as a partner, The Real Deal has learned. Dream Downtown Miami LLC filed a permit for a new 168-key hotel at 139 Northeast First Avenue, according to the city's building department. The company, led by Immocorp Capital, paid $9.2 million for the seven-story…
Edgardo Defortuna joins Peebles, Stern, Karmely and Karp for Future City 2019
We're thrilled to announce Fortune International's Edgardo Defortuna will be joining other top South Florida real estate execs including Don Peebles, Michael Stern, Shahab Karmely and Kobi Karp, among others, at The Real Deal's Future City 2019 in the Bahamas. Future City is an exclusive two-day opportunity for a group of 200 C-level executives in the fields of development, tech, construction, design and…
South Florida's CRE Market: What to Expect in 2019
South Florida's commercial real estate market continues to grow amid population and job gains. "Industrial is by far the best performing sector in South Florida at the moment," Kenneth Krasnow, Colliers International South Florida's executive managing director, said in an interview with Commercial Property Executive. He added that the tourism industry, trade and transportation connections, and the…
Video: Real Capital Analytics SVP Jim Costello Discusses Office Market Trends
Jim Costello joins this discussion via Skype to discuss trends to follow in the office market. He discusses how office deal volume is switching from central business district to suburban properties, noting it as due to many of the CBD properties having recently traded, higher yields available in suburban locations, and a generational change of preference of labor force location back to the suburbs. Also…