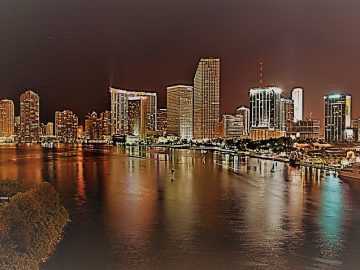 Century Homebuilders breaks ground on mixed-use project in Miami
Sergio Pino's Century Homebuilders Group has begun construction of 850 Le Jeune, a new mixed-use project near Miami International Airport. The developer and its partner, Pactia USA, are building 230 multifamily units and about 200,000 square feet of office space at 850 Northwest 42nd Avenue (also known as Le Jeune Road). The project will consist of two, five-story office buildings; a six-story apartment…
Fashion brand Diesel dives into real estate development, starting in Miami
Diesel is sizing up real estate development, choosing Miami's Wynwood as the location for its first real estate project. The Italian retail clothing's Diesel Living line is partnering with Bel Invest Group, an international real estate investment company based in Vicenza, Italy, to build a 143-unit condominium complex in the artsy neighborhood, Women's Wear Daily first reported. Zyscovich Architects is designing…
Thorofare Capital Provides $17 Million Loan to Refinance Historic Langrod Hotel in Downtown Miami
Thorofare Capital has provided a $17 million loan to Langford Partners LLC to help stabilize The Langford Hotel, a building at 121 SE 1st Street constructed in 1926 and added to the National Register of Historic Places in 1989. It was originally a bank and has housed several banks, an insurance company and other commercial entities over the years. Langford Partners, an affiliate of Stambul USA, purchased…
Affordable housing developers plan senior project in Overtown
Miami-Dade County filed plans for a new affordable housing development in Overtown geared toward seniors. A permit application filed with the city of Miami calls for a three-story, 60-unit apartment project at 301 Northwest 17th Street, next to Williams Park. The estimated cost of the 44,460-square-foot building is $7.8 million. The county commission approved a 99-year ground lease agreement with…
Editor's note: Private fantasies vs. public realities ~ Considering Valuations of WeWork, Opendoor
There is so much venture capital money flowing into private real estate firms these days that you would be forgiven for turning money-colored green with envy. Take Opendoor, a tech company that allows for automated home buying and selling. The venture capitalists who've bet on the startup have valued it at $2 billion, based on a miniscule $10 million in annual revenue. Or WeWork, which is now…
A Leveling Office Sector in Miami
Miami's office market has had consistently healthy demand for several years, based on strong economic growth and foreign investment. However, the development pipeline is beginning to catch up, which has resulted in an increase in the vacancy rate. More than 2.8 million square feet came online year-to-date, and another 776,000 square feet is expected to come online by year-end. New product added…
Universal Chilling Systems moves to Miami Gardens & other news in South Florida leasing
Universal Chilling Systems just moved from Hialeah into an 11,200-square-foot warehouse at 5400 Northwest 161st Street in Miami Gardens. The company provides cooling solutions for chemical processing, pharmaceutical, food and beverage and other industries. Jordan Todd of International Sales Group and Raydel Enriquez of Vivo Real Estate Group represented the tenant.
Video: PwC Partners Mitch Roschelle and Byron Carlock Discuss Commercial Property Amenities, Last Mile, and Disruptors ~ PwC/ULI Emerging Trends in Real Estate 2019
PwC Partners at PwC Mitch Roschelle and Byron Carlock appear with host Michael in the studio of America's Commercial Real Sstate Show to talk about the PwC/ULI Emerging Trends in Real Estate 2019 Outlook. In this segment, discussions include commercial real estate amenities, last mile delivery implications for commercial property, and industry disruptors.
Ware Malcomb Completes Hialeah Mixed-Use Building
Ware Malcomb has completed construction on the office and manufacturing facility of CGI Windows and Doors, located in Hialeah, Fla. The firm provided architectural services for the project, while Miller construction served as the general contractor. Located at 3780 West 104th Street, the new asset was designed with a concrete tilt up and includes a neutral color palette of warm tones and white. CGI…
Video: PwC Partners Mitch Roschelle and Byron Carlock Discuss Top Markets to Watch; Miami #12 ~ PwC/ULI Emerging Trends in Real Estate 2019
Byron Carlock and Mitch Roschelle, both Partners at PwC that are involved with its Real Estate Practice, appear on the host of America's Real Estate Show in studio to discuss the top markets to watch as per the PwC/ULI Emerging Trends in Real Estate 2019 Outlook. Noting Miami as in the number 12 spot of their self described "popularity contest," they go through cities/markets that top the list one by…
White House Climate Change Report Highlights Major Implications For Commercial Real Estate
PXhere Glacier melting Several federal agencies, including the U.S. Global Change Research Program, delivered a quadrennial report on the potential effects of climate change and the country's ability to address them over Thanksgiving Day weekend. The report's findings were sobering, but did little to sway President Donald Trump, who publicly denounced the study upon its release.
Miami-Dade to seek development bids at transit hub
Miami-Dade will request development bids in the first quarter of 2019 for the Miami Intermodal Center near Miami International Airport to help turn it profitable, according to Alice Bravo, who said her department's takeover of the multi-million-dollar transit hub has thus far gone "very smoothly." "There's 7.8 acres of vacant land that we're going to issue a [request for proposal] for transit-oriented…
After Brightline deal, Virgin Group gets seaport terminal OK too
If all goes as planned, 2021 will prove huge for South Florida and British billionaire Richard Branson's Virgin Group, as both a high-speed train extension connecting Miami to Orlando on Virgin Trains USA and construction of a new terminal housing Virgin Voyages vessels at PortMiami are expected to reach completion. Miami-Dade commissioners Tuesday approved 12-0 a memorandum of understanding…
Miami-Dade Expressway Authority to upgrade diverging diamond
The Miami-Dade Expressway Authority says it will enhance its first operating diverging diamond interchange at Northwest 27th Avenue and looks forward to completing its second on Northwest 57th Avenue soon. The first of two interchanges debuted in August with police present for two weeks to ensure compliant and safe driving on the traffic-heavy roadway. The two interchanges cost about $155 million…
Brickell-area school scores $19 million loan to build new campus
KLA Elementary School in Miami just scored a $18.7 million loan as the school plans to build a new campus near Brickell. The Miami-based private school secured the loan from FirstBank Florida, the Florida arm of FirstBank Puerto Rico, property records show. The new school will be built on three properties just west of I-95… planning to build the 90,480-square-foot private school at 375 Southwest 15th Road…
Cirque du Soleil co-founder lands $65 million loan for Miami warehouses, estate
Cirque du Soleil co-founder Guy Laliberté closed on a $65 million loan for properties near the Magic City Innovation District and a waterfront home in Miami's Morningside neighborhood. Property records show Heiva Holdings USA LLC took out about $12.4 million of a larger revolving line of credit from the National Bank of Canada for three warehouses at 300 Northeast 60th Street and an estate at…
Ari Pearl sues, alleging Chetrit affiliate owes him buyout settlement
A longtime partner of the Chetrit family in South Florida is suing the company behind the Chetrit's $1 billion planned development along the Miami River, alleging he's owed a piece of his exit settlement. Developer Ari Pearl is suing Miami River JV LLC in Miami-Dade Circuit Court for $1.125 million, the third and final payout as part of a settlement between the two. According to a buyout agreement dated in…
Hotel developer Quadrum Global buys Wynwood site
Quadrum Global just picked up a development site in Wynwood. Remy Jacobson's Wynwood Design Center LLC sold the 30,000-square-foot property at 2217 and 2233 Northwest Miami Court to Quadrum Pacific LLC, according to Metro 1. The $8.55 million deal closed on Thursday. Quadrum Global, an international real estate investment and development firm, owns the Nautilus South Beach, a 250-key…
Habitat Group launches second phase of Brickell condo project
Habitat Group is launching sales of the second tower at Smart Brickell, a condo-hotel complex with flexible short-term rental options. The three-building project sold out the first tower, with 50 hotel rooms and 50 condos, and is planning on breaking ground on the 25-story building in March, developer Santiago Vanegas said. The condo sellout is about $19 million for the first tower and the estimated…
SoFla's residential construction starts rise in October, commercial plummets
Residential construction in South Florida picked up in October, year-over-year, while commercial construction dropped off significantly, according to a new report by Dodge Data & Analytics. Commercial construction starts decreased 34 percent last month to $453.7 million, while residential construction starts increased 3 percent to $686.2 million according to the report. Due to the sharp decline in…
Renderings revealed: Duos Hotel in Wynwood & more
Architecture and interior design studio MKDA just released renderings of a new boutique condo-hotel project in Wynwood. Alessandro Ferretti and Vitrium Capital are developing the 51-room condo-hotel building on a 7,250-square-foot lot at 335 Northwest 28th Street. The 37,000-square-foot project, called Duos Hotel, is expected to be completed in 2020. The facade of the building aims to model the…
Virgin Voyages unveils plans for $150 million terminal at PortMiami
Virgin Voyages unveiled its proposal for a multimillion-dollar terminal at PortMiami. Virgin Group founder Richard Branson on Wednesday announced plans for the new 100,000-square-foot cruise terminal located on the northwest side of the port. Construction would begin if and when the Miami-Dade County Commission approves the project, which would be completed by November 2021. The $150 million…
Irrational exuberance? Rising commercial real estate prices could signal warning for economy: Fed Reserve
Ever-rising commercial real estate prices nationwide could be a risk to the stability of the U.S. financial markets, as they were in the last recession. That was the assessment from the Federal Reserve in its inaugural financial stability report on Wednesday. Fed officials cited commercial real estate — in which purchase prices continue to outpace rent increases — as well as nonfinancial corporate borrowing…
MetLife scores $170 million refi for Wells Fargo Center in downtown Miami
Metropolitan Life Insurance Co. just scored a $170 million refinance for its Wells Fargo Center at 333 Southeast Second Avenue in downtown Miami, property records show. The deal comes shortly after its $74 million purchase of a retail center in Wellington. New York Life Insurance Company is the lender for the Wells Fargo office tower. The loan takes over a previous $144.4 million mortgage issued…
Here are the 8 real estate megaprojects coming to SoFla
When Triple Five Group gained approval from Miami-Dade County commissioners earlier this year to build the largest mall in America, the news brought national interest to South Florida's real estate market. The project will bring an indoor ski-slope to Miami as well as other entertainment, and is betting big on retail at a time when the industry is seeing a surge in vacancies. Yet, American Dream Miami is only…
Active South Florida Commercial Lender Bank OZK slips 1.9% after Piper downgrades on concerns re credit, high exposure to Miami, NYC
Bank OZK (NASDAQ:OZK) dips 1.9% in premarket trading after Piper analyst Matthew Breese downgrades the stock to neutral, citing credit concerns after it charged off two large loans. Also notes balance sheet exposure, margin compression, and increasing deposit costs are likely to weigh on the stock even as it's seen generating better-than-average profitability. Specifically points to +300% commercial…
Miami-Dade to FlipKey and HomeAway: Where's the tax money?
Miami-Dade County is knocking hard on the doors of FlipKey and HomeAway in an attempt to collect untold millions of dollars in unpaid resort taxes. In two separate lawsuits filed in Miami-Dade Circuit Court at the end of October, Miami-Dade accuses FlipKey and HomeAway of not forcing property owners who list on the short-term rental platforms to pay their share of bed taxes. The complaints…