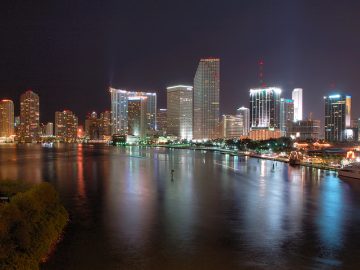 NR Investments plans two new mixed-use projects for Miami's Arts & Entertainment District
Miami's Arts and Entertainment District is getting two more NR Investments projects. Just two blocks south of its Canvas luxury condo tower and its apartment building, Filling Station Lofts, the developer is proposing a two-tower, mixed-use project split into condos, a hotel and office space. And Just north of Canvas and Filling Station Lofts, NR Investments seeks to build a smaller development consisting of…
Spanish conglomerate Grup Peralada pays $58M for South Beach hotel
Spanish conglomerate Grup Peralada purchased the Hall South Beach hotel from Rockwood Capital. Property records reveal Inverama USA Corp., an affiliate of the Barcelona-based company, paid $58.2 million, or $357,000 per room, for the 163-key hotel at 1500 Collins Avenue in Miami Beach. That price may not include furniture, fixtures and equipment. Grup Peralada is owned by the Suqué-Mateu…
Is a fight brewing for David Beckham over the MLS stadium location?
Opposition is heating up in Overtown The congratulations flowed freely at Monday's David Beckham's Miami MLS team official launch. But the community opposition to the soccer team's proposed stadium (site) seems to be heating up. According to the Miami Herald's Doug Hanks, community organizers in Overtown are passing out fliers that look like eviction notices to public housing residents near the…
Fed leaves benchmark rate steady at Yellen's final meeting
In Janet Yellen's final policy committee meeting as Federal Reserve chairwoman, the benchmark interest rate was left unchanged in a unanimous vote, holding at between 1.25 and 1.5 percent. That leaves incoming Fed Chairman Jerome Powell — to be sworn in on Monday — with a decision to maintain the slow hike of interest rates or speed up the pace. Go too slow and the low borrowing costs…
Privé developers win $26M jury verdict against Williams Island homeowners
Score a court victory for the developers of Privé at Island Estates in Aventura. Builders Gary Cohen and BH3 are walking away with a $26 million jury verdict against the Williams Island Property Owners' Association, which had sought to stop the luxury two-tower development since 2013. On Tuesday, after a seven-day trial, a jury in Miami-Dade Circuit Court ruled that the association breached a…
Sergio Pino's Century Homebuilders buys land, scores financing for new single-family home community near Tamiami
Sergio Pino's Century Homebuilders Group just paid $8.85 million for a large vacant lot west of Tamiami and is about to break ground on Century Lakes III, a planned single-family home community, The Real Deal has learned. Century Lakes III will be built on a 12.5-acre lot south of Coral Way and just east of Southwest 152nd Avenue. The land traded for about $16 per square foot. Pino said the company…
3 Commercial Real Estate Trends To Watch In 2018
Political and economic uncertainty has pervaded the past year, with the U.S. economy showing signs of growth amid low inflation and a distressed retail segment in 2017, as accountants struggle to understand all the implications of the recently passed changes to the tax laws and Europe prepares for Brexit. Here's a look at three commercial…
Miami office rents increased, I-sales fell in 2017: report
Despite increases in rent and absorption, sales volume fell dramatically for Miami-Dade's office market in 2017, according to a report from Avison Young. Sales volume dropped 58 percent from the previous year to more than $816 million. In 2016, investment sales totaled more than $2.3 billion thanks to the $516 million trade of the Southeast Financial Center and the $220 million sale of the Miami Tower, both…
Miami beats out NYC and LA when it comes to renter-to-homeowner ratios, study says
Miami's proportion of renters is 68 percent A new report claims that Miami beats out NYC and LA when it comes to the ratios of renter-to-homeowner. The Miami Herald scoped out a study from national apartment search website RentCafe looking at renter versus owner-owned housing in the largest 100 cities by population with data based on US Census Bureau's public database. According to RentCafe…
Prestige Companies breaks ground on Hialeah apartments
Prestige Companies just broke ground on Las Vistas at Amelia, a 174-unit rental complex in Hialeah. The Miami Lakes-based developer expects to soon close on more than $18 million in construction financing from Centennial Bank, Prestige principal Alex Ruiz said. Las Vistas at Amelia will be built at 7925 West 2nd Court, just north of Florida State Road 924 and next to Amelia Earhart Park. Records show…
Developer neighbor of Ransom Everglades sues to stop Grove expansion
A Miami-based commercial developer who lives next door to Ransom Everglades is seeking a legal roadblock against the private school's expansion plan. On Jan. 25, Caroline Weiss sued Ransom in Miami-Dade Circuit Court for breach of contract, alleging school officials violated a 2010 agreement to protect her four-bedroom estate at 3187 Royal Road from any negative impacts caused by future…
Video: Yardi-Matrix Director of Business Intelligence Doug Ressler Submits Multifamily Property Forecasts
In this video, Doug Ressler, Director of Business Intelligence at Yardi-Matrix, a leading provider of high-performance software solutions for the real estate industry, joins the show host Michael Bull on America's Commercial Real Estate Show to assess as well as forecast the multifamily property market. Ressler and Bull discuss occupancy and vacancy trends for multifamily properties, economic growth that is…
Brightline owner offers to develop Miami-Dade County courthouse
With an unsolicited proposal from the developers of All Aboard Florida's Brightline to build a Miami-Dade civil courthouse on the table, plans seem to be hitting another snag as the administration and Chief Judge Bertila Soto differ on the project's scale and cost. At the Chairman's Policy Council, commissioners asked attorneys to draft legislation to return to the original, more expensive plan for the…
Board OKs 688 Little Havana rentals on Miami River
The plan to build nearly 700 apartments on vacant land in East Little Havana near a bend in the Miami River has garnered approval from a city review board. Mast Capital hopes to have a groundbreaking within 10 months on the large mixed-use residential project to be called Miami River Walk. The city's Urban Development Review Board last week recommended approval of the project, with a couple of …
Flagler Street apartments make a splash, but pool doesn't
A new multi-family residential building is coming to a high-profile site on West Flagler Street in Miami. Romagna Mia Realties LLC, the owner-developer of 2744, 2780, 2810 and 2828 W Flagler Street, proposes Flagler Apartments, offering 208 dwellings in a 12-story building adjacent to a five-story parking structure with ground floor commercial uses. The garage would have space for about 330…
Partners float a heads-up idea for Miami-to-Beach transit
A display at a transportation summit last week laid out a tempting and innovative solution to unraveling Miami-Dade's tangle of traffic woes. After a two-team competition for cutting-edge solutions days earlier had unveiled a phone app to reward carpooling and transit use, a four-team consortium offered its own answer: aerial cable cars linking Miami to Miami Beach. At least it's new. New to Miami…
Must a commercial landlord consent to a lease assignment?
Many commercial leases include a provision concerning the tenant's right to assign the lease or sublet the leased premises.  These provisions often require the tenant to get the landlord's consent to any assignment or sublease.  This is for good reason – the landlord (or perhaps its predecessor-in-interest) had the opportunity to vet the tenant before signing the lease and generally wants similar…
WeWork's newest location is in Coral Gables
The shared office space will open next month WeWork's newest shared office space outpost is set to open next month, according to South Florida Business Journal. The city's mayor Raúl Valdés-Fauli will host a ribbon-cutting for the Coral Gables WeWork on February 6.
The address for the new space is 2222 Ponce De Leon Boulevard, and WeWork's website touts amenities like a custom terrazzo bar…
There's a phase 2 in the works for Brickell City Centre's Climate Ribbon
According to architect Hugh Dutton It's been more than a year since the opening of Brickell City Centre's Climate Ribbon — a futuristic, undulating outdoor canopy meant to lower stifling temperatures. Now the Next Miami unearths a fascinating interview with the mind behind the project, Hugh Dutton of Paris architectural firm HDA, who looked back on the process with the Financial Times.
Rents in major US cities fluctuate as much as 5.8% during the year
Renters in the nation's largest cities could save as much as $2,200 a year on rent if they wait for the right time of the year to sign a lease, according to a newly released report. Renthop found that rents during the most expensive and least expensive months last year fluctuated by 4 percent to 5.4 percent for one-bedroom apartments and from 2.3 percent to 5.8 percent for two-bedroom apartments…
Miami, New York, LA home prices continue to rise
Home prices continued their upward streak in November. The 20-city index registered a 6.4 percent growth rate year-over-year, marking the biggest increase since June 2014. The monthly data was released Tuesday by the S&P CoreLogic Case-Shiller index. The November gains were spread unevenly. The best performing cities were again in the West. Seattle led the nation with a 12.7 percent annual…
SoFla lease roundup: Ross Furniture Logistics moves to Hialeah & more
Ross Furniture Logistics takes 115,000 sf at Hialeah warehouse. Freight forwarder Ross Furniture Logistics just inked a 115,000-square-foot lease in Hialeah. The company, of no relation to the retailer, is moving into a 215,000-square-foot warehouse at 6699 Northwest 36th Avenue, owned by Seagis Property Group of Conshohocken, Pennsylvania. The Easton Group's Mike Waite and Jim Armstrong brokered…
Is South Florida Approaching the Tipping Point For Luxury Rentals?
The 35-story New River Central luxury apartment in Fort Lauderdale is expected to be delivered by 2021. Nine days into the new year, a development partnership announced plans for yet another luxury rental in downtown Fort Lauderdale, FL, this one featuring 401 units in a 35-story tower with 5,500 square feet of ground-floor retail. Silverback Development and Bizzi & Partners Development…
David Beckham and a whole lot of celebrities welcome MLS Soccer to Miami
"Today, you made my dream come true." "Bringing an MLS club to Miami has been a hell of a journey," David Beckham said today at the Adrienne Arsht Center for the Performing Arts as he officially announced that Major League Soccer awarded a franchise to Miami. Today, after a years-long attempt to bring a professional soccer team to the city, it's official. "There were times when we sat back and said, this…
Kickoff time: David Beckham and partners officially launch Miami MLS franchise
He's gone up against the toughest bruisers and tactical minds in world soccer. But even for David Beckham, bringing Major League Soccer to Miami was a monumental challenge. Soccer fans drowned out the sounds of Gloria Estefan's "Conga" at the Adrienne Arsht Cente Monday as they prepared for the official launch of the franchise, brought to the city by Beckham and…
Top 10 US malls haven't gotten the memo that malls are dying
The traditional American shopping mall may not be the retail powerhouse it once was, but the best properties in the sector are still delivering for tenants and landlords across the country. The 10 most valuable malls owned by REITs — which includes Sawgrass Mills in Sunrise — are generating between $960 and $1,450 in sales per square foot, and are worth billions, research firm Boenning…
Arquitectonica's first commercial building to get the wrecking ball
After recently losing its short-lived landmark status, an eye-catching building on Brickell Bay Drive, designed by Arquitectonica, may be demolished. In a 4-1 vote, Miami commissioners moved to overturn the Babylon Apartments' protected architectural landmark status, according to the Miami Herald. It was granted landmark status last year by the city's historic preservation…
Italian Fashion School Opening First U.S. Campus in Miami
Istituto Marangoni, an Italian fashion and design school, is opening its first U.S. location in Miami after leasing the entire seven-story building at 3700 NE Second Avenue. The Miami-Dade Beacon Council, the county's economic development arm, said the school's 21,957-square-foot campus will create 35 full-time jobs over three years with an average salary of $85,000. It also brings $10 million of…
Declining Sales Volume Ahead For US Real Estate, Economist Warns
Interest rates are creeping up, confidence in the dollar is waning and real estate transaction volume keeps slipping despite an abundance of investment capital. Combine those factors and you have a recipe for a looming recession, according to economist Hugh Kelly. "It's not just about preparing ourselves for a slowdown three, four years down the road, but also for a contraction," said Hugh Kelly, principal…"
New Comfort Suites in Miami Springs secures $15M construction loan
The developers behind a planned 120-key Comfort Suites hotel in Miami Springs scored a $15.2 million construction loan for the project. The hotel is among a few set to go up near Miami International Airport. Developers Steven Marin and Michael Pfeffer want to build an eight-story Comfort Inn & Suites at 665 Mokena Drive, right along Northwest 36th Street, according to a news release. The area has…
New co-working concept in Overtown adds to a growing list
A new co-working concept geared to the Overtown community is opening, part of a growing number of shared-space buildings that are popping up in South Florida. Tribe Co-Work and Urban Innovation Lab will open Feb. 5 out of a historic building in Overtown, co-owner Felecia Hatcher said. Miami Innovation District developer Michael Simkins owns the building at 937 Northwest Third Avenue.
Apartment builder plans mixed-use apartment tower in Little Havana
A multifamily developer based in Miami Beach is jumping on the Little Havana apartment boom. Alan I. Amdur is proposing a 19-story mixed-use project on a 2.84-acre block between West Flagler Street and Northwest First Street. It will feature 719 apartments for seniors and workforce housing, 150,000 square feet of retail and 959 parking spaces. The Miami City…..
Q&A: Is Downtown Miami the Best Fit for Amazon?
Miami Worldcenter is currently in development on 27 acres in Downtown Miami. The mixed-use project could potentially accommodate Amazon should the online retailer select the city for its second headquarters.-Rendering courtesy of Miami Worldcenter Associates
Amazon short-listed South Florida for its coveted second…
Head of Miami's EB-5 regional center quits
The city of Miami's EB-5 regional center is getting a major overhaul. Managing Director Mikki Canton resigned on Wednesday due to the changes brought on by Miami's new city manager, Emilio González, according to the Miami Herald. González cut Canton's salary and role with plans to use the money to staff his office. Regional centers submit applications to U.S. Citizenship and Immigration…
South Florida by the numbers: Alexa, add Miami to the Amazon HQ2 shortlist
"South Florida by the numbers" is a web feature that catalogs the most notable, quirky and surprising real estate statistics. Miami and South Florida got some exciting news last week, when e-commerce giant Amazon announced that the city/region had made the shortlist of candidates for its second national headquarters, or "HQ2". The bid was formally and collectively submitted last year by South Florida's…
South Florida's new commercial construction spiked in 2017
South Florida in 2017 was a tale of two sectors when it came to new commercial and residential construction. On the commercial side, developers were putting shovels in the ground at a rapid pace, with $5.7 billion in new construction. That amounted to a 27-percent increase from 2016, according to Dodge Data & Analytics' year end report. The commercial sector, including multifamily and industrial…
Another year of declining sales volume ahead for US real estate, economist warns
Interest rates are creeping up, confidence in the dollar is waning and real estate transaction volume keeps slipping despite an abundance of investment capital. Combine those factors and you have a recipe for a looming recession, according to economist Hugh Kelly. "It's not just about preparing ourselves for a slowdown three, four years down the road, but also for a contraction," said Hugh Kelly, principal…
Video: Yardi-Matrix Director of Business Intelligence Doug Ressler Delivers Office Property Forecast
In this video, Doug Ressler, Director of Business Intelligence at Yardi-Matrix, a leading provider of high-performance software solutions for the real estate industry, joins host Michael Bull on America's Commercial Real Estate Show to assess as well as forecast the United States office property market sector. They discuss recent tax rate changes and tax reform, go through a recap of the 2017 office buildings…
Liability for construction defects in Florida
Construction defects can be costly. Where they involve large commercial developments, the price tag for mitigating defects in construction can easily run into the millions of dollars. In the case of an undiscovered defect, if it results in personal injury or death, the financial and legal fallout can be disastrous. Whenever a defect of design or construction is present, the potential for construction…
Get ready for more live events at Herald Plaza
The former site of the Miami Herald will become an event venue The waterfront site on Biscayne Bay that once housed the Miami Herald is going to be home to many more live events. The owner of the site, Resorts World Miami, kicked off hosting events at the sites with the Art Miami and Context Art Fair in December. Now, Resorts World Miami is bringing in event group Loud and Live to keep the…
Toys "R" Us is closing three South Florida stores
Toys "R" Us plans to close 180 stores as part of the company's attempt to emerge from Chapter 11 bankruptcy. The Wayne, New Jersey-based company will be shuttering three stores in South Florida — in Coral Springs, Boca Raton and Royal Palm Beach. Toys "R" Us is also closing 15 stores in New York, including its Union Square Babies "R" Us…
Genting inks multi-year deal for events at former Miami Herald site
Malaysian gambling giant Genting Group isn't redeveloping the former Miami Herald site in Miami's Arts & Entertainment District – at least not for now. Genting's Resorts World Miami inked a multi-year deal with Miami-based Loud and Live to use the 14.6-acre property as an event venue, according to a press release. The announcement comes less than two months after Art Miami and Context moved…
The stock market is booming. So why are REIT shares falling?
Does no one like real estate investment trusts anymore? While the overall stock market is surging, real estate investment trusts are the odd one out. Last year, the S&P 500 stock index rose by 21.8 percent, but the FTSE NAREIT All Equity REITs index rose by a mere 8.7 percent. And over the first few weeks of 2018 REIT shares are even down 2.4 percent while the stock market overall continued to climb.
Brazilians are getting in on the EB-5 game in a major way
The United States welcomed 282 Brazilian immigrants last year through the EB-5 investor visa program, as the country rose to become the third largest user of EB-5 visas for the first time, a new report from the U.S. Department of State shows. Brazil's rise to number three for fiscal year 2017 came on an 88 percent increase in new visas issued year-over-year. In 2015, just 34 EB-5 visas were issued to Brazilians.
Dezer allegedly pushing tenants out of North Miami Beach mall
Since it paid millions for the property in 2013, Dever Development has tried to evict at least six tenants from its Intracoastal Mall in North Miami Beach. Attorneys for the tenants claim Dezer is ringleading efforts to push tenants out in order to move ahead with its redevelopment of the mall, according to the Daily Business Review. Under a 2015 rezoning of the property, Dezer could build up to…
Biggest Change for Retail, Real Estate? No, It's Not Amazon
The biggest game-changer for retail and real estate in the next decade probably isn't what you think it is, insists Beth Azor, a longtime South Florida broker, owner and industry consultant. "Driverless cars will be the biggest disruption in real estate ever, way more than what Amazon has done," Azor said Jan. 23 at a retail seminar in Plantation, FL sponsored by the Building Owners & Managers Association…