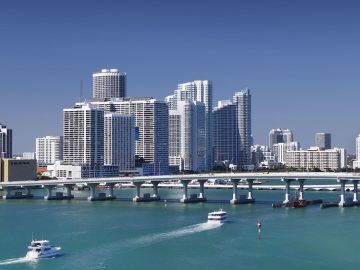 Robert Wennett wins Miami board approval for massive, mixed-use project in Allapattah
Robert Wennett's proposed massive mixed-use project in Allapattah, which could include the only co-living spaces currently allowed in Miami, is a step closer to becoming a reality. Miami's Planning, Zoning, and Appeals Board backed the development of… The Miami Produce Special Area Plan, a 8.5-acre, mixed-use project at 2140 Northwest 12th Avenue, is proposed by Wennett and Jeff Weinstein…
ACRE, Global City Development Break Ground on 236-Unit Apartment Complex in Miami
Asia Capital Real Estate Management (ACRE) and Miami-based Global City Development have broken ground on MiMo Bay Apartments, a 236-unit multifamily community located at 6445 NE 7th Avenue in Miami's MiMo District. The asset is being built adjacent to Legion Memorial Park, the site of the former American Legion Post No. 29. The new mixed-use community will include a 15,000-square-foot…
What the National Climate Assessment Means for South Florida CRE
Last November, 300 scientists and 13 federal agencies collaborated to produce the latest National Climate Assessment, a congressionally-mandated quadrennial report on climate change and its expected effects on our nation and the world. The results presented a stark picture of what kind of world we may leave our children if nothing is done to change our role in this global issue. South Florida is…
Aria Development Group, in partnership with Aqarat, has begun construction on Yotelpad, a 327,356 square-foot, mixed-use project in Miami. Stantec is providing architecture, interior design and engineering services for the 231-condo and 222-key development, which is slated for completion in early 2021. Yotelpad is located at 227 NE Second Street, less than 8 miles from Miami International Airport…
AeroThrust CEO sued over alleged toxic mold at Dadeland condo
The CEO of AeroThrust Holdings is being sued for negligence after allegedly allowing toxic mold to permeate throughout a condo unit his company managed. Venus Lacalamita filed a lawsuit in Miami-Dade County Circuit Court against Mario Abad, his wife Claudia, their property management company, MGC Group Corp., and air conditioning maintenance business Frioclima Corp. Lacalamita claims that…
Whoops! 3 Opportunity Zone Mistakes People Have Made Already
Interest in opportunity zones is as hot as ever, especially ahead of the IRS public hearing scheduled for Thursday morning. With everyone running headfirst into deals, it's good to be aware of how other people have messed up already — so that you don't have to. Bisnow/Deirdra Funcheon A February 2019 Bisnow panel about opportunity zones featured Greenberg & Traurig shareholder James…
Google to invest $13 billion in real estate across the US
OK, Google. Tell me about the multibillion-dollar real estate investment you're making this year. The tech giant announced on Wednesday that it plans to spend more than $13 billion in data centers and offices across the U.S., including major expansions in 14 states. Google CEO Sundar Pichai said in a blog post that the new data centers and offices will create more than 10,000 new construction jobs in…
Sears, sort of: Here's what the retailer is planning post-bankruptcy
In the age of Amazon and dying retailers, Sears has emerged from bankruptcy with a new survival plan: smaller stores, fewer clothes and aisles full of tools and appliances. Edward Lampert, whose firm ESL Investments successfully bid $5.2 billion for the retailer's assets last month, said the new company will sell or sublease some of the 425 stores. Though Lampert, who was responsible for Sears declaring…
Bath Club fight pits Peebles against unit owners for control of private club
Two unit owners at the Bath Club in Miami Beach — a Washington, D.C. power broker and a Weston-based developer — allegedly teamed up to sabotage the Peebles Corp. from successfully managing the historic private members club and destroy its market value, according to a recently filed lawsuit. Peebles entity Bath Club Entertainment is suing Mark Penn, a former Clinton strategist who currently manages…
Parking has a warm glow in Miami Design District
The Miami Parking Authority has hit the switch on bright, colorful new parking lots at the edge of the Miami Design District. On Tuesday evening, authority officials held a grand opening of sorts for the reborn parking spaces under Interstate 195. The city's parking agency is celebrating the re-imagining of the I-195 underpass parking lots into an international urban art installation. The gathering occurred in…
Businesses flow from afar into Brickell, downtown offices
The office market in the central business district and Brickell is solid, observers say, and not likely to be blown off course anytime soon. "The market in downtown and Brickell is tight," said Neisen Kasdin, office-managing partner at Akerman, LLP, and vice chair of Miami's Downtown Development Authority. "The last spurt… with 1450 Brickell, 600 Brickell and the Wells Fargo Building." Two new…
Baptist Health's Miami Beach center a community hub
Baptist Health South Florida's Miami Beach urgent care, diagnostic and outpatient center on Alton Road, which opened in July 2018, has started up several new programs and the volume of patients is "above our projections," according to Nancy Batista-Rodriguez, the chief executive officer of Baptist Outpatient Services. Both the endoscopy center and the spine center offering neuroscience and orthopedic…
Tommy Hilfiger group sells Raleigh Hotel in South Beach to Michael Shvo and partners for $103M
Tommy Hilfiger and Dogus Group sold the Raleigh Hotel in Miami Beach to a partnership led by New York developer Michael Shvo for $103 million. The deal breaks down to about $1.24 million a key, one of the most expensive hotel sales on a per-room basis in Miami-Dade County. Shvo, Bilgili Group and Deutsche Finance Group acquired the 83-room Art Deco hotel at 1775 Collins Avenue, according…
Jorge Pérez on building golf courses in Cuba with Trump, stepping down as CEO and more
Miami's condo king Jorge Pérez revealed he once discussed building in Cuba with President Trump, offered his timeline for stepping down as CEO of the Related Group, and talked about the influx of buyers from the Northeast and more. Pérez, chairman and CEO of Related, said he plans to step down as CEO of the Miami-based firm in a year or two, but will stay on as chairman. His son, Jon Paul, a vice…
Virgin Trains USA – still operating as Brightline – postpones IPO… for now
Virgin Trains USA postponed its much anticipated initial public offering, claiming it found "alternative financing" to stay private. The high-speed train company, still operating under the name Brightline, runs from West Palm Beach to Miami and also owns real estate properties near its stations. The company previously said its IPO could be worth up to $619 million. Its IPO was expected to be priced on Tuesday.
Video: RealPage Deputy Chief Economist and VP of Asset Optimization Jay Parsons Provides Multifamily Update
Jay Parsons, Deputy Chief Economist with RealPage, joins Michael to discuss the multifamily market, including vacancy rates, rent growth, and more. He comments how in the face of impending doom the multifamily keeps on chugging along. Occupancy is at a healthy 94.4% overall, up 40 basis point year over year. Rent growth has accelerated, with 3.3% year over year growth as of the fourth quarter…
Call it a "joint" venture: Simon Property Group partners with cannabis oil company
Soon after posting a record fourth quarter, Simon Property Group announced on Monday that it would be partnering with cannabis firm Green Growth Brands to open 108 shops in its malls this year. The shops will sell products infused with the cannabis extract cannabidiol, also known as CBD, according to CBNBC. "The GGB shopping experience is exactly the type of innovation our customers want and…"
Ex-boyfriend of Real estate marketing exec Andrea Greenberg's arrested on fraud charges in connection to her estate
Authorities have charged the longtime boyfriend of the late Andrea Greenberg with submitting a forged will, which would have made him the sole beneficiary and executor of the real estate marketing executive's $1 million estate. Alejandro Aparicio, who was charged with grand theft, organized fraud and forgery, was booked into Miami-Dade Jail on Friday, but has since posted bail. Greenberg died in…
Crescent Heights plans major mixed-use project in Edgewater
Crescent Heights is making moves in Edgewater. The developer requested that the city replat the properties at 3000 and 3050 Biscayne Boulevard in Miami to build a major mixed-use project on more than 5 acres of land. A replat submitted to the city of Miami reveals plans for up to 754 residential units, nearly 269,000 square feet of office space, about 17,000 square feet of retail space, a 38,450-square-foot…
Mall owner Macerich expects more store closures in 2019 across portfolio: CEO
As shopping malls nationwide have been battered by ecommerce, mall landlord Macerich has sought alternatives by redeveloping some of its properties into creatives office spaces. But that didn't solve the core problem. Net income fell sharply for the quarter and the year. Macerich's net income from September through December was down 64 percent, to $11.7 million in 2018 compared to $32.7…
El Bagel opening in MiMo, Blue Bottle closes Miami locations, and other restaurant news
El Bagel is opening in a permanent spot in the MiMo District. The popular food truck concept signed a lease for 1,250 square feet at 6910 Biscayne Boulevard, in a building owned by developer Alex Karakhanian. It's expected to open as early as May. Felix Bendersky of F&B Hospitality Brokerage and David Morales of Morales Legal P.A.
Amazon may pull out of Long Island City campus amid opposition
Amazon is considering pulling out of a deal for a new campus in Long Island City, which is set to bring 25,000 jobs to New York and put the area's real estate market into overdrive, but was heavily criticized as a giveaway to the tech giant because of its billions in tax breaks. Since Amazon is yet to lease or purchase office space for the project, it would be able…
Miami gold family sued for allegedly using company funds to buy SoFla real estate
Last year, Republic Metals declared bankruptcy amid an industry-wide investigation into gold purchases from illegal mines in South America. Now, creditors of Republic Metals are suing the owners of the Opa-locka-based precious metal company, alleging that its CEO Jason Rubin and his sister, Lindsey Rubin, used the company's money "to fund their lavish lifestyles, including luxury homes and…
There are many disputes that arise in partnerships
There are many different businesses in Florida. There are also different ways that these businesses can form. Some businesses form as S-corporations and others C-corporations. They could also form as a limited liability company, a sole proprietorship, a partnership and others. The type of business formation chooses depends on a number of factors, but it is important that the company clearly states…
Judge approves Lampert's $5.2 Billion Sears takeover bid
A U.S. bankruptcy judge approved Sears Chairman Edward Lampert's $5.2 billion takeover bid of the company, saving off liquidation of the troubled retailer and hundreds of stores. The ruling means that thousands of jobs have been saved and 425 stores will remain open for now, according to Reuters. Judge Robert Drain of the U.S. Southern District Court in White Plains, N.Y, approved the sale on…
Trump open to changing controversial state and local tax provision
Wealthy people from New York, Connecticut and other high-tax states have been flocking to Florida to buy real estate. Their exodus was prompted in large part by President Trump's 2017 tax overhaul, which capped deductions of state and local taxes. Now, Trump said he is open to changing this controversial provision of the tax law, according to Bloomberg. The move could potentially reduce the amount…
Glaser sells Miami Beach office building to luxury watchmaker
Todd Michael Glaser sold a four-story residential building in Miami Beach to a luxury watchmaker who is planning to convert the property to an office. A company tied to the luxury spec home developer and his father-in-law, Mitchell Rubinson, sold the property at 2228 Park Avenue for $5.25 million, or $511.54 per square foot, to John Simonian, according to Lyle Chariff, president of Chariff Realty Group…
Developers and investors file 10 new suits seeking to overturn property value assessments
Pedro Garcia's methodology for calculating property valuations in Miami-Dade County is facing legal challenges from a slate of deep-pocketed owners that contend the county appraiser uses unfair and discriminatory practices in determining a property's taxable worth. Between November 30 and January 4, 10 separate lawsuits were filed in Miami-Dade Circuit Court against Garcia, as well as…
Agent convicted of extorting "The Jills" sent back to the slammer for violating probation
The former Miami real estate agent sentenced to probation for extorting Coldwell Banker's top-producing team, known as "The Jills," is now going to jail. A judge sentenced Kevin Tomlinson on Thursday to just under a year, for violating his probation by posting about the duo on social media and failing to pay court costs. A jury convicted Tomlinson in June on two counts of extorting Jill Eber and Jill…
Video: REIS Senior Economist Barbara Denham Does Retail Property Wrap-up 2018
Barbara Denham, Senior Economist with REIS, a leading commercial real estate data source, appears on a commercial real estate related show to discuss how retail performed in the biggest quarter of 2018, and projections for the sector in 2019. She notes that vacancy held steady at 10.2% in the face of gloomy forecasts, and rent increased 0.5%. She sees these results as positive, even though it is low, as it…