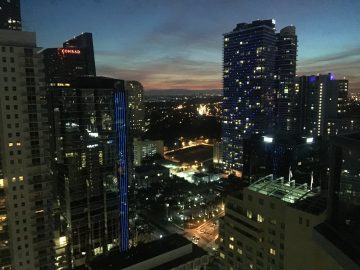 Host Hotels buys Sternlicht's 1 Hotel South Beach for $610 million, setting new record
Host Hotels paid $610 million for 1 Hotel South Beach, marking a new per-room record for Miami-Dade hotel sales at $1.42 million a key. Barry Sternlicht's Starwood Capital Group and LeFrak sold the luxury beachfront hotel at 2341 Collins Avenue, according to a press release. Starwood affiliate SH Hotels & Resorts will continue to operate and manage the 429-room hotel. Hodges Ward Elliott brokered…
Host Hotels Buys Miami Beach Hotel For Over $600 Million ~ More than a Million per Room
A Miami Beach hotel has just traded hands for more than $1M per room. Bethesda, Maryland-based Host Hotels & Resorts acquired the 1 Hotel South Beach for $610M from a JV of Starwood Capital Group and LeFrak. The deal, brokered by Hodges Ward Elliot, pencils out to $1.42M per room. The 429-room hotel at 2341 Collins Ave. was the first of Starwood's 1 Hotels brand, which now features properties.
Amercia's First Skyport for Flying Cars is Coming to Florida
A massive real estate development is under construction in downtown Miami and when it's complete, the Paramount Miami Worldcenter will have the first skyport in the U.S. built for flying cars. While that may sound like something you've seen on the Jetsons, drones capable of transporting people are becoming a reality. At 27-acres, Miami Worldcenter is one acre smaller than the Hudson Yards complex in…
Deutsche Bank Weighed Extending Trump Loans on Trump National Doral, Other Assets, on Default Risk
Top Deutsche Bank AG executives were so concerned after the 2016 U.S. election that the Trump Organization might default on about $340 million of loans while Donald Trump was in office that they discussed extending repayment dates until after the end of a potential second term in 2025, according to people with knowledge of the discussions. Members of the bank's management board, including…
WeWork is heading into Miami's trendiest neighborhood. The shared office operator, now known as the We Company, is taking about 30,000 square feet of creative office space on the top floor of Goldman Properties latest project, the Wynwood Garage, according to a building permit filed with the city of Miami. The eight-story, 428-space garage at 301 Northwest 26th Street opened in November and…
Related Group's Jorge Pérez Talks Real Estate, Lawsuits and Donald Trump
First, there's his hotel. He didn't enjoy his recent stay at the Viceroy in Manhattan. "This [Viceroy] is like, oh my God," the 69-year-old chairman and CEO of Miami's Related Group said. "You know, the carpets going through the hallways are horrendous, the rooms are tiny…The only reason I guess we stay here is because it's like a block away from the Armani people who we are meeting with." He and his son…
Crescent Heights sells mixed-use garage in South Beach
Crescent Heights sold a commercial building in South Beach, home to the popular Upland restaurant, to a nursing home owner for $15 million. Leopold Friedman, who owns the Bronx nursing home Citadel Rehabilitation and Nursing Center in Kingsbridge, acquired the four-story, 32,000-square-foot building at 49 Collins Avenue. It hit the market in 2017. Property records show Friedman financed the…
Tri-Rail is on track to serve downtown Miami
Tri-Rail trains are on schedule to arrive in downtown Miami by the end of 2019, said Bonnie Arnold, spokesperson for the South Florida Regional Transportation Authority, the commuter system's parent. "The end of the year is doable," she said. Work is being done on the two sets of tracks Tri-Rail will use in MiamiCentral, the station built by All Aboard Florida for its Brightline service, which runs express…
American Dream Mall waits on Canadian developer
Plans for the American Dream Mall have stayed in neutral since the megamall planned for the northwestern end of the county won approval from county reviewing agencies in July. County officials now wait for Canadian developer Triple Five to take the next step and submit a site plan. Triple Five first eyed Miami for what would become the largest mall in the US over three years ago. The project would…
Virgin Trains USA might roll into PortMiami
Miami-Dade County may soon look at linking Virgin Trains USA to PortMiami, a move that would connect the port to Broward and Palm Beach counties and extend a valuable lifeline to the struggling passenger rail service formerly named Brightline. Commissioners in committee last week voted 3-0 to advance an item directing Mayor Carlos Giménez's office to examine the extension, which would use…
Melreese golf course leasing to Beckham team on fast track
Some Miami commissioners are eager to learn where things stand as administrators negotiate a long-term lease for a city-owned golf course adjacent to Miami International Airport. A lease would clear the way for David Beckham and partners to build a Major League Soccer stadium on what today is Melreese Golf Course, along with a sweeping mixed-use commercial development, Miami Freedom…
Kicking the can: EB-5 extended again; still lacks permanent legislation
The federal EB-5 program has been extended yet again, this time until Sept. 30. The visa program was again included in the larger federal spending package that President Trump signed Friday, averting another partial government shutdown. EB-5 gives foreign investors the opportunity to obtain a green card if they invest at least $500,000 in a development project and create at least 10 jobs. It has received…
Fannie and Freddie's increased involvement in multifamily lending proves controversial
More known for backing single-family loans, Fannie Mae and Freddie Mac have seen their involvement in rental mortgages grow dramatically since 2008. Though the agencies aim to promote affordable housing with cheap, government-backed loans, critics say these loans can have the opposite effect. While housing advocates mostly agree that Fannie and Freddie loans for affordable housing and…
(Over)supply and demand: What Miami's condo glut could mean for multifamily rents and development
Tour the Panorama Tower overlooking Biscayne Bay, with its "porte cochere," poolside cafe, wine tasting rooms, pet spa and home theaters, and you might think that you're sampling Miami's latest glitzy condominium offering. Rising nearly 900 feet, Florida East Coast Realty's project is the tallest building in the state. But unlike many of the other towers that dot Brickell, the Hollo family's development…
As rent and tax reforms sweep US, real estate industry braces for fight with progressive lawmakers
After making significant gains in the midterms elections, Democratic lawmakers now have their sights set on curbing big real estate players. Bills are being introduced in states like New York, Illinois and California to strengthen rent controls and change tax laws, according the Wall Street Journal. In New York, where the real estate lobby holds enormous power, progressives like U.S. Rep. Alexandria Ocasio…
Expecting An Eventual Downturn, Industrial Owners Trying To Get Tenants To Renew Early
Miami industrial owners are as confident as ever in "South Florida's most stable asset class," but are making preparations for the party to end regardless, according to a recent Colliers International report. The brokerage held its 12th Annual Industrial Owner's Forum Jan. 31 in Miami, where more than 70 owners of industrial product got together and talked shop. A post-event report last week outlined some…
"We are starting to run, but the gun hasn't fired:" Investors dash into Opportunity Zones
Investors and developers in Miami-Dade County have been pouring money into Opportunity Zones. From April through September, property sales in those areas tallied $942 million, a 25 percent increase from the same time in 2017, ccording to The Real Deal's analysis of records. Enacted as part of the December 2017 tax overhaul plan, Opportunity Zones began catching the eye of savvy investors last…
Luxury brand-name residences are growing in popularity — and commanding a premium
If you brand it, they will come. That's the lesson luxury residential developers are learning as more and more buyers are purchasing properties in high-end branded towers. More than 400 properties are stamped with luxury brand names across the world, and 110 more of these developments will open by 2023, according to Alexandros Moulas, a director of international development at Savills Plc…
All in the family: Alex Sapir turns to relatives to complete Surfside development
Alex Sapir, through his investment firm, the Sapir Corp., is seeking shareholder approval on a deal that will let his relatives bail him out on a luxury condo development under construction in Surfside, a sleepy town north of Miami Beach. Alex Sapir's publicly traded company is proposing to use $6 million in deposits for condo units at Arte by Antonio Citterio, to fund overrun costs…
Worn down: Payless shoes to close all 2K locations, declare bankruptcy
Just as Sears is emerging from bankruptcy, another major retailer battered by e-commerce is entering into it. Payless ShoeSource will shutter all 2,300 stores when it files for bankruptcy later this month, according to Reuters. It's the second time the Topeka, Kansas-based discount shoe chain has filed for bankruptcy in two years. It was one of many retailers that closed or filed for bankruptcy in 2017.
New Russia sanctions bill targets LLCs in real estate, again
The "sanctions bill from hell" is back from the dead. Republican Senator Lindsey Graham (SC) and Democratic Senator Bob Menendez (NJ) on Wednesday introduced a tougher version of last year's "Defending American Security from Kremlin Aggression Act," and once again, the bill includes a provision that targets people using limited liability companies for high…
So many Opportunity Zones, so many questions for developers, investors
Developers and investors are enamored enough with the federal Opportunity Zones program that they have been raising massive funds in hopes of taking advantage of the big tax incentive. But they remain cautious enough over of the program's many unanswered questions that few have deployed much of the capital raised. Those dueling realities played out Thursday in Washington, D.C., when the IRS' first…
Glaser and partners propose 15-acre "West of West" district in South Beach
Developer Todd Michael Glaser and a group of partners are proposing a massive mixed-use project with pocket parks, elevated courtyards, residential and commercial space in the heart of South Beach. Glaser, Jarrett and Sean Posner, Fred Carlton and Charlie Ratner are the developers behind the West of West overlay district. Domo Architecture + Design presented it Wednesday to the Miami Beach…
The Sky Lounge In The New Zaha Hadid Building Will Be The Hottest Invite In Miami
Construction is moving along at One Thousand Museum, the landmark Miami building by famed architect Zaha Hadid. Bisnow was recently allowed a sneak peek inside and some details on its culinary offerings. Mame Sow, a native of Senegal who moved to New York when she was 11, has been brought on as the building's culinary director. As such, she will plan and prepare seasonal menus to be…
Long-delayed Ritz-Carlton Residences in Miami Beach now expects temporary certificate of occupancy in April
The long-delayed Ritz-Carlton Residences, Miami Beach, is now expected to receive its temporary certificate of occupancy in April and begin closings later that month or in early May. Developer Ricardo Dunin, founding partner of Lionheart Capital, said construction of the luxury condominium project is nearly completed. "Many units are finished and locked, and most of the building is done," Dunin said…
Bristol Group sells Amazon warehouse for $24 million
The Bristol Group sold a Miami Gardens warehouse leased to Amazon for $24 million. The San Francisco-based company sold the 205,548-square-foot-industrial property at 15600 Northwest 15 Avenue to an affiliate of Dallas-baed Dalfen Industrial for $116 per square foot, records show. Dalfen secured a $16 million loan from Bank of America to finance the acquisition. E-commerce giant…
Trump admin considers sidestepping Congress to overhaul Fannie and Freddie
The Trump administration may bypass Congress in its effort to privatize Fannie Mae and Freddie Mac, which have been in government "conservatorship" for a decade. Treasury secretary Steven Mnuchin, who previously sought support from Democrats in Congress to privatize the mortgage giants, is now working on a set of proposals to do so unilaterally, sources told the Financial Times. "They want…"
Amazon says it won't come to New York
Leaving a $3 billion incentive package on the table, Amazon has decided against coming to New York City. The company announced on Thursday that it won't build a new campus in Queens. The decision follows reports last week that Amazon was reconsidering its selection of New York, amid fierce political opposition. Much of the blowback sprung from the $3 billion in state and city tax incentives offered…
Mortgage originations hit 4-year low: NY Fed
Mortgage originations fell last year, while new auto loans hit all-time highs, according to a report by the Federal Reserve Bank of New York released on Tuesday. New mortgage loans for 2018 were at the lowest level since 2014. Mortgage originations in the fourth quarter fell to $401.5 billion from $445.3 billion in the previous quarter, the lowest volume since the first quarter of 2016 in nominal terms, the…