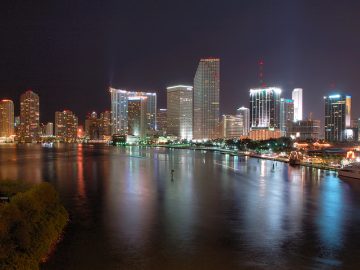 Joint Venture Purchases Historic Raleigh Hotel on Miami Beach for $103 Million
A joint venture between SHVO, Bilgili Holding and Deutsche Finance America has purchased the Raleigh Hotel in Miami for $103 million. The 83-room hotel is situated in South Beach, about 10 miles east of downtown Miami, and is known for its beachside swimming pool that Life Magazine called "the most beautiful pool in America" in 1947. Designer Tommy Hilfiger and Dogus Group, a Turkish…
Historic Miami Hotel Sells for $103 Million
A joint venture of Deutsche Finance America, Bilgili Holding and SHVO has acquired the historic Raleigh Hotel in Miami for $103 million in an all-cash transaction. A partnership between Tommy Hilfiger and Dogus Group, a Turkish conglomerate, sold the 83-key asset. Situated at 1775 Collins Avenue in Miami Beach, the hotel was built in 1940 and is an icon of classic South Beach Art Deco design. Raleigh is…
Starwood Capital, LeFrak Sell Miami Hotel for $610 Million
Starwood Capital Group and LeFrak have sold 1 Hotel South Beach, a 429-key luxury hotel property at 2341 Collins Avenue in Miami Beach, Fla., to Host Hotels & Resorts in a transaction valued at $610 million, or approximately $1.4 million per key. 1 Hotel South Beach last changed hands in 2012, when Starwood, LeFrak and Invesco Ltd. acquired the oceanfront property, then known as the Gansevoort…
Host Hotels Buys Miami Beach Hotel For Over $600 Million
A Miami Beach hotel has just traded hands for more than $1M per room. Bethesda, Maryland-based Host Hotels & Resorts acquired the 1 Hotel South Beach for $610M from a JV of Starwood Capital Group and LeFrak. The deal, brokered by Hodges Ward Elliot, pencils out to $1.42M per room. The 429-room hotel at 2341 Collins Ave. was the first of Starwood's 1 Hotels brand, which now features properties…
South Florida by the numbers: Spotlight on Coral Gables
"South Florida by the numbers" is a web feature that catalogs the most notable, quirky and surprising real estate statistics. Time waits for no town, even one bold enough to call itself "The City Beautiful." Coral Gables is in the midst of a dramatic overhaul; transforming it from an old-fashioned neighborhood into a fresh, modern, walkable village, while maintaining its historic splendor. Obvious signs include the…
Tower begun in 2006 has 32-story completion plan
A downtown tower project at 530 NW First Court that stalled after the foundation was built in 2006 and remained undone for years has a new owner-developer with big plans for completion. The new project is called Krystal II and was applied for by Charlesville Dev. Corp. representing BH 18 Investments LLC, as applicant, and Krystal Invest Solution LLC as owner. The city's Urban Development Review…
Miami, state to partner on 30-acre park under I-395
The City of Miami is preparing to partner with the Florida Department of Transportation (FDOT) in the development of the space under I-395 in Downtown Miami. Legislation to approve the first agreement is scheduled for today's (2/28) city commission meeting. Last fall, FDOT's James Wolfe met with commissioners and announced the start of construction on the long-awaited I-395/SR 836/I-95 project…
Brickell Avenue Bridge standoff over traffic goes on
There's an apparent cease-fire in the battle between Miami's Downtown Development Authority and the US Coast Guard and the Florida Department of Transportation to enforce (and possibly expand) lock-down times for the Brickell Avenue Bridge. Authority directors and downtown stakeholders alike can attest to the paralyzing effect excessive bridge openings exert on traffic in the central business district…
Brickell City Centre to produce fire station, riverwalk
As Brickell City Centre prepares to grow again in the next couple of years, the next phase of construction will include a fire station and a public riverwalk. The fire-rescue station and the riverwalk are promised by developer Swire Properties Inc. and its affiliates, and are detailed in a new development agreement approved Jan. 24 by the Miami City Commission. Those additions are listed in the new…
250 apartments planned at edge of Health District in Miami
A developer plans to build up to 250 apartments at the edge of the Health District in Miami, just south of the Dolphin Expressway. Spring Garden Apartments LLC submitted plans for an 11-story mixed-use building at 1005 Spring Garden Road. The city's Urban Development Review Board granted conditional approval of the project Feb. 20. To be called Soleste Uptown, the project is to include…
Full-court press on AmericanAirlines Arena naming rights
Talks are ongoing for naming rights to what is now American-Airlines Arena, says Dan Wall, Miami-Dade's chief liaison to county sponsorship agent The Superlative Group. "They are actively discussing the matter with multiple corporations," he said Monday, adding that the county is "going to exhaust all options" to get a deal before the current contract expires Dec. 31. "The plan was to reach out to…
Turkish developer Okan set to start Florida's tallest tower
The Okan Tower team is awaiting a final state OK on condominium documents, expected in the spring, and plans to break ground this year on a 70-story downtown mixed-use tower. The project is to rise at 555 N Miami Avenue, where it will promise buyers a slice of what the developers say will become the tallest building in Florida, with a cap at 890 feet – taller even than Brickell's new Panorama Tower…
KLNB picks up CVS building on Miami Beach's Washington Ave
Commercial real estate firm KLNB paid $18.3 million to buy a CVS-anchored building on Washington Avenue in Miami Beach, two years after it hit the market. KLNB bought the two-story,12,443-square-foot building at 983 Washington Avenue for $1,470 per square foot, records show. Club Invest Group LLC, which is managed by Eugenio Marrapodi, sold the property to the Washington, D.C.-based…
Fed Blog: Predicting Recessions: Which Signals Are More Accurate?
As the yield spread between longer-term Treasuries and shorter-term Treasuries dips closer toward zero, the popular press is voicing more concerns about it possibly going negative. This is referred to as a yield curve "inversion," which is thought to signal a recession in the near future. In deciding how concerned to be, however, it is useful to think about what a yield curve inversion really means and also consider…
Inflation Forecasted to Remain under 2 Percent in 2019
In January 2012, the Federal Open Market Committee (FOMC) adopted an inflation targeting approach as part of its Longer-Run Goals and Monetary Policy Strategy. Under this approach, the FOMC judged that an inflation rate of 2 percent, as measured by the price index for personal consumption expenditures (PCEPI). The FOMC judged this rate to be the longer-run rate most consistent with the Federal…
HUD expands low-income housing tax credit program to encourage Opportunity Zones investment
The federal Opportunity Zones program has been wildly popular with investors and developers, but critics say the tax incentive program has so far not gone to areas most in need. Now, the Department of Housing and Urban Development has announced an initiative to encourage affordable housing investment within the thousands of designated Opportunity Zones nationwide. The Federal Housing…
Developer completes Edgewater assemblage for Urbanica Hotel
Urbanica Management completed an assemblage in Edgewater where the company is planning to build a 220-room hotel. Urbanica Management, led by Charlie Porchetto, paid $7.3 million for the adjacent lots at 3023 Biscayne Boulevard and 3030 Northeast Fourth Avenue, adding to the land it acquired in October at 3200 Biscayne Boulevard $7.95 million. Coldwell Banker's Rosy Cancela represented…
Roca Tile expands at Dolphin Commerce Center and other major leasing news
Dolphin Commerce Center hits 90 percent occupancy. Avison Young negotiated 184,000 square feet of new industrial leases at Dolphin Commerce Center, a five-building industrial park totaling 750,000 square feet of Class-A space in Miami-Dade's Airport West submarket. Roca Tile USA, which makes and distributes ceramic tiles, renewed its lease and expanded for a total of 134,383 square feet.
A Closer Look at South Florida's Flexible Office Market
As people continue to revolutionize the way office work is defined, coworking is gaining more ground across the U.S. Miami has been spearheading the growth of flexible workspaces in Florida. According to a recent Yardi Matrix survey, the metro comes third after Manhattan and Portland regarding coworking space as a percentage of total office stock with 2.4 percent. Timothy Locke, director of…
AJP Ventures, Mas Group Set to Break Ground on $40M Healthcare Facility Near Baptist Hospital in Miami
AJP Ventures and Mas Group will break ground on MedSquare Health, a 116,000-square-foot, three-story medical facility in the Baptist Hospital of Miami submarket in Miami. The $40 million building will be situated at 9408 SW 87th Avenue, about two miles from Baptist Hospital of Miami. Amenities will feature valet parking, an adjoined two-story parking garage, conference room space and an on-site…
Bizzi & Partners pays $10.27 million for site on Northeast 163 Street in North Miami Beach
New York-based Bizzi & Partners Development bought a 1.1-acre site in North Miami Beach for $10.27 million. An affiliate of Bizzi & Partners, 2101 Aventura Property Owner LLC, acquired a storage building at 2101 Northeast 163 Street and an adjacent vacant lot. The seller was 2101 NE 163 LLC, which is managed by Matias Larsen in Miami. Bizzi & Partners also got an $8.5 million mortgage loan from…
Blue Water Shipping Leases 69,500 SF At Miami Logistics Center
The South Florida office of Duke Realty announced that Miami Industrial Logistics Center, its three-building, 676,835-square-foot industrial hub, is 93 percent leased, just 18 months after it acquired the newly constructed, completely vacant industrial development. Blue Water Shipping is the latest tenant to choose MILC, which is located in the Hialeah Gardens submarket of Miami on the east side…
UHealth to open medical center in North Miami
The University of Miami Health System is proud to announce that it will open a world-class medical center at SoLé Mia, the 184-acre, $4 billion mixed-use development in North Miami developed by the Soffer and LeFrak families. The medical center will offer the communities of North Miami, Aventura, and the surrounding areas academic medicine in specialties dealing with cancer treatments from Sylvester…
Planners unveil a greener and more pedestrian-friendly Wynwood
Wynwood's future streetscape could look completely different, with a bicycle and wellness loop, pocket parks, lush landscaping, and more woonerfs, a Dutch-inspired shared street design aimed at slowing down traffic. At a Wynwood Business Improvement District meeting this week, urban planners revealed their proposals for the streets of Miami's most popular neighborhood, nearly a year after the Miami City…
Safra family sells Minotti building in Miami Design District
The Safra family sold the Minotti building in the Miami Design District to Nader Hakakian, owner of the Domus Design Centers in New York. Property records show 3817 NE 2nd Owner LLC, an affiliate of New York-based J. Safra Real Estate, sold the 9,770-square-foot building at 3817 Northeast Second Avenue to JJ 3801 Realty LLC, which is controlled by Hakakian, for $15.5 million. The price equates…
Video: Atlanta Federal Reserve Commercial Real Estate Expert Brian Bailey Discusses Cycle Timing
Brian Bailey, Subject Matter Expert, Commercial Real Estate at the Atlanta Federal Reserve,  joins Michael Bull on America's Commercial Real Estate Show to discuss his perspective on the commercial real estate market, including our current economic cycle and timing thereof. He talks about different commercial property sectors, increased construction of luxury multifamily in the face of softening…
Developer wins approval for apartment project near Miami's Health District
Just two weeks after completing an assemblage in Miami's Spring Garden neighborhood, Estate Investments Group won a key approval to build a 251-unit apartment building on the land. On Wednesday, the Miami Urban Development Review Board granted the developer's request to increase the proposed project's lot area from 40,000 square feet to 63,250 square feet, as well as a 30 percent parking…
Trophy Deals Galore: Downtown Office Towers Trade in Slowing Market
Trophy office towers have been trading across South Florida in spite of the regional market slowing down after five years of robust growth. Four downtown office towers traded in 2018 even with some vacancy rates climbing. In the fourth quarter, the rate reached 17.7 percent in downtown Miami, the highest in Miami-Dade County, and 12.4 percent in downtown Fort Lauderdale, the second highest in…
Video: RealCapital Analytics SVP Jim Costello Provide Office Property Sector Update
Jim Costello with RC Analytics appears on this commercial property related show to discuss office property market performance and how changing demographics seem to be driving office growth in suburban markets. He begins by talking about the new offering of the 90-years young Chrysler building in New York, how unusual it is for a building like that to come up for sale, and noting the complexity of its…
Two Leases Totaling 184,718 SF in Miami Industrial Park Arranged
A broker has arranged two leases totaling 184,718 square feet. within Dolphin Commerce Center in Miami. Roca Tile USA signed a 134,383-square-foot lease renewal and expansion, adding 25,745 square feet to its footprint within the business park. FastKit Corp., a custom packing and printing company, renewed its 50,335-square-foot lease. Dolphin Commerce Center spans 750,000 square feet…
88,011 SF Industrial Lease Negotiated in Miami
A broker has negotiated an 88,011-square-foot industrial lease on behalf of Senator International Freight Forwarding LLC at 10505 NW 112th Avenue in Miami. The facility is situated about 20 miles west of downtown Miami. Devin White of CBRE represented the landlord, FS Building 30 LLC, in the lease transaction. Senator International Freight Forwarding specializes in international shipping and logistics with…
Diesel Condo Launching in Wynwood – A Twist to the Luxury Brand Name Trend
Last November, popular Italian denim brand Diesel announced plans for its first-ever condo project in Miami, called Diesel Living. The luxury condo tower, being developed by the Bel Invest Group, will feature 143 loft-style condos and 24,000 sq. ft. of retail on the ground floor. This is not the first time a global brand name has chosen Miami for its debut in the residential real estate space. Over the past few…
Retail In South Florida: Experiential All The Way
Owners of shopping centers have a choice: They can lease space to whomever shows up with a check in hand, putting a dollar store here and a fancy salon there. Or, they can think like Edens Vice President of Investments Nicole Shiman, who orchestrates an entire plaza as one harmonious whole. "Tenants are increasingly focused on being part of a 'place' versus simply leasing space at a center," Shiman said.