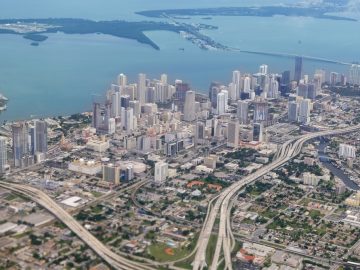 One-On-One With Nitin Motwani, Developer Of Miami Worldcenter, the Second-Biggest Mixed-Use Project In The U.S.
Today, Nitin Motwani is developing one of the biggest real estate projects in America, the $2B Miami Worldcenter. But he has also seen the flip side of the business, growing up with motel-owner parents in Fort Lauderdale when it was a scrappy, declining strip of beach and wet T-shirt contests were the biggest draw. Courtesy of Miami Worldcenter Rendering shows what the 27-acre Miami Worldcenter will…
General Growth Properties raises its ownership stake in Miami Design District
General Growth Properties increased its ownership stake in the Miami Design District, according to a filing with the U.S. Securities and Exchange Commission. GGP bought out its joint venture partner, Ashkenazy Acquisition Corp., bringing its total ownership to 22.3 percent. In June, the Chicago real estate investment trust received 7.3 percent of Ashkenazy's interests in the Design District in full…
Adler launches $150 million real estate fund
Adler Real Estate Partners recently launched a $150 million commercial real estate fund, its largest fund to date. Adler Real Estate Fund IV will target light industrial real estate and office properties in U.S. markets with strong growth, according to data from Preqin, an alternative asset industry database. It's seeking a 13 percent to 14 percent internal rate of return. Matthew Adler, founder and managing partner…
Toronto investor adds to Edgewater assemblage with $10 million deal
A company led by Canadian investor William Wiener paid $9.7 million for a piece of an Edgewater assemblage. 35 Oak US 4 Inc. bought the Sion International Center Church buildings at 2511 and 2521 Biscayne Boulevard from the Sion Church of the Assemblies God, according to property records. The land totals 22,400 square feet and the buildings 5,955 square feet. Its T6-36a O zoning allows for at…
Miami board approves new plan for Coconut Grove Playhouse
The fresh redesign of the Coconut Grove Playhouse renovation project got a seal of approval from Miami's Urban Development Review Board. Six board members voted unanimously on Wednesday to approve a new detailed site plan that includes a fully restored auditorium building. In December, the Miami City Commission derailed a $20 million proposal by the Miami-Dade County Department of Cultural…
Video: Green Street Managing Director Dave Bragg Sees Limits to Demographic-Driven Demand Forecasting
According to Managing Director Dave Bragg, when demographic trends are easy to spot, supply frequently will react accordingly. Green Street instead focuses on negative demographic trends, which can hinder prospects for growth in the future. In this brief video, Dave also talks about Green Street's research on the regulation of land use as an important constraint on new supply, a topic seemingly of…
Video: Tim Bodner and Byron Carlock of PwC Discuss Tax Act Impact on Office Properties
Leaders Tim Bodner and Byron Carlock of global accounting and professional service company PwC appears on The Commercial Real Estate Show with its host Michael to discuss what they view as the impact of The Tax Cuts and Jobs Act on the office property sector. Among the topics they discuss are 1031 Exchanges, tax saving investment opportunities, technology demands, office space trends, office…
Miami-Dade now plans Personal Rapid Transit for Beach link
After 15 years of Baylink talks, the rapid-transit corridor linking Miami Beach to downtown has been resurrected, but it doesn't look anything like old plans. Rather than plant heavy, expensive rails, Miami-Dade commissioners say Personal Rapid Transit [PRT] vehicles of four to six people can solve Beach traffic and also draw more tourists. "The future of transit isn't mass transit," said Mayor Carlos…
Wynwood developer targets entire city block
Miami's preliminary OK to change zoning and land use in the heart of Wynwood may clear the way to redevelop an entire block, adding multi-family residences and shops. A final decision may come this month. Westdale Wynwood LLC plans the major mixed-use project between Northwest 30th and 31st streets and Second and Third avenues. The plan is to construct about 171 residences, said attorney…
Miami Beach Convention Center revamp nearing its end
After being under construction for 26 months, the Miami Beach Convention Center is to be completely re-opened in six months, with a partial opening in mid-March. The construction in total cost $620 million and was part of a restoration and expansion project for the entire facility. The new convention center will be 1.4 million square feet and will include a new 60,000-square-foot grand ballroom…
Powerboat racing returns to Miami Marine Stadium basin
Some supporters of restoring and reopening Miami Marina Stadium speak of the glory days when the waterfront stadium hosted speed boat races in the Virginia Key basin, and some have longed for a return of that event. Powerboat P1 USA LLC plans to do just that. The organization intends to open its 2018 P1 USA Championship racing season in the historic basin for two days in April. Plans for the Miami…
300-seat Coconut Grove Playhouse clears city hurdle
The plan to restore the long-shuttered Coconut Grove Playhouse has been approved by Miami's Urban Development Review Board. Miami-Dade County plans to restore the front of the historic theater, build a new 300-seat theater and ancillary uses on the footprint of the large and dilapidated auditorium, and be a partner in a plan for a public parking garage with residential units and retail…
Call marine stadium time out until city develops a firm plan
Why do governments build projects before they know how to fund construction or how to maintain and operate them? And shouldn't real estate assets help fund other public needs? The latest example, which we detailed two weeks ago, is Miami's push to renovate and reopen Miami Marine Stadium on Virginia Key. Despite a $9.2 million construction shortfall and no plan at all for how to actually use the stadium…
Lease guaranty's demand requirement trips up landlord
All too often commercial parties sign contracts without paying much attention to the "boilerplate" provisions.  And all too often that causes a problem for one of the parties.  Such was the case for an Orlando landlord that didn't pay enough attention to the demand requirement in a lease guaranty.  The result in Nabbie v. Orlando Outlet Owner, LLC, a new decision from Florida's Fifth District Court…
Private investor picks up Hialeah apartment building for $10M
Private investor and property owner John Sismanoglou is busy yet again scooping up multifamily complexes in Miami-Dade County. Property records show Amelia Towers Residences LLC, led by Sismanoglou, paid $10 million for a 67-unit apartment complex at 6680 West Second Court in Hialeah. The private investor owns a number of properties throughout Miami-Dade and New York City.
Bloomberg, Turner Construction offices raided as officials investigate $100 million fraud
State officials raided the offices of Bloomberg L.P. and Turner Construction as part of a larger investigation into a suspected $100 million worth of construction fraud. Bloomberg may have overpaid Turner $1 million for interior work at Bloomberg's office, including its headquarters at 731 Lexington, the New York Times reported. Investigators believe subcontractors, including Queens-based Jonathan…
Retail Leasing Starts at Uptown Biscayne in North Miami Beach
Developer CK Prive Group is planning Uptown Biscayne, a mixed-use development along Biscayne Blvd. in North Miami Beach. Rendering courtesy of Arquitectonica. A grocer, home furnishings stores, restaurants, a fitness center and maybe a salon and massage studio are the kinds of tenants Michael Comras of the Comras Cos. is looking for to fill the new Uptown Biscayne development in North Miami Beach, FL.
Video: See the New Bricklaying Robot In Action
In this video SAM, short for Semi-Automated Mason, the bricklaying robotic assistant of the future, struts its stuff. Developed by Construction Robotics, a small business funded by the National Science Foundation Small Business Innovation Research program, SAM works alongside masons to install bricks, making the humans' jobs less backbreaking. The technology is designed to increase…
Miami homicide unit investigating real estate exec Andrea Greenberg's opioid overdose
Miami Police homicide detectives have opened an investigation into the death of real estate marketing executive Andrea Greenberg, who died in October from an opioid overdose, The Real Deal has learned. The official cause of death was "acute combined drug toxicity," involving three kinds of the potent synthetic opioid fentanyl, according to a copy of the Miami-Dade Medical Examiner's report.
Privé developers win another victory in ongoing litigation with neighbors
The developers at Privé at Island Estates racked up another court win in the long-running legal battle with neighboring homeowners. Miami Federal Judge Robert Scola Jr. granted summary judgment in favor of project builders Gary Cohen, Daniel Lebensohn, BH3 and five related companies last week, related to allegations of wrongful prosecution and defamation. Dara and David Clarke, a pair of…
Miami is leading the pack in co-working space, according to a new study
Miami beat out NY and LA in this key measurement It's not just your imagination: co-working spaces really are everywhere in Miami. The Miami Herald reports that data and research group Yardi Matrix crunched the numbers in 20 major markets on co-working leases and found that Miami is leading the pack in one key aspect. As a percentage of total stock, Miami has the most coworking space at 2.7%…
Which US big city is king of co-working?
News flash: Co-working spaces are popular in major U.S. metro areas. There's nearly 27 million square feet of coworking spaces around the country and unsurprisingly, much of it is concentrated in major metro areas, according to a report by Yardi. Manhattan is by far the coworking capital, at least in terms of sheer square footage. More than a quarter of all co-working space, or 7.65 million square feet…
Magellan scores $90M refi for Midtown Five
Magellan Development Group just scored a $90 million loan to pay off construction financing for Midtown Five. Property records show the developer is refinancing the 400-unit luxury apartment tower at 125 Northeast 32nd Street with a loan from TD Bank. Magellan is using the financing to pay off an $80 million construction mortgage secured in 2014, also from TD Bank. The Chicago-based firm broke…
Bottega Veneta heads to the Design District
Bottega Veneta signed a lease in the Miami Design District. The Italian luxury goods and high fashion brand house will be opening in the fall in a 4,000-square-foot space between Gucci and Rick Owens on Northeast 41st Street, said Craig Robins, president and CEO of Dacra. Bottega Veneta's other South Florida locations are at Bal Harbour Shops and on Worth Avenue in Palm Beach. Robins said retail rents…
China said to be taking offers for a handful of Anbang's former US hotels
After Chinese authorities seized the insurance giant's assets on Friday, reports have stated all will remain the same — for the time being at least, but apparently offers are being received. The Wall Street Journal reported that authorities were "listening" to various offers on a handful for U.S. hotels that made up Anbang Insurance Group's hospitality portfolio. Here's a look at what…
Missoni Baia in Edgewater will add more units
The in-construction condo tower will get taller Missoni Baia, a high-end condo project currently under construction in Edgewater, will be even taller than anticipated. The Real Deal reports that Miami's Urban Development Review Board approved design changes for Missoni Baia, a project from developer Vlad Doronin and OKO Group. The tower will go from 146 units to 249 units, and parking spaces will…
Miami board green lights changes to Missoni Baia, Flagami apartments
Vlad Doronin's Missoni Baia luxury condo tower is getting a few tweaks. Miami's Urban Development Review Board unanimously approved design changes for the 56-story tower planned for 700 Northeast 26th Terrace last week. Doronin's company, an affiliate of OKO Group, is increasing the number of units from 146 to 249, as well as the number of parking spaces by 76 to 399. The building's floor…
Could a brick-laying robot disrupt the construction industry?
From TRD NYC: Known officially as the Semi-Autonomous Mason Sam100, or just Sam, the robot is already at work on construction sites across the U.S. Sam can lay a brick every 8.5 seconds, according to The Financial Times. At that rate, Sam can lay 3,000 bricks in an eight hour shift whereas a human worker can lay an average of between 300 and 600. "I can call up all the data on my phone," architect…
Legislation negating local regulation of vacation rentals advances
A committee in the Florida House of Representatives narrowly approved a bill that would negate local ordinances to regulate vacation rental properties. House Bill 773 would negate vacation-rental ordinances that Florida cities and counties have enacted since June 1, 2011. The House Government Accountability Committee approved the bill in a 13-11 vote. The chairman of the House Government…
The Weekly Dish: Bocce Bar's space to become Skorpios restaurant & more
Skorpios, a Mediterranean-style eatery, is set to open in the former Bocce Bar space at the Shops at Midtown Miami. Partners Eric Milon, Stephane Dupoux and Sami Kohen are opening Skorpios at 2352 Northeast First Avenue on Friday. The restaurant spans 4,900 square feet of indoor and outdoor space. Executive chef Erhan Ozkaya previously led the kitchen at Mandolin in the Buena Vista neighborhood.
South Florida construction starts spike in January: report
Developers hit the ground running at the start of the new year.Construction spending in South Florida increased 68 percent year-over-year last month to $1 billion, up from $597 million in January 2017, according to a new report from Dodge Data & Analytics. Though residential construction took a hit last year, the opposite can be said for the beginning of 2018. New residential starts in the region…
Apartment high-rise Midtown 29 is now open
Offering studios to three-bedroom units Midtown 29, a luxury apartment high-rise in Midtown Miami, is now open at 180 NE 29th Street. The 20-story, 309-unit tower tower includes 12,000 square feet of retail space on the ground floor. The apartment building is a joint venture between MORGAN and Mesirow Financial, with construction financing provided by Wells Fargo and project design by Stantec.
Two South Florida apartment complexes hit the market
Two South Florida apartment complexes just hit the market unpriced – but are expected to nab between $95 million to $100 million, the broker marketing the property told The Real Deal. The 444-unit portfolio includes Sundance Village, a 304-unit complex at 11325 Northwest 7th Street near Doral; and the Gardens at Nova, a 140-unit property at 6857 College Court in Davie.
Miami board approves new plans for former Boulevard 57 site
A partnership between 13th Floor Investments and Tricera Capital got the green light from a city of Miami board to build on a prime 2.2-acre site that borders the MiMo Historic District and Miami's Morningside neighborhood. Paseo Miami, a mixed-use apartment building, is planned for 5700 Biscayne Boulevard, the site of a cancelled condo project by Unitas Development Group. The 448,000-square-foot…
Privé in Aventura takes out $50M loan on remaining condo inventory
The developers of Privé at Island Estates closed on $50 million in financing for unsold inventory at the luxury condo project in Aventura.
Property records show New York-based Maxim Capital provided the loan to Prive Developers LLC. The financing is for 41 units at Privé, a 150-unit development at 5000 Island Boulevard. That means the developers, BH3's Charlie Phelan, Greg Freedman and…
Value-Add Rentals for Sale in Miami, Davie
The Gardens at Nova (left) in Davie, FL and Sundance Village apartments in Miami are listed for sale with Colliers International. Two garden-style apartment properties totaling 444 units have hit the market for the first time, offering value-add opportunities for potential buyers. Sundance Village at 11325 NW Seventh Street in Miami, and the Gardens at Nova at 6857 College Ct. in Davie, FL are both more…
What is a breach of fiduciary duty in Florida?
A fiduciary duty is an obligation that arises when one has a legal duty to act in the best interests of another. For example, a business partner has a fiduciary duty to their other partners. When a party fails to uphold their obligations, it could be a breach of their fiduciary duty. In a corporate or other commercial setting, a breach of fiduciary can result in contentious business litigation. Fiduciary…