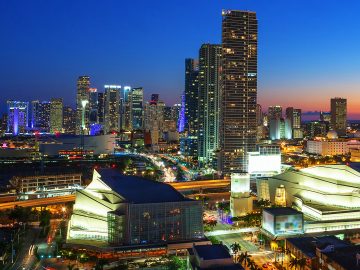 PTM Partners, EIG Acquire Opportunity Zone in Miami, Plan $100 Million Multifamily Development
PTM Partners and Estate Investment Group (EIG) have acquired a 1.3-acre parcel in Miami's Overtown neighborhood for $9.7 million. The joint venture plans to develop a $110 million, 18-story, 360-unit apartment complex at the site called Soleste Grand Central. The 220,000-square-foot project is set to… The development will be situated at 218 NW Eighth Street, about two miles north of downtown Miami.
Video: REIS Senior Economist Barbara Denham Does Retail Property Wrap-up 2018
Barbara Denham, Senior Economist with REIS, a leading commercial real estate data source, appears on a commercial real estate related show to discuss how retail performed in the biggest quarter of 2018, and projections for the sector in 2019. She notes that vacancy held steady at 10.2% in the face of gloomy forecasts, and rent increased 0.5%. She sees these results as positive, even though it is low, as it…
South Florida Industrial CRE Broke Several Records In 2018
South Florida is one of the country's industrial real estate darlings, and last year proved it once again. South Florida's industrial sector smashed several records in Q4 2018, a new report from Newmark Knight Frank found. An NKF spokesperson pointed out key findings: The average rental asking rate hit $8.75/SF, breaking the previous record set in 2007. In Miami, the average asking rate climbed above $8/SF…
Stunning renderings of downtown Miami's new $802 million bridge
The $802 million redesign of I-395, SR 836 and I-95 in downtown Miami will be a major headache for drivers, but renderings show just how stunning the end result will be. The arched bridge will be Miami's signature feature as its soars over the downtown area. The larger context is it is part of a multidecade transformation of the downtown area. Consider in the last few decades that Adrienne Arsht Center…
And so it begins: Moody's launches CRE portal to challenge CoStar's dominance
Moody's Analytics has launched its long-planned commercial real estate data portal, highlighting the company's push into a space largely dominated by the CoStar Group. The financial services giant, which is valued at $31 billion, has over the past year acquired, invested and partnered with data companies to provide a centralized portal of commercial real estate transaction tools. The Real Deal last month…
Commercial property sales hit near record-breaking total of $562 billion last year
Commercial real estate sales hit near-record levels in 2018, and low interest rates could make for another strong year. The total value of U.S. commercial properties selling for $2.5 million or more reached $562.1 billion last year, the Wall Street Journal reported, citing data from Real Capital Analytics. This was a 15 percent increase compared to 2017 and about $8 billion less than the 2015 record of $569.9…
New Brickell Hotel Announced in Interview With Radisson's Ken Greene On The Newest Radisson Blu And What's Next
The Radisson Red is a select-service lifestyle brand. It's a millennial mindset that crosses all demographics based on art, music and fashion. Those are the pillars. It's a fresh cool new brand. The first [Radisson Red] we opened in Minneapolis… And we're announcing here at ALIS a new Radisson Red in Brickell, Miami — the Radisson Red Miami Brickell. It's a very cool area. It's going to be our second location in Miami.
The continuing lease guaranty that didn't continue after all
A common theme of the cases and issues discussed in this blog is that document drafting is at the root of many commercial real estate disputes (such as here, here, here, and here).  It's usually the case that the parties don't notice the drafting issue until a problem arises.  A new case provides yet another example. Haggin v. Allstate Investments, Inc. is about a lease guaranty and whether it covered extensions…
Estate Investments plans apartment project near Miami Health District
Developer Robert Suris of Estate Investments Group completed an assemblage near Miami's Health District , with plans to build a multifamily project. EIG is proposing a 251-unit rental building between eight and 11 stories tall on Spring Garden Road, just east of the Dolphin Expressway. The developer is… EIG closed on the 24,708-square-foot lot at 1033 Spring Garden Road on Friday for $3 million.
Mill Creek closes on Edgewater site of $120 million development
Mill Creek Residential closed on a development site in Edgewater where it's planning to build Modera Biscayne Bay, a $120 million mixed-use apartment tower. Unity on the Bay Church sold its 2-acre site at 411 Northeast 21st Street and will relocate later this year, according to a release from Greenberg Traurig. Shareholders Ryan D. Bailine and Gavin M. Loughlin, along with Marina I. Ross and Ethan B.
Partnership closes on Opportunity Zone site in Overtown, with plans for 18-story tower
One of the largest Opportunity Zone acquisitions in Miami closed, with the owners planning to build a large residential complex on the site. Former LeFrak executive Michael Tillman's PTM Partners and Estate Investments Group paid $9.7 million for the vacant lot at 218 Northwest Eighth Street in a qualified Opportunity Zone near the MiamiCentral train station. The partnership wants to build a 360-unit…
Notable Retail Leases Signed in South Florida Q4 2018
We've compiled a comprehensive list of the top retail leases signed by square footage in South Florida during Q4 2018. While the headlines are focused on the challenges and closures of major chains such as Kmart, Sears, and Sport's Authority, the retail leasing market in South Florida remains strong as evidenced by some major leases…
Florida East Coast Realty's $425 million Panorama Tower refi is among city's biggest
Florida East Coast Realty closed on a $425 million refinancing of Panorama Tower, one of the largest such loans in Miami in recent years. Wells Fargo financed the new debt, which replaces the $340 million construction loan the bank provided on the 85-story tower in 2015. It was one of the largest construction loan in Miami-Dade at the time. FECR, led by Tibor Hollo and his sons Jerry and Wayne Hollo…
Simon posts record Q4; CEO "excited" about evolution of mall industry
Simon Property Group posted record numbers in the fourth quarter, even as mall landlords nationwide faced challenges including retail chain bankruptcies and the growing shift to e-commerce. In a Friday earnings call, the retail giant's CEO, David Simon, said he is "excited" about the evolution of the mall industry, despite all its challenges. "There's always been disruption in our industry," Simon added. Mall…
"Top Chef" winner Jeremy Ford to open restaurant at Coconut Grove project and other restaurant news
Former "Top Chef" winner Jeremy Ford will open a new waterfront restaurant at the Treo Group's mixed-use project in Coconut Grove. Ford is leasing more than 7,000 square feet of indoor and outdoor space at Regatta Harbour at 3385 Pan American Drive in Miami. Treo partnered with Grove Bay Hospitality Group to bring the celebrity chef. The restaurant, called Afishonado, is…
Veranda Holdings scores loan for townhomes near Homestead
A Coral Gables-based company just scored a construction loan to build a townhouse development in south Miami-Dade County. Pacific National Bank is providing $5.1 million loan for Veranda Holdings LLC. Veranda, a Delaware company led by Luis Machado, also filed a notice of commencement for 37 townhouses in seven buildings on the site at Southwest 240th Street and Southwest 110th Court…
Virgin Trains USA – formerly Brightline – seeks to raise up to $619 million in IPO as it plans expansion
Virgin Trains USA seeks to raise up to $619 million in an initial public offering as the high-speed rail company is planning to add stops in Orlando and Tampa Bay. Virgin Trains USA, formerly known as Brightline, expects its initial stock price to be between $17 and $19 per share. It plans to be traded on the Nasdaq stock exchange under the ticker symbol VTUS, according to a filing on Wednesday with the…
Federal Reserve holds interest rate, stresses "patience" on future hikes
The Federal Reserve has decided to hold interest rates steady, signaling a sharp departure from its recent policymaking. The benchmark rate will stay between 2.25 and 2.5 percent, and the Fed said on Wednesday that it will be "patient" in making future rate decisions. Some analysts take the Fed's latest comments to mean that the body will not raise rates in March either. Instead, officials seem more likely to…