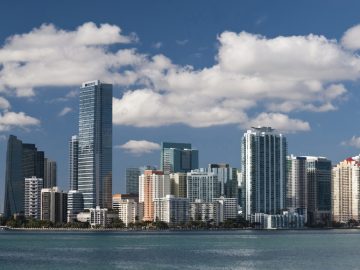 Worldcenter Apartments Top Off
The first tower at Miami Worldcenter has topped off, bringing the massive, $1.2B development a little bit closer to reality. Caoba, the Spanish word for mahogany, is one piece of the Worldcenter puzzle — a 444-unit apartment complex at 698 Northeast 1st Avenue. Miami Worldcenter will ultimately take up 10 city blocks and 27 acres right in Miami's downtown. When completed, it will include a train station…
Terra files plans for retail center in Doral
More retail stores and restaurants are coming to Doral, adding to the surge of mixed use-projects and residential development underway. Terra just filed plans to deliver Doral Square, a 145,000-square-foot retail center at the southeast corner of Northwest 36th Street and Northwest 87th Avenue, according to the South Florida Business Journal. Doral Square would rise on a 3.9-acre parking lot…
Miami leads the way for ultra rich overseas buyers looking for U.S. property
Per a new study Ultra-wealthy foreign buyers looking to scoop up some U.S. luxury real estate are turning to Miami, New York and L.A., according to a new report from Beauchamp Estates in association with Leslie J Garfield & Co — and Miami is leading the way. "Miami is a leading hub for overseas buyers investing in U.S. luxury real estate," managing director at Beauchamp Estates Gary Hersham told Robb…
Miami river hangout spot The Wharf faces noise complaints
We "want to be cognizant of residents' wishes," owner says. As the area around the Miami river continues to transform — with more development than ever — residents are getting used to the new normal. Now the Miami Herald reports that new hangout spot The Wharf, which popped up in a previously empty lot near the river, is being called "ridiculously loud" by its neighbors. "I don't expect it to be…"
The Weekly Dish: Brickell City Centre's Italian food hall is finally opening & more
The three-story Italian food hall at Brickell City Centre is finally set to open Feb. 16, more than a year after the Shops at Brickell City Centre were completed. In all, the 40,000-square-foot space on the northeast end of the mall at 701 South Miami Avenue will have 14 restaurants, five bars, a cooking school, retail space, a wine store and more than 1,000 specialty products. It marks the largest new food…
Board approves Historic Designation for Coconut Grove Playhouse
The City's Historic and Environmental Preservation Board recommended 9-0, that the Coconut Grove Playhouse be included on the National Register of Historic Places at Tuesday's meeting. Architect Jorge Hernandez who is working with the county on rebuilding the playhouse spoke for the county which was in favor of the nomination, but of course only for the section that they plan on…
Here are some issues in the tax law that remain foggy
In many ways, the new federal tax law is a major boon to the real estate industry. But several issues — including some surrounding the deep deductions awarded to pass-through entities — remain ambiguous. For one, it's unclear how the 20 percent deductions on pass-through incomes will be calculated in certain cases. Many real estate companies own several different entities, some of which bring in…
Four Predictions For The Industrial Market In 2018
The industrial sector flourished in 2017. Real estate research firm Real Capital Analytics (RCA) noted in a recent report that the industrial sector, seeing gains from rising e-commerce sales and the resulting need for industrial facilities, was the only commercial real estate sector last year that saw an increase in transaction activity from January through November. NREI discussed possible trends to look out…
Commission rejects mayor's plan to replace Dade County Courthouse
After Mayor Carlos Giménez asked his administration to reduce the cost and scope of a new county civil courthouse, Miami-Dade commissioners voted unanimously Tuesday to approve the original master plan for the courthouse, rejecting Mr. Giménez's recommendation. "Today is a great day," said Chief Judge Bertila Soto of the Eleventh Judicial Circuit of Florida at the commission…"
Coconut Grove waterfront soon to get major remake
The Chart House restaurant, a fixture of the Coconut Grove waterfront for more than 30 years, is history and the long-awaited redevelopment of the site is scheduled to begin in just a few weeks. Litigation caused years of delay for The Harbour project, and Hurricane Irma was the latest challenge to mess with the plans in September. But once demolition workers were done with Irma clean-up…
Carolina Herrera: President of the Builders Association of South Florida
When Carolina Herrera moved to Miami from Colombia, she hoped to use her law degree to get a job at a law firm. Instead, her first job was an assistant in the construction department at Lennar. "Once I started seeing the company, what we build, our customers and the product, I completely fell in love," Ms. Herrera said, "and here I am." Today, Ms. Herrera is director of land operations at Lennar and the…
Construction activity spotted at One River Point
The tower is expected to go vertical in early 2019 Uruguayan architect Rafael Viñoly's luxury project One River Point is on its way to becoming a reality, according to The Next Miami, which scoped out construction activity at the project's site along the Miami River. The 60-story project, which includes two towers connected by a "floating sky bridge," is now expected to go vertical in 2019.
Details On 3 Miami Sites Considered By Amazon For HQ2
When Amazon sought bids from cities that could support its second headquarters, the Beacon Council, Miami-Dade County's economic development partnership, took the lead in preparing a presentation touting Miami. Phillip Pessar via Flickr Creative Commons The historically black Miami neighborhood of Overtown is being eyed for redevelopment. It was submitted as part of a package promoting…
Miami-Dade commission demands a new 26-story courthouse, old one to be sold
Private developers interested in building a new Miami-Dade courthouse in downtown Miami will have to make it 26 stories and 600,000 square feet in size. At the request of Miami-Dade County Commissioner Sally Heyman, county commissioners on Tuesday approved a rule specifying that bids to construct a new courthouse must conform to the terms of an 800-page master plan crafted last year with the…
Victoria's Secret chief doubles down on brick and mortar despite falling sales
Weak holiday sales and declining same-store sales may be a warning sign for some retailers to cut back and reduce their physical footprints. But L Brands CEO Leslie Wexner is focusing on brick and mortar, so much so that the company, which owns Victoria Secret, has added stores over the past two years, bringing its total in North America to about 3,000, Wexner told the Wall Street Journal. He believes…
Miami Industrial Real Estate Market Report for the Year End 2017
2017 ends with only about 1.2M sq. ft. of positive absorption. A stronger market is closer to 2M sq. ft. (or more) annually. This being said, the overall vacancy rate slightly decreased to 4.0% and the average lease rate is at an all-time high at $9.76 per sq. ft. gross. Investors continue to purchase warehouse buildings also at record-setting prices per sq. ft. The fundamentals of owning tangible real estate as an…
Terra's $72 Million Sale Of Doral Commons Is A Sign Of Strong Market In Doral
In the latest sign of intense demand for stable, well-positioned assets in Doral, Terra's Doral Commons retail plaza has traded hands to Jamestown, L.P. The 140,000-square-foot center is 95 percent leased, with a tenant roster anchored by Publix Supermarket alongside TJ Maxx, Citibank, GNC, AT&T Wireless, McDonald's, and others. According to public record, Miami-based Terra sold the shopping center…
Follow the construction of One Thousand Museum on the PBS doc Impossible Builds
The episode premieres on February 7  The Zaha Hadid-designed ultra-luxury condo development One Thousand Museum is getting a starring role on a PBS construction doc. Impossible Builds spotlights the world's most ambitious, complex and technologically advanced construction projects, and now Miami's own futuristic tower will be featured as part of this year's episodes. One Thousand Museum by…
Construction starts picked up in 2017, thanks to large institutional and public works projects
Construction starts picked back up again last year, totaling $37.78 billion on the back of public works and institutional projects. That was the second-highest total since 2010, according to information from Dodge Data & Analytics reported by the Commercial Observer. Spending hit $41 billion in 2015, but then dropped to $31.93 billion the following year. In 2017, spending on institutional…
Survey finds Grove voters prefer smaller, cheaper redevelopment of playhouse
The future of the Coconut Grove Playhouse is still undecided, but a new report shows that residents prefer a cheaper, smaller redevelopment plan. Nearly 80 percent, or 312 of 400, of Miami residents surveyed by Bendixen & Amandi International favored Miami-Dade County's $20 million plan to renovate and reopen the historic playhouse, according to the Miami Herald. GableStage, the theater…
Ex-Vornado CEO Fascitelli and partner score loan for South Beach hotel
New York-based Imperial Companies has secured $45 million in construction financing for a hotel in South Beach. Records show Washington Squared Owner LLC closed on the loan from Bank of the Ozarks, bringing the company's total financing for the property to nearly $90 million. Imperial's Michael Fascitelli and Eric Birnbaum are building the roughly 300-key hotel at 601 to 685 Washington…
Rent control push is spreading across US
Rent control, long the scourge of New York City landlords, is becoming more popular across the country. Lawmakers and tenant advocates in California, Illinois and Washington state are looking to repeal laws banning cities from imposing rent control or limits to regulate rent increases, the Wall Street Journal reported. California is poised to be the largest battleground this year. Advocates have gathered…
How to leave a job: Yellen bans a bank's growth, warns of commercial RE prices
Yesterday, Federal Reserve Chair Janet Yellen was succeeded by Republican and Fed governor Jerome Powell, President Trump's pick for the role, but that doesn't mean she's stopped making headlines. In fact, her last day was one for the books. In a final interview taped Friday aired today, Yellen contemplated whether the American commercial real estate market was in a bubble. The market's prices are…
Owner of Brightline operator offers to build new Miami-Dade courthouse
A group led by Florida East Coast Industries, the owner of the company that operates the Brightline passenger train service, made an unsolicited proposal to build a new civil courthouse for Miami-Dade County. County commissioners acknowledged the unsolicited proposal at a meeting in January without saying who made the proposal or what it entails. Tara Smith, director of the county's Internal…
Miami Freezer Warehouse for Sale
This is one of the largest warehouses in Miami now listed on-the-market for sale. The property's freezers and coolers make it ideal for the perishables industry. However, it could also be great for dry distribution and/or manufacturing. Investors may appreciate that the property is multi-bay and that the owner might lease-back about 65,000 sq. ft. The building, located at 18770 NE 6th Avenue, sits on 9.46 acres.
Slow Your Roll, David Beckham: Critics Vow To Fight His Miami Soccer Stadium Plan
After four years of false starts and a surprising last-minute injection of cash, David Beckham and his business partners announced Monday that Major League Soccer awarded them a new franchise and that a team will launch in Miami in 2020. But despite confetti guns that blasted during the announcement, a dozen-plus celebrities congratulating Beckham in video clips and Diddy offering to be the goalie…
Florida Turnpike Logistics Center Warehouse in Doral Leased
Leased! The ComReal Miami-Doral Industrial Team is pleased to announce that they have successfully leased the Turnpike Logistics Center located at 3450 NW 115th Avenue in Doral, Florida. The warehouse measures 87,531 sq. ft. and was 100% leased to a single tenant. The lease value was about $3.5M. The non-disclosed client of ComReal is in the international skin care production and distribution…
Miami is the 11th most expensive rental market in the U.S, per new study
See how the city's median 1-bedroom rent price compares to the national median A new report by ABODO Apartments indicates that Miami apartment dwellers continue to pay some of the highest rents in the country. The February 2018 edition of the National Apartment Report includes new data and pricing for Miami. The February data shows that, as of this week, Miami is the 11th most expensive rental…
Loud thuds from barbells spark nuisance lawsuit at Mint on Miami River
Apparently, folks getting fit and shredded is too much to handle for the condo association of the Mint at Riverfront luxury high-rise in downtown Miami. The Mint Condominium Association in January sued three companies that own two commercial spaces in the 56-story building and their tenant Society Barbell and Fitness for breach of contract and breach of the condo's declaration. The association claims…
Deco Capital Group buys missing piece of Sunset Harbour assemblage, plans new proposal to the city of Miami Beach
Deco Capital Group has closed on the missing piece of its Sunset Harbour assemblage with plans to submit a new proposal to the city of Miami Beach for a mixed-use project. The company, led by developer Bradley Colmer, paid $3.53 million for the Bay Road Animal Clinic building at 1730 Bay Road last week. "The original plan required additional height. We didn't have this lot, which forced everything to…
Royal Caribbean's sleek new terminal tops off at PortMiami
It's slated for completion in October 2018 Royal Caribbean Cruises just hit a construction milestone with its sleek new Terminal A at PortMiami. Royal Caribbean and building contractor Suffolk celebrated in January with a party to commemorate reaching the highest construction point of the $247 million state-of-the-art terminal. The cruise terminal is slated to open in October, and will become home…
South Florida home prices rose 9% year-over-year in the fourth quarter of 2017
Home prices in South Florida keep rising, according to a new report from Attom Data Solutions. The index, which tracks prices in 112 U.S. metros, found that median home prices in Miami, Fort Lauderdale and West Palm Beach jumped by 8.9 percent year-over-year to $245,000 in the fourth quarter of last year. Ocala, Florida saw the biggest annual increases in home prices with a 14.3 percent jump…
Florida lawmakers advance bill allowing state to oversee vacation rental regulations
A bill that would allow the state to take over vacation rental regulations — eliminating local government authority — has cleared a Senate committee. The bill would allow for continuity across Florida, a state in which many municipalities have their own set of regulations, according to one of its authors. Under the proposed bill, vacation rental properties would be regulated like hotels and motels, meaning…
Fortune and Premier Developers complete two major condo projects
Developers recently completed two large condo projects, adding about 300 new units to the South Florida market. Closings are underway at Jade Signature, a 57-story, 192-unit beachfront tower at 16901 Collins Avenue in Sunny Isles Beach. The building is 96 percent sold, according to a spokesperson for developer Edgardo Defortuna. Defortuna declined to provide the projected sellout amount…
Self-driving cars could kill parking garages. Here's how developers are responding
As the rise of self-driving cars threatens to make many parking garages obsolete, developers are thinking about ways to repurpose them. Architecture firm Gensler, for example, is working on ways to turn garages into affordable housing, for example by building modular units that can fit into existing structures. The firm also recently designed an office building in Cincinnati that includes three…
Biggest Change for Retail, Real Estate? No, It's Not Amazon
The biggest game-changer for retail and real estate in the next decade probably isn't what you think it is, insists Beth Azor, a longtime South Florida broker, owner and industry consultant. "Driverless cars will be the biggest disruption in real estate ever, way more than what Amazon has done," Azor said Jan. 23 at a retail seminar in Plantation, FL sponsored by the Building Owners & Managers Association…
International Air Transport Association Leases 26,000 SF in Miami
International Air Transport Association leased 26,105 square feet at the 703 Waterford office building at 703 Waterford Way in Miami, FL. Occupancy is scheduled for June. The 10-story, 247,000-square-foot office building was constructed in 2001 on 14.2 acres in the Miami Airport submarket, within the Waterford at Blue Lagoon business park. The building is home to multiple tenants including Baxter…
Anatomy Gym Signs a 14,000-SF Lease on Second Avenue
Anatomy Gym signed a 14,000-square-foot lease at 3415 NE 2nd Ave. in Miami, FL. The three-story, 52,499-square-foot office building was built in 1960 and is currently under renovation. The building is located in the Biscayne Corridor submarket. Lyle Chariff of Chariff Realty Group represented Anatomy Gym. Joseph Del Vecchio with ABC Realty represented the landlord….
Fed leaves benchmark rate steady at Yellen's final meeting
In Janet Yellen's final policy committee meeting as Federal Reserve chairwoman, the benchmark interest rate was left unchanged in a unanimous vote, holding at between 1.25 and 1.5 percent. That leaves incoming Fed Chairman Jerome Powell — to be sworn in on Monday — with a decision to maintain the slow hike of interest rates or speed up the pace. Go too slow and the low borrowing costs…