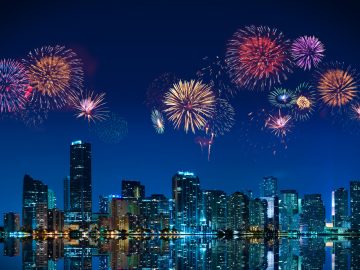 Related Group sells SLS Brickell hotel for $43 million
The Related Group sold the hotel component of SLS Brickell for $43 million, property records show. PRH 1300 Hotel LLC and PRH 1300 Shared LLC sold the 124-key hotel at 1300 South Miami Avenue to Brickell Miami LLC, a Delaware company managed by Francois Faber of Fiduciaire Fernand Faber, an accounting and tax firm based in Luxembourg. The deal breaks down to about $347,000 per room. The…
Chinese investors are pulling their money out of the US and Europe
The effects of a retreat in U.S. and European markets by Chinese investors are now being felt, and have stoked concerns of a dip in real estate prices for 2019. During the third quarter, Chinese conglomerates sold off more than $1 billion worth of commercial real estate in the United States, while purchasing only $231 million, according to the Wall Street Journal. The pull back follows restrictions imposed…
Melo files plans for 1K-unit rental tower in downtown Miami
The Melo Group is moving forward with its plans for another large-scale apartment project in downtown Miami. The local developer filed a building permit for a 1,042-unit high-rise at 501 North Miami Avenue, next to Christ Fellowship Baptist Church. A spokesperson for Melo said the company hopes to break ground on the 55-story building by 2020. It would rise next to Okan Group's planned 70-story hotel…
Duke Realty pays $34 million to add to its Hialeah warehouse portfolio
Duke Realty just paid $34.4 to Florida East Coast Industries to buy another warehouse at one of Miami-Dade County's largest industrial parks. Indianapolis-based Duke Realty bought the 208,000-square-foot facility at Countyline Corporate Park at 3840 West 104th Street in Hialeah for $165 per square foot, property records show. In July, Duke bought three other warehouses at the industrial park for $180…
Mega investors move into South Florida multifamily
While condo developers have long reigned as the kings of South Florida's development world, new-apartment developers are starting to pose a challenge to the throne. Large out-of-state investors such as Mill Creek Residential and Greystar Real Estate Partners — which is developing the Blu on Marina Boulevard Apartments in Fort Lauderdale — see the area as an attractive destination to build in, due in…
New York Life Provides $170 Million Refinancing Loan for Wells Fargo Center in Downtown Miami
New York Life Real Estate has provided a $170 million loan for the refinancing of Wells Fargo Center in downtown Miami. The borrower, MetLife, owns the 47-story office tower, which was built in 2010 at 333 S.E. 2nd Avenue. The loan has a 10-year term with an undisclosed fixed interest rate. Tenants in the 752,488-square-foot building include Wells Fargo Bank; McDermott, Will & Emery; Greenberg Traurig…
Luxcom buying 71 developable acres in Palmetto Bay from FPL
Real estate developer Oscar Barbara, CEO and chairman of Luxcom Builders, has purchased for $33 million 71 waterfront acres in Palmetto Bay from Florida Power & Light. The site is at 6525 SW 152nd Street, at the intersection of Southwest 67th Avenue and 148th St. "The 71-acre land parcel is the largest most recently on the market east of US 1 and is as close to a developmental anomaly ever presented in…
Miami Design District, city unite to support valet services
An agreement between the Miami Parking Authority and Miami Design District Associates LLC will help financially support a valet parking service in the growing neighborhood of luxury shops and establishments just north of I-195. At its December meeting, the city's Off-Street Parking Board approved the agreement unanimously. Money from a special trust fund will fund the Miami Design District Associates…
Affordable housing development on track beside Miami-Dade Transitway
A Pinnacle Housing Group affiliate has closed on financing for Verbena, a $31 million transit-oriented affordable housing development just off the Miami-Dade Transitway at Southwest 282nd Street alongside US 1. Construction is to begin this month. The completed project is to have 110 one-, two- and three-bedroom units in two buildings, one five stories and the other six. Ten percent of the units are for…
Miami's first rules on sea level rise target raised structures
The City of Miami is pursuing changes to the Miami 21 zoning code to address sea level rise, and the proposed legislation is gaining support. City officials' first attempt at new rules with climate change and sustainability in mind include a proposal to allow new construction and redevelopment to raise habitable structures out of the flood plain with added "freeboard," up to 5 feet above the Base…
Miami-Dade jobs shoot skyward, led by construction
Late 2018 Miami-Dade jobs data shot skyward in virtually every category, as unemployment fell to its lowest level since at least 2007, the labor force grew but those at work increased even faster, and construction gains put thousands more back to work over the past year. The county's workforce, which had contracted for several months, grew by 6,600 people in November to 1,364,300, according to the US…
Six big Miami-Dade library projects awaiting state grants
Miami-Dade is waiting on $3 million in state grant funds before proceeding with six library projects expected to cost a combined $31.1 million. Commissioners Dec. 18 approved submission for – and subsequent spending of – Florida public library construction grants for which the county applied in July, as well as a re-submittal of applications approved here in 2017. The grants, totaling $500,000 apiece…
A 1958 scrapbook illustrates today's infrastructure gaps
As Greater Miami's population mushroomed over decades, we've had no shortage of developers building the places where we live and work. What we've been woefully short of is the pivotal public infrastructure that government must provide. That Miami pattern of private advances with vital government contributions lagging far behind is not limited to any generation. It's not spelled out in the history…
The Closing: Getting to Know 13th Floor's Arnaud Karsenti
What drives developer Arnaud Karsenti? For one, this bit of wisdom: Anything worth having must be earned. His persistence during the recession is a case in point. The 40-year-old founder of 13th Floor Investments launched his Miami-based private real estate investment and development firm in 2008, focusing on distressed assets amid the downturn. When the market improved, the company turned to…
What happens when an EB-5 project fails?
In 2012, a trio of developers drew up plans to build a 12-story InterContinental hotel in Fort Lauderdale Beach. The Las Olas Ocean Resort would include a 12,000-square-foot restaurant from the management company behind Senior Frog's. To fund the development, the ownership group tapped Bancorp Bank and later, dozens of Chinese investors who poured in millions of dollars through the federal…
Is Hialeah "the next big thing" for real estate investment in SoFla?
Hialeah is hot. The city has been experiencing a surge in real estate investment, bolstering its reputation as an industrial hub while also identifying it as a more welcoming place for multifamily and commercial construction following recent moves to encourage development. But investors drawn to cheaper land prices and those who may be looking to make a quick buck on a flip could find it difficult…
Plotting the future of Miami's skyline
With more than four years' supply of luxury condos for sale, it's plain to most people in the real estate community that the market does not need any more condo projects. Developers have no choice but to hope their existing projects inch closer to selling out while they toil away on plans designed for a better market in the future. Many are now plotting the next batch of supertall towers to grace Miami's…
The Fed Explains Housing starts
A "housing start" is a new housing unit for which construction has begun. The graph above shows monthly housings starts in the U.S. for the past 20 years (Nov 1998 to Nov 2018) separated into three groups: single-family houses, houses with two to four units, and houses with five or more units. Note that this statistic pertains to the number of housing units and not number of houses/buildings. The graph…
Amazon planning expansion of Whole Foods throughout U.S.
Amazon's acquisition of Whole Foods last year had the real estate world wondering if the brick-and-mortar grocer would move more toward an e-commerce model or stick with its stores. Whole Foods now says it is planning to build new stores and expand to new markets throughout the United States, according to the Wall Street Journal. Amazon is seeking to bring Whole Foods to more suburbs and…
New York, Miami show strong demand for self-storage properties
A stream of self-storage properties coming online across the U.S. has been answering demand from smaller markets, along with some big cities like New York. Overall development activity for the properties increased in December compared to November, according to a new report by Yardi Matrix. The large amount of new construction slightly pushed down asking rents on individual units. Demand for the…
Developer Oscar Barbara buys massive undeveloped waterfront property in Palmetto Bay
Developer Oscar Barbara acquired one of the largest undeveloped waterfront properties in Miami-Dade County, with plans to build a mainly residential complex, The Real Deal has learned. Barbara paid $33 million for the sprawling property. Florida Power & Light sold the 71-acre development site at 6525 Southwest 152nd Street in Palmetto Bay to Yacht Club by Luxcom LLC. Barbara, CEO and chairman of…
Where are we in the cycle? Some experts say luxury condo market will remain ice cold in 2019
Entering 2018, Mike Pappas predicted developers would start lowering prices on luxury condos to accelerate absorption in an increasingly oversupplied market. Looking back on the past 12 months, the Keyes Company founder and CEO expects the trend to continue in 2019 as the current cycle winds down with little new construction starts this year. "There was a lot of delivery of units in 2017 and 2018, and it…"
Financing for Fisher Island luxury residential towers reaches $140 million
PDS Development, led by Heinrich Von Hanau, just added $50 million to a previous $90 million bridge loan to finance two luxury Fisher Island condominium projects, property records show. New York-based Mack Real Estate Credit Strategies provided the additional financing to help fund the sellout of the remaining 13 units at Palazzo Del Sol. The mortgage will also be used to complete the…
A wild ride: South Florida's top real estate news of 2018
It was a tumultuous year for South Florida real estate, which began on an upbeat note when Miami was shortlisted in January in the competition for Amazon's second headquarters. While Amazon went another direction — north to New York and Virginia — local voters did approve the David Beckham-led bid to build an Major League Soccer stadium and complex at Melreese Country Club. The collapse…
Doral Warehouse Trades For $4.23 Million
Luciano H. Rappa, real estate broker of Kaizen Realty Partners closed a $4.23 million sale of a combination office -warehouse building on December 13, 2018 to an Investment Company, based in Miami, FL. The property, located at 2400 NW 95th Avenue, Doral, FL is a two-story building with office of 8,000 SF and a total of 38,721 square feet. The warehouse component is 30,000 SF. The property was…
Sears to close 80 more stores, full liquidation possible as deadline looms
Sears Holdings plans to close 80 more stores nationwide in March as it teeters on the brink of full liquidation. News of the latest closures comes on the last day for parties to make a bid on the 125-year-old retailer in bankruptcy before liquidators break up the company altogether, according to CNBC. The latest round will affect seven Sears or Kmart stores in Florida, five in California, five in New York, two…
Make sure it's "well lit for ambiance and seduction": Nouvel lawsuit against JDS highlights Monad Terrace developer's demands
The developer of Monad Terrace in South Beach had a few requests while working with French architect Jean Nouvel. For one, the building and grounds "must be well lit for ambiance and seduction." The pool deck should, of course, "have amazing views above the parking block." JDS Development Group's design notes for the Paris-based Atelier Jean Nouvel are included in a recent lawsuit the architecture…
The Fed on Whether an Inverted Yield Curve Can Cause a Recession
An inverted yield curve—or a situation in which market yields on shorter-term U.S. Treasury securities exceed those on longer-term securities—has been a remarkably consistent predictor of economic recessions. However, simply because inversions forecast recessions does not necessarily mean that inversions cause recessions. Why might a yield curve inversion cause economic activity to slow?
Federal Reserve blog discusses method for measuring inflation expectations
What level of inflation do people expect over the next several years? We could look at some surveys to try to answer this question, but nothing beats market measures where participants have some skin in the game. One such method of measuring inflation expectations is to compare how Treasury markets price two types of bonds: "normal" bonds—with a constant nominal interest rate—and "inflation…"
Sterling Bay nabs $81 million construction loan for Wynwood project 545wyn
Sterling Bay closed on an $81 million construction loan for 545wyn, a mixed-use project it's planning in Wynwood, property records show. Bank OZK, formerly Bank of the Ozarks, is providing the financing for the 10-story development at 537, 545, and 557 Northwest 26th Street and 530-550 Northwest 27th Street. Sterling Bay, a Chicago-based investment firm, closed on the Wynwood assemblage last week…
Toys "R" Us closed 800 locations this year. Now, its stores are flying off the shelves
Former Toys "R" Us stores are selling quickly in the wake of the company's bankruptcy. The retailer has closed roughly 800 stores this year, and buyers have been scooping them up quickly thanks in part to their relatively long leases and cheap rents, according to the Wall Street Journal. The stores' wide variety of configurations and sizes is also increasing demand, as it makes them well-suited for new tenants…
South Florida construction starts jump in November
Construction starts in South Florida rose in November, as both residential and commercial sectors saw increases on a year-over-year basis. According to Dodge Data & Analytics, last month's total building activity spiked 41 percent, up to more than $866 million. Compared to the same month last year, residential construction increased 36 percent to $417.9 million. Commercial construction also increased, up…
Brickell's Sabadell Financial Center tops list of South Florida's biggest office deals in 2018
A partnership between Parkway Properties and KKR paid $248.5 million for the Sabadell Financial Center on Miami's Brickell Avenue in June. The seller was PGIM Real Estate, which bought the property in 2013 for $184.3 million, property records show. The 30-story office tower at 1111 Brickell Avenue, which spans about 520,000 square feet, sold for $478 per square foot. Parkway and KKR financed the…
South Florida by the numbers: The big stories of 2018
"South Florida by the numbers" is a web feature that catalogs the most notable, quirky and surprising real estate statistics. Like most years, 2018 had its ups and downs. Plenty of good news for South Florida (no hurricanes, Brightline launches, Amendment #2 passes), but also some challenges (a condo glut and ballot-counting issues) and tragedies (the Marjory Stoneman Douglas high school shooting…
Considering the statute of limitations for construction defect claims
There are many different construction projects in Florida and many different companies and individuals who work on these various projects. There are also many different products used to complete the projects and those products are made by many different companies. So, there are many different people and companies that need to be trusted to do their jobs correctly to ensure that the…
Fort Partners lands $56 million refi for Four Seasons Surf Club in Surfside
Nadim Ashi's Fort Partners just closed on a $56 million refinance for its Four Seasons Hotel and Residences at the Surf Club in Surfside, property records show. Acore Capital provided the financing for the luxury condo-hotel development at 9001 Collins Avenue. Records show the loan extends the loan period up to 20 years. It is in addition to a previous $135 million loan Acore Capital provided earlier…
South Florida's CRE Market: What to Expect in 2019
South Florida's commercial real estate market continues to grow amid population and job gains. "Industrial is by far the best performing sector in South Florida at the moment," Kenneth Krasnow, Colliers International South Florida's executive managing director, said in an interview with Commercial Property Executive. He added that the tourism industry, trade and transportation connections, and the…
Video: NAR Chief Economist George Ratiu Discusses Commercial Real Estate Investor Sentiment, Sector Outlook
George Ratiu, Chief Economist with the National Association of Realtors (NAR), appears on America's Commercial Real Estate Show to discuss the NAR's 2019 Commercial Real Estate Outlook. Topics discussed in this segment include investor sentiment, capitalization rates (cap rates), and vacancy rates, as well as which sectors within commercial real estate are performing best. He discusses volume, price…