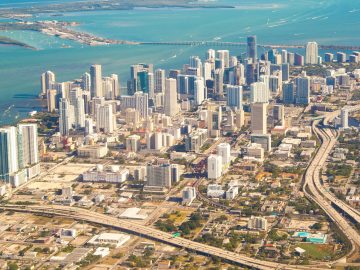 London, New York top list of global CRE investment in 2018, Miami misses the cut
Global commercial real estate investment topped $730 billion last year in the top 30 cities, as investors around the world poured in a record amount. The news wasn't all good, as investment was expected to fall this year. London maintained its position in the top spot from 2017, according to a newly-released JLL report, which ranks 30 cities with the largest investment worldwide. New York overtook…
Opportunity Zones Are The Talk Of Miami, But Few Are Ready To Walk The Walk
Short of Marie Kondo's new show about tidying up, few topics are dominating water cooler conversations, at least in the real estate business, like opportunity zones. "It's definitely the hottest thing out there," PEBB Capital co-founder and managing partner Todd Rosenberg said. "Everyone is talking about it. Everyone is thinking about it." "It's like the gold rush right now," Vagabond Group founder…
Elvis Dumervil: After pro football career, he builds rental realty empire
Elvis Dumervil sits in his office underneath a large sign designed to look like the railroad property in the Monopoly board game. At the bottom of the sign beneath the image of the iconic Monopoly train, it reads "Keep Pushing." That saying has been Mr. Dumervil's personal motto from his upbringing in North Miami to a successful career playing 12 seasons as a defensive linebacker in the National Football…
Historic Ocean Drive hotel sells for $7 million
An affiliate of Casa Hotels paid $6.9 million for a boutique hotel on Ocean Drive in Miami Beach's South-of-Fifth neighborhood. Casa Hotel purchased the 28-room hotel at 334 Ocean Drive for $246,428 per room. The seller was Hilma LLC, which is managed by Geraldine Hidalgo, property records show. It has been listed since 2016 for $7 million. The two-story, historic hotel totals 7,631 square feet.
Residents sue Miami-Dade to stop construction of Apeiron at The Jockey Club
Another legal offensive to put the kibosh on a new 45-story tower at The Jockey Club in North Miami is underway. Last month, the associations for Jockey Club I and II sued Miami-Dade County to overturn the Biscayne Shores Community Council's approval of a site plan for Apeiron at The Jockey Club, an ultra-modern project being proposed by developers Muayad "Mo" Abbas, Horst Schulze and…
US home sales plummet, adding to fears of 2019 slowdown
The number of homes sold dropped sharply in December, raising fears that 2019 will be marked by a continued slowdown in the U.S. housing market. Sales of existing homes dropped 10.3 percent last month compared to the same time in 2017, and 6.4 percent from November, according to a report from the National Association of Realtors, cited in the Wall Street Journal. Many markets saw double…
The We Company launches its first no-membership-required space
The We Company octopus has grown yet another tentacle, after it launched a no-membership-needed service that allows people to book desk space on demand. The firm, until recently known as WeWork, announced on Tuesday the launch of a combined retail and co-working venture called Made By We. Similar to its single dedicated retail spot at 205 Hudson Street, Made By We will feature a market where…
20-story residential tower to be build in shadow of Metrorail
A developer plans to bring a residential building with 10,000 square feet of amenities to a fast-growing area of Miami, in the shadow of one of the busiest Metrorail stations. M-3811 Shipping Owner LLC owns vacant land at 3811 Shipping Avenue where it plans to construct Shipping Avenue Apartments, a 20-story building offering a mix of 254 residential units, a pool deck and ground floor public plazas.
Red flags dot a bright 2019 economic horizon for Miami
An economic program of the Greater Miami Chamber of Commerce last week pinpointed glowing pluses in Miami's future but also raised five red flags that we shouldn't ignore. Speakers at the 10th annual Economic Summit pointed to strong momentum here with job growth far outpacing a solid national gain, a good push from sports and entertainment, a thriving visitor industry, and the advantages of our…
Coworking Operator to Anchor One Cocowalk in Miami's Coconut Grove Neighborhood
Spaces, an international coworking operator backed by Regus, has signed on to anchor One Cocowalk, the office component of Coconut Grove's mixed-use development CocoWalk. Spaces will occupy a total of 42,883 square feet when construction of One Cocowalk is expected to be complete — first-quarter 2020. Spaces will occupy 2,029 square feet on the ground floor and space on the second…
Spaces Signs on as Anchor Tenant at Miami's One CocoWalk
One CocoWalk, the office component of Coconut Grove's CocoWalk lifestyle center in Miami, has added Spaces as its anchor tenant. The coworking giant will occupy 42,883 square feet within the Class A property, slated for delivery in the first quarter of 2020. According to the long-term lease agreement, the tenant will take up 2,029 square feet on the building's ground floor and another 40,854 square feet on…
2019 employment picture for Miami appears solid
The 2019 employment picture for Miami appears solid, observers say, though some factors could tap the brakes on their optimism. "Overall, 2019 is going to be another year for South Florida," said Charles Dougherty, a Wells Fargo economist. "We've seen strong growth in hiring in 2018. The leisure and hospitality sector has been a very strong driver of that. We've seen a lot of jobs increase…"
Brickell development site hits the market
Sage Developers is selling a vacant lot in Brickell for $7.2 million, where a new developer could build a boutique hotel, condo or apartment building. The Miami-based real estate firm, led by Felipe and Carlos Pineda, put the 19,850-square-foot development site at 1621 Southwest Second Avenue on the market for $362 per square foot. The site, marketed as VIDA | Brickell, is already approved for…
Brazilian billionaire plans boutique luxury condo on Ocean Drive
Brazilian billionaire developer Jose Isaac Peres submitted plans for a boutique, luxury condo building on Ocean Drive in South Beach.
An affiliate of Peres' Multiplan Real Estate Asset Management is proposing to build 312 Ocean Park, a 10-unit, four-story condominium at 304 and 312 Ocean Drive in the South-of-Fifth neighborhood, according to documents filed with the city. Rio de Janeiro-based…
Miami board green lights Mast Capital's apartments near The Collection
A city of Miami board approved plans for Mast Capital's Shipping Ave apartments, a mixed-use project near The Collection luxury car dealership in Coral Gables. The Urban Development Review Board OK'd the site plan for the nearly 386,000-square-foot building at 3811 Shipping Avenue in Miami, near the Douglas Road Metrorail Station as well as a number of recently completed apartment buildings. A…
Video: PwC Partner Mitch Roschelle Discusses 2019 for Commercial Real Estate Investors
PwC Partner & Business Development Leader Mitch Roschelle joins the host of America's Commercial Real Estate Show in-studio to discuss his analysis of the real estate market in 2019. Among the topics discusses are the current economic climate, including how the United States is linked to developments in other economies around the world, supply and demand conditions in multifamily and other…
Beckham-led group should have registered as lobbyists in MLS stadium bid: Lawsuit
The city of Miami is facing another lawsuit stemming from David Beckham's bid to build a Major League Soccer stadium. This time around, a local attorney is alleging the city broke its own lobbying laws when dealing with the group behind the star soccer player-turned investor's bid. In the November referendum, voters gave the green light to move forward with plans for the site, at the Melreese…
Public boarding school scores $9 million loan to build new dorm
A public boarding school in Opa-locka just secured a $9 million loan from City National Bank of Florida to build a new student dormitory complex. The loan will fund a new two-story dorm for 400 students, as well as 16 faculty and staff members. The total cost of the project is $18.1 million, according to a release. The SEED School of Miami is a college-preparatory school at 1901 Northwest 127th Street that…
Miami Industrial Real Estate Market Report for the Year End 2018
The Miami industrial market ends 2018 with a 4.0% vacancy rate and a $10.52 per sq. ft. average (gross) lease rate. There was 3,595,710 sq. ft. of positive absorption for the year; averaging about 1M sq. ft. per quarter is a sign that our market is relatively healthy. There was 4,398,422 sq. ft. of new construction completed giving a total now of 244,481,854 sq. ft. in total inventory. In addition, there is 4,373,255…
Lennar pays $17 million for Wynwood Yard, O Cinema site
Lennar Corp. paid $17 million for a site in Wynwood that's currently home to the popular Wynwood Yard and the O Cinema movie theater. A subsidiary of the giant homebuilder purchased 1.26 acres at 48, 56, 64, 70, 82, 90 and 98 Northwest 29th Street, as well as 63 Northwest 28th Street, property records show. David Lombardi, principal of Lombardi Properties and one of Wynwood's pioneering…
Investment group bets on Overtown's Opportunity Zone status
An investment group is making a long-term play in Miami's Overtown thanks in part to its Opportunity Zone designation. BrickOne Group, led by Costantino Cicchelli, Frank Rodriguez Melo and Stefano Garofoli, paid about $5.4 million for the three buildings with 66 apartment units at 149 Northwest 11th Street, 1232 Northwest First Place and 1201 Northwest Second Avenue in Miami, Melo said. The…
Opportunity Zones Create Funding Alternative for Social Infrastructure Projects
Under current legislation, tax-exempt and other low cost financing solutions are not typically available for social infrastructure projects. The resulting higher cost of capital for social infrastructure projects raises viability concerns when the public sector procures projects with private sector-driven financings. As a result, historically, social infrastructure P3s have been outpaced by their surface transportation…
Co-living firm Common is expanding to Miami, Brightline's IPO delayed due to shutdown, other takeaways from Miami CRE panel
Co-living startup Common is expanding to Miami, developer David Martin announced at The Real Deal South Florida's transportation and real estate event this week. Martin, president and co-founder of Terra, Brightline Chief Development Officer Mike Salzman, Miami Worldcenter developer Nitin Motwani, Blanca Commercial Real Estate CEO Tere Blanca, and Greater Fort Lauderdale Alliance CEO Bob…
Leading South Florida lender Bank OZK signals appetite for big condo construction loans in 2019
Bank OZK, among the most aggressive real estate lenders in the country, has signaled it could continue to make big construction loans in 2019. The news, which came as part of the Arkansas bank's fourth quarter earnings report, comes amid a general nationwide slowdown in the housing market. During an earnings call on Friday, CEO George Gleason said the bank was seeing strong sales on the condo projects…
South Florida Multifamily Rents Increase 4.5% in 2018 vs. 3.1% Nationally
RentCafe just published its year end rent report. The top line for area multifamily investors again got a boost. In Miami, apartments now cost $1,684 per month, a 4.5% increase from the prior year. By comparison, average rent grew 3.1% nationally. Within the South Florida area, Doral registered as the city with the highest average rent at $2,156 per month, followed by Miami…
Top 21 South Florida Shopping Center Transactions of 2018
2018 ended up being a very successful year for the South Florida commercial real estate market. Various factors contributed to the upbeat trends, including: foreign investments, the development of new properties, and major acquisitions across the region. These are positive signs, as even with changes in the retail market (such as the increased presence of…
Fewer multifamily deals closing in SoFla, yet apartment rents up and vacancies low amid heightened demand
Amid heated competition in South Florida's multifamily market, the volume of apartment building sales has experienced a steady drop over the last two years. The decline reflects decreasing profit margins due to higher sale prices per unit, experts say. There were more than 350 multifamily deals totaling more than $5.5 billion in 2016, said Calum Weaver, managing director for Cushman & Wakefield's…
Wynwood portfolio hits market at $50 million as mixed-use dev site
A portfolio of eight properties in Wynwood is on the market for $50 million, offered as a potential site for a major mixed-use project with apartments, a hotel, Class A office and retail space. The 1.7-acre portfolio includes 146 and 153 Northwest 25th Street, 2431-2455 Northwest 2nd Avenue, and 172 Northwest 25th Street and includes industrial and retail buildings. Avison Young's Florida Capital…
Metronomic plans apartment projects in Little Havana and North Bay Village
Developer Ricky Trinidad closed on the land for three residential projects in Little Havana and North Bay Village. In Little Havana, Trinidad's Metronomic Inc. bought a 7,200-square-foot lot at 620 and 622 Beacom Boulevard for TriniSuites Dos y Medio, a five-story, 20-unit rental building next to Miami Dade College's InterAmerican Campus, according to a release. The firm recently paid $900,000 for the site, a…
German Co-Living Firm to Expand in Miami, Other U.S. Cities With $300 Million Deal
Medici Living Group, a provider of communal housing for millennials, is planning a $300 million U.S. expansion as it seeks to increase the global reach of its Quarters co-living brand. Over the next three years, the Berlin-based firm intends to add 1,300 rooms across U.S. cities with large pools of technology talent, it said in a statement. The expansion will be financed by W5 Group, a family office run by…
Which Office Markets Are Best Bets for Opportunity Zone Investment?
Opportunity Zone investments are a hot topic in the commercial real estate industry right now, but which office markets may be the best targets for this type of strategy? The establishment of Opportunity Zones offers investors a way to defer and reduce taxes on capital gains, while building equity in real estate assets and improving low-income, distressed neighborhoods. Common traits of Opportunity Zones…
Terrano Sells Doral Office Building
State Street Realty closed on the sale of an office property located next to the Miami International Airport. The property is approximately 25,000 square feet and is well-located at 7500 NW 26 Street in Doral. The building sold for $4,225,000. "This office property offered the Buyer an excellent opportunity to own prime real estate in the highly-desirable and coveted Miami Airport area. The property is…
German co-living company raises $300 million for expansion in Miami, other U.S. cities
A German company is attempting to force its way into the ever-tightening co-living industry. Medici Living Group raised $300 million as part of a joint venture with investment firm W5 Group to develop 1,500 units across the U.S. under its co-living brand, Quarters, the Berlin-based company said Tuesday. The company is entering a crowded U.S. co-living industry, a concept developed about a decade…
Hundreds of Sears stores could remain open after Lampert wins auction for firm: report
Hundreds of Sears stores could remain open if a bankruptcy judge approves Chairman Edward Lampert's $5 billion bid for the ailing retailer. The Sears Holdings board picked Lampert's offer over competing bids from liquidators after weeks of negotiations and two days of closed-door discussions in New York, sources told Bloomberg. The board was poised last week to ask the court for permission to…
WeWork inks big lease at OKO Group's 830 Brickell project
WeWork signed a lease at OKO Group's planned 830 Brickell development, which will mark its seventh co-working site when it opens in early 2021, The Real Deal has learned. WeWork will occupy 10 floors spanning 146,000 square feet at the planned 830 Brickell across from Brickell City Centre, where WeWork already operates a co-working site. The new space will be its second largest in the Southeast and…