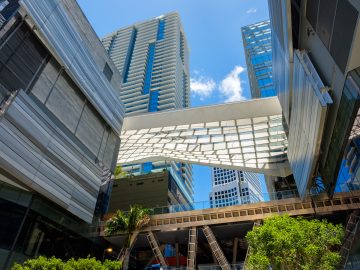 Brickell City Centre OK'd for major expansion
Brickell City Centre is poised for another major growth spurt, adding 972 residences in two towers, stores and entertainment venues, parking, a ground-level plaza, and enhancements around the South Miami Avenue Bridge. The sweeping development from Swire Properties Inc. continues to transform the Miami neighborhood south of the Miami River. The city commission on Jan. 24 approved…
South Florida by the numbers: Seizing the Opportunity (Zones)
"South Florida by the numbers" is a web feature that catalogs the most notable, quirky and surprising real estate statistics. Do you hear that? That's the sound of big money rushing into Miami's new "Opportunity Zones," which are government-designated areas where real estate developers have been offered tantalizing tax incentives to invest. In most cases, the zones fall within historically distressed…
Lawsuit alleges "vague and ambiguous" language could hamper David Beckham's soccer complex plan in Miami
Miami attorney David Winker filed his second lawsuit in a week against the city of Miami, attempting to derail David Beckham and his partners' plan for a multimillion-dollar soccer complex. In the latest lawsuit, filed in Miami-Dade Circuit Court on Tuesday, Winker focuses on the ballot language that was used in the November referendum that voters approved. The referendum, which waives competitive…
New Lawsuit Is Another Roadblock For David Beckham's Miami Soccer Stadium
David Beckham has a beautiful family, a legendary career and millions in the bank. But so far, the soccer and fashion star has been having a hard time getting a soccer stadium built — in Miami, of all places, where developers famously get what they want. A new lawsuit has added one more hurdle for him. It has now been six years since Beckham and his business partners, including "American Idol" creator…
AJP Ventures, Mas Group to Break Ground on $40 Million Medical Office Building in Miami
Completing a demolition has cleared the way for the development of a new $40 million, 116,000-square-foot medical office building next to Baptist Hospital of Miami, according to AJP Ventures and Mas Group, the project's owners and developers. The site is at 9408 S.W. 87th Ave. and 8790 SW 94th Street, essentially across the street from Baptist Hospital, a 650-bed facility that's one of metro Miami's largest…
Lawmakers look to change zoning to allow banks on wheels
A business model that transformed part of the restaurant industry could soon be used by financial institutions to reach out-of-the-way and underserved Miami-Dade residents, as lawmakers are looking at changing zoning strictures to allow for banks on wheels. Commissioners last week forwarded to a Feb. 2 hearing a proposed ordinance change that would allow mobile banking…
Mast Capital, AEW Capital Secure $59.7 Million Construction Loan for Multifamily Project in Miami
A joint venture between Mast Capital and AEW Capital Management LP has secured a $59.7 million construction loan for its Miami River Walk project. The 688-unit multifamily development will be built in two phases on 6.3 acres of land, situated less than two miles from downtown Miami. The first phase is expected to break ground in the first quarter of this year and will comprise 346 residential units.
Will on-demand and trolleys slay county transit?
As Miami-Dade residents continue leaving county transit for city transportation services and other alternatives, some county commissioners are wondering aloud if the shift could be permanent – and what should be done if it is. Cities get more than 20% of about $300 million generated annually through the half-percent sales tax voters approved in 2002 to expand transportation across the county.
Miami backs Bacardi buildings for National Register of Historic Places
Two unique and colorful structures in Miami's Edgewater neighborhood have been recommended by the city for placement on the National Register of Historic Places. The city commission on Jan. 24 approved a resolution supporting the nomination of the Bacardi Buildings Complex, at 2100 Biscayne Boulevard. City code requires the City of Miami Historic and Environmental Preservation Board to…
County transit closes gap to begin a ridership turnaround
Good news echoes for Miami-Dade County transit: fewer riders are fleeing trains, buses and the Metromover. If that sounds like saying that your favorite team is still losing games but by far smaller margins, it should. That's what's happening. We're closing the gap, so what we're trying is succeeding, but we've got a lot of work to do to rebuild. Last month we were pleased to note "transit ridership takes…
Easement opens Watson Island to heliport
Miami city commissioners have approved a large easement on city-owned Watson Island to free up space for a long-planned heliport. The heliport's construction is planned for the southern portion of the barrier island, adjacent to city-leased land used as a seaplane base. The city administration recommended that the commission adopt a non-exclusive easement of approximately 55,807 square feet of…
Miami International Airport joins Brazil's post office to aid e-commerce
Shipments that took weeks and sometimes months to travel from the US to Brazil will now arrive in days as part of a new expedited shipping service partnership between Miami International Airport and Correios, Brazil's post office. Compra Fora, which translates to "Buy Outside," will allow for e-commerce packages of all sizes from all over the world to be shipped to Miami International Airport…
Baptist Health acquires Collection Residences site in Coral Gables for $37 million
Baptist Health South Florida just closed on a site in Coral Gables for $37 million that was at the center of a contentious lawsuit between developers Masoud Shojaee and Ugo Colombo. Shojaee, a homebuilder, and Colombo, a developer and owner of the Collection luxury car dealership, had previously planned to jointly develop the Collection Residences on the 2.8-acre property at 250 Bird Road. They…
Privé opponent scores $200K settlement from Aventura police tied to protest of condo project
Three years after she was arrested for protesting construction of a sidewalk by the developers of Privé at Island Estates, Dara Clarke is claiming a resounding victory over the two Aventura police officers who allegedly manhandled her. The Williams Island homeowner settled her lawsuit last week against Sgt. Terry Scott and fellow policeman Joseph Craig, alleging they violated her fourth amendment…
Midtown Miami developer buys former Toys "R" Us in Cutler Bay
A company led by Midtown Miami developer Jon Samuel just picked up a former Toys "R" Us property in Cutler Bay. Samuel's Trikon Cutler Bay LLC paid $7 million for the 39,000-square-foot building at 19525 South Dixie Highway in south Miami-Dade County. Samuel is a principal at Midtown Group and Trikon Capital, according to his LinkedIn profile. A number of Toys "R" Us properties have sold in the…
Miami's latest luxury condos have landing pads for flying cars
As transportation drones and 'air taxis' get closer to becoming a reality, developers for the super-rich are already planning towers with their own landing pads. With its abundance of uber-wealthy residents and notoriously high traffic, Miami has been one of the first cities to embrace futuristic modes of transportation — three new luxury properties will have flying car docks on the penthouse of its tower.
Sergio Pino scores $21 million construction loan for West Miami-Dade development
Sergio Pino's Century Homebuilders Group just scored a $20.58 million loan to build 156 new townhomes and villas in western Miami-Dade County, as he sees demand for lower-priced homes. The Coral Gables-based company secured the loan from Capital Bank to build the community, Century Park South, at 15700 Southwest 136th Street, southwest of the Miami Executive Airport. Century Homebuilders…
Video: JLL Chief Economist Ryan Severino on 2019 Economy Now
Chief Economist at JLL Ryan Severino appears on a commercial real estate related show to discuss the current status of the economy and related implications for commercial property investors. He notes that he does not expect a big slowdown, projecting 2% to 2.5% growth in the coming year. He thinks the fundamentals of the economy look pretty good, and in fact thinks the market are overly pessimistic in…
Majority owner of Bâoli Miami and El Tucán nightclubs sues former business partner alleging fraud and embezzlement
The majority owner of the popular South Florida nightclubs Bâoli Miami, El Tucán and Marion is suing his former business partner alleging fraud and embezzlement over expenses at his venues. Mathieu Massa, president and CEO of Massa Investment Group, alleges in a suit filed last month in Miami-Dade County Circuit Court that Michael Ridard, who managed the three nightclubs, had about $1.5 million in…
City of Miami greenlights Brickell City Centre expansion, Wynwood zoning change
The Miami City Commission approved Brickell City Centre's expansion, changes to Wynwood's zoning code and a deal allowing the Adler Group to move ahead with its Miami Riverside project at its meeting on Thursday. Commissioners granted final approval to a more than 100,000-square-foot expansion of Brickell City Centre, as well as changes to Wynwood's zoning code meant to encourage single…
SoFla construction ends year strong at $12.7 billion
South Florida construction starts topped $12.7 billion in 2018, rising in both residential and commercial sectors, a recently released report shows. Overall, new construction was up 15 percent in 2018 from $11.1 billion in 2017, according to Dodge Data & Analytics. Non-residential construction starts reached nearly $6 billion, up 5 percent over the previous year, while residential construction starts topped…
Mast Capital nabs $60 million loan for Miami River Walk project
Mast Capital and its joint venture partner AEW Capital Management scored a $59.7 million construction loan for Miami River Walk, a rental project. The developer secured approval from the Miami Urban Development Review Board a year ago for the 688-unit apartment complex planned for a 6.3-acre site at 1001 Northwest Seventh Street (this, this). It's the largest ground-up development for Mast…
Riviera Schools scores $22 million loan for expansion
Riviera Schools scored a $22 million construction loan to expand its Preparatory School campus in Miami.
The private school secured the loan from BB&T to build nine tennis courts, additional parking, and a new building with classrooms and a theater, according to Peter Cohen, associate director of Riviera Schools. Riviera Preparatory School, at 9775 Southwest 87th Avenue…
Stronach family, known for Gulfstream in Miami, feud continues with daughter's countersuit
Belinda Stronach, former Magna International CEO, has filed a countersuit against her father Frank Stronach — the latest episode in a complex and highly expensive family feud. In October, the elder Stronach filed a 73-page lawsuit against his daughter and other family members for $400 million, claiming they mismanaged the family's assets and limited his control. The Canadian family built an empire…
3H Group buys for Brickell dev site to build hotel
3H Group paid $10.25 million for a property in Brickell with plans to bring a new hotel to the site. Tennessee-based 3H Group paid about $200 per foot for the site 1741 Southwest Second Avenue, totaling four properties and 30,000 square feet. Doral-based Hotelex Properties sold the site, where it planned to build a 206-room Residence Inn by Marriott, property records show. The company paid $6.05 million…
"We are starting to run, but the gun hasn't fired:" Investors dash into Miami Opportunity Zones
Investors and developers in Miami-Dade County have been pouring money into Opportunity Zones. From April through September, property sales in those areas tallied $942 million, a 25 percent increase from the same time in 2017, according to The Real Deal's analysis of records. Enacted as part of the December 2017 tax overhaul plan, Opportunity Zones began catching the eye of savvy investors last…
Ugo Colombo sues Craig Robins for defamation in ongoing legal battle
Now it's Ugo Colombo's turn to sue Craig Robins. In the ongoing legal battle between two of Miami's most prominent developers over a shared $22 million private jet, Colombo is now seeking monetary damages, alleging that Robins and his attorney, Dennis Richard, made defamatory remarks that have hurt Colombo's reputation. In a new lawsuit filed Wednesday in Miami-Dade Circuit Court, Colombo…
Terra bows out of joint venture with Related in Coconut Grove office project
Terra is no longer partnering with the Related Group to develop a new office building in Coconut Grove. Related is moving forward with the project without Terra, according to spokespersons for both developers. Records filed with the city of Miami show 2850 Tigertail Investments LLC is seeking a permit to build the 195,575-square-foot office building at 2850 Tigertail Avenue in Miami. In 2017, the city…
Aventura senior living facility sells for $23 million
SilverTree Residential paid $22.9 million for an Aventura senior living facility, property records show. Memphis-based SilverTree Residential bought the 186,965-square-foot building known as the Imperial Club at 2751 Northeast 183 Street for about $123 per square foot. Affordable Community Housing Trust Alpha led by Joe Palen of Edmond, Oklahoma, sold the property. The housing complex last sold in…
Video: Yardi-Matrix BI Director Doug Ressler on Multifamily Market Trends
Doug Ressler, Director of Business Intelligence at Yardi-Matrix, appears on America's Commercial Real Estate Show to discuss trends in the multifamily market, including market fundamentals, demographic trends affecting multifamily fundamentals, and opportunities for multifamily in growing markets. He first discusses general trends, generally predicting a firm market in the near term. He feels rental…
5 Ways to Increase the Value of Your Commercial Property in 2019
By the time this is posted, the New Year will already be weeks old – and in that time, many personal resolutions will have been tossed, amended, and forgotten. That fresh start gusto is difficult to maintain unless you have the drive and a great reason to keep it going. As much as the New Year is a time to reassess personal goals, it's also a great time to do the same with real estate investments – including…
Can Tiny Multifamily Be Big In SoFlo?
For several years now, many Americans have had a love affair with the small things in life. Families and millennials embraced smaller homes and micro-units as a means of living affordably in the wake of the Great Recession, of embracing efficient and sustainable ideas, and of simply owning something. Whatever the reason, micro-living represents a popular shift in the collective mindset. It was only a…
Gun Scuffle Between Realtor, Payday Lender, Teens Brings Attention To Affordable Housing
A protest over affordable housing in Miami turned dangerous this week when the young protestors were confronted in the street by a couple including a man wielding a gun. Twitter was alive on Monday with a series of viral videos that showed a woman confronting a group of young black men on bicycles who were in an intersection in Brickell, apparently causing traffic holdups. The woman, later…
Estimating 2017 Commercial Property Sales Volume in Miami-Dade County
A big mystery is always exactly how much commercial real estate trades in a given year. The data is murky. Even if the county data is reviewed, many transactions show a total amount for a set of parcels for each of the parcels within, resulting in double counting of those sales, and many sales show a selling price of $1, obfuscating the actual selling price. However, I think I found a way to get reasonably…
Tax perk meant for mom-and-pop owners will instead benefit major property investors
Small-time real estate investors are being blocked from a tax break that was originally meant to benefit them. The Treasury Department recently released final rules detailing how owners of businesses including limited liability companies can receive a deduction of up to 20 percent, according to Bloomberg. The law, which was part of 2017 tax reform, lets real estate firms claim the deduction in full, but bars…
SoFla's largest multifamily investment sales in December
There appears to be no end in sight for big apartment deals in South Florida's suburbs. Vestcor bought a 77-townhouse affordable housing complex in Florida City in two transactions totaling $12.3 million. Florida Value Partners sold the 16.4-acre property at 350 Northeast Fifth Place to the Jacksonville developer. The sale equates to about $160,000 per townhouse. A company tied to…