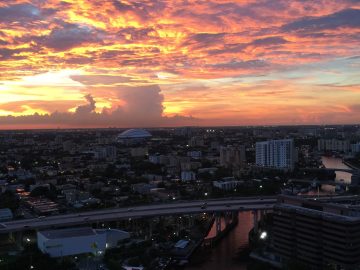 City of Miami office tower site hunt may end up next door
A study has determined the best place for a new City of Miami government office tower is right next door to the current one. The analysis is up for discussion on today's (1/10) city commission agenda. Site selection is the next step after voters in November… The analysis picks vacant land immediately north of the city's current Miami Riverside Center (MRC) at 444 SW Second Avenue, identified as the Nexus Site.
Epelboim Completes EVEN Hotel Miami Airport
Epelboim Development Group, in conjunction with InterContinental Hotels Group, has opened its newest project, the EVEN Hotel Miami Airport. Coral Gables–based Trust Hospitality manages the hotel, located at 3499 NW 25th Street. The EVEN Hotel flag is described as a "premier lifestyle hotel brand," with a tagline of "Eat Well, Rest Easy, Keep Active and Accomplish More." The brand's signature features…
University of Miami unveils residence complex plan
Coral Gables' city commission unanimously passed three ordinances on first reading Tuesday amending land use, zoning code and a development agreement between the city and the University of Miami at 6500 Red Road. The university recently purchased the property on Red Road though it has not yet released plans for the property, which was called "problematic" by the Gables' Planning and Zoning…
Miami prepares for Super Bowl, Democratic National Convention
The Miami area is hoping to host two major events in 2020: The Super Bowl and the Democratic National Convention. One's a lock and one's a maybe at this stage. Leaders in the City of Miami are preparing for the events, with promises of local cash support and plans to work with all-important host committees. Legislation covering both events is scheduled for discussion and possible action today (1/10)…
11 Predictions For South Florida CRE In 2019
In Miami, as we say adios to 2018 and "Dalé!" to 2019, several of South Florida's real estate pros shared with Bisnow their predictions for the coming year. We're warning you now: It will involve lots of scootering. Aztec Group Executive Vice President Charles Penan: Uncertainty in the global market will greatly influence the real estate capital markets in 2019 and beyond. Miami has evolved into a…
Florida plans improved public riverwalk under 836 in Miami
State highway officials now intend to include an improved public riverwalk under a highway overpass slated for a major upgrade, Miami River Commission members were pleased to learn Monday. Fresh draft drawings presented to the commission show plans for a greenway-riverwalk along the north shoreline under the SR 836 bridge, including a clear pathway 15 feet wide and a new bulkhead wall…
Small business lending steady, with hopes for a spurt
Small business lending remains steady, with experts forecasting activity picking up in 2019. Frank Gallo, senior commercial lender with Tropical Financial Credit Union, sees smooth sailing on lending volume compared to 2017, with not too many increases. He credits the status quo in 2018 to the uptick in interest rates since the start of the year. "It hinders the ability for businesses to qualify for larger…"
Glenn Downing: Oversees tax fund to increase mobility in Miami-Dade
As chairman of the Citizens' Independent Transportation Trust (CITT), certified financial planner Glenn Downing leads a 15-member board in overseeing the People's Transportation Plan (PTP) to expand mobility solutions in Miami-Dade with funds from the half-percent sales tax known as the "half-penny." Mr. Downing, elected chairman in 2017, will this year celebrate nine years with the trust, having served…
Editorial: Miami, hold firm against development in our 'Central Park'
Very soon Miami commissioners may be handed a deal between city administrators and developers of a massive mixed-use complex that, along with a soccer stadium, would replace the city's only golf course. If history is a guide, commissioners will nitpick details, demand a pittance for affordable housing and maybe something extra for their districts, then sign off on the deal. But rather than worry about…
SeaVee Boats preparing to double manufacturing space
SeaVee Boats hopes to move into its new 220,000-square-foot manufacturing site on 10 acres in August, though the construction firm, TA Builders, is hoping… The move aims to address growing demand for boats. Right now in its 60,558-square-foot headquarters at 6900 NW 77th Court, smaller boats are backlogged 12 months and the larger models are backed up 18 to 24 months with over 200 boats on order…
The what company? WeWork rebrands as SoftBank short-circuits funding
A day after reports emerged that Japanese conglomerate SoftBank Group had slashed its planned funding for WeWork from $16 billion to $2 billion, the co-working giant has announced it will rebrand. Under its new name, "The We Company," led by Adam Neumann, the company will consolidate its businesses into three main arms: WeWork, its well-known flexible office space brand, WeLive, its struggling…
Video: TREPP Managing Director Tom Fink Discusses CRE Financing and Market Trends
In this short video, Tom Fink, Managing Director with TREPP. a leading provider of data, analytics, and technology solutions to the global securities and investment management industries, appears on America's Commercial Real Estate Show to talk about the state of commercial real estate financing. Among the topics discussed are the impact of rising interest rates and regulations, and the effect of…
Miami International Airport To Spend $1.45 Billion On Improvements Over The Next Three Years
Miami International Airport is about to begin $1.45 billion worth of short term improvements over the next three years. Some of the improvements will include a post-security connector between Concourse E and F, new hardstands and apron areas, cargo facilities, and other projects designed to improve efficiency. The airport is no longer calling the project a Terminal Optimization Program (as it did in…
SoftBank planned to invest $16 billion into WeWork. That number just got way smaller.
Softbank has slashed a potential $16 billion investment in WeWork to $2 billion, after the Japanese megafund's backers expressed concern over its free flow of capital to the flexible office space company. Backed by the sovereign wealth funds of Saudi Arabia and Abu Dhabi, and led by Masayoshi Son, Softbank's $100 billion Vision Fund was expected to invest another $16 billion in WeWork over…
Craig Robins claims Ugo Colombo bribed juror with promise of condo in trial over private jet: lawsuit
The nine-year legal battle between two of Miami's most prominent developers over a shared private jet just hit serious turbulence. Five years after losing the case, Craig Robins' Dacra Development is now suing Ugo Colombo and his CMC Group, alleging jury tampering and bribery — including the promise of a luxury condo — in the trial tied to their private jet dispute. In a mid-December lawsuit filed in…
Waldorf Astoria tower in downtown Miami scores $33 million pre-development loan
Property Markets Group landed a $33 million pre-development loan for the Waldorf Astoria Hotel & Residences Miami before the end of the year. PMG, along with Greybrook Realty Partners, S2 Development and Hilton, are planning the 98-story luxury hotel and condo tower at 300 Biscayne Boulevard. BridgeInvest provided the loan, which will be used to finalize approvals and launch condo sales, according to…
Mast Capital proposes Shipping Ave project near Coral Gables
Mast Capital is proposing to build a 20-story apartment project near the Douglas Road Metrorail Station in Miami. The Shipping Ave Apartments would have 254 units, an eight-story parking garage covered in murals and about 10,000 square feet of amenities, including a… The developer paid $10.9 million for the 1-acre site at 3811 Shipping Avenue in May 2017, property records show. It's zoned T6-12-O.
Video: Anthony Scaramucci on his Opportunity Zone fund's $2B deal pipeline
SkyBridge Capital founder Anthony Scaramucci claims his Opportunity Zone fund has $2 billion worth of deals in its pipeline. Scaramucci appeared on a segment broadcast by Fox Business Network on Friday to talk about the economy, the federal Opportunity Zone program and his hedge fund's recently-launched fund, which will be structured as a REIT and will focus on investing in Opportunity Zones.
Watch out, 7-11: Amazon's new cashless convenience stores may outperform traditional ones
Amazon's new automated convenience stores, which operate without cashiers, may generate more revenue than regular convenience stores and could soon become a multi-billion-dollar business for the Seattle-based company. Customers who shop at the new Amazon Go locations simply take merchandise off shelves, and the company charges them automatically when they exit the high-tech convenience…
Owners of KYU Wynwood to open new concept, Laid Fresh, nearby
The former Federal Donuts space in Wynwood will open as a new concept from the owners of KYU Wynwood. Thor Equities Group leased the 2,000-square-foot space at 250 Northwest 24th Street to KYU's Steven Haigh and chef Michael Lewis, who plan to open a new restaurant called Laid Fresh in the spring, a source said. The 11-unit condo building is known as 250 Wynwood. Cyril Bijaoui of The…
Lennar scores $56M construction loan for Doral apartments
Lennar just scored a $55.6 million construction loan from SunTrust to build an apartment complex in Doral. The Miami-based homebuilder plans to build 369 apartments on the 11-acre site at 10500 Northwest 78 Street, property records show. It bought the property in 2017 for $21.7 million, property records show. Lennar became the largest homebuilder in the country after it acquired CalAtlantic last year in a…
MyBrickell condo owners name Related, Arquitectonica in lawsuit alleging shoddy design and construction
When the Related Group completed MyBrickell in 2014, it was amid great fanfare, with a grand opening party on the rooftop pool deck of the 27-story, 192-unit condo tower. At the time, MyBrickell was one of the first condo projects to be completed after the real estate collapse of 2008, as well as one of the first to highlight a collaboration with global brand name: industrial designer Karim Rashid. But…
Sears chairman to offer $1.8 billion for company's real estate holdings if auction bid fails
What was meant to be a last-ditch effort now has a back-up plan. The Sears bankruptcy saga continued today as the company disclosed that Chairman Eddie Lampert's hedge fund, ESL Investments Inc., expressed interest in buying the retailer's real estate for $1.8 billion. ESL submitted a $4.4 billion bid to keep some Sears stores open last Friday, on the last day for parties to submit bids for the bankrupt…
Video: Miami Developer Metronomic Publishes Passenger Drone Concept Video
Headed by Ricky Trinidad, Miami based Metronomic bills itself as a progressive, innovative, and sustainable real estate developer with core values centered on social and economic improvement, community development, and local collaboration that exemplifies industry standards for quality design, planning, and construction. They note that "passenger drones have proven to be a new and safe form…
The Lincoln Eatery Food Hall in South Beach Opens With 14 Concepts
Miami will see the opening of yet another food hall next week when the Lincoln Eatery drops anchor in South Beach. The 9,600-square-foot food hall, located on the corner of Lincoln Lane and Meridian Avenue, will open mid-January with 14 food and drink concepts. The space, outfitted with glossy subway tiles and polished concrete floors, will include indoor and outdoor seating for 200. Developed by…
Waldorf Astoria to Open 1st Miami Location
A Waldorf Astoria project in Miami has secured a $33 million pre-development loan, provided by BridgeInvest. Property Markets Group will develop the 98-story luxury condo and hotel at 300 Biscayne Boulevard, which will be branded and operated by Waldorf Astoria. The non-recourse loan will be used by the developer to finalize approvals, market the property and launch residential sales. The new…
Reinsurers want rates raised after natural disasters tally billions in real estate damage
Miami has been hit with hurricanes and Los Angeles has endured devastating wildfires. Those are just two cities that have dealt with recent natural disasters throughout the U.S., which in addition to loss of life, have tallied billions of dollars in real estate damage.
Despite the increasing frequency of these events, insurance companies are resisting a recent push from reinsurers to raise…