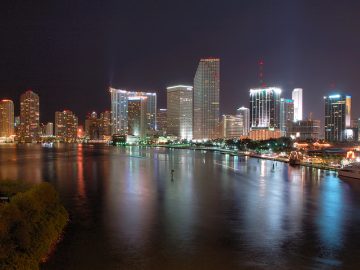 Trammell Crow, AvalonBay to Develop 350-Unit Multifamily Community Near Miami
Trammell Crow Residential, in partnership with AvalonBay Communities Inc., has unveiled plans to develop a 350-unit apartment community located at the corner of N.W. 36th Street and N.W. 79th Avenue in Doral, roughly 16 miles northwest of Miami. The residences will be part of a horizontally integrated mixed-use development that will feature 80,000 square feet of retail, which is under development…
Everything You Need to Know About David Beckham's Latest $1 Billion Stadium Pitch
If it feels like you've already spent a full college education watching David Beckham and his partners flail around for a place to build a soccer stadium, you are not hallucinating. Miami is now living through Year Five of Beck's never-ending Major League Soccer drama. This season promises a new location, new political plotting, and the ever-more-likely prospect of a really bad name for the franchise. Beck's…
Beckham's New Economic Projections for His Stadium Are Probably Nonsense
For the last 24 hours, Miami officials have been furiously pushing the latest pitch from David Beckham and financier Jorge Mas for a new soccer stadium at Melreese Country Club, largely by insisting the deal would pour millions into city coffers. City Manager Emilio Gonzalez repeatedly estimated that $44 million per year in new taxes could result, prompting reporters to ask: Where the hell are those numbers…
A Trendy Miami Neighborhood Is Getting … Jai Alai?
Miami's trendy, and largely residential, Edgewater neighborhood could soon be home to a new gambling facility with poker and jai alai. Operators of Miami's Magic City Casino won state approval last week to run "summer jai alai" on a site at 3030 Biscayne Blvd. Edgewater lies just north of downtown Miami and borders Biscayne Bay. Recent luxury condo developments there include Elysee, Paraiso Bay and…
Beckham's New Stadium Site Sits on Toxic Waste That Could Cost Millions to Move
Ever since retired soccer star David Beckham and his new partners, Jorge and Jose Mas, abruptly abandoned their Overtown stadium plans and pivoted to the Melreese Country Club near Miami International Airport, skeptics have piled on about potential hangups: the traffic, the loss of a city-owned golf course, the last-minute proposal that could hand the Mas brothers a profit bonanza. But virtually everyone…
Common Co-Living Lands In Miami
In this emerging format of multifamily development, residents have their own private rooms but share kitchens and other areas; it is related to a dorm or hostel, but with stylish furniture, group yoga classes and rents commensurate with an upscale experience. Common, a New York-based company that operates 20 co-living sites in major cities, is expanding into Miami with two brand-new developments in…
TA Realty Sells $35 Million Miami Office Campus
TA Realty has completed the sale of Kendall Summit Office Park, a six-building campus totaling 173,661 square feet in Miami. COFE Properties acquired the asset for $34.8 million. Cushman & Wakefield brokered the transaction and arranged $26 million in acquisition financing. The non-recourse loan bears a low interest rate and it will fund future property improvements and leasing expenses. Located…
Video: Profiling the Richest People in United States Real Estate
This video profiles the top five richest people in U.S. real estate, according to Forbes magazine. Among those profiled (spoiler alert) are Richard LeFrak, John Sobrato, Miami Dolphins owner Steven Ross, Stephen Schwarzman, and Donald Bren. The richest of these owners over 115 million square feet of real estate.
What Does The Heat Up In Big Industrial Transactions Portend?
It came out that Brookfield Asset Management Inc. is putting IDI Logistics, one of the world's leading investors and developers of logistics real estate, on the block, according to Bloomberg News. While the asking price has not been disclosed, IDI Logistics, which was acquired by Brookfield for $1.1 billion in 2014, is expected to fetch about $5 billion. Last year, Brookfield also sold Glazeley, a 33 million-sq.-ft.
South Florida Office Investors Pick Up Sales Pace in Second Quarter
PGIM Inc.'s $248.5 million sale of the Sabadell Financial Center at 1111 Brickell Avenue. in Miami to a joint venture of Kohlberg Kravis Roberts & Co. and Parkway Property Investments was the biggest office sale of the second quarter. South Florida's sluggish office sales increased dramatically in the second quarter, fueled in part by the second-highest price paid for an office property in the market since 2012.
Planning and Zoning discuss Coconut Grove Playhouse
There is a meeting tonight, Monday, July 9, where the Coconut Grove Playhouse will be discussed. The Planning Board will hear from the County who will ask for zoning approvals to start the project. There are lawsuits pertaining to the Playhouse so no matter what the Planning & Zoning Board decides tonight, nothing will probably proceed. In December, the City Commission discussed the Coconut…
Nick Miceli: Plans six more South Florida TD Bank locations in year
Nick Miceli celebrated two decades with TD Bank in November by moving from his native New Jersey to the Sunshine State, where as Metro Florida regional president he plans to expand the company while preparing for its future. "I was attracted to the growth I've seen in the South Florida market, specifically Miami, and there is a tremendous amount of opportunity," he said, adding the bank is building…
Appraisers find David Beckham's soccer site rent should double offering price
Two property appraisal firms reached similar conclusions regarding the proposed redevelopment of the Melreese Golf Course, stating the highest and best use would include higher density mixed-use with retail and office components. David Beckham's group wants to turn more than half of the site into a commercial office tech campus, along with a hotel and conference center, retail and entertainment…
Coral Gables bars bike and scooter leasing, takes a spin with Spin
An emergency ordinance to ban shared scooters and bikes passed unanimously on Tuesday at the Coral Gables commission meeting. This ordinance does not stop the city from entering into an official agreement with a shared mobility company. Mayor Raul Valdes-Fauli called for the emergency ordinance, citing numerous citizen complaints of dockless scooters and bikes left on private property and in city…
David Beckham's MLS stadium set for key city vote
The revised plan would see the controversial arena replace Miami's Melreese Country Club David Beckham's five-year push to bring a new professional MLS soccer team and stadium to Miami could be drawing to a close as the city prepares to vote on a plan to turn Melreese Country Club into a $1 billion mixed-use complex known as Freedom Park.
New looks at downtown Miami's upcoming YotelPad project
As developers prepare to break ground on Miami's 31-story YotelPad project, newly released renderings provide the best glimpse yet of the unusual combination hotel and residential concept. Slated to rise at 227 NE 2nd Street, the downtown development represents the first East Coast location for Yotel—a company fast making a name for itself with design-focused, millennial-friendly micro lodging.
Atlantic Pacific Communities and Miami-Dade County to begin working on deal for affordable and workforce housing in Overtown
A proposal to build 360 affordable and workforce housing apartments in Overtown near Miami Worldcenter and Brightline's MiamiCentral development is gaining traction. Miami-Dade commissioners on Tuesday unanimously approved negotiating a deal with Atlantic Pacific Communities to develop a $172.8 million mixed-use project with a total of 600 residential units on a 90,000-square-foot parking lot at…
Afin Developer Group wins approval for new Cambria Hotel in North Miami Beach
The Afin Developer Group won approval from the North Miami Beach Planning and Zoning Board for a 129-room Cambria Hotel at 163rd Street and 19th Avenue. The new plan is for a smaller hotel than originally approved in 2015. The development will now span seven stories and 170,425 square feet, with 18,227 square feet of retail. Afin's original plan had called for a 231,045 square-foot, 11-story development…
Century Homebuilders plans apartment complex near Merrick Park
Century Homebuilders Group and a Colombia-based real estate fund, Pactia USA, are teaming up to build an apartment complex near the Shops at Merrick Park in Coral Gables. Property records show the partnership bought two vacant parcels of land on the southeast corner of Bird Road and Southwest 42nd Avenue for $6.3 million. Century Laguna, an affiliate of Century Homebuilders, was the seller. Century…
Cervera Real Estate Ventures buys Hialeah shopping center, plans renovations
Cervera R.E. Ventures is entering Hialeah's hot commercial market. The company just paid $11.3 million for a shopping center at 3800 West 12th Avenue, with plans to reposition and renovate the property, President Javier Cervera Jr. said. It's the company's first acquisition in the city. The seller is an affiliate of Leon Medical Centers. Records show W 12th Ave Investment, led by Michael Shealy, bought the…
Wall Street has more money than ever to buy single-family rentals
Investors are raising billions of dollars from bond buyers, pension funds and even wealthy individuals for the single-family home rental market. "We're seeing a wider variety of investors coming into this asset class: sovereign-wealth funds, insurance companies, hedge funds, pensions, asset managers," Sandeep Bordia, head of research and analytics for Amherst Capital Management LLC, told the Wall Street…
Miami is Going Small with Micro Units and Co-Living
Micro-sized apartments and co-living spaces are on their way to Miami, filling a desperate need for more affordable housing. With a median income hovering around 20 percent lower than the national average and with almost 50 percent of all Miami residents overwhelmed by housing costs, developers are looking for creative ways to make living near the city center affordable, especially for…
FECI plans Fort Lauderdale Brightline office tower
Florida East Coast Industries is planning to build a Fort Lauderdale Brightline office and retail tower, amid demand for new office development. FECI aims to build 101 Fort Lauderdale, a 14-story building at 101 Northwest Third Street Street in downtown Fort Lauderdale. It will feature 175,000 square feet of office space across 7 floors and 15,000 square feet of ground-floor retail and amenities.
Renderings revealed: Beckham's Miami Freedom Park, YotelPad, more
David Beckham's group just released a rendering of its proposed mixed-use soccer complex. The Miami City Commission will vote this week on whether to place the proposal on a November referendum. Beckham's partner Jorge Mas calls the project Miami Freedom Park. The entire development includes a 25,000-seat stadium, 110 acres of green space, 400,000 square feet of office space…
Elion Partners picks up warehouse in northwest Miami-Dade
Elion Partners just picked up a warehouse in northwest Miami-Dade for $7.23 million, property records show. The 59,135-square-foot warehouse at 2875 Northwest 77th Avenue traded for about $120 per square foot. The seller is a family-owned distribution company called South Dade Automotive. It operated out of the building before selling its business in 2015 to U.S. AutoForce, a Wisconsin-based…
Coastal Construction sued over alleged unpaid work at Porsche Design Tower
A subcontractor that worked on Porsche Design Tower in Sunny Isles Beach is alleging Coastal Construction owes the firm at least $1.42 million in unpaid work and supplies. Zarrella Construction, a Davie-based subcontractor, filed the suit in Miami-Dade County Circuit Court last month. Coastal allegedly failed to fully pay Zarrella for its work framing, insulating, drywalling and painting of Porsche Design, a 132…
This is the current state of CocoWalk this week, they are well on their way to constructing their new office building. They've been quite efficient in the demolition, I had pictured Miley Cyrus on a wrecking ball or something and heavy equipment taking over Virginia Street, but they managed to get the structure down with the heavy equipment inside rather than outside the structure.
Electric Car Charging Operators Offering To Install Chargers In Buildings For Free
A recent survey of 500 Tesla drivers found that owners of the Model X earn an average salary of $503K, while owners of the Model S earn about $267K. For a landlord or business owner, that is just the sort of well-heeled person you want renting your unit or perusing the goods in your store while she waits for her car to charge up. Courtesy of Brickell Energy Developers can add EV charging stations to…
Report: Billionaire developer Jeffrey Soffer triggers prosecution of fake "sultan"
The Miami Herald reported that billionaire real estate developer Jeffrey Soffer triggered an investigation that led to the prosecution of a Colombian-born con man who pretended to be a rich Saudi "sultan" and a diplomat. Soffer initially believed Anthony Gignac when he posed as a Saudi prince and expressed interest in paying $440 million for 30 percent ownership of one of Soffer's hotels, according…
Average June rents reached record high nationwide, as Manhattan again led the way
The national average apartment rent ticked up nearly 3 percent in June compared to the year before, reaching a record $1,405 a month thanks to sharp growth in smaller markets. Manhattan cemented its standing as the nation's most expensive place to rent with a 1.5 percent increase over last year, to $4,116. San Francisco was a distant second at $3,561 a month. Manhattan's rent bump…
Miami-based firm pays $14m for affordable housing sites on Stock Island
Miami-based Integra Investments paid more than $14 million to acquire land for the development of affordable housing on Stock Island, a working-class community located next to Key West. From December to April, Integra acquired nine acres on Stock Island for the development of more than 250 residential units. The acquired land on Stock Island is located at three addresses: 6325 First Street, 6125…
Co-working space operator URBIN buys Coral Gables office building for $12.5M
A co-working space operator called URBIN acquired an office building in Coral Gables for $12.5 million. URBIN bought the 52,719-square-foot office building at 299 Alhambra Circle for about $237 per square foot, according to Rishi Kapoor, CEO of Coral Gables-based Location Ventures. The five-story office building was sold by Coral Gables Financial Center, managed by Shawn Khosravi, who also is an investor…
Developer envisions new mixed-use project for Wynwood
The conceptual plan calls for a mix of retail, office, residential, and hospitality uses The transformation of Miami's vibrant Wynwood neighborhood is poised to take another step forward thanks to a new mixed-use development in the works for the Wynwood Gateway Complex at the intersection of Northwest 2th Avenue and 29th Street. According to property owner and developer Metro 1, the acre…
Mall landlords tighten screws on non-anchor tenants
The exodus of anchor tenants from America's malls has landlords rethinking a lease clause that is popular with smaller tenants. Owners have traditionally granted smaller tenants co-tenancy clauses, allowing the businesses to exit a lease if a major anchor store like Macy's or J.C. Penney departs the mall. But that may be changing. The steady exodus of anchor tenants at malls nationwide in recent years has…
Reality TV producer and real estate investor buys Aventura office building for $13.5 million
Reality TV's the TurnAround King just paid $13.5 million for an office building in Aventura. Property records show Grant Cardone, who produces and stars in his TV show, paid about $540 per foot for the Northern Trust Bank building at 18901 Northeast 29th Avenue. Guarapo Aventura LLC, led by real estate investor Matthew Lvoff, sold the 25,000-square-foot building to Cardone's 10X HQ LLC.
Magic City Casino owners win state approval for Edgewater casino and jai-alai
After winning a long legal battle with the state, the owners of Magic City Casino can move forward with their plans to build a casino in Miami's Edgewater neighborhood. Florida's Division of Pari-Mutuel Wagering just approved a necessary permit that would allow the Magic City owners to feature jai-alai sport games at the facility, according to the Miami Herald. For years, the Havenick family has…
Lennar buys 32 acres in south Miami-Dade
Lennar just paid $9.5 million for about 32 acres near Homestead, adding to the string of acquisitions the Miami-based homebuilder has made recently in south Miami-Dade County. Records show a company tied to iStar Financial sold the three parcels at 11406 Southwest 248th Street, near the Florida Turnpike, for about $29,000 per acre. IStar's SFI Palm Tree Farms LLC purchased the lots in 2012 through…
Healthy amenity: Ritz Residences Miami Beach offers medical concierge service for buyers
Forget about the yoga studio, spa service and fitness center, the latest condominium amenity is just what the doctor ordered. The developer of the Ritz-Carlton Residences Miami Beach, is partnering with South Beach Diet founder Dr. Arthur Agatston to offer buyers a yearlong membership to a medical concierge service. When buyers close on their units later this year, they'll be provided access to the…
South Florida to Amazon: Come for the Lifestyle and Location, Not the 'Corporate Welfare'
Business development leaders in South Florida are insisting they won't be offering massive financial incentives to land Amazon's second headquarters. "We are not going to do that, and we don't think we need to," said Bob Swindell, chief executive officer of the Greater Fort Lauderdale Alliance. Local officials still won't say what they are offering Amazon to come to the region as part of the internet giant's…
Metro 1 Development Seeks JV Partnership to Co-Develop Mixed-Use Property on Prime Wynwood Gateway Site
Tony Cho, CEO of Metro 1, South Florida's leading real estate brokerage, management and development firm, is seeking joint venture hospitality partner(s) to co-develop an innovative mixed-use hospitality, office, retail and/or residential project on the Wynwood Gateway site located at the intersection of Northwest 2nd Avenue and 29th Street. The approximately one-acre property is comprised of a…