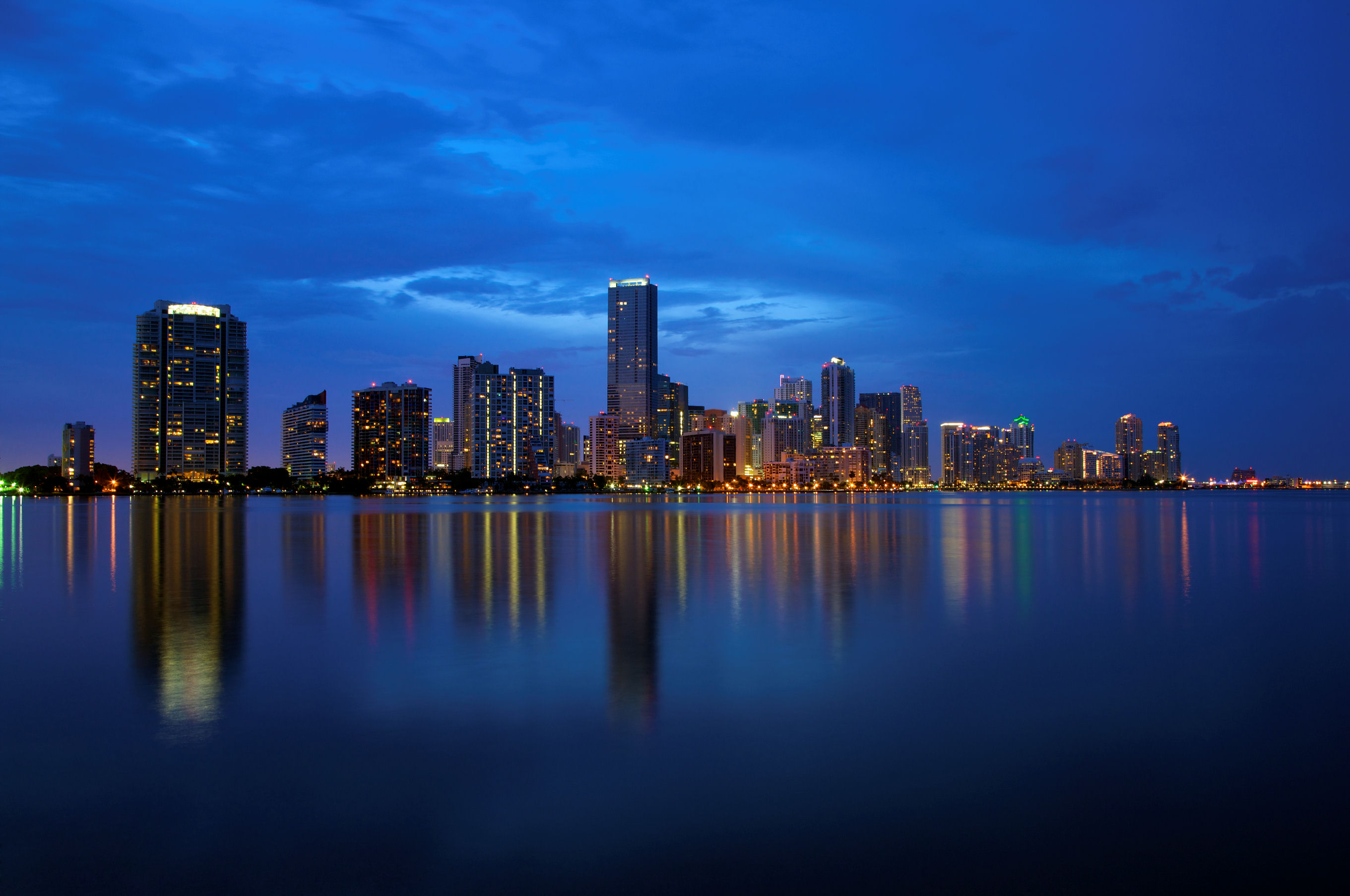 Headwinds from soccer stadium deal worry MIA
As Miami nears a deal for a soccer stadium and commercial complex beside Miami International Airport, county lawmakers want to know how that will affect the area's biggest economic engine. A county commission committee Tuesday advanced a directive to administrators sponsored by Rebeca Sosa to detail in 90 days potential impacts of the project sought at what is now Melreese Golf Course. "Our…"
A-Rod Corp. Acquires 12,700 SF of Office Space in Miami's Coconut Grove, Will Relocate Headquarters
A-Rod Corp., led by former Major League Baseball player Alex Rodriguez, has acquired 12,700 square feet of office space within a two-tower condo called Grove at Grand Bay in Miami's Coconut Grove neighborhood. The corporation will consolidate its offices to create a new headquarters at 2675 S. Bayshore Drive. In addition to the full floor of office space, the acquisition includes ground-floor space…
Commercial Property Borrowing Cost Quarterly 2019 Q2
At the end of the 2nd quarter of 2019, both short and intermediate yields continued their decline from higher levels reached late in the prior year. Also of note is that the yield curve has inverted, with five year rates higher than short term, as can be seen here with 1 month treasuries yielding more than those with five year maturities. Historically, an inverted yield curve is highly predictive of a looming…
A-Rod scores new Coconut Grove home base for his investment company
Retired Yankees slugger Alex Rodriguez is moving his investment company's home base to Terra's Grove at Grand Bay. On Friday, Rodriguez's A-Rod Corp closed on space totaling 12,700 square feet at the luxury Coconut Grove condo development, said Erin Knight, executive vice president of Monument Capital…
Reis: National Retail Vacancy Experiences First Drop Since 2016 Among Neighborhood Shopping Centers
The neighborhood and community shopping center retail vacancy rate fell 10 basis points to 10.1 percent in the second quarter, according to New York-based commercial real estate data firm Reis. This is the first time in which vacancy has declined since the first quarter of 2016. For context, in the second quarter of 2018, the rate had risen 20 basis points to 10.2 percent and remained flat at…
Rialto Relocates to Florida's Tallest Office Tower
Rialto Management Group has inked a 46,746-square-foot lease at Southeast Financial Center in downtown Miami. The investment and asset management platform will relocate its headquarters from 790 NW 107th Avenue, in the Doral area. JLL Executive Vice President Eric Groffman and Vice President Cameron Tallon represented the landlord, Ponte Gadea Biscayne. Patrick Duffy, vice chairman of Newmark…
Tariffs, natural disasters are driving up construction costs in Florida: report
New homes in Florida (Credit: iStock) This has been a rough year for Florida's housing market. A new report by BuildFax found that existing home maintenance construction costs in Florida increased 13 percent in June, on a year-over-year basis. Buildfax's CEO Holly Tachovsky said via email that natural disasters could have driven up some of the costs in Florida and made it more difficult to find…
Where's my den? Buyers sue Related for allegedly delivering smaller condos than promised
Jorge Pérez with a rendering of Paraiso Bayviews UPDATED, July 17, 4:51 p.m.: Thirteen buyers at the Paraiso Bayviews condo tower in Edgewater are suing the Related Group for false advertising, among other counts, after the developer allegedly delivered units that were smaller than promised. According to a lawsuit filed in late June in Miami-Dade Circuit Court, the 11 one-bedroom units purchased by…
Stricter EB-5 Rules Are Coming Soon. Advocates Hope Trump Kills Them.
The EB-5 program allocates 10,000 visas per year for foreigners and their family members who collectively pitch in billions of dollars toward development projects in the U.S. But the program has been beset by so much fraud and abuse that the U.S. Customs and Immigration Services has spent two and a half years working on updated regulations to stem problems. Those rules have been…
E-Scooters: Boon or Burden to Cities and Commercial Real Estate?
Cities have a love/hate relationship with these two-wheelers Once an oddity only seen in America's tech centers, e-scooters have now become near-ubiquitous across the U.S. and around the globe. From Columbus to Nashville, Lisbon to Paris, these two-wheelers are taking over the urban world as we know it. Startups like Lime, Bird, and Scoot once had the field to themselves, but are now being…
Coworking is Snatching Up Office Space, But Is More Disruption on the Horizon?
The office investment market is back on track and buoyed by significant sources of capital for deal making, following some political and economic uncertainty over the past year, according to the June 2019 Office Investor Sentiment Report by Real Capital Markets (RCM). Among the key takeaways is that a majority of investors (87 percent) who participated in the survey view coworking as a…
County seeks expedited deal for Biscayne Bay transit route
After years of studies, Miami-Dade lawmakers may soon ask the county administration to act fast in securing arrangements and funding for floating transportation services connecting the City of Miami and South Beach across Biscayne Bay. County commissioners in committee Monday voted 5-0 to advance an item, sponsored by Commissioner Eileen Higgins, that would direct Mayor Carlos…
Jorge Pérez: Condo king transferring control of his Related Group
Jorge Pérez likes to lead by example. "My management style is, 'Follow me,'" said the reigning condo king of Miami whose real estate firm, The Related Group, has by his estimation built more than 100,000 condo units cumulatively valued at about $50 billion throughout the nation and across the globe. His competitive spirit, he said, is based on the "immigrant mentality" that everything can be lost at any…
Yardi Kube Regional Manager, Coworking Discusses Coworking Trends
Warren Hersowitz of Yardi Kube joins Michael of America's Commercial Real Estate Show in Studio One to discuss coworking trends and how they're affecting office real estate property today. He talks about how buildings are incorporating coworking in buildings, using the concept to increase rent per square foot. Contibuting technologies are discusses, particularly for large coworking / shared space…
Nearly complete Le Jardin condo project in Bay Harbor files for bankruptcy
Verzasca Group president & co-founder Darius Kasparaitis and Le Jardin Residences Verzasca Group's Le Jardin Residences boutique condo project in Bay Harbor Islands is nearly complete with the majority of units presold. Yet, in an unusual move, the project filed for Chapter 11 bankruptcy reorganization in a U.S. Bankruptcy Court last week. By reorganizing, the project's developer hopes to close…
South Florida Industrial Market Continues Its Evolution
More than 3.4 million square feet of industrial and flex space is currently under construction in Miami-Dade County, and an additional 50 million square feet of industrial space will need to be constructed over the next five years to meet the region's population growth, according to research from Colliers International South Florida. Connect Media asked Louis Archambault, partner at Saul Ewing…
Philip Levine lists block-long Wynwood dev site for $25M
Philip Levine and the property at 2215 Northwest First Place (Credit: Getty Images) Developer and former Florida gubernatorial hopeful Philip Levine listed a block-long development site in Wynwood for $25 million. Levine, a real estate investor and a former Miami Beach mayor, is looking to sell the properties at 2215 Northwest First Place, according to a Loopnet listing. The site includes a building known…
Miami's First Affordable Housing Project For The Developmentally Disabled Approved
Finding an affordable rental is hard enough, especially for anyone with a intellectual or developmental disability like autism or Down syndrome. About 80% of such individuals will never be able to hold jobs. They live on an average of $771 per month from Social Security, which means they can't afford the average apartment in many U.S. cities — in Miami, the average one-bedroom costs $1,191 a month.
North Miami investor aims for healthy returns on medical office properties
In life, three things seem certain: death, taxes and investor demand for medical office space. A company managed by North Miami real estate investor Allen Chelminsky bought two medical office buildings in Lauderhill for $5 million, records show. The 33,290-square-foot properties are at 7100 West Commercial Boulevard and 7200 West Commercial Boulevard. J & J Properties, managed by John Ekstrom…
Struggling Neiman Marcus scores loan from Credit Suisse for Coral Gables store
Neiman Marcus closed on a $37.38 million loan from Credit Suisse for one of its South Florida stores as the high-end retailer struggles to regain its footing. The company secured the financing on July 3 for its Shops at Merrick Park location, at 390 San Lorenzo Avenue in Coral Gables, less than a month after Moody's Investors Service upgraded Neiman Marcus Group's probability of default rating. Neiman…
Co-working finally feels the crunch of supply and demand
(Credit: iStock) Earlier this year, a San Francisco coder set out to create an outdoor co-working space that charged $2.25 an hour. The catch? It was comprised of a table and chair, set up on an empty parking lot. While the cost of co-working has yet to reach the levels of WePark, as the operation was named, it has been becoming more affordable as of late, Bisnow reported. Amid a drastic spike in supply…
Virgin Trains may announce 3 new train station sites in South Florida by year-end
Virgin Trains USA, formerly known as Brightline, may double the number of South Florida train stations it operates to six. Virgin Trains USA may identify three more South Florida locations for new train stations this year. Virgin Trains, formerly known as Brightline, said in a June 28 filing that it wants to increase ridership by opening new stops in addition to its downtown train stations in Miami, Fort Lauderdale…
Developers land $74.5M loan for condo construction project at Ocean Reef Club
John Grunow Jr. and Ocean Reef Club The developers of a condominium at the Ocean Reef Club near Key Largo borrowed $74.5 million to finance construction of the 48-unit project. Long Island, New York-based ACRES Capital provided the construction loan for the condo project, called Residence Club at Ocean Reef. The borrowers include John Grunow III and John Grunow Jr. of The Grunow Group and…
American Landmark closes $460M apartment fund, now seeks to raise $500M
American Landmark Apartments and its equity partner Electra America are betting big on multifamily investments in the Southeast. The two firms just closed on a multifamily fund of $462 million this week and are seeking to raise $500 million in another fund. The closed fund totaled 37 multifamily assets with 12,600 units in the Southeastern United States. Out of the $462 million raised, $392 million…
Stock indexes hit records as market anticipates rate cut. Here's what that means for real estate
After Federal Reserve Chairman Jerome Powell hinted at an impending interest rate cut, stock indexes hit record highs Thursday — and real estate is going along for the ride. At a congressional hearing this week, Powell said global uncertainty "strengthened the case for a somewhat more accommodative policy." The Dow climbed after, closing at an all-time high of over 27,000 Thursday. The S&P 500 also…
Historic preservation board rejects Blue Road's plans for South Beach hotel
Blue Road's plans to convert a 34-unit South Beach apartment building into a 116-room hotel hit a snag after the project failed to get the minimum votes needed from the Miami Beach Historic Preservation Board. The board voted 4 to 3 this week to approve an amended version of Blue Road's plans to turn the 61-year-old Park Terrace Apartments at 355 19th Street into the more contemporary Park…
Tech entrepreneur plans private school in South Beach
A tech entrepreneur and inventor plans to convert a 102-year-old South Beach building into a private school. John D. Marshall, founder of the mobile security company AirWatch, bought the 6,500-square-foot property at 224 Second Street in January for $4.8 million. Currently, the South-of-Fifth property consists of a one-story building constructed in 1917 and a two-story addition built in 1937. According to a…
Miami commission rejects proposed Olympia Theater renovation
Olympia Theater and Commissioner Ken Russell An unsolicited proposal to redevelop the commercial portion of downtown Miami's Olympia Theater was shot down at a Miami City Commission meeting on Thursday. Commissioners voted 5-0 against seeking bids to turn over management of the city-owned Olympia, dealing a quick blow to a developer interested in converting the building's 72 apartments…
Florida Senate candidate sentenced in Miami area real estate fraud scheme
Anis Blemur In 2016, Anis Blemur was running for a Florida Senate seat in Little Haiti, campaigning on his experience as an entrepreneur and businessman to "empower his people." But a U.S. District Court found that instead of empowering the Haitian community, the Miami real estate broker preyed on them through a real estate investment scheme that defrauded investors of $1.6 million. Blemur was…
Link at Douglas developers score $47M construction loan
The developers of Link at Douglas scored a $47 million loan to build the transit-oriented, mixed-use project near Coral Gables. Adler Group and 13th Floor Investments secured the loan from TD Bank to build the development's first tower, which will have 312 apartments and 6,000 square feet of retail, according to a press release. The 22-story tower was designed by Corwil Architects. Link at Douglas…
Miami Building on Palmetto Expressway Sold
The sale of the building located at 5195 NW 77th Avenue was completed, Miami, Florida, located East of Doral, inside unincorporated Miami-Dade County. The building is +/- 36,000 Sq. Ft. on a +/- 1.2  Acres lot, fully fenced. Frontage on Palmetto Expressway. Building has high security with back-up Generator and Heavy power. Sale price was $4,600,000 or $128/Sq. ft. The seller was Larian, LLC; the buyer…
Video: RealPage Market Analysis Manager Carl Whitaker Provides Multifamily Outlook
Carl Whitaker, Manager of Market Analytics with RealPage, providing property management software solutions for the commercial real estate industry, joins the host of America's Commercial Real Estate Show to discuss the multifamily market, including investment performance, supply, and rent growth. A chart is displayed showing growth of supply, dominated by the western United States, as well…