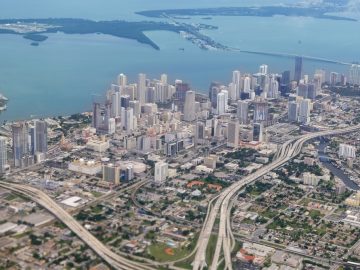 Five Unanswered Questions About the New Beckham Stadium Proposal
Soccer star and professional attractive person David Beckham spent a small portion of Thursday's carnival-esqe city commission meeting complaining that anonymous Miamians haven't been smiling at him as often lately. Only one woman publicly flashed him on Thursday! Poor Becks. Many Miami residents are, rightfully, skeptical about Beckham's latest proposal in his never-ending, five-year quest to build…
David Beckham's Miami Stadium Morphs Into $1B Project; Related Group CEO Called Offer 'Unconscionable'
Nearly five years after David Beckham announced he would be putting a Major League Soccer team in Miami, his investment group is back at the negotiating table trying to get a stadium built. A new plan calls for a $1B stadium and retail complex at the current site of the Melreese Country Club, a city-owned property that is contaminated with arsenic. Miami city commissioners will vote Wednesday on the…
Competitive bidding process proposed for Melreese site
As David Beckham and the Mas brothers seek approval to redevelop the Melreese Country Club into a mixed-use soccer complex, Avison Young's Michael Fay wants to level the playing field. Fay, managing director and principal of Avison Young's Miami office, is proposing to set up a competitive bidding process for the 131-acre site, he told The Real Deal. Fay sent a letter on Tuesday to Miami Mayor Francis…
Marathon Boat Yard Marine Center in the Florida Keys sells for $6M
A boatyard and marina in the Florida Keys was just scooped up by a company tied to the Tulsa, Oklahoma-based baked goods producer, Bama Companies, for $5.75 million. Marathon Boat Yard Marine Center at 2059 Overseas Highway sold to Silent Hunter Boat Yard, LLC, which is led by Bama's CEO Paula Marshall and her family office's accountant Matt Alley, records show. The family-owned and operated…
Video: Real Capital Analytics SVP Jim Costello Provide an Update on the Office Market
Jim Costello, Senior Vice President at Real Capital Analytics, appears on The Commercial Real Estate Show to discuss the state of the office market in the U.S. He discusses segmentation in the office market, with deal volume down more in the central business district (CBD) market that in the suburban markets, which he submits is due to the CBD markets being priced to perfection, i.e. very fully priced. He…
The Modernization of Coconut Grove: First Office Projects in 30 Years
Coconut Grove welcomed the first settlers in the late 1800s and became an independent city by 1919. The City of Miami annexed the lush and culturally rich enclave in 1925, triggering its continuous growth. Coconut Grove—considered the oldest neighborhood in Miami—has always been a sought-after tourist destination due to its deep-rooted history, trendy shopping and entertainment venues and the…
Coconut Grove to Welcome Luxury Hotel
The Cipriani family is bringing the first Mr. C hotel to Florida—the 100-room hotel dubbed Mr. C Coconut Grove is currently under construction in Miami's oldest neighborhood, Coconut Grove. The developer and owner, Main Highway Partners, plans to deliver the project in late 2018. Mr. C Hotels, founded by brothers Ignazio and Maggio Cipriani, will operate the property. At 2988 McFarlane Road…
6 Key Metrics About the Miami Commercial Real Estate Market
Miami's commercial real estate market offers a wide range of projects and property types due to its access as an Atlantic coastal town. Miami has distinct cultural influence as a transportation node between North, Central, and South America. It also possesses economic diversity with many opportunities illustrated by a variety of business sectors within the…
Alone together: Study says open-plan offices might make us anti-social
The fact that you can see all of your co-workers doesn't necessarily mean you're going to talk to any of them. According to a new study by Harvard University, open-plan offices might actually deter employees from working together. Instead, workers are more likely to communicate by instant messaging and email, the New York Post reported. But there's a caveat: The study only looked at two Fortune…
It takes guts to keep developers off city golf course's turf
"No guts, no glory" is something ex-soccer star David Beckham understands. Miami commissioners should too when it's time to preserve the city's patrimony of greenery. Mr. Beckham is the front man allied with local executive Jorge Mas to develop a mixed-use project far larger than Brickell City Centre at the city's only golf course. A soccer team is the bauble dangled before the commission and the public…
Pressure builds for rail service as only choice for the South Dade Transitway
Miami-Dade commissioners haven't yet decided what upgrades the county will make to the South Dade Transitway, but according to Commissioner Dennis Moss, anything but rail would be a disservice to residents. At the commission's July 12 Chairman's Policy Council meeting, Mr. Moss argued for his resolution directing the mayor's office to find funding to alter a current study by Aecom Technical…
Ocean Bank Provides $60M Loan for Miami Retail Center
Ocean Bank has come through with $60 million in financing for a longtime client. The bank provided Kendall Village Associates, an entity of Berkowitz Development Group Inc., a loan to refinance the 256,000-square-foot Kendall Village Center mixed-use retail property in Miami. Kendall Village made its debut in 2000 and underwent renovations in 2005. The center consists of 13 buildings and, along with an…
Miami Attorney Sues City Over No-Bid David Beckham Proposal for Melreese Country Club
Before David Beckham's group abruptly ditched plans for a stadium in Overtown, one of the biggest roadblocks to that proposal was an ongoing lawsuit by a local activist who claimed the city broke the rules by agreeing to sell the group public land without bidding for other offers. Now Beckham is facing exactly that same challenge over his new plan to lease the city-owned Melreese Country Club for his…
Deal outlines development and parking at Coconut Grove Playhouse
The city's Off-Street Parking Board has approved a memorandum of understanding with Miami-Dade County for a new parking garage and related development next door to the Coconut Grove Playhouse. The unanimous vote by the parking board came July 11. County officials are moving forward with the plan to restore the front of the historic theater, build a new 300-seat theater and ancillary uses on…
County to vote on new civil courthouse site beside 1928 version
Miami-Dade may soon have a set construction site for a new civil courthouse, as commissioners are to vote next week on a parcel just west of the crumbling one on Flagler Street. Commissioners at the Chairman's Policy Council on July 12 unanimously forwarded to a full commission vote a resolution to build the new courthouse between West Flagler and Northwest First streets. The parcel was acquired…
Coral Gables clears way for developments in its 'long neglected' North Gables
"Long neglected" north Coral Gables could be seeing new development in coming years. At their July meeting, city commissioners unanimously passed three ordinances on first hearing to amend the city's land use map to allow for mixed-use development and also approve a proposed Planned Area Development (PAD) for a project called "Regency on the Park." The first two ordinances expanded the…
Scott Robins and Philip Levine sell Sunset Harbour retail portfolio for $69 million
Developer Scott Robins and Florida gubernatorial candidate Philip Levine sold a retail portfolio in Miami Beach's Sunset Harbour neighborhood for $68.75 million to Asana Partners, a real estate investment firm, sources told The Real Deal. Robins and the former Miami Beach mayor sold the seven-building, 61,400-square-foot portfolio 1787, 1919, 1928 Purdy Avenue…
Contrarian investors across US find bargains amid "retail apocalypse"
With predictions of a "retail apocalypse" growing by the day, and as more stores close and companies file for bankruptcy, some investors see now as the perfect time to buy ailing shopping centers at distressed prices. Brian Kosoy, the CEO of the Sterling Organization, a private equity firm, started a new fund to invest in grocery-anchored shopping centers, street retail and other shopping centers across…
Renderings revealed: First phase of the Magic City Innovation District
The first phase of the Magic City Innovation District is underway and is expected to be turned over to tenants as early as September, according to developer Tony Cho. The first phase of the 17.7-acre development calls for gut-renovating the majority of the 21 existing commercial buildings in the Little Haiti and Little River neighborhoods of Miami. Spaces will range from 300 square feet…
Will Real Estate Developers Seize On "Opportunity Zones" Tax Incentives?
A short drive from downtown Miami, colorful murals highlight the Haitian diaspora and pink and yellow island-themed buildings dot Second Avenue in Little Haiti. Among the traditional Creole eateries, some millennial-focused restaurants have emerged, advertising craft beer and featuring organic rotisserie chicken and jalapeno jam on their menus. The slow transformation has not gone unnoticed.
Retail sales rise nationwide in Q2, indicating strong economic outlook
Nationwide retail sales were up in the second quarter year over year, a positive sign for the overall economy, though department store revenue continued the drop. From April to June, retail sales in the U.S. grew by 5.9 percent compared to the same period in 2017, the U.S. Commerce Department reported Monday, , according to the Wall Street Journal. June sales rose 0.5 percent from May figures. The news…
Think Hotel Group closes $22 million loan for Clinton Hotel in South Beach
Think Hotel Group just received a $22 million loan from Blue Vista Finance for the recently renovated Clinton Hotel in South Beach. The hospitality firm recently completed an 18-month, multimillion-dollar renovation of the 88-key hotel at 825 Washington Avenue, including a full restoration of the lobby's layout using the original 1930's Spanish tile, a fully renovated pool and courtyard, as well as full…
Jorge Pérez blasts Beckham/Mas brothers soccer complex proposal
Related Group founder Jorge Pérez is speaking out against the proposed $1 billion plan to redevelop the city of Miami's Melreese Golf Course into the home of Miami's Major League Soccer team. But he isn't interested in bidding on the property, Pérez told The Real Deal. Miami's condo king compared the deal to the Miami Marlins stadium debacle, citing the lack of community input and low rent…
Codina Partners lands $150M refi for Downtown Doral and 2020 Salzedo
Codina Partners just closed on a $150 million refinance deal for two of its commercial projects in Doral and Coral Gables. The firm scored $20 million for its luxury office tower project 2020 Salzedo from Florida Community Bank, and $127 million for its office and retail portfolio at Downtown Doral from an undisclosed life insurance company, according to a spokesperson for the developer. The two…
Link Real Estate, Jameson and Forte Capital group sell retail property in Wynwood
A company tied to San Francisco investment firm RRE Investments paid $9.15 million for a retail property in Wynwood. 151 NW 24th St Partners LLC, led by general partners Dan Arev of Link Real Estate and Chaim Cahane of Forte Capital Management and equity partner Joe Serure of Jameson Realty Group, sold the redeveloped building at 151 Northwest 24th Street, according to Dwntwn Realty Advisors…
Green venture capital firm buys luxury condo at Muse in Sunny Isles
A green venture capital firm just purchased a unit at the newly completed Muse Residences in Sunny Isles Beach for $6 million. Boca Raton-based PMA Venture Capital Group, led by George Pagoumian, bought unit 3601 at the luxury tower in Sunny Isles at 17100 Collins Avenue, which began recording sales in June. Kevin Maloney's Property Markets Group and Claudio Stivelman and Marc Schmulian's S2…
Blockchain will streamline project development tasks: panel
While a lot of the buzz surrounding the real estate industry's emerging use of blockchain has centered on authenticating property transactions involving cryptocurrencies, the technology has the capability of completely streamlining development, according to a panel of Miami entrepreneurs developing applications for the building community. For instance, architecture and engineering firms can…
Apartment investor pays $3.02 million for Miami site zoned for 150 units
An affiliate of rental housing investor CFH Group paid $3.02 million for a Miami site zoned for as many as 150 residential units near Jackson Memorial Hospital. The 39,900-square-foot site is at 1430, 1460 and 1490 Northwest 20th Street in Miami's Allapattah community, just west of the city's Wynwood area. The sellers were Ramiro Chavez and Magali Chavez. The buyer, Allapattah Investors…
Miami condo developer courts affluent Turks repelled by Turkish politics
Real estate investors have a new reason to avoid Turkey, and that could be good news for a Miami condo developer. The Turkish developer behind a 389-unit condo development in Miami may sell more units to wealthy Turks discouraged by the June reelection of Turkey's authoritarian president. Veteran developer Bekir Okan expects the reelection of Recep Tayyip Erdogan to inspire capital outflow…
Legal fight pits historic preservation against climate-change preparation
An owner of property in a Miami Beach neighborhood prone to flooding has taken legal action to overturn the city's designation of the area as historic. The property owner, a company called Ytech, has petitioned a judge to undo the designation for the Tatum Waterway neighborhood, claiming it hinders efforts to respond to rising sea levels. Ytech owns nine buildings in the Tatum Waterway…
WeWork goes vegetarian refusing to pay for meat under new company policy
This is not a drill: WeWork–and anyone eating on the company's dime–is going vegetarian. The co-working giant valued at about $20 billion is removing all meat options from its internal menu and telling employees to leave any meals with meat off their expense reports because they will no longer be footing the bill, according to Bloomberg. Co-founder Miguel McKelvey informed WeWork's 6,000 staff…
Miami judge rejects dismissal of Aimco suit against Airbnb over sublet apartments
A Miami judge refused to dismiss a suit filed against Airbnb by Aimco, a leading landlord that wants the home-sharing platform to stop listing its apartments in Miami and Miami Beach as vacation rentals. The judge rejected Airbnb's argument that the company is not liable for listing information that hosts put on its online platform, claiming immunity under the 1996 Communications Decency Act. That…
Jeffrey Miller buys Beacon College Prep site in Opa-locka for $8.45 million
Jeffrey Miller's Beacon College Prep Inc. just bought a charter school it operates in Opa-locka for $8.45 million. The deal for the school at 13400 Northwest 28th Avenue comes on the heels of the nonprofit's application to expand to serve grades sixth through eight. In June, Miller submitted a proposal with Miami-Dade County to issue $11.9 million in revenue bonds from its Industrial Development Authority…
NFL player Elvis Dumervil picks up North Miami apartment building
NFL linebacker turned investor Elvis Dumervil just picked up a multifamily building in North Miami for $6.73 million, property records show. The 66-unit apartment building at 12300 Northeast 4th Avenue traded hands for about $102,000 per unit. The seller, Kina Investment Inc., is a Panamanian company led by Ettore Nardi. His company is tied to a Coral Gables-based property management firm…
Jeff Berkowitz scores $60 million refi for Kendall shopping center
Jeff Berkowitz's Kendall Village Associates just closed on a $60 million loan from Ocean Bank for the refinancing of a 256,000 square-foot mixed-use shopping center in Kendall. The Kendall Village Center at 8705 Southwest 124th Avenue, along with an adjacent parcel, totals 27.4 acres and 13 buildings. Tenants include Regal Cinema, Old Navy, GAP, Chuck E. Cheese, Jared Jewelry, Pier 1 Imports, Duffy's Sports…
Miami City Leaders Postpone Decision on David Beckham Soccer Stadium
Rendering of the privately funded $1 billion development called Miami Freedom Park proposed by David Beckham and Jorge Mas at Melreese Country Club near Miami International Airport. English soccer star David Beckham will have to wait six more days to learn whether Miami voters can decide the fate of his 25,000-seat stadium and mixed-use development on a city-owned golf course.
Situations when directors breach fiduciary duties
There are many different corporations in Florida. These corporations are set up to run businesses and ultimately make money for the shareholders of the corporation. However, since not all shareholders can effectively make decisions for the corporation, the shareholders of the corporation will select directors and officers to run the corporation. This means that the shareholders, who have invested their…
How Could Higher Tariffs Affect American Manufacturers?
The U.S. has recently been implementing significant changes in its trade policy. Among these changes, the U.S. is raising tariffs on a number of goods imported from China, which accounted for around $50 billion in 2017. On Tuesday, the U.S. announced an additional round of tariff hikes on imports from China.1 In this article, I restricted attention to imports from China affected by the tariff hike…
Beckham group will have to wait another week for city commission vote on Melreese stadium proposal
A whirlwind week for the Mas brothers and David Beckham – which included accusations of backroom deals with city officials and intentionally withholding details – ended with a game delay. The Mas-Beckham group is seeking a referendum on the November ballot asking Miami residents to approve or deny a no-bid lease agreement that would allow the group to redevelop the city-owned Melreese…
LGBTQ-oriented Axel Hotels to open first US location in South Beach
Axel Hotels, which focuses on the LGBTQ community, is opening its first location in the U.S. in South Beach. Axelbeach Miami will open at the former site of Hall South Beach at 1500 Collins Avenue by the end of the year, said Axel Hotels founder and president Juan Julià. It will mark the Barcelona-based company's eighth flagged property and the only one outside Europe. "We've been looking for different…"
Miami-Dade committee backs Flagler site for new downtown courthouse
Six Miami-Dade County Commissioners are recommending that a 25,000-square-foot park on Flagler Street be the sole site for a new Miami-Dade Civic Courthouse. The unanimous vote came Tuesday morning during a chairman's policy council meeting held in county chambers. The site item will come before the full 13-member county commission on July 24. County officials have been attempting to…
Leading South Florida Development Lender Bank of the Ozarks stock falls despite strong earnings, as growth could slow
Bank of the Ozarks stock fell Thursday morning after the Arkansas bank suggested during a conference call that its real estate lending growth could slow down, following its release of strong earnings late Wednesday. The Little Rock-based bank's CEO, George Gleason, said during the call that pricing is getting more competitive for real estate lending and the flow of quality deals has slowed. The remarks are…
Optimum boosts financing for Ocean Drive hotel project in South Beach
Ricardo Tabet's Optimum Development USA just secured $52 million in financing for the renovation and expansion of the former Park Central Hotel on Ocean Drive in Miami Beach. BB&T is providing the financing, which takes over a previous $40 million loan and adds a new $12 million mortgage. Optimum has been working on the redevelopment since at least 2014, when it broke ground on the project…
Freshwater Group buys apartment complex in Miami Beach
The Freshwater Group is adding a batch of Miami Beach apartment buildings to its South Florida portfolio. Freshwater Group partner Joseph Sayegh said the firm is under contract to buy a rental complex consisting of three adjacent, two-story buildings at 7710, 7720 and 7700 Abbott Avenue for $5.6 million. The rental project features 36 units and is currently owned by City M Abbot LLC…
Philip Levine roomed with Craig Robins in college. The rest is history.
Gubernatorial candidate and real estate investor Philip Levine built his fortune thanks in part to a well-known Miami real estate family. Levine, a former mayor of Miami Beach and one of the leading Democrats running for governor of Florida, met Design District developer Craig Robins at the University of Michigan where they were roommates. In the mid-1990s, Robins' father Jerry Robins agreed…
On the waterfront, prices are dropping
It might be difficult to fathom, but the price of living next to a body of water is becoming more affordable, a new report has found. Since 2012, when waterfront premiums reached a high of 54 percent in the second quarter, costs have dropped to a 36 percent premium in the first quarter of this year, according to Bloomberg. Citing a Zillow report, the current premium is even lower than the 1996 average of 41…