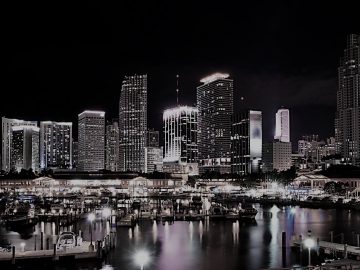 Stambul Acquires Historic Walgreens Building in Downtown Miami for $19.8M, Plans Redevelopment
Stambul, a Miami-based full-service construction and development firm, has acquired the Historic Walgreens Building in downtown Miami for $19.8 million. Located at 200 E. Flagler Street, the building most recently housed La Epoca, a department store that closed in 2016. Habitat Development Corp., an entity owned by the Alonso family, sold the asset. Mika Mattingly and Gerard Yetming of Colliers…
Video: Miami Beach Building Collapse
This short video shows the harrowing collapse of the 12-story Marlborough House, a building at 5775 Collins Avenue in Miami Beach. This obviously regretful incident reportedly resulted in the loss of a leg. News outlets have reported that there was a demolition permit but not a permit for an implosion, citing the Miami Beach Police Department's Twitter account.
CGI Successfully Completes Refinancing of Four Class-A Properties in South Florida
CGI Merchant Group, LLC ("CGI"), headquartered in Miami, is a leading private and alternative investment management firm, with a focus on commercial real estate and infrastructure opportunities, successfully executed the refinancing of assets located in Coral Gables, Florida and its 400-office portfolio, composed of corporate and executive suites, in Palm Beach and Martin Counties, Florida. CGI has continued.
Avra Jain and David Martin buy site across from Miami Northwestern High School, plan sports entertainment facility
A partnership between Avra Jain and David Martin of Terra closed on a property and financing for a new project in the Liberty City neighborhood of Miami, just west of Little River. Jain and her business partner Joe Del Vecchio are partnering with Martin to build a 95,000-square-foot flex warehouse development on the 4.7-acre site at 1010 Northwest 72nd Street, Jain said. David Avan's 1010 NW…
Miami, Other Trend-Setting Markets Show Power Of Retail Mix
Cities have always been a hotbed of experimentation in retail. From redevelopment of historic city centers to new shopping destinations built around sports and recreation, here are five markets making notable moves in brick-and-mortar. Miami: Developers are going big in South Florida. Officials recently approved zoning changes for the development of American Dream Miami, a retail theme park that is set…
New office space nationwide could drop sharply in 2019
The amount of new office space hitting the market nationwide could dip by as 20 percent next year, a combination of rising costs, concerns over the end of the cycle and tightening zoning restrictions. The amount of new office deliveries is expected to total 68.4 million square feet by the end of this year, and about 54.7 million square feet in all of 2019, according to Cushman & Wakefield. National Real…
Jai-alai in Edgewater would lead to casino complex in Omni
Few are saying so, but civic leaders' objections to a gambling incursion on downtown's north edge must be more about what will follow than about a tawdry jai-alai fronton and poker parlor. Those bringing gambling to newly burgeoning Edgewater are well-known local families who nonetheless are wrong to put gambling in any form on Biscayne Boulevard. It's logical and correct to say, as leaders are…
Mixed-use Wynwood office building 'Forum' gets a city thumbs-up
A New York based development company has teamed with a globally-recognized and award-winning architect to bring a stand-out mixed-use office building to the heart of the ever-growing Wynwood Arts District. RedSky Capital plans to construct an eight-story mixed-use building called Forum at 2700 NW Second Avenue in Wynwood. The developer's team presented details July 18 to the city's Urban…
Hyatt redevelopment on city's waterfront in planning again
It will probably be another year or more before there is real action to redevelop the Hyatt hotel and Knight Center property in downtown Miami. Earlier this month, proposed legislation pending before the Miami City Commission was scheduled to be heard but was withdrawn – by Hyatt. Hyatt officials were planning to get the matter to city voters – as required by city charter – for the August or November ballot.
Doral awaits residential projects approved before this year
Almost every block in Doral awaits a new residential and mixed-used project approved prior to 2018. The centralization of a live-work-play lifestyle only fuels a higher demand for a growing inventory. Among these projects: – Atrium will situate 350 multi-family, residential units by 80,465 square feet of retail and office spaces. The 11.23 acres sits at northwest corner of Doral Boulevard and Northwest 79th Avenue.
$4 Billion American Dream mall rolls along road to OK
The $4 billion American Dream Miami mall mega-project is one step closer to fruition. The vast mall and entertainment complex planned for Northwest Miami-Dade has been approved by the reviewing agencies in Miami-Dade County and now the next step, administrative site approval, is under way, said Nathan Kogon, assistant director of development services for Miami-Dade County. Before the…
It's decided: Miami-Dade commission chooses Flagler site for new downtown courthouse
The new downtown courthouse will be built by a private real estate developer on the site of a park across the street from the current 90-year Miami-Dade County Courthouse, county commissioners decided on Tuesday. The resolution, sponsored by Miami-Dade County Commissioner Sally Heyman, eliminates a 42,000-square-foot parking lot near the Miami Children's Courthouse at 155 Northwest Third…
Century Homebuilders buys land in West Kendall, plans residential community
Century Homebuilders Group is planning to build a single-family home community alongside one of its proposed townhome communities in West Kendall. Property records show an affiliate of the company just dropped $6.7 million for at least 11 acres of vacant land on the southwest corner of Southwest 136th Street and 157th Avenue, which runs parallel to Krome Avenue. Century Homebuilders…
South Florida's largest retail sales deals in June
With experts predicting a "retail apocalypse", South Florida has remained a lone exception. In June, the top retail deals included three traditional shopping centers, a building in South Beach, and the sale of the Metro Mall building in downtown Miami's jewelry district.
The June investment sales figures were compiled from Miami-Dade, Broward and Palm Beach County property records.
PIA Group sells portfolio of South Florida rental homes to Cerberus for $47M
Property Investment Advisors Group just off-loaded a trove of single-family rental homes in Miami-Dade, Broward and Palm Beach counties for $47 million. The Miami-based private equity real estate investment firm sold roughly 200 homes to Cerberus Capital Management. The proceeds from the trade will go into the acquisition of additional multifamily assets throughout the southeastern…
Land of Opportunity? In Some Cases, That's Not South Florida, Developers Say
The crowded Miami skyline leaves little room for new development, forcing many developers to look elsewhere for available land, better returns and higher demand. Riviera Point Development Group made it a goal last year to build or acquire a portfolio of 1,500 limited-service hotel rooms by 2021. The firm is about one-third of the way there, but only 157 of the 500 rooms so far are in its home territory…
Amazon and Whole Foods Bring Delivery Service to South Florida, New York Markets
Amazon and Whole Foods Market announced Tuesday the start of home delivery service for natural and organic products through Prime Now, launching the service in South Florida and parts of New York. Prime members can shop for produce, meat, seafood, bakery items and other products from Whole Foods Market at primenow.com or by using the e-retailer's Prime Now app. Some alcohol also is…
Miami Beach condo building collapses mid-demolition, injuring one
The incident shut down traffic on Collins Avenue between 41st and 63rd streets An empty 13-story condo building at 5775 Collins Avenue collapsed during routine demolition work around 10 a.m. Monday morning in Miami Beach, shutting down traffic and leaving one person injured. 46-year-old Samuel Landis, a project manager with Fort Lauderdale-based AlliedBean Demolition, was struck by falling debris…
Commissioner Russell's take on the Melreese vote
For a guy whose political career began with a park, it may ironically end because of a park. I reached out to our Commissioner Ken Russell and asked him for an explanation for his vote regarding the Melreese Golf Course. I know many people are upset about his vote; he had the power at the Commission meeting and should have stood up to the Beckham group and Jorge Mas, they are bullies. Once the door…
Here's what we know about the Miami Beach building collapse and the firms involved
The start of what was supposed to be a "flagship project" for a Brazilian billionaire developer suffered a major setback on Monday after the building being demolished unexpectedly collapsed, sending a project manager to the hospital and shutting down a large portion of Collins Avenue in Miami Beach. A pile of rubble was all that was left of the former Marlborough House as firefighters and police officers…
Historic downtown Miami Walgreens sells to the Langford's owner for $20M
Daniel Peña's Stambul now owns another historic piece of downtown Miami. The family owned and operated construction and development firm paid $19.75 million for the historic Walgreens building at 200 East Flagler Street, most recently home to La Epoca department store. When it opened in the 1930s, the building was home to Walgreens' 66-seat soda fountain. The Alonso family sold the…
Marlborough House building collapses in Miami Beach; 1 injury reported
A Miami Beach condo building being demolished collapsed Monday morning, injuring at least one person. The waterfront building at 5775 Collins Avenue, formerly known as the Marlborough House, had a demolition permit but not an implosion permit, according to the Miami Beach Police Department's Twitter account. Samuel Landis, a 42-year-old project manager, remains in critical condition at Jackson…
Partition Actions: A More Detailed Look
In a previous post, we established an over-arching general understanding of Partition Actions and their applications.  Now let's investigate some of the details of common Partition Actions. As with every facet of the justice system, proper procedure is a must in all court filings for Partition Actions.  As detailed in Florida Statute 64.041, the initial Complaint in a Partition Action must include the following: A legal…
Can a handshake be considered a binding contract in Florida?
Earlier this month, Florida Power and Light (FPL) was issued a stunning legal defeat when a $1.5 million dollar judgment was issued against the company for breaking a handshake agreement for the purchase of real estate.  A Palm Beach County jury handed down the decision after finding that the energy giant failed to pay a commission to the realtor who initially informing them of the available tract…
Voters to decide fate of David Beckham's soccer stadium
A measure clearing a path for the facility at Melreese Country Club will appear on the November ballot After five years and numerous false starts, David Beckham's push to bring a Major League Soccer team to Miami is finally ready to go before residents as a referendum. City commissioners voted 3 to 2 in favor of giving the $1 billion Freedom Park proposal a place on the November ballot. The current…
Skyline-changing Okan Tower targets 2018 groundbreaking
The project's Istanbul-based developers are courting both US and Turkish buyers After receiving the green light from the Urban Design Review Board in October, Miami's upcoming Okan Tower project is moving full speed ahead with its sales and marketing efforts. If all goes to plan, the soaring downtown skyscraper aims to break ground by the end of the year. The new $300 million high-rise—slated for the…
Everything you need to know about David Beckham's latest MLS stadium and mega complex proposal
For David Beckham, landing a stadium site for his Miami professional franchise has proven just as elusive as winning a World Cup for England. Since his group Miami Beckham United launched its bid to field a Major League Soccer team four years ago, the international futbol star has cycled through four possible locations with each one falling through, including Beckham's preferred site at PortMiami…
South Florida's biggest office sales in June
South Florida's office market is cooling down after years of strong demand and low vacancy rates, but that doesn't mean major deals have come to a halt. 1111 Brickell Avenue, also known as the Sabadell Financial Center, sold in June for $248.5 million, marking the priciest office sale of the month and year. Two other office buildings sold for more than $20 million outside the city of Miami, and another two…
Babson College expands to Brickell, other news in leasing
Babson College inks lease at 1200 Brickell. Massachusetts-based Babson College is expanding to Brickell. The college, which specializes in entrepreneurship education, inked a five-year, 5,500-square-foot lease at 1200 Brickell Avenue and is filling up half of its third floor. Marcello Agostini of AG Real Estate Advisors represented the landlord, SGJ 1200, LLC. Records show the Miami-based company is,,,
First cafe opens at MiamiCentral, Rosa Mexicano shutters Brickell location, other restaurant news
The first food and beverage tenant began serving at MiamiCentral this week. The Scandinavian juice bar, coffee shop and cafe is leasing 2,400 square feet in the lobby of Brightline's MiamiCentral station, at 650 Northwest First Avenue, suite 100. Joe & The Juice has more than 200 locations worldwide. At MiamiCentral's Central Fare food hall, it will be joined by Toasted Bagelry & Deli, Miami Smokers…
Miami board approves three mixed-use projects in Coconut Grove, Little Havana and Wynwood
Three significant, yet separate, mixed-use projects proposed by Redsky Capital, Terra and the Altman Companies breezed through Miami's Urban Development Review Board, receiving unanimous approvals this week. Redsky is planning an eight-story building with 144,781 square feet of office space and another 36,072 square feet of commercial space on three properties totaling 1.25 acres in the heart of…
All Those New Apartments in South Florida Still Aren't Enough, Report Says
It may seem that an apartment complex is going up on every street corner in South Florida, but a new report shows that builders actually have some catching-up to do. Renters moved into 9,155 units across the tri-county region in the first half of 2018, while deliveries totaled 6,336 over the same period, according to Ambler, PA-based commercial real estate services firm Berkadia. That's the first time in three…
NP International to Construct 1.3 MSF Mixed-Use Development Near Miami
NP International (NPI) has selected Balfour Beatty to construct the 1.3 million-square-foot Gables Station mixed-use development in Coral Gables, a suburb of Miami. Comprised of three towers, the development will feature retail space, residential units, a hotel and a 1,000-car parking garage. The transit-oriented development is situated within a commercial corridor on U.S. Highway 1 and is adjacent to the…
Protecting Against Liability Issues In Retail Real Estate
From slip-and-fall lawsuits to allegations of wrongful lease termination, commercial property owners can be vulnerable to a wide range of legal claims on a near-daily basis. Anticipating and protecting against all potential legal claims can often be a full-time job in itself, and may leave you little time or energy to devote to the many other responsibilities that come with successfully managing a commercial…
$68.8M Sale of Retail Portfolio Brokered in Miami Beach
HFF has arranged the sale of a seven-property retail portfolio located in Miami Beach's Sunset Harbour neighborhood. Manny de Zárraga, Luis Castillo and Daniel Finkle of HFF arranged the transaction on behalf of the seller, Scott Robins Cos. Charlotte-based Asana Partners acquired the assets for $68.8 million, according to the Miami Herald. The portfolio includes single- and multi-tenant properties located…
SoFla's largest multifamily deals in June
The nearly $150 million sale of an apartment complex near Aventura set the bar high for South Florida's multifamily market in June. The majority of the top five deals were in Miami-Dade County, with one $55 million sale of a Pompano Beach development and a smaller property in Davie. South Florida's multifamily market has remained strong in recent years with increased development and strong resales.
TA Realty sells warehouse portfolio in Miami-Dade to RREEF
TA Realty just sold three warehouses in Miami Gardens and near Hialeah for $21.35 million to RREEF Property Trust, an arm of Deutsche Bank asset management. The industrial portfolio spans 290,000 square feet, meaning the deal breaks down to nearly $75 per square foot. Records show TA Realty spent a total of about $17.6 million acquiring the sites in 2007 and 2008 through an affiliate company, the…
Omni CRA buys Diana Lowenstein Gallery in Wynwood, aiming to redevelop as a mixed-use project
The Omni Community Redevelopment Agency just bought the Diana Lowenstein Gallery property in Wynwood for $6 million, with plans to put it out for bid for affordable or workforce housing and retail space, The Real Deal has learned. DLFA Inc., an entity led by the Lowenstein family and Bruce Lazar of Lionstone Development, sold the nearly half-acre site at 2035, 2037 and 2043 North Miami Avenue…
Ocean Bank Provides $60M Loan for Refinancing of Shopping Center in Miami
Ocean Bank has provided a $60 million loan for the refinancing of Kendall Village, a 256,000-square-foot shopping center located at the intersection of Kendall Drive and S.W. 124th Avenue in Miami. Ocean Bank provided the loan on behalf of the borrower, Kendall Village Associates LLC. The center is fully leased to tenants such as Regal Cinema, Old Navy, Gap, Chuck E. Cheese, Jared Jewelry, Pier 1 Imports…
Interpretation of disputed terms in a contract dispute
People and businesses in Florida enter into contracts almost every day. Some contracts are simply accepting the terms for using a product or service, but many others take many hours of negotiation to ensure that the contract states exactly what the parties to the contract want it to say. The more money that is on the line, generally, the longer contract formation process may take. After the contract is signed by…
Beckham's bid for a Miami MLS stadium will go to voters
Miami voters will get to decide whether David Beckham's latest pitch for a Major League Soccer stadium passes muster — if a legal challenge doesn't derail it first. On Wednesday afternoon, following another marathon meeting, city commissioners voted 3-2 to place on the Nov. 4 ballot a no-bid proposal by Beckham and his partners to redevelop Miami's Melreese golf course and park complex into a…
University of Miami buys United Methodist church near its Coral Gables campus
The University of Miami is going off campus. Property records show the private university paid $8.84 million for the 1.64-acre United Methodist Church site at 6500 Red Road, about two blocks west of the Alex Rodriguez Park at Mark Light Field. The Board of Trustees of the Florida Annual Conference of the United Methodist Church Inc. sold the property, which includes the two-story, 36,000-square-foot…
North Miami Beach approves micro-city for West Dixie Highway
The North Miami Beach City Commission unanimously approved a 2.5-million-square-foot mixed-use project on Tuesday that will be designed as a "micro-city," along the lines of Midtown Miami. Called New North Town Center, the project will be constructed on an 18-acre site that North Miami Beach officials call the TECO Gas Site, a brownfield that has been undergoing environmental remediation…
Miami Voters to Decide Fate of David Beckham Soccer Stadium
Soccer icon David Beckham wasn't in the house Wednesday, but business partner Jorge Mas finally persuaded Miami city commissioners to let voters decide whether Beckham can build a 25,000-seat stadium and entertainment complex on a city-owned golf course. After nearly nine hours of public comment and sometimes-heated discussion on July 12, the Miami City Commission postponed the matter…
Miami Residents Will Finally Vote on Beckham's MLS Stadium in November
A referendum on David Beckham's proposed Major League Soccer stadium was approved today in the most Miami of ways: Three commissioners voted to move the plan forward after multiple weeks of abrupt public proposals, last-minute plan changes, accusations of lawbreaking and corruption, and a whole lot of general bloviating and confusion. City of Miami commissioners Joe Carollo, Ken Russell…