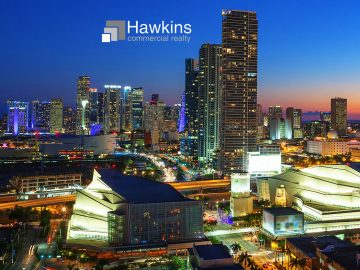 SoFla industrial market's Q2 is strongest quarter in three years
South Florida's industrial real estate market's second quarter proved to be its strongest period in three years, according to a recently released report from Newmark Knight Frank. In the second quarter, South Florida's industrial market saw a 51 percent uptick in net absorption, representing the amount of space leased rather than vacated. Net absorption totaled…
Swire sells Brickell City Centre office buildings for $163M
Swire Properties sold two office buildings at Brickell City Centre for $163 million, marking the largest sale to close in South Florida during the pandemic. Two Brickell City Centre and Three Brickell City Centre LLC, led by Swire Properties President Kieran Bowers sold the office portion of 78 Southwest Seventh Street and 98 Southeast Seventh Street in Miami to US…
Florida Class-Action Suit Seeks To Force Insurers To Pay Out 'All Perils' Policies
The Miracle Theater in Coral Gables opened in 1948 and has been a Miami-area landmark ever since. But its stages have been empty and its lights dark since mid-March, thanks to the coronavirus. Phillip Pessar The Miracle Theatre at 280 Miracle Mile in Coral Gables, near Miami. Actors Playhouse Productions, the company that runs the theater, on Monday filed a federal…
Unibail-Rodamco sees 15% decline in US mall rents after offering deferrals
While operations at Unibail-Rodamco-Westfield's European holdings are returning to normal, the retail giant's U.S. holdings are contending with different reopening — and in some cases re-closing — timelines. Some of the landlord's European malls have already been back open for 12 weeks, with foot traffic…
A-Rod's Former Brother-In-Law Scores A Win In Bid To Take A Slice Of Real Estate Company
A Miami judge ruled Alex Rodriguez's former brother-in-law can add punitive damages in his complaint against the baseball player-turned-real estate investor, in the latest development in the continuing legal dispute between the pair. Constantine Scurtis, the brother of Rodriguez's ex-wife, Cynthia, is suing the former Yankee for $50M, The Daily Mail reports.
David Martin's Miami Beach Marina proposal heads to voters in November
Voters will decide if developer David Martin can redevelop the Miami Beach Marina into a high-rise, mixed-use tower. The Miami Beach City Commission on Wednesday agreed to send the proposal to a referendum in November. Martin's Terra is proposing a tower of up to 385 feet in height, or about 38 stories tall. It would include about 60 residential units…
WeWork hires help to fill vast empty spaces from NYC to LA
WeWork has hired brokers to help fill millions of square feet now vacant, in New York City and Los Angeles, as the co-working giant continues to get pummeled by the effects of the coronavirus. The company is also shopping for brokerages to help lease spaces in Miami, Boston and Seattle, according to Business Insider. JLL is marketing WeWork spaces at seven buildings…
With Demand For Affordable Housing Rising, Funding Appetites Are Shrinking
To get affordable housing built, developers usually receive government tax credits that they in turn sell to investment partners and banks that use them to offset their tax liability. This year is anything but usual for banks, though — the three biggest ones in America are expecting such a huge drop in loan repayments that they set aside $28B to cover expected losses over…
AOC seeks to block Trump's recent effort to roll back fair housing rule
New York Rep. Alexandria Ocasio-Cortez is working to defund the Trump administration's proposed fair housing rules before they even get off the ground. For years, the administration has talked of dismantling an Obama-era rule which President Donald Trump has described as an "effort to abolish the suburbs." Last week, in what appears to be a bid to win over…
Major retailers are squatting on prime real estate
A Nasdaq-listed squatter? Ann Taylor parent company Ascena Retail Group is among a handful of retailers that refuse to vacate stores after breaking their leases. That's causing some major headaches for landlord Boston Properties. "As long as these tenants refuse to relinquish possession, we have no ability to re-let their space. And we are showing it as occupied…
Google isn't coming back to the office until at least next summer. Here's all the space at stake
In December 2018, Google CFO Ruth Porat announced plans for the search giant's new 1.7 million-square-foot campus in Manhattan's Hudson Square, a move that would allow the company to "more than double the number of Googlers in New York over the next 10 years." It was the latest in a series of billion-dollar moves that had made Google…
Infographic: Prevalence of Working from Home Before vs. During COVID-19
It remains to be seen what will become of office working norms after COVID-19, including the degree to which "the office" will be centralized in corporate space versus wherever one is (usually home). What we can see is what is happening in the pandemic, which also is a measure of the percentage of the office workforce gaining exposure to the option of…
Working From Home Is Terrible News for Landlords
Early on in the pandemic, reports of the death of the office appeared greatly exaggerated. But as Covid-19 lingers, and second infection spikes dot the global map, something is changing in how employees and employers view the workplace: It's being seen as an option rather than a necessity for many white-collar workers. Once we get the pandemic under control, this shift…
NJ auto dealer pays $21M for North Miami Beach dealerships
A New Jersey auto dealer paid $21 million for the properties housing Honda of Aventura and Aventura Chrysler Jeep Dodge Ram dealerships in North Miami Beach. PSD Automotive Group, led by Patrick Dibre, acquired the land at 2150 Northeast 163rd Street, 16200 West Dixie Highway, 2151 Northeast 161st Street and 16050 West Dixie Highway, records show.
Video: Miami Downtown Development Authority COVID-19 Recovery Committee Virtual Meeting Held July 22, 2020
The COVID-19 Recovery Committee works to direct the Miami DDA's (Miami Downtown Development Authority's) actions to prepare Downtown Miami, aka the Miami Central Business District, for reopening responsibly, and to most optimally support the sectors of real estate, tourism, business, and retail, while also maintaining and improving the quality of life in the area.
Desperate hotel owners selling at discounts up to 30%
Cash-strapped hotel owners are selling properties at discounts and agreeing to sky-high interest rates with federal aid about to end. The desperate moves are mostly by small or private hotel owners, though some real estate investment trusts are also feeling the pinch, the Wall Street Journal reports. Read more How will NYC real estate fare without 65 million tourists?
Coral Gables Updates its Zoning Code
For the past century, the City of Coral Gables has been known for the high quality of the original plan implemented by George Merrick in the 1920s and its thoughtful application of high standards for zoning and architectural design. Over the years, the Zoning Code has served as the main document that has preserved the City's Spanish Mediterranean…
Commercial Property Borrowing Cost Quarterly 2020 Q2
Yields on 5-year U.S. Treasury Notes remain at lows quickly reached as we entered the era of the COVID-19 pandemic. As can be seen in the chart embedded herein, these rates, most closely tracked for commercial real estate financing cost, plummeted from what were already considered low levels to under 50 basis points (0.5%), barely hovering, it would seem…
Telecommuting probe could support work-at-home
Miami-Dade residents who have enjoyed working from home during the coronavirus pandemic may have government-backed research to support their wishes to continue to do so. A county's transportation planning board last week ordered what promises to be the most comprehensive study to date of telecommuting as a congestion-reducing strategy here. The study…
On-demand shuttle to debut free along north-south transit
Transit riders in four areas along Miami-Dade's north-south spine will be able to get to and from Metrorail and the South Dade Transitway on an Uber-like shuttle service set to deploy later this year. County commissioners this month OK'd a three-year deal with River North Transit, a subsidiary of New York City-based Via Transportation, for what Deputy Mayor Jennifer…
Trump National Doral hurricane shelter talks blown away
Negotiations for Miami-Dade to lease Trump National Doral Miami hotel rooms as hurricane shelters are dead, according to the county department head who launched talks of the possibility. Frank Rollason, director of the county Office of Emergency Management, said talks with Trump Doral fell through six days after Miami New Times reported they were underway.
With online buys, Doral warehousing in prime position
It may be too early to know exactly what effect the pandemic will have on commercial real estate in Doral, but experts say one segment may emerge particularly strong: the industrial market. With consumers buying online now more than ever, a trend only accelerated by Covid-19, demand for warehouse space and shipping centers may well increase. "The way we…"
Alejandra Argudin: Takes reins of Miami Parking Authority in pandemic fight
For Alejandra "Alex" Argudin, it's always been about hard work.  From her time at the City of Miami to her rise up the ranks of the Miami Parking Authority, she says she's always focused on giving it her all.  Shortly before life came to a standstill, she was appointed parking authority CEO, tasked with, among many other things, managing and developing off-street…
The Sapir & Rosen feud: Theft and betrayal at a family real estate empire
Trust betrayed. Contracts breached. Family exploited. Relationship destroyed. The bitter feud that has been playing out between two former real estate business partners and brothers-in-law, Alex Sapir and Rotem Rosen, has been a toxic divorce. It includes accusations of scheming, double-crossing and theft, and includes several members of their…
WeWork courts big corporations as coronavirus slams startups
Despite its roots as a landlord for freelancers and startups, WeWork has spent the past several years pivoting towards larger "enterprise" tenants. The co-working firm's new CEO, as well as the economic fallout of coronavirus, are now solidifying that trend. For the first time ever, companies with more than 500 employees accounted for more than half…
Bridge Development Adds Logistics Tenant in Miami Gardens
Bridge Development Partners has signed a new tenant at Bridge Point Commerce Center, a Class A, 185-acre industrial park underway in Miami Gardens, Fla. A company in the health-care sector will occupy 80,373 square feet at the park's 286,991-square-foot Building 1. The developer delivered the three-building Phase I of Bridge Point in January. According to…
Brookfield snags Miami Lakes warehouse for $22 million
Brookfield Property Partners snagged a warehouse in Miami Lakes for $22.2 million, as institutional investors continue to target industrial properties in South Florida. A company tied to the Toronto-based investment manager bought the 192,500-square-foot warehouse at 14100 Northwest 60th Avenue for $115 per square foot, records show.
Terreno Realty Sells Industrial Property in Metro Miami for $22.2M
Terreno Realty Corp. has sold a 192,000-square-foot industrial building in Miami Lakes for $22.2 million. The asset was fully leased to Miami International Freight Services at the time of sale. Terreno Realty acquired the property in December 2010 for $7.8 million. The buyer was not disclosed. Situated on 13.2 acres, the building is located at 14100 NW 60th…
Terreno Realty Sells Miami Industrial Asset for $22M
Terreno Realty Corp. has finalized the $22.2 million disposition of a 192,000-square-foot industrial building in Miami Lakes, Fla. A private investor acquired the property, which was fully leased to an international freight company at the time of the sale. The asset last changed hands in 2010, when Terreno paid $7.8 million for it. The company had an unleveraged rate…
André Balazs plans to convert hotels into private clubs
The coronavirus may have made travelers wary of staying in a hotel with strangers, but hotelier André Balazs is betting that private clubs with familiar clientele will be able to overcome some of these concerns. Balazs is planning to convert Los Angeles' historic Chateau Marmont into a members-only model by the end of this year, and may then introduce…
There's A New Hurdle For EB-5 Financing
The federal EB-5 immigrant visa program has been a major source of funds for real estate development over the past decade or so. But conflicts, fraud and tighter program rules have made it a complex gamble for investors. New rules outlined last week have now thrown another wrench in the system. U.S. Citizenship and Immigration Services issued "Clarifying…"
Shelborne South Beach unit owners lose appeal contesting $30 million in assessments
Shelborne South Beach A pair of investors who bought condo-hotel units in the Shelborne South Beach suffered a significant setback in their quest to reverse a three-year-old court ruling that deemed $30 million in special assessments legal and necessary. Earlier this month, the Third District Court of Appeals denied a petition by Evelyn Bailey and Robert Farnik to…
Billionaires vs billionaires: Developers seek height increase for Aman tower, face opposition from Miami Beach neighbors
A billionaire showdown could be brewing in Miami Beach. The billionaire developers of the planned Aman-branded tower in Miami Beach are seeking a height increase to 250 feet, and face opposition from billionaire neighbors at the Faena House next door. A partnership between Len Blavatnik's Access Industries and Vlad Doronin…
Authentic Brands, Sycamore eye buy of Ann Taylor parent company
Authentic Brands wants to make another big investment in the retail apocalypse. The company, along with frequent partners Simon Property Group and Brookfield, is eyeing the purchase of Ascena Group, according to Bloomberg. The parent company of Ann Taylor, Loft, and Lane Bryant filed for Chapter 11 bankruptcy last week. Private equity firm Sycamore…
Infographic: Prevalence of Working from Home Before vs. During COVID-19
It remains to be seen what will become of office working norms after COVID-19, including the degree to which "the office" will be centralized in corporate space versus wherever one is (usually home). What we can see is what is happening in the pandemic, which also is a measure of the percentage of the office workforce gaining exposure to the option of such.
COVID-safe office buildings come at a cost to Mother Nature
Many office landlords are beefing up their HVAC systems and running them longer to mitigate the airborne spread of Covid-19, but that comes at a cost. Increasing the circulation of outside air through a building is seen as the best way to ensure safe and clean air, but it has to be heated or cooled first. One trade group for HVAC engineers suggested landlords run their HVAC…
Trump repeals HUD rule in bid to win over the 'burbs
In an apparent bid to gain votes in suburban areas, President Donald Trump repealed an Obama-era fair housing rule. In a press release announcing the measure, the Trump administration wrote that the new rule "eliminates the excessive burden put on local communities and gets rid of the top-down approach that dictated zoning for communities." The…
Bank OZK eyes multifamily lending opportunities, just not in NYC
Bank OZK's George Gleason Bank OZK, one of the nation's largest construction originators, is eyeing lending opportunities in the multifamily sector despite the coronavirus-fueled volatility. Those opportunities just aren't in New York City. At the bank's second-quarter earnings call Friday, chief operating officer Brannon Hamblen — president of its real estate…
Bankrupt Brooks Brothers gets $305 million stalking-horse bid
A familiar team is vying for the bankrupt men's clothier Brooks Brothers Group. An entity backed by Authentic Brands Group and Simon Property Group submitted a $305 million bid as part of a court-supervised auction for the troubled brand, Bloomberg reported. Brooks Brothers announced its Chapter 11 bankruptcy July 8. Simon Property Group, the country's largest…
Rent collection jumps in NYC, ebbs in US
The owners of 400,000 New York City rent-stabilized apartments reported that rent collection improved markedly in early July, while a national survey found collection in market-rate apartments slipped. Their trade group Community Housing Improvement Program reported that 17.7 percent of residential tenants paid no rent in the beginning of the…
RE-closing time: The latest pandemic pressures by the numbers
A Covid-19 testing site at Dodgers Stadium in Los Angeles In just a matter of weeks, major markets reopened and shut back down. Throughout California, Florida and many other states, the alarms have been ringing once again — especially for retail, hotel and other commercial property owners in big cities. This time around, bars and restaurants have been…
How code could make multifamily construction more predictable
When first looking to raise funds for their construction-tech startup in 2017, Ben Huh and Michael Yarne steered clear of investors from the industry they were hoping to shake up. Instead, the founders of Social Construct went the traditional venture route, believing that outsider money would let them be bolder. "They [venture capitalists] don't get worried when you…
Miami Beach racks up another court loss over short-term rental enforcement
For the second time in a week, Miami Beach struck out before the Third District Court of Appeals in the city's quest to keep its hard-nosed short-term rental regulations intact. The appeals court on Wednesday rejected Miami Beach's petition to overturn a Miami-Dade judge's ruling that determined that the city's exorbitant fines for short-term rental violators…
Commercial real estate lawyers: You're stuck with that lease
As the coronavirus has shuttered stores, reduced foot traffic to a trickle and dampened consumer demand, growing numbers of retailers are looking towards "impossibility of performance" and the doctrine of "frustration" as a way out of pricey leases. But the real estate industry's top lawyers say judges won't buy it. "The courts have said that frustration of purpose is…
Brookfield sues to evict Irving Padron's Submarket Realty from Merrick Park
Brookfield Properties is suing to evict Irving Padron's Submarket Realty from the Shops at Merrick Park at 358 San Lorenzo Avenue in Coral Gables, alleging the brokerage owes $94,218 in unpaid rent. In the suit, filed earlier this month in Miami-Dade Circuit Court, Brookfield alleges that Submarket Realty is in default of its obligations, and Brookfield wants to take…
Michael Shvo pushed out partner at 2 office tower acquisitions: lawsuit
An investment firm that was partnering on two of Michael Shvo's biggest recent office tower acquisitions in San Francisco and Chicago is accusing the developer of canceling their agreements and cutting it out of those deals. BLG Capital filed its suit against Shvo and his investors for allegedly cutting it out of the $600 million Transamerica Pyramid purchase in San…
Office landlords, beware: More of corporate America is looking to reduce space
It's not just tech firms. Corporate America is looking to trim office space as companies shift to remote work and look to reduce costs. An analysis of quarterly earnings calls by Reuters found that more than 25 large companies across different sectors are planning to downsize their office footprint, posing a threat to office landlords' bottom lines.
Ann Taylor and Lane Bryant parent company files for bankruptcy
Just a few years ago Ascena Retail Group was one of the largest retailers for women's clothes. Thursday, it filed for bankruptcy. The company, which owns Ann Taylor and Lane Bryant, will close 1,600 of its approximately 2,800 stores in an attempt to shed $1 billion of its $1.1 billion in debt, according to The New York Times. The company said it was in the process…
The REInterview: Social Construct's founders on making multifamily construction an assembly line
Social Construct CEO Ben Huh, TRD's Hiten Samtani and Social Construct co-founder Michael Yarne "Nothing can be said to be certain except death and taxes," goes the old chestnut. If you're a real estate developer, you could add one more to that category: that your cost of building will keep going up. The primary reason for this is the cost of labor. A construction site is a…
72,304 SF Medley Industrial Lease Secured
A 72,304-square-foot industrial lease was secured at Medley Industrial Center in Medley. Located at 6891 NW 74th Street, the Medley Industrial Center is a 142,804-square-foot industrial facility featuring 24 foot clear heights, 12 dock loading doors, one ramp, and five rail doors on a Florida East Coast Railway spur line. The lease brings the property to full…
Melo Group Opens Downtown Miami Residential Tower
Miami Plaza, a new multifamily community from Melo Group, has opened in the Arts & Entertainment District of downtown Miami. The 36-story, 425-unit building features 8,000 square feet of ground floor retail and restaurant space. Miami Plaza is the fourth multifamily project Melo Group has opened in the Arts & Entertainment District since 2016. It is the final…
An Insider's View of South Florida's Office Sector
Although the office market has not yet experienced the full impact of the pandemic, it is evident that workplaces will need to be reimagined and designed more carefully, with safety and well-being in mind. To find out more about how offices are adjusting to the new reality brought about by the coronavirus outbreak, Commercial Property Executive talked to…
1031 exchanges back on the chopping block in 2020 election
As the presidential election season moves into full swing, a popular tax mechanism for real estate investors has found its way into the crosshairs. Presumptive Democratic nominee and former Vice President Joe Biden recently suggested eliminating 1031 exchanges for real estate investors with annual incomes of more than $400,000 in order to help…