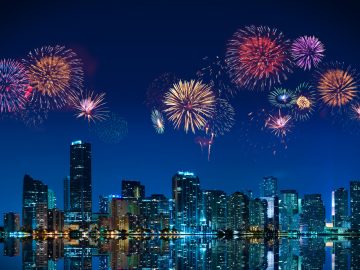 ASB Acquires 302,000 SF Hialeah Industrial Property Near Miami Airport for $24.3 Million
ASB Real Estate Investments has acquired a 302,000-square-foot industrial property in Hialeah for $24.3 million. The warehouse is located at 215 S.E. 10th Avenue, roughly 12 miles northwest of Miami and roughly two miles from Miami International Airport. The facility includes 23,000 square feet of office space and is fully leased on a long-term basis to Synergy Custom Fixtures, a custom counters and fixture…
Hellmann Trades Miami-Area HQ for $43 Million
The $43.1 million sale was brokered of the Hellmann Worldwide Logistics facility, a 240,666-square-foot property in Doral. Industrial Logistics Properties Trust, managed by The RMR Group, acquired the industrial asset from Hellmann Worldwide Logistics. Located at 10450 N.W. 41st Street, the building has served as Hellmann's North American headquarters since its construction in 1996. As a…
National Real Estate Investor Lists Miami Among Eight Busiest Cities for Hotel Development
Strong local economies keep hotel developers coming back to cities like New York, Dallas and Miami. In these markets, developers are building both a large number of new rooms and a high overall number of new projects. "A lot of the construction is in 'upscale,' … a lot don't have extensive food and beverage," says Bobby Bowers, senior vice president of operations for STR Inc., a provider of hotel market…
Partnership buys Coral Way apartments near Brickell for $13M
CFH Group principal Tom Cabrerizo and Maurice Cayon of Cayon Development Group just picked up an apartment complex on Coral Way near Brickell for $12.8 million, property records show. Dalton Properties Inc., led by Alfredo Sesana and Paul Garcia, sold the 88-unit complex at 2110 Southwest Third Avenue for about $145,700 per apartment. The two eight-story buildings were completed in 1994 on…
ASB Real Estate Acquires Miami Industrial Facility
ASB Real Estate Investments has acquired a 10.5-acre industrial property in Miami's submarket of Hialeah, for $24.3 million. The facility is 100 percent leased on a long-term basis to Synergy Custom Fixtures, a custom counters and fixtures manufacturer. Terreno Realty Corp. sold the asset on behalf of the Allegiance Real Estate Fund, its $6.9 billion core vehicle. This comes off the heels of its $20.3 million sale…
Why is it so difficult to live where you work? : Housing costs and home ownership in economic centers
In some areas of the U.S., housing has become so expensive that people find it difficult or impossible to afford housing anywhere near where they work. The recent focus on the homeless population in Los Angeles highlights the most extreme form of this situation: Many of the homeless in that area are not only employed, but also are experiencing homelessness for the first time. Unaffordable housing and…
South Florida office market cools off in the first half of 2018: report
South Florida's once-booming office market is slowing down, according to a recent report by JLL. After numerous consecutive quarters of growth, net absorption went into the red in all three counties as supply surpassed demand in the second quarter. Broward, Miami-Dade and Palm Beach counties also saw vacancy rates rise, signaling a slowdown in the market. In Miami-Dade, net absorption was negative…
Gables Residential sells apartment complex near Aventura to RREEF for $149M
Gables Residential just sold the 400-unit mixed-use apartment complex, Gables Aventura, to RREEF Property Trust, an arm of Deutsche Bank asset management. RREEF affiliate RAR2 20080 West Dixie Highway LLC paid about $372,500 per unit for the apartment and townhome community at 19920 West Dixie Highway in the Ojus neighborhood, near Aventura, according to property records. Atlanta…
These are the top real estate law firms in South Florida
Greenberg Traurig land-use attorney Iris Escarra works on the front line of real estate law in Miami-Dade County, and these days, she's busy. Very busy. With much of Miami's prime land already built on, many developers are looking to buy and repurpose lots with vertical projects that combine retail below and offices and residences above, sometimes with a hotel and public transit access, too. That gives…
Submarkets with the Most Exceptional Class B Rent Growth in South Florida
It's no secret that Class B (3-Star) rent growth has outperformed Class A (4- and 5-Star) rent growth recently in South Florida. This is primarily due to construction, as virtually all new supply this cycle has consisted of luxury inventory and it competes primarily with existing Class A product, suppressing rent growth in those assets. On the other hand, value-add renovations and other improvements in the…
A notice of claim of construction defect is suit
Construction is big business in South Florida, with its booming commercial real estate market. Occasionally, the rush to complete a project or development – or perhaps faulty engineering or design – can result in construction defects. When a construction defect is discovered in Florida, the typical procedure under state law is to file a notice of construction defect with the general contractor of the project. This is…
A look at South Florida's new class of real estate tech disruptors
Resistance to change in the real estate industry is fading away as new technologies become ingrained in the day-to-day business of buying, selling and developing properties. The creators and backers of new real estate tech say they hope to change things in the same way that disruptive new services have revolutionized other aspects of modern life, such as Amazon changing the way we shop and…
South Florida is coming off its EB-5 addiction
A program that was once described as the "crack cocaine of real estate financing" no longer seems to hold the same addiction for South Florida's developers. In 2014 and 2015, Rodrigo Azpurua's Riviera Point Development Group financed two projects entirely with capital raised from the EB-5 program, which gives foreign investors a green card in exchange for investing in job-creating U.S. projects. At the…
A little Arkansas bank is funding much of SoFla's condo boom. What could go wrong?
Overlooking a small lake in a quiet area of Mid Beach, The Ritz-Carlton Residences, Miami Beach was pegged as an upscale European oasis in South Florida. Ophir Sternberg, a native of Israel who moved to Miami in 2009, tapped Italian architect Piero Lissoni to design the project, where homes would range in price from $2 million to $40 million. It was Lissoni's first U.S. venture, and Sternberg hoped to use…
Developer Yair Levy pays $15 million for building in downtown Miami
Developer and New York investor Yair Levy made his first real estate purchase in South Florida, and he doesn't plan to stop at one. Levy's Time Century Holdings paid $14.5 million for the Metro Mall building, a development site in the heart of downtown Miami's jewelry district, at 1 Northeast First Street. Levy plans to renovate the 225,000-square-foot building, according to a press release. The building…
Apartment investors buy former defunct condo development in Cutler Bay
A group led by Bankers Healthcare Group CEO Robert Castro paid $14.2 million for a converted apartment complex in Cutler Bay. Southwood Apartments, a 144-unit complex at 19800 Southwest 110th Court, was operating as a condo project until about a year ago, according to a press release. CMG Capital affiliate BMC Southwood LLC sold the property to Courtyards at Cutler Bay LLC for about…
Little Havana nursing home and rehab center scores $23M loan to expand
Victoria Nursing and Rehabilitation Center just secured a $23.2 million loan from Ocean Bank to purchase additional space at its Little Havana location and expand the facility by 48 beds. Victoria Nursing and Rehabilitation Center used the loan to purchase three stories of an eight-story office condominium building and the parking garage at 955 Northwest Third Street in Miami, according to a press release.
Metro Mall Building to Become Part of Miami's Jewelry District
An investor-developer banned from selling condominiums and co-ops in the state of New York plans to renovate the vacant Metro Mall building in downtown Miami and turn it into a gem worthy of the city's Jewelry District. Yair Levy's Time Century Holdings bought the 225,000-square-foot property at 1 NE 1st St. for $14.5 million from a group tied to Aaron Realty Corp of Miami. The site, once a Richards…
Multifamily Investors Are Getting Used to 'Normal'
U.S. housing construction remains low, and still trails population growth, said John Affleck, CoStar's director of analytics. "Ongoing deliveries of highly-amenitized, high-rent product will limit rent growth at the high end of the market, but older and more suburban product will continue to outperform." It may sound like bad news for the apartment sector: rent growth may stay relatively flat in the…
Casino giant Genting Group gears up for hotel/county bus terminal combo
Construction related to a mixed-use development encompassing the Omni bus terminal, Adrienne Arsht Center Metromover station and a planned hotel and retail center should begin before December, according to county transportation spokesperson Karla Damian. Resorts World Miami, a subsidiary of Malaysian casino giant Genting Group, is to build a temporary bus station east of the current Omni…
Related Group's affordable housing group wins Liberty Square
The second phase of a large mixed-use affordable housing project set in the heart of the Liberty City neighborhood of Miami is ready to start, and the developer is working to earn necessary approvals. Related Urban Development Group, Related Group's affordable-housing affiliate, presented plans for Liberty Square Rising Phase 2 to the city's Urban Development Review Board. The board recommended…
Southeast Fisheries Science Center all at sea as move decision awaited
Since two resolutions urging the US Department of Commerce and the National Oceanic and Atmospheric Administration (NOAA) to retain the Southeast Fisheries Science Center on Virginia Key have been adopted, no official decision has yet been made about the facility's location. NOAA has been considering moving the facility to St. Petersburg. The building on Virginia Key is reportedly out of date…
Surfside's 'Arte' condos top out
The 16-unit luxury development is the first U.S. building by the renowned Italian architect Construction on a new mid-rise condo development in Miami's Surfside neighborhood hit a milestone last week as crews topped-off the 12-story 'Arte' project at 8955 Collins Avenue. The upcoming oceanfront residences come from Italian architect Antonio Citterio in collaboration with local architect Kobi Karp.
Co-living firm Common moves into Miami
Co-living operator Common is coming to Miami. The company is partnering with developer and broker Carlos Fausto Miranda to open its first location in South Florida, founder and CEO Brad Hargreaves said. Miranda, president of Fausto Commercial, will build 65 rooms in two new buildings near the intersection of Southwest Fifth Avenue and Southwest Seventh Street, in what's considered East…
Miami Beach to negotiate convention center hotel deal with Jackie Soffer and David Martin
Miami Beach officials will soon begin hammering out a deal with the development team led by Jackie Soffer and David Martin to build a new convention center hotel. On Monday, the city commission voted unanimously to let city manager Jimmy Morales negotiate the proposed terms with Miami Beach Connect, the development entity created by the powerhouse builders proposing an 185-foot-tall…
AccorHotels to buy half of Sam Nazarian's SBE Entertainment
Hotelier Sam Nazarian has a new partner from across the pond. Paris-based AccorHotels plans to buy a 50 percent stake in Nazarian's SBE Entertainment Group for $125 million, according to Hotel Business. Nazarian would continue to own the other 50 percent of the company and also run the company as CEO. AccorHotel's stake was held in part by Cain International. AccorHotels is using the merger as a means…
Riviera Point secures $16.5 million loan for Radisson Red hotel near Miami airport
Riviera Point Development Group just secured a $16.5 million construction loan from Centennial Bank to help finance construction of a Radisson Red hotel near Miami International Airport. In all, Riviera Point will spend $34.5 million on construction of the 155-key hotel at 3401 Northwest 25th Street. The developer, led by Rodrigo Azpurua, broke ground on the project in December and recently topped out…
Miami Faces an Underwater Future
In Miami, the rising sea is already an ineluctable part of daily life. Everyone is affected—whether storm flooding forces a small-business owner to shut down for a few days (at tremendous cost), or daily tides hinder students commuting to school, or the retreating coastline forces people to abandon their homes. There are other, less obvious, but equally troubling impacts. People's increased contact with…
Freshwater Group buys apartment complex in Hialeah for $10M
New York investment firm Freshwater Group just picked another apartment complex in Hialeah, this time paying $10.4 million for the property. The 76-unit complex at 1105 and 1085 West 76 Street sold for about $137,000 per unit. It was built in 1968, and includes studio, one-bedroom and two-bedroom apartments. The seller, Mikon Financial Services, Inc., is led by Juan Carlos Capote, Richard Capote…
Don King KO'd His Plan for 'Mini-Madison Square Garden' in Florida, So Why Won't He Sell the Land?
Nineteen years ago this summer, boxing promoter Don King vowed in typically flamboyant fashion to turn a long-shuttered jai alai fronton in Palm Beach County, FL into a "mini-Madison Square Garden." The 53-acre site at 1415 45th St. in the tiny town of Mangonia Park is adjacent to the northernmost Tri-Rail commuter train station…
Redland Florida Industrial Agricultural Land Sold
A commercial broker has just sold ten acres located at 21250 SW 167th Avenue in Redland, Florida. The property is located in un-incorporated Miami-Dade County and has dual-zoning: industrial / agricultural. The final sales price was $1,550,000 or about $155,000 per acre. The buyer and new owner is Gabriel Serrano with Aeroservicios USA who will use the property for outside storage. The financing…
Home builder DR Horton pays $6 million for 20 vacant acres near Florida City
DR Horton bought 20 vacant acres just east of the Florida Keys Outlet Marketplace in Florida City. Home builder DR Horton Inc. bought 20 acres of vacant land near Florida City for $6 million. The seller, Newport Development Partners, had acquired the land in 2015 for $1.3 million. The 20-acre property is at the southeast corner of Southwest 336 Street and Southwest 172 Avenue,  just east of the Florida Keys…
City of Homestead may demolish its "field of dreams" baseball stadium
The city of Homestead may demolish its deteriorating baseball stadium, built nearly 30 years ago to serve as a spring training site for Major League Baseball teams. The city government has solicited bids to demolish the pink stadium, formally known as the Homestead Sports Complex, which hasn't been used for decades. Dennis Maytan, director of parks and public works in Homestead, told the Miami…
Boutique hotel and coworking space headed to Little Havana
The historic Jazz Age building will be the first U.S. location of the Selina brand Little Havana's historic Tower Hotel building is just months away from reopening as the first U.S. location of Selina, a fast-growing combination lodging and coworking company with a strong presence in Latin America. The renovation will open a new chapter for the old 1920s-era building at 1450 SW 7th Street that previously…
Miami Beach's short-term rental fines challenged on constitutional grounds
A Miami Beach property owner is accusing the city of engaging in discriminatory practices when it comes to cracking down on short-term rentals. Natalie Nichols filed a civil rights lawsuit in Miami-Dade Circuit Court on Wednesday, alleging the city's practice of levying five-figure fines on some residents who list their properties on Airbnb and other home-sharing websites violates the Florida Constitution.
Foreign dollars continue to pour into US commercial market: report
Foreign investment in U.S. commercial real estate remained strong last year, despite a major pullback from Chinese companies that have been hampered by capital controls its government has imposed. Despite those restrictions, Chinese investors made up the biggest share of foreign buyers in the U.S. at 20 percent, according to a new report from the National Association of Realtors.
MV Group sells Design District building for $10M
Developer Manny Varas just sold a newly-built property in the Design District for $10.1 million, a considerable markdown from its listed price. Perpetual Love Acquisitions LLC, a Delaware company, closed on the Mediterranean-style, three-story building at 4136 North Miami Avenue, said Dwntwn Realty Advisors' Tony Arellano and David Spitz, who represented the seller. The 16,900-square-foot building…
Hellmann Worldwide Logistics sells Doral HQ for $43M
Hellmann Worldwide Logistics just sold its North American headquarters in Doral to Industrial Logistics Properties Trust for $43.1 million. The industrial real estate investment trust paid about $180 per square foot for the 240,700-square-foot property at 10450 NW 41st Street. Hellmann Worldwide, which is one of the largest full-service logistics companies in the world, said it…
Invicta watch exec buys industrial site in Hollywood
A company tied to Invicta Watch Group's president and chief executive Eyal Lalo just bought land in Hollywood and scored construction financing to build a planned industrial facility, property records show. The 6.4-acre site at 3080 Sheridan Street traded for $7.5 million, or about $27 per square foot. It sits near the Sheridan Street Tri-Rail Station and I-95. City National Bank is providing the $7.5 million…
Is Slowing Lease Activity in Miami the Harbinger of a Weakening Market?
Absorption of industrial space fell by 42 percent year-over-year in Miami last year, the most significant drop of the cycle. Since leasing in the industrial sector had been going well in South Florida, is this the harbinger of slowing demand, or simply a timing issue? Developers finally caught up with surging industrial demand and delivered 3.3 million square feet in 2017, a record number for the cycle and…
Video: Green Street Advisors CEO Craig Leupold Expects Increased M&A, Privatization Activity
In a recent interview, Craig Leupold, the CEO of Green Street Advisors, a company providing real estate data and analytics for improved decision-making with insights to help investors understand, forecast, and capitalize on changing market conditions, shares views on commercial property valuation, interest rate expectations, and activism. He describes his firm's evolving approach to valuation with the…
What drives developer Arnaud Karsenti? For one, this bit of wisdom: Anything worth having must be earned. His persistence during the recession is a case in point. The 40-year-old founder of 13th Floor Investments launched his Miami-based private real estate investment and development firm in 2008, focusing on distressed assets amid the downturn. When the market improved, the company turned to…
$220 Million racetrack and private club planned for Opa-Locka airport
Developers are planning a $220 million racetrack and private club at Miami-Opa Locka Executive Airport. Neil Gehani and Jay Pollak expect to open the Concours Club by May 2019, complete with more than 2 miles of racetrack and a slew of high-end amenities. They're offering 40 founding members at $350,000 each with no annual dues. Those members would then be able to invite others to buy up to…
Biltmore Hotel in Coral Gables is getting a $25 million makeover
In an effort to stay competitive, the Biltmore Hotel in Coral Gables is undergoing a $25 million renovation. The interiors of the 92-year-old historic hotel, built by Coral Gables founder George Merrick and hotelier John McEntee Bowman, are being renovated, as is the 18-hole golf course, designed by Donald Ross. The funding will come in part from the city, which recently voted to allow the hotel to use half…
Kendall Office Park Trades for $13 Million Loss
TA Realty took a $13.25 million loss on the Kendall Summit Office Park after buying the campus in Kendall, FL near the peak of the last real estate cycle. The 173,661-square-foot campus, built between 1984 and 1989 at 11400-11440 N. Kendall Drive, is now 27 percent vacant. Current tenants include BB&T, Keller Williams and Quest Diagnostics.