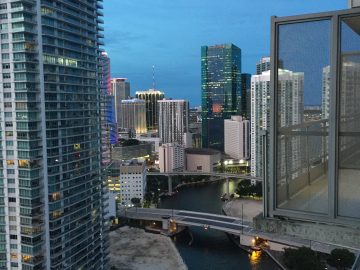 EastGroup Breaks Ground On 850,000-SF, Class A Industrial Park
EastGroup Properties Inc. has officially broken ground on Gateway Commerce Park, becoming the most prominent Class A industrial project in Miami Gardens. Spanning 61 acres, the park marks EastGroup's entrance into the premier Miami-Dade market. Gateway Commerce Park will offer tenants the flexibility to lease spaces ranging from 30,000 square feet to a full 200,000-square-foot building…
Adler unveils ambitious plan for Miami's riverfront
The Adler company has quite an ambitious plan to transform the downtown riverfront in Miami, and is moving toward a major redevelopment of prime real estate on the Miami River. On Monday, Adler representatives shared information on a plan that could bring a new hotel to the river, along with about 37,000 square feet of retail stores, framed by three to four towers. The Adler team met with the…
Brazilian investor sues developer of Parque Towers in Sunny Isles over construction delays
A Brazilian biotech executive is suing the developers of Parque Towers in Sunny Isles Beach over construction delays at the planned luxury condo project. A British Virgin Islands company tied to Luis Boaventura of Brazil filed a lawsuit in a Miami-Dade County Circuit Court last month, alleging breach of contract. Boaventura, a director at the biotechnology and pharmaceutical company STEQ America, is seeking…
Fed hikes interest rates again, raises outlook for more increases in 2018
The Federal Reserve announced it will raise interest rates a quarter percentage point on Wednesday, and signaled that it could raise interest rates at least twice more this year. Most Federal Reserve officials now expect at least four rate increases this year, up from a previous projection in March of three rate increases, according to the Wall Street Journal. Most officials also expect the Fed will…
Miami board to vote on Finvarb and Cho's mixed-use Brickell hotel, other projects
Miami's Urban Development Review Board will review proposals for two new mixed-use hotels in Miami's Edgewater and Brickell neighborhoods and the second phase of Liberty Square, an affordable housing development, at its upcoming meeting on June 20. Kobi Karp Architecture & Design submitted plans for 3047 Biscayne Boulevard, which is…
Arquitectonica's Bernardo Fort-Brescia talks "Miami Vice," breaking into new markets
Punctuating a montage of palm trees, flamingos and bikini-clad citizens is a building with a hole in the middle of it— missed in a blink. But this seconds-long cameo in the opening credits of "Miami Vice" helped make the condominium's architect a household name. Since designing the Atlantis, Arquitectonica has worked on more than 240 projects in the U.S. alone…
Construction firm sues Miami developer alleging it lost out on more than $1M on two affordable housing projects
A Doral-based company was squeezed out of renovating an apartment complex and building a new multifamily project by a non-profit affordable housing developer, according to a recently filed lawsuit in Miami-Dade Circuit Court. As a result, Edgewater Construction Group alleges it lost out on more than $1 million in construction profits. Edgewater is suing Tacolcy Economic Development Corp. and its…
Related Group Secures $53 million in Financing for Wynwood Apts
The Related Group secured more than $53 million in financing for The Bradley Wynwood, a mixed-use project in Miami's burgeoning Wynwood neighborhood. Santander Bank provided a $33.2 million construction loan, and Greenstreet Real Estate Partners contributed $20 million in preferred equity, according to Holliday Fenoglio Fowler (HFF) LP, which arranged the financing on behalf of the borrower.
Two Affordable Housing Projects – One in Liberty City – Coming From A|P Communities
Atlantic|Pacific Communities — a fourth-generation real estate company with offices in Florida, Georgia, Texas and California — has received Low-Income Housing Tax Credits from the Florida Housing Finance Corp. for two South Florida projects. Sailboat Bend II will be a 110-unit affordable housing development for seniors age 55 and over on the New River in Fort Lauderdale. Residences at Dr. King…
Why Multi-Story Industrial Assets Might Be in the Future for Dense U.S. Cities
Multi-story warehouses are already common in Asia, but the concept is now taking off in supply-constrained American cities. Four multilevel projects are currently under construction or will soon break ground in Seattle, San Francisco and New York City, and many more planned projects will be announced in the coming months, according to Rob Kossar, vice chairman and head of the Northeast industrial…
SeaVee Boats set to replace five sites, add 100 jobs
SeaVee Boats is probably two to three weeks away from receiving the final necessary building permits from Miami-Dade County to begin construction of its new facility, according to Ariel Pared, one of the three original business partners who bought SeaVee Boats in 1994. The county's Industrial Development Authority fully financed the project. SeaVee Boats will consolidate all five of its facilities around Miami…
Jungle Island to jump-start transit link to Miami Beach
As part of a proposed lease extension for city-owned land on Watson Island, Jungle Island has committed to fund purchase of a City of Miami trolley – which could become the first piece of a long-awaited public transportation link between the city and Miami Beach. The trolley was one of many commitments made Friday at a special meeting of the Miami City Commission. After nearly four hours of debate…
Miami River developments increasing after $26 million deal
The Miami River has seen a flurry of attempts to revitalize the area. The mixed-use River Landing under construction has spurred interest and activity seeking new opportunities along the corridor that had been historically neglected, and a transaction last month continues this trend. In a $26 million deal, Mast Capital bought 6.3 vacant acres in April. The site is to be developed into Miami River Walk, a total of…
Brazilian Investor Pays $22.8M for Leasehold Interest in Warehouse, Offices in Miami
In a sign that foreign investment remains strong in South Florida, a Brazilian buyer paid $22.75 million, or more than $100 per square foot, for the leasehold interest in a warehouse and office property located near Miami International Airport. The Dayan family of Brazil bought 3630 NW 25th Street and 3500 NW 24th Street in Miami from iStar Inc. The buyer will get the rental income from the existing tenant…
3 MiamiCentral Office Project Nearing Full Lease-Up
Viacom Inc. is preparing to move its MTV Latin America headquarters into 24,000 square feet at 3 MiamiCentral, bringing the transit-oriented office building in downtown Miami to near full occupancy. The media titan plans to employ about 150 people on the top floor of the 12-story building at 161 NW 6th St. The 95,000-square-foot property, adjacent to the new Brightline commuter train station in Miami…
I.CON 2018 Special Report: Experts Unveil Industrial's Big Disruptors
Mark Eppli, Ph. D., professor of Finance & Bell Chair, Real Estate, at Marquette University (left) and Gary Anderson, Prologis' CEO for Europe and AsiaThe state of global industrial development and the potential economic, political and technological disruptors that investors and developers should be on the lookout for on a global scale were the highlights addressed during the I.CON 2018 keynote…
How E-Commerce Growth Benefits the Industrial Sector
Christopher Kelly, Abbe FranchotE-commerce hit brick-and-mortar stores heavily and, at the same time, boosted the industrial sector. According to Amherst Capital Management's 2018 Market Outlook, strong warehouse demand coming from e-commerce tenants is most likely to exceed supply this year. As expected, construction is picking up, with metros such as Chicago and Atlanta leading the…
USDOT Identifies 26 Projects To Receive $1.5 Billion: PortMiami Among Grant Beneficiaries
The Committee on Transportation and Infrastructure on Tuesday released a list of 26 projects selected by the U.S. Department of Transportation to receive a total of approximately $1.5 billion in grants. Among the awards are a proposed $25.5 million to go to the Philadelphia Regional Port Authority for the Packer Avenue Marine Terminal capacity and warehouse relocation project; $7 million to…
Romero Britto sues to break Lincoln Road lease, citing raucous atmosphere
Nearly three years after signing a lease for a new gallery space at 532 Lincoln Road, global artist Romero Britto wants out, citing a raucous atmosphere, according to a lawsuit against his landlord, Denison Corporation, an entity controlled by the family of Bob Quittner. But Britto's efforts to break a 10-year lease with Denison hit a snag when Miami-Dade Circuit Court Judge Thomas Rebull rejected an…
Greenstreet joins Related and Block Capital's Wynwood project as equity partner
The Related Group and Block Capital Group secured more than $53 million for the Bradley, a mixed-use project they're building in Wynwood. The developers closed on a $33.18 million construction loan from Santander Bank and received $20 million in preferred equity from Greenstreet Real Estate Partners, according to HFF. HFF's Scott Wadler and Jesse Wright arranged the financing. The Bradley…
Brazil's Dayan family pays $23M for industrial property near Miami airport
One of Brazil's wealthiest families just paid $22.75 million for the leasehold interest in an industrial property near Miami International Airport. IStar sold the 212,000-square-foot property at 3630 NW 25th Street, 3500 NW 24th Street, and 2401 Northwest 36th Avenue to the Dayan family, which has a controlling interest in Bazilian-based Banco Daycoval S.A. The family paid about $107 per…
Turnberry and Simon, Owners of Top-Grossing Aventura Mall, Complete $1.75 Billion Refinancing
Turnberry Associates and Simon Properties completed a $1.75 billion refinancing of Aventura Mall in Aventura, Florida, widely considered one of the three largest malls in U.S. at 2.7 million square feet. JPMorgan Chase Bank, Wells Fargo Bank, Deutsche Bank and Morgan Stanley Bank and provided the financing, with a potential single-borrower single asset securitized transaction contemplated in the near…
Video: RealPage VP Jay Parson on U.S. multifamily property outlook
In this video, RealPage Vice-President Jay Parsons, whose company provides property management software solutions, discusses multifamily property sector performance. Parson discusses rent growth, how the job market is impacting the sector, supply and demand trends, multifamily property property class outlook, new multifamily construction trends and costs of construction trends, cycle outlook…
Ex-mayor voted on issues involving Dezer family real estate investments while his wife worked for them
George Vallejo, who recently resigned as mayor of North Miami Beach, told prosecutors that his wife secretly worked for the Dezer family while he voted on issues involving their real estate investments, Miami New Times reported. Vallejo, 51, resigned as the city's mayor after pleading guilty in April to using campaign donations…
Autonomous Vehicles, Hyperloop to Amplify Disruption in Built Environment
Dave CluteDave Clute is the chief marketing officer of CohesionIB, an intelligent building management platform. With 35 years of experience in architectural engineering, Clute brings a unique perspective to the commercial real estate and technology sectors. At Realcomm in Las Vegas, he shared insights around the impact of technology on transportation and parking demands.What's your take…
Economy Watch: More Buildings Enter Planning Stage in May
Source: Dodge Data & Analytics Dodge Momentum Index, May 2018The Dodge Momentum Index inched upward in May, moving 1.8 percent higher to 167.8 (2000 = 100) from the revised April reading of 164.9, Dodge Data & Analytics reported on Thursday, June 7. The index is a monthly measure of the first report for nonresidential building projects in planning, which typically lead construction spending…
La Piaggia closes after settling with Murano at Portofino
Six months after curing building code violations and reopening its doors, La Piaggia is officially closed for business, The Real Deal has learned. This time, a landlord dispute ended the popular restaurant's run in Miami Beach's South-of-Fifth neighborhood, according to residents of Murano at Portofino, the condo tower at 1000 South Pointe Drive where La Piaggia was located. The unit owners, who…
Flower distributor takes 93,000 SF at Clarion's Doral warehouse campus
Colour Republic owner Remi Davalos and the Westpointe Business Park
The closing of another large-scale lease is a sign that Miami-Dade County's industrial market is in full bloom this year. Colour Republic, a wholesale flower seller and distributor, just agreed to lease 93,000 square feet of warehouse space at Clarion Partners' Westpointe Business Park in Doral, marking the 12th-biggest lease inked in 2016. Commercial brokerage Transwestern announced the deal Tuesday.
South-of-Fifth revamped apartment building lists for $22 million
A 27-unit apartment building in Miami Beach's South-of-Fifth neighborhood that can be used as short-term rentals — or converted to condos — just hit the market for $22 million. The mid-century modern, three-story building at 250 Collins Avenue was built in 1959 and was recently fully renovated, Gary Hennes, broker at Gary Hennes Realtors, told The Real Deal. Hennes is listing the building with agent…
Aria on the Bay and neighboring apartment building settle lawsuit
Aria on the Bay and a neighboring apartment building have settled a lawsuit tied to construction of the Miami condo tower. Bay Parc Plaza Apartments, at 1756 North Bayshore Drive, sued Bayshore Plaza I LLC (an entity controlled by the Melo family) and L&R Structural Corp.  in October over claims of "dangerous" construction debris, including…
Investment group files plans for boutique condo project in Edgewater
Despite warning signs of overbuilding in Miami's condo market, developers are still filing plans for new projects in the burgeoning Edgewater neighborhood. In the latest round of projects up for city review, an investment group has sent in plans to build a boutique 34-unit residential tower in Edgewater called Ellipsis. Designed by Kobi Karp, the project would stand 13 stories tall at 708 Northeast 26th…
Sea-level rise at center of heated debate over future of North Beach's historic designation
Property owners and business advocates used sea-level rise as an argument against designating North Beach neighborhoods historic during a contentious special Miami Beach City Commission meeting on Monday. Advocates and critics of the proposed historic districts hurled insults and accusations at each other during the four-hour workshop.
Canadian investors buy MiMo building with plans for micro condos
Micro condos may be headed to Biscayne Boulevard, close to the MiMo district. Canadian investors just paid $3.725 million for a 23-unit apartment building — plus air rights — at 5201 Biscayne Boulevard, with plans to add additional stories and convert the building into micro condos, broker Ness Ohayon told The Real Deal. Ohayon, owner and CEO of Witt Realty Group, which is part of Keller Williams…
Related-led partnership closes on Wynwood development site for $12 million
With design approvals already in hand, the Related Group appears to be steaming forward with its planned Wynwood 29 mixed-use tower. The developer just closed its purchase of the land it needs to build the project for $12 million. County records show a Related-controlled company bought roughly 1.2 acres at the intersection of Northwest First Avenue and Northwest 28th Street. The seller was…
Gables commercial building sells for $3 million
Brokerage firm Avison Young announced the sale of a mixed-use building in the commercial heart of Coral Gables for $3 million. Michael T. Fay, the Miami-based principal and managing director of Avison Young, and associate Myles Stepner represented the seller. The 4,818-square-foot building at 178 Giralda Avenue in the central business district of Coral Gables sold for $623 per square foot. Fernando…
Miami residents to vote on Jungle Island lease extension, redevelopment
Jungle Island's proposed lease extension and hotel development will go to city of Miami voters in August. The Miami City Commission on Friday unanimously approved putting the referendum on the August ballot. ESJ Capital Partners is leasing the land at 1111 Parrot Jungle Trail. The hotel would be limited to 300 rooms and 130 feet tall. The proposed lease extension protects the city from delays by giving…
Prudential sues South Beach club Ora for nearly $5 million
After missing a settlement payment of $43,000, a former commercial tenant of the boutique condo-hotel Boulan South Beach is now facing a demand for nearly $5 million by an affiliate of Prudential Financial, according to a recently filed lawsuit in Miami-Dade Circuit Court. The lawsuit centers around the ground-floor space of 2000 Collins Avenue in Miami Beach that until April housed Ora nightclub.
Turnberry and Simon score $1.75 billion refinancing for Aventura Mall
Turnberry Associates and Simon Property Group just closed on a $1.75 billion refinancing of Aventura Mall. The financing was provided by JPMorgan Chase Bank, Wells Fargo Bank, Deutsche Bank and Morgan Stanley Bank and closed on Thursday, according to a release. The loan will be used to pay off a $1.2 billion commercial mortgage-backed securities loan that the joint venture between Turnberry…
Sorbillo Pizzeria will open its first location in the Southeastern U.S. in Miami Beach's South-of-Fifth, other restaurant news
Sorbillo Pizzeria will open its first location in the Southeastern U.S. in Miami Beach's South-of-Fifth neighborhood in September, The Real Deal has learned. The restaurant signed a lease at 100 Collins Avenue, said Noah Fox of Koniver Stern Group, who represented Myles Chefetz, the owner of the property. The 2,500-square-foot space, next door to Chefetz's Prime Fish, most recently housed Craft Social…
Michael Simkins sells warehouse in northwest Miami-Dade to financial technology firm
Michael Simkins just sold a warehouse in northwest Miami-Dade for $5.25 million to a California financial technology company that specializes in administering EB-5 projects. NES Financial, a San Francisco-based company that provides back office services for complex financial transactions, bought the property at 6955 Northwest 52nd Street from Simkins. Simkins, the president and CEO of Innovate…
Bulk investor lists units near University of Miami for $11 million
An Alaskan investor is looking to sell a bulk condo deal near the University of Miami for $11.2 million, or about $287,000 per unit. Property records show 4831 LLC, a company controlled by Albert Siefert of Alaska, paid about $9 million for the condos at Gables Court, at 6811 Southwest 44th Street in Miami, in 2013. The units, a combination of two- and three-bedroom apartments averaging…
South Florida's Innermost Suburbs Benefit from Affordable Housing Shortage
It is no secret that South Florida has an affordable housing problem. With new households forming faster than affordable housing units can be built, existing affordable properties have seen strong demand. While rent growth has slowed dramatically for newly constructed communities, affordable properties in the innermost suburbs are now seeing some of the highest rent growth of the cycle. The areas…
Economy Watch: Technology, Taxes to Significantly Impact Economy
According to the 2018 Akerman U.S. Real Estate Sector survey, which major law firm Akerman LLP released on June 6, the most active real estate market segment is multifamily, according to 63 percent of the survey's respondents. That marks a significant reversal from 2017, when 43 percent of CRE executives predicted single-family homebuilding would outpace multifamily development.Akerman findings…
CRE Tech, Innovation in the Age of Acceleration
Bob Sulentic and Jim YoungAs evinced by Realcomm's central theme—navigating the age of acceleration—it is crucial for real estate professionals to keep pace with the technological advancements that are rapidly transforming the industry. Now in its 20th year, the conference brought together innovators in commercial and corporate real estate, technology, automation and innovation.In the two…
Viacom to move to MiamiCentral, other leasing news
Florida East Coast Industries announced that Viacom Inc. recently signed a lease for 24,000 square feet on the 12th floor of 3 MiamiCentral, bringing the building to 95 percent occupancy. Viacom's MTV Latin America plans to move its headquarters to the downtown Miami development. The Confederation of North Central America and Caribbean Association…
J. Milton plans resi tower with 500-plus units in Miami's A&E District
It could get crowded in Miami's Arts and Entertainment District. Developer J. Milton and Associates wants to build a residential project with a maximum of 550 units and ground floor commercial space on a 1.7-acre site sandwiched between the Filling Station Lofts apartment building and the Canvas condo tower, both of which are being developed by NR Investments. Art Luxury Rentals LLC, which is…
Best Strategies for Landing the Perfect Anchor Retail Tenant
There are many areas to consider when strategizing which anchor tenant is the best fit for a new project. For developers trying to secure an anchor tenant, quality is key.  If tenants lack significant credit, the next thing to consider is the number of other stores, their performance in similar markets and how well the proposed anchor will complement existing tenants and the surrounding area…
Boosting ROI With the Right Balance of Smart Tech
In today's competitive market, integrating "smart" devices and high-tech building management systems is essential to attracting and retaining renters. Research shows that "smart" apartments appeal to "smart" renters regardless of age: 86 percent of Millennials surveyed by Schlage say they're willing to pay more for an apartment equipped with automated or remotely controlled devices; and 65 percent of…
Office Owners Elevate Their Amenity Game
Amenities have been critical to the hospitality sector for decades, with hotel owners often having only one night to impress their guests and maintain a good reputation. But as technology has advanced to offer consumers constant connectivity and mobility, the office sector has had to boost its offerings, as well, to compete with today's seemingly endless alternatives of where and how to work. With the…
Rents Remain Strong Despite Growth Decrease
Multifamily rents have again risen $4 to $1,381, up $14 over the last three months. Although this has produced a 1.1 percent year-to-date increase through May, the growth is showing to be much weaker than usual in the current cycle. The year-over-year increase has hit its lowest point over the last seven years, falling by 2 percent and down 70 basis points. Despite the decrease, rents continue to grow in…
Melo closes $85M construction loan for Art Plaza apartments
Melo Group closed on an $85 million construction loan for two apartment towers north of downtown Miami. Ocean Bank is providing the financing for Art Plaza, two 34-story buildings with 667 multifamily units under construction at 58 Northeast 14th Street, in Miami's Arts & Entertainment District. The development is slated to open in mid 2019, according to a press release. Art Plaza will include 577 two…
153,000 SF Tenant Inks Deal At Gratigny Industrial Park
The 10-year lease deal is valued at $12,000,000. "We have been encouraging FPD for some time to consolidate into one facility, but timing and finding the right available facility proved challenging," explained Cook. "Ultimately, we called Easton & Associates, which had a building that fit FPD's needs, but it wasn't available. We pressed Jim Armstrong, the listing agent, to contact the building owners…"