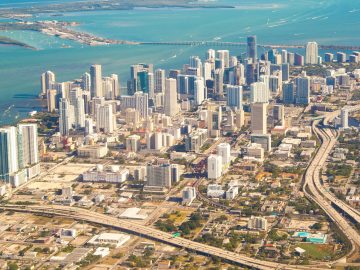 TA Realty pays $60M for Regions Bank building in Coral Gables
TA Realty bought the Regions Bank building in Coral Gables, amid growing interest in the city's office Class A office market. The company paid $60 million for the property, sources said. The Boston-based firm acquired the 15-story, 146,202-square-foot Class A office building at 2800 Ponce de Leon Boulevard from Regions Bank. The price equates tor $410 per square foot. TA Realty plans to change the…
Blue Road wins approval for Capri condo tower in North Miami Beach
Blue Road won approval to replace an office building with Capri, a new 16-story condo tower on Biscayne Boulevard in North Miami Beach. The Bay Harbor Islands-based company, led by Argentine real estate developers Jorge Savloff and Marco Tenenbaum, intend to replace the 61-year-old Senator Building at 13899 Biscayne Boulevard with a 259-unit project that will include seven townhomes along…
MRK Partners buys senior affordable living facility in South Miami Heights
MRK Partners paid $43.5 million for a senior affordable living facility in South Miami Heights. The El Segundo, California-based company purchased the 210-unit Casa Devon at 11250 Southwest 97th Street for $207,142 per unit, records show. Plaza 8 Associates, managed by Reinaldo Jimeez and Jorge Luis de la Osa of Miami, sold the property. Plaza 8 bought the complex for $7.7 million in 2003, records show.
The top multifamily developers in South Florida, ranked
Construction cranes are filling up pockets of South Florida like Midtown Miami, Wynwood, Coral Gables and downtown Fort Lauderdale. But instead of the glittering condo towers that the region is known for, developers are turning their focus to creating traditional multifamily buildings. By the end of this year, 7,500 new apartments will be completed in Miami-Dade, marking the most…
Ferris wheel rolling toward Bayside Marketplace
A planned Ferris wheel in Bayside Marketplace is on a new forward track after Miami officials tweaked proposed legislation governing amusement rides. City commissioners on June 13 preliminarily defined "amusement ride" and its "use by exception" for property zoned as Bayside is. The vote was unanimous, with Joe Carollo absent. The final vote may be June 27 or in July. Bayside is an open air mall on…
Downtown Miami master plan 'once in lifetime' chance
A "once in a lifetime opportunity" to create a vibrant community amidst a clutter of 16 county-owned buildings and properties can transform the heart of downtown Miami, county Commissioner Eileen Higgins told a Greater Miami Chamber of Commerce committee last week. The new Downtown Rapid Transit Zone, which the county created last July, could lead to "a visionary master plan for these…
'It Cracked Like Hell': OSHA Report Assigns Fault For Deadly Miami Bridge Collapse
In the days before an under-construction bridge collapsed in Miami and killed six people, workers identified cracks in its structure but failed to report them or close the road under the bridge to traffic, a federal report commissioned after the collapse found. When the span of the $14.2M, 174-foot, 950-ton bridge commissioned by Florida International University collapsed over a major road in Miami in…
Hydroponic farming planned on vacant Miami Beach lots
Freight Farms Inc. and Energy Cost Solutions Group LLC. have entered negotiations with the City of Miami Beach to possibly establish hydroponic farming in North Beach. Commissioners are to weigh each proposal in the fall and, if one is approved, introduce farming into the city soon. Miami Beach will grow crops indoors using hydroponic farming or vertical farming if either proposal is approved. The…
Train control safety rule stalls Tri-Rail to Miami
Another roadblock has temporarily stalled Tri-Rail trains from steaming into Miami Central Station, which they were predicted to do by the end of this year. "I've stopped making predictions" about when they will roll into downtown Miami, said Steven L. Abrams, executive director of the South Florida Regional Transportation Authority, the Tri-Rail's parent. Florida East Coast Railway, which owns the…
Miami loses millions as Virginia Key marina stalls
The City of Miami has lost millions as legal fights and challenges have for years stymied its efforts to find a new operator for the marina on Virginia Key. Exactly how much it has lost is debatable, but the company poised to take over the Rickenbacker Marina – Virginia Key LLC – crunched the numbers and said the hit exceeds $3.8 million. The city commission has been putting off awarding the marina to…
'Magic City' name fight has parallels to fight between Beatles and Apple
The Magic City Casino has filed a lawsuit against the Magic City Innovation District, citing trademark infringement. The  lawsuit by casino owner West Flagler Associates says it has received phone calls amid negative press regarding MCD Miami's Magic City Innovation District, with callers thinking the casino is associated with the project. Most notably, the Innovation District has received pushback from some…
Three Retailers Return to Miami Beach's Lincoln Road, Two Food Halls Debut
Lincoln Road Business Improvement District (BID) has announced three retailers are returning to Lincoln Road, Miami Beach's high street for upscale retail, restaurants and entertainment. The three retailers — Fritz's Skate, Bike & Surf Shop; Dog Bar; and Lulu Laboratorium — all had original locations on Lincoln Road. Fritz's originally opened on Lincoln Road in 1989. Dog Bar, a full-service pet boutique, moved…
Virgin Trains Ready For Expansion To Orlando
Next week, Virgin Trains USA, formerly called Brightline, will hold a groundbreaking for its extension from West Palm Beach to Orlando International Airport. Plans are also being debated for an extension to Tampa. Meanwhile, the already-open train station in Miami is ramping up leasing. When the whole circuit is complete, tourists could conceivably fly in on Virgin-branded planes to go on Virgin…
WeWork Takes 89 KSF at Florida's Tallest Office Building
WeWork has inked a deal for 89,300 square feet in Miami at Southeast Financial Center, the tallest and largest office tower in Florida. The coworking giant negotiated with Ponte Gadea Biscayne, owner of the approximately 1.2 million-square-foot tower. WeWork's new space will span four full floors at 200 S. Biscayne Blvd. in downtown Miami. The landlord has owned the trophy office asset since purchasing…
Downtown Miami Airbnb-branded hotel-condo project launches sales
Developers Harvey Hernandez, Russell Galbut and Bruce Menin launched plans for their first Airbnb hotel-condo project in South Florida. Hernandez's Newgard Development Group and Crescent Heights senior principals Galbut and Menin are partnering on Natiivo at 190 Northeast Sixth Street in downtown Miami. Natiivo is a new brand from Hernandez's company, NGD Homesharing. The 48-story tower…
Aventura developer launches mixed-use office condo project
Rieber Developments released plans for 1212 Aventura, a mixed-use development with office condos and senior living. The Arquitectonica-designed project, at 21290 Biscayne Boulevard, will have 30,000 square feet of retail space, 30,000 square feet of office space, 150 luxury senior living units and a parking garage, according to a release. Cervera Real Estate was hired to handle sales of the…
Urban Air Adventure Park on the hunt for vacant space in South Florida
A Dallas, Texas chain of indoor amusement parks is looking for more vacant stores in South Florida after leasing four suburban locations. Franchisees of Urban Air Adventure Park signed 10-year leases to occupy a freestanding store in Coral Springs and three other stores at shopping malls in Kendall, Plantation and Wellington. "They are very actively looking for [additional] sites in Florida…
Russell (Galbut_ the Relentless: "He's a pit bull who hasn't eaten in a month"
When Miamians and tourists drive eastbound on the MacArthur Causeway, past Star, Palm and Hibiscus islands, past the cruise ships with passengers waving as they exit the port, the first building that'll catch their eye will be a veritable skyscraper. A 44-story, 519-foot-tall luxury residential building dubbed Park on Fifth is set to rise at 500 Alton Road, right at the entrance to South Beach. The project on…
OKO Group's Brickell office tower and other projects seek Miami approval
A new batch of project proposals will go before the city of Miami's Urban Development Review Board this week, including plans for a mixed-use rental tower in the city's Arts and Entertainment District. An affiliate Russian developer Vlad Doronin's OKO Group is seeking waivers to build a primarily residential tower in the Brickell Financial District. Watson Brickell Development LLC is planning a 5-…
Metronomic buys land for first phase of Coconut Grove development
Metronomic closed on land for the first phase of Grand Plaza, a major mixed-use project planned for Coconut Grove. Ricky Trinidad's firm paid $6.3 million for four lots at 3461, 3441, 3364 and 3384 Grand Avenue, totaling 33,750 square feet, according to a release. Toni Schrager of Brown Harris Stevens Miami represented the seller, B&B Properties. Overall, the $74 million Grand Plaza development, will…
Lighting up the Sunshine State: MedMen rolls out plans for marijuana dispensaries as it sues Miami Beach
MedMen Enterprises opened its first Florida dispensary in West Palm Beach as the cannabis company plans to light up the Sunshine State. Los Angeles-based MedMen is focusing on Florida, opening a 7,550-square-foot medical marijuana dispensary at 539 Clematis Street in downtown West Palm. The company is focusing its growth this year on Florida. Out of the 15 dispensaries it expects to open…
Inside Amazon's giant "MIA 1" warehouse in Opa-Locka
"Welcome to MIA 1," says Patrick St. Fort, a jovial tour ambassador at Amazon's new sprawling fulfillment center at the Miami-Opa locka Executive Airport. "Let's see all the magic that takes place here." The sheer scale of the 855,000-square-foot distribution hub, which opened in August, is a spectacle itself. From the outside, it is a four-story box, which is too gigantic to take in from any one angle…
Greenberg Traurig's Kerri Barsh: Five Things Business Owners Need to Know About Sea Level Rise
Often, the first issues that come to mind when we think of climate change are greenhouse gas emissions and their effects. In South Florida, however, the impact of climate change we most commonly experience is from sea level rise. Knowing how your business could be affected by sea level rise is of increasing importance, as illustrated by the following top five issues. • Know the nuances of your real…
Could Uber "skyports" for LA air taxis be real estate's next big thing?
Uber intends to start its flying taxi service in Los Angeles, complete with "skyport" stations that would include a retail component. Could those skyports be the next big thing in real estate? New details about the ride-hailing company's Uber Air service show prototype concepts for the sleek landing stations, according to Curbed. Uber wants to build those skyports in cities around the country, starting…
Cold Is The Hottest New Real Estate Investment
Cold storage warehouses and distribution centers are suddenly in high demand, thanks to new food delivery services such as Peapod by Giant, Amazon Fresh and Blue Apron. "It is very niche. About 2% or 3% of all goods on groceries are bought online, and we expect the space could explode to 13% over the next five years because of the penetration of the internet," said Spencer Levy, senior economic…
Cuomo signs landmark rent regulation reform bill in New York
The New York state legislature passed sweeping rent regulation reform on Friday, dramatically limiting how landlords can increase rents on stabilized apartments and opening the door for rent stabilization to expand outside of New York City. Gov. Andrew Cuomo signed the bill almost immediately. The bill includes the elimination of vacancy decontrol and new caps on the Major Capital Improvements and…
Design Center of the Americas faces $173 million foreclosure lawsuit
Cohen Brothers Realty Corp.'s Design Center of the Americas in Dania Beach is facing a $172.9 million foreclosure lawsuit. Wells Fargo, acting as a trustee of GE Commercial Mortgage Corp., filed the lawsuit in Broward County Circuit Court on June 4. The 782,986-square-foot property at 1855 Griffin Road has faced troubles with its loans for years. The lawsuit alleges that Design Center of the Americas…
Wall Street warns against privatizing Fannie and Freddie without Congress guarantee
FHFA director Mark Calabria is ready to set Fannie and Freddie free, while Wall Street worries about potential risks. As the Trump administration gears up to end the decade-long conservatorship of Fannie Mae and Freddie Mac, some voices on Wall Street are warning against doing so without congressional support. Only Congress has the ability to provide an explicit government guarantee for the $4.7…
Incentives could be coming for West Grove property owners, developers
Miami commissioners agreed to expand the Omni Community Redevelopment Agency to include the West Grove, setting the stage for developers to capitalize on government-subsidized projects and incentives in the long-neglected, historic neighborhood that was among the city's first Bahamian settlements. The Miami City Commission voted 4-1 on Thursday to approve the expansion and extend the life…
Video: Dwell Design Studio Managing Principal Ryan Miller Discusses Transforming Retail Properties for New Use
Ryan Miller, Managing Principal for Dwell Design Studio, an Architecture, Planning, Interiors and Environmental design firm practicing nationally, appears on this episode of America's Commercial Real Estate Show to talk how retail spaces are being transformed for new uses that benefit their communities and tenants. He talks about conversion of retail properties to medical use, general office space…
Chetrit scores loan for Miami River project, buys out JDS stake
The Chetrit Group closed on $55 million in financing for its long-planned mixed-use Miami River development, The Real Deal has learned. Rabina Properties is providing the pre-development loan to Chetrit for the planned $1 billion development, according to a source. Chetrit, a New York-based real estate investor and developer, bought out its former partner, Michael Stern's JDS Development…