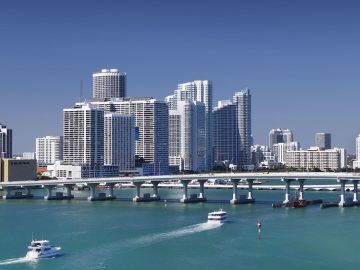 Okan Tower Will Redefine Downtown Miami As Florida's Tallest Skyscraper
Miami is a booming international city. Soon, it will be blooming too. Okan Tower, a 70-story flower-shaped architectural wonder will anchor the city's surging skyline, ultimately unfolding as the tallest skyscraper in Florida. When completed, the versatile mix-used tower will soar 890 feet over downtown Miami (eclipsing the 868-foot-tall Panorama Tower), comprising a 294-room branded Hilton Hotel…
Turkish Billionaire Developing Florida's Tallest Skyscraper Says More Are Coming
Developer Bekir Okan made his billions in Turkey, but he is spending some of that fortune in Miami, where he is developing the $300M Okan Tower, which was inspired by the shape of a tulip. At 890 feet tall, it will eclipse Florida's current tallest tower, the 868-foot Panorama Tower, which opened this month. Bisnow caught up with Okan via email to discuss his project and future plans in Miami. Bisnow: Tell me…
TA Realty sells Kendall office park to Cofe Properties for $34 million
TA Realty Cofe Properties just bought a six-building office park in Kendall for $34.75 million from TA Realty. The Miami-based commercial real estate firm paid about $200 per square foot for the 174,000-square-foot property known as the Kendall Summit Office Park for $200 per square foot at 11400, 11410, 11420, 11430, and 11440 North Kendall Drive. It secured a $26 million non…
South Florida's Commercial Market Post Gains Across All Sectors
According to the new 1Q 2018 The Quarterly Report – South Florida Commercial Real Estate released this week by data firm Vizzda and the MIAMI Association of Realtors, South Florida's multifamily real estate transactions jumped 8.5 percent year-over-year in 1Q 2018 and per-unit multifamily prices increased in Miami-Dade, Broward and Palm Beach counties. "Increasing population, job growth and rising…
Miami's Multifamily Market Sees Prolonged Sales Activity for First Time in Years
Driven by the delivery of new product, the Miami multifamily market is experiencing a period of increased transaction activity. Always in high demand, but generally a thinly traded market, Miami has seen a significantly higher volume of market-rate multifamily sales in the last two years. While Miami-Dade County has maintained strong fundamentals overall, its sales volume has historically trailed nearby…
Square Mile antes up $217M office loan for 1111 Brickell
Square Mile Capital Management originated a $217million loan secured by 1111 Brickell, a 30-story 522,000 s/f office building in the Brickell submarket of Miami, Florida. KKR and Parkway Property Investments, acquired the asset and will complete an extensive capital improvement plan to solidify the property's position as a best-in-class office building. The financing includes proceeds to fund the…
Selina hotel brand plans expansion into Miami market
Selina, a hospitality brand that combines co-living, co-working, hotel and hostel, has tapped Miami as its first major U.S. expansion city.
The company is looking to acquire and redevelop up to 2,000 beds in Miami, said Steven Ohayan, vice president of business development. It's starting with the former Tower Hotel property in Little Havana's neighborhood. Selina plans to open that property, a 62-key hotel…
How hot can South Florida's industrial market get?
Industrial properties may not be the sexiest parcels in commercial real estate, but they're certainly making buyers salivate these days. Increasingly, investors are willing to go to greater and greater lengths to land these properties, outbidding others even when it means accepting lower returns, commercial brokers said. As land availability continues to shrink and rents…
Elit Breaks Ground on Miami-Area Retail Development
Elit has begun work on a retail center in Miramar, Fla., dubbed The Grove at Miramar. The company already secured several tenants for the $15 million, four-building project. GD Construction is the general contractor of the retail plaza, which is slated for completion in July 2019. The Miami-area retail center will be situated on the southeastern corner of Miramar Boulevard and South Flamingo Road…
Value-Add Rental Properties in South Florida Sell for $90M
A Denver-based real estate firm that already owns six multifamily properties in South Florida picked up two more, paying $90 million for the Sundance Village Apartments in Miami and the Gardens at Nova (pictured, right) in Davie, FL. Grand Peaks Properties acquired the two communities from Poinciana Properties Inc. of Coral Gables, FL for more than $202,000 per unit. Poinciana marketed the two rentals as…
Downtown Miami Office Supply Trends
Office construction has finally returned to Downtown Miami after several stagnant years, with most of it in the form of mixed-use projects. Few pure office towers of significant size broke ground in recent years, at least not within the urban core. The majority of office construction this cycle has occurred out in the suburbs — and this is true for all three of South Florida's counties. While new office space…
Experts Round-Up: How Retail Centers Need to Adapt to Successfully Engage Millennials
The millennial generation is quickly becoming an important demographic in the economy as they begin to graduate from their respective scholarly institutions, get jobs, and contribute more into the workforce while progressing their careers. According to Pew Research Center in 2017 Millennials already comprised 35% of the labor force with some estimates stating that the percentage…
South Grove's historic Marjory Stoneman Douglas cottage added to list of threatened sites
A preservation group included the tiny cottage in its annual list of most endangered Florida properties The former Coconut Grove home of notable environmentalist, writer, and women's suffrage advocate Marjory Stoneman Douglas was singled out as a threatened historic property by the nonprofit Florida Trust for Historic Preservation in its annual "11 to Save" list. Built in 1926, the modest 900-square-foot…
New Design District condos with stylish rooftop terraces ready to open
Say hello to the new One Bay Residences One Bay Residences, a collection of 38 contemporary townhouse condominiums is now complete and ready to welcome its first residents. Available in both single floor and multi-story layouts, the development at 455 NE 39th Street in Miami's Design District is the first of its kind in the neighborhood and offers a niche alternative to the area's many new high…
Duke Realty drops $180M at Hialeah industrial park
Hialeah's industrial market just got hotter. Duke Realty just dropped $180 million at Flagler Global Logistics' 8 million-square-foot industrial park on the northwest corner of Northwest 154th Street and and Northwest 97th Avenue. Countyline Corporate Park is being developed by Flagler Global Logistics, a subsidiary of Florida East Coast Industries. Flagler assembled the 95-acre site in 2005 for a…
Finvarb Group taps Thompson Hotels for its South Beach hotel project
Thompson Hotels is looking to make a return to South Florida with an eight-story hotel project proposed by the Finvarb Group near the Miami Beach Convention Center. Denver-based Two Roads Hospitality and the Finvarb Group announced that they would launch the 150-room hotel at 1685 Washington Avenue under the Thompson Hotels brand. Thompson Hotels last had a presence in Miami Beach in…
Affordable housing investor picks up apartment complex in North Miami
Affordable Housing Development Services just picked up an apartment community in North Miami for $13 million. The complex at 14560 Northeast Sixth Avenue consists of 82 apartments and a 15,000-square-foot commercial building leased to a child care facility and pre-school. The deal breaks down to about $110,000 per unit. Ocean King Apartments LLC is the seller. The company is led by Allen…
Apartment rental prices across US slow after years of steady growth: report
Tenants can rejoice. Landlords? Not so much. Apartment building owners across the country may be seeing the end of record rent growth, according to new nationwide data. Prices on multifamily rents ticked up just 2.3 percent in the second quarter year-over-year, the smallest increase since 2010, according to RealPage Inc. The findings were reported in the Wall Street Journal, and attributed in part to the…
Wynwood Leaders Say Zoning Was Key To Neighborhood's Evolution
In just 10 years, Miami's Wynwood neighborhood has transformed from a grungy industrial area to a trendy arts center and tourist draw, and is now maturing with its first major office and residential components. That is because property owners and developers banded together to develop key zoning changes, they said Wednesday during Bisnow's Evolution of Wynwood event. Panelists noted that…
ASB pays $24M for 10.5-acre industrial property in Hialeah
ASB Real Estate Investments just paid $24.3 million for a warehouse in Hialeah that's fully leased to the furniture manufacturer, Synergy Custom Fixtures. Terreno Realty Corporation, a publicly traded real estate investment trust based in San Francisco, sold the 302,000-square-foot warehouse at 215 Southeast 10th Avenue for about $81 per square foot. Synergy Custom Fixtures signed a long-term lease…
Beckham partner Jorge Mas teases plan for mega soccer complex in Miami
David Beckham's partner Jorge Mas is presenting a plan for a major mixed-use soccer complex in the city of Miami, and is expected to go public with the proposal at a Miami City Commission meeting next month. Beckham and his partners officially announced the Major League Soccer team earlier this year, but the stadium plans – including the location – have been up in the air for years. Mas, a MasTec…
36th Street Rail Crossing To Be Eliminated As FDOT Plans To Reconfigure Intersection
Transportation planners are considering closure of the north-south railway crossing at Northeast 36 Street, city records show. (The east-west crossing may be staying open). Instead, a new crossing will be opened at Northeast 42 Street, in order to improve access to the Design District. Company policy of the Florida East Coast Railroad requires that two crossings be…
Now playing on Flagler: umpteenth Groundhog Day remake
Showing, now and seemingly forever, on downtown's main thoroughfare is the Flagler Street version of the film Groundhog Day. Every few years Miami's Downtown Development Authority cites tremendous progress on the remaking of Flagler Street in a wonderful new design that's going to serve downtown better than ever before. We've been reporting that at least as far back as 1993. A quarter of a…
Prime Biscayne Property's 13-story Edgewater hotel gains development review OK
A new hotel is planned for the Edgewater neighborhood of Miami. Prime Biscayne Property LLC has submitted plans to construct a 13-story mixed-use hotel at 3047 Biscayne Blvd., at the southeast corner of the intersection with Northeast 31st Street. The city's Urban Development Review Board voted June 20 to recommend approval of the project with conditions. No official name was revealed, nor…
Pla…
City looks to design firm to craft true Virginia Key flex park
The City of Miami's so-called flex park on Virginia Key is in line for a major redesign, with the ultimate goal of building a world-class waterfront destination with regional importance for a flexible public open space. A proposed contract with a design firm is on today's (6/28) city commission agenda. Commissioners are to consider a resolution accepting a proposal from Civitas Inc. to…
Plans for Brickell's dual-flag hotels underscore the impact of Underline
The Underline, a planned 10-mile linear park and urban trail, is barely off the drawing board but is already being touted as a neighboring asset for a major mixed-use project proposed in Brickell. C-F Brickell LLC plans to construct a dual-branded hotel with 264 rooms, about 25,000 square feet of retail stores, and a rooftop terrace and bar. The property is at 110 SW Seventh St., 721 SW First Court and 115 SW…
WeWork "cracked the code," but has it hit a ceiling?: panel
At first, landlords didn't want to lease to WeWork. Now, the company is in Class A office buildings across the globe. And in the future, it could end up partnering with landlords. "Partnering with WeWork is something we've thought about," said Columbia Property Trust CEO Nelson Mills, explaining that it would be beyond simply leasing space to the co-working company. "Certainly, the industry has been…
Renderings revealed: Mr. C hotel, 100 Las Olas & Fairchild Coconut Grove
The Cipriani family just released new renderings of its Mr. C luxury hotel in Coconut Grove. Arquitectonica and the Martin Brudnizki Design Studio designed the 98-room hotel, which is under construction at 2988 McFarlane Road. It will feature nautical-themed interiors and a ballroom on the top floor with views of the Biscayne Bay. The hotel's facade is propped up by stilts, inspired by…
The American Dream Miami: More Entertainment, Less Retail
The massive American Dream Miami project won final approval from the Miami-Dade commission last week – and it's now looking like more of a theme park than a mall. The $4b project will now have a much larger entertainment component than originally planned, with the amount of retail space reduced, according to the WSJ. Originally, the proposal included 3.5 million square feet of retail, with 1.5…
Related Group and Rockpoint launch $2B multifamily division
The Related Group is making another push into multifamily real estate. Related and Rockpoint Group are launching a new division within Related focused on acquiring value-add multifamily properties in Florida and throughout the Sun Belt, the companies announced on Tuesday. Together, they plan to spend more than $2 billion over the next several years. Miami-based Related and Boston-based…
Too little too late: Internet sales tax ruling can't stop brick-and-mortar retail apocalypse
Retail trade groups claimed a big victory for their brick-and-mortar store constituency when the U.S. Supreme Court ruled that states can collect sales tax from internet retailers. Even President Trump notched it as a win. But retail experts question how much the change will really help or even affect traditional brick and mortar retailers, which have been losing out to e-commerce businesses for a host of…
South Florida Multifamily Transactions, Prices Rise in 1Q; 1Q 2018 Vizzda/MIAMI Realtors Commercial Report Released
South Florida multifamily real estate transactions jumped 8.5 percent year-over-year in 1Q 2018 and per-unit multifamily prices increased in Miami-Dade, Broward and Palm Beach counties, according to the new 1Q 2018 The Quarterly Report – South Florida Commercial Real Estate released by data firm Vizzda (Visual Data) and the MIAMI Association of Realtors Commercial (MIAMI Commercial). "Increasing…"
Miami Mold Specialist in Expansion Mode, Acquires New Building in South Beach
Prominent indoor environmental services company, Miami Mold Specialist, recently announced the acquisition of prime commercial real estate in South Florida. This new commercial property will be used as Miami Mold Specialists new headquarters, with remodeling and renovations already getting underway. The new headquarters will allow for Miami Mold Specialists to efficiently and effectively expand…
Miami Beach food hall unveils tenants and opening date, other restaurant news
Terranova Corp. unveiled a roster of tenants to open at The Lincoln Eatery, a food hall planned for Lincoln Lane in Miami Beach. The 9,600-square-foot hall, at 723 North Lincoln Lane, is set to open in December, according to a spokesperson. Tenants include Necessary Purveyor, a sandwich shop with 136 square feet; Fresh Garden Bowls with 191 square feet; Chill'N nitrogen ice cream with 300 square feet…
ASB Real Estate Acquires Miami Industrial Facility
ASB Real Estate Investments has acquired a 10.5-acre industrial property in Miami's submarket of Hialeah, for $24.3 million. The facility is 100 percent leased on a long-term basis to Synergy Custom Fixtures, a custom counters and fixtures manufacturer. Terreno Realty Corp. sold the asset on behalf of the Allegiance Real Estate Fund, its $6.9 billion core vehicle. This comes off the heels of its $20.3 million sale…
Video: Cory Sylvester of Union RealTime Provides Self-Storage Industry Forecast
Cory Sylvester, Principal with Union RealTime, which provides a data service called Advocate for the self-storage industry, appears on a commercial real estate talk show to discuss how the self-storage industry is performing and what investors in self-storage properties might expect as the market continues to evolve.
Tariff Increases and the Potential Economic Effects
Changes to U.S. trade policy have sparked questions about what the economic effects might be. A recent Economic Synopses looked at other countries that increased tariffs to see what might happen. Economist Fernando Leibovici and Senior Research Associate Jonas Crews identified 16 times over the period 1980-2006 when a country increased import tariffs by at least 3.5 percentage points in a year.
Proposed zoning rules in Coconut Grove would restrict the size of new single-family homes
A movement to curtail the infiltration of boxy, zero-lot line modern houses in Coconut Grove could lead to more stringent rules for single-family home development in the neighborhood. The Miami Planning and Zoning Board voted 8-1 last week to recommend approval of a rewrite of zoning overlays that govern what can be built in Coconut Grove. The proposed regulations will go before the Miami City…
UK billionaire Mike Ashley buys Walgreens property near 1 Hotel South Beach
Mike Ashley, the British billionaire founder and CEO of Sports Direct, just closed on a Walgreens-leased property on Collins Avenue in Miami Beach. Ashley, who also owns Newcastle United Football Club, paid $8 million for 50 percent of the fee simple ownership of the land and 100 percent of the leasehold interest in the property at 2300 Collins Avenue, across the street from 1 Hotel & Homes South…
Doral church buys former building that was home for Univision's "Escándalo TV"
A Doral church is giving new life to an office building previously home to Univision's Telefutura operations. Iglesia Doral Jesus Worship Center paid $9.5 million for the nearly 80,000-square-foot building at 1900 Northwest 89th Place, more than two years after the property hit the market for $12.75 million. The church financed the deal with a $6.4 million mortgage from West Palm Beach-based Flagler Bank.
Grass River, Downstream Realty Partners buy Wilton Manors shopping center
Grass River Property and Downstream Realty Partners are expanding their portfolio in Wilton Manors. Property records show the partnership paid $21 million, or about $270 per square foot, for a 78,600-square-foot shopping center at 2200 and 2292 Wilton Drive, with plans to renovate the property. Grass River and Downstream Realty scored a $22.8 million loan from Two Harbors Investment…
MiamiCentral Office Buildings Listed for Sale
Florida East Coast Industries, a company with ties to railroad magnate Henry Flagler, is marketing for sale the first two buildings at the transit-oriented MiamiCentral development in downtown Miami. The listing includes 2 MiamiCentral at 700 NW MiamiCentral Avenue and 3 MiamiCentral at 161 NW 6th Street. The 5-Star buildings collectively consist of 285,000 square feet of offices and 35,000 square feet of….
Brightline may extend passenger train service to both Orlando and Tampa
Brightline, the company that plans to extend its passenger train service in South Florida to Orlando, may expand into Tampa, too.
Gov. Rick Scott announced Friday that state officials will consider proposals by private companies to launch a passenger train service along Interstate 4 between Tampa and Orlando. Brightline has submitted a bid to build a rail line in the I-4 corridor on land leased…
Condo association in Brickell tower says developer overcharged for shared facilities
A condominium association in Brickell is suing its shared services provider, Mast Capital, alleging the developer unexpectedly and excessively raised the amount the condo owners had to contribute. The Mayfield Condominium Association also claimed Mast Capital — which owns the hotel portion of the building — overcharged for some of these expenses, which include maintenance for some of the…
White House wants to shake up housing finance
The White House on Thursday unveiled a plan to release Fannie Mae and Freddie Mac from government control and turn them into private companies. Under the proposal, which still needs congressional approval, the two mortgage giants would lose their federal charters. Other private companies would be able to compete with them in the business of repackaging mortgages, stamping them with…
As redevelopment becomes all the rage in downtown Miami, nightclubs are turning into collateral damage
E11even is one of three clubs on Northeast 11th Street that have faced multiple noise complaints from neighbors. For more than 15 years, in the wee hours before sunrise on Sundays, the thumping bass emanating from the speakers inside the cavernous Club Space lured hundreds of electronic dance music aficionados onto Northeast 11th Street in downtown Miami. It's a scene that real estate developers…
Apartment Construction Booming Across the Southern U.S.
The 816-unit Park Line Miami apartment towers at 250 NW 1st St. in Miami. The project is slated to be completed by the fourth quarter of 2019. Due to impressive in-migration as well as demographic growth and booming economies, southern metros have attracted an impressive share of apartment…
Joint venture buys 30-story office building
Miami's commercial real estate market has been hot for several years now, but the risks are real. The recent sale of a large office building helps illustrate the potential upside and downside. The 30-story tower at 1111 Brickell Avenue recently sold to a joint venture involving real estate giants KKR and Parkway Property Investments for an undisclosed amount. When it last changed hands in 2013, it sold for…
The country's largest shopping mall is coming to Miami
The mall isn't dead—it's simply become a theme park At a time when brick-and-mortar shopping centers across the country are struggling to stay afloat, the developers of American Dream Miami are moving forward with a plan to bring the nation's largest and most expensive megamall to South Florida. Slated for a 174-acre site of mostly vacant farmland along the Florida Turnpike in Miami Lakes…
Miami-Dade county doubles down on cars with Kendall Parkway highway expansion
Transit advocates have sarcastically dubbed controversial proposal as "another sexy highway" On Wednesday Miami-Dade officials voted in favor of a hotly debated plan to build a new multilane highway through the Everglades to serve the county's West Kendall community.
Commissioners approved the project by a 9-2 margin despite testimony from opponents claiming the $650 million undertaking would…
Hialeah construction company execs charged with defrauding affordable housing fund
The president and vice president of a Hialeah-based construction company face federal charges for allegedly defrauding Miami-Dade County's low-income housing fund. Javier Estepa and Diego Alejandro Estepa Vazquez of Aaron Construction Company, were charged in a four-count indictment on Thursday over their alleged involvement in a scheme to gain contracts with Miami-Dade Public Housing…
Miami board approves two mixed-use hotel projects in Edgewater and Brickell
With a few minor modifications, a pair of mixed-use hotel proposals in Edgewater and Brickell received a seal of approval from Miami's Urban Development Review Board. Both projects went before the board on Thursday to request design waivers. The board first heard from Miguel Diaz de la Portilla and Kobi Karp, the attorney and architect, respectfully, for Prime Biscayne Property LLC, which submitted…
Miami Beach Convention Center hotel by group led by Jackie Soffer and David Martin would cost at least $348M to build
The development group led by Jackie Soffer and David Martin would build a compact, sleek convention center hotel in Miami Beach that incorporates environmentally conscious design elements aimed to mitigate the impacts of climate change. The price tag would be between $348 million to $362 million with 65 percent financed with construction loans and the remainder through equity from the…
Miami board approves design for second phase of apartments at Liberty Square redevelopment
The reimagining of Miami-Dade's oldest public housing apartment complex will feature six new three-story buildings with 204 apartments, a hidden parking lot and a small park and playground. Miami's Urban Development Review Board on Wednesday approved the second residential phase of Liberty Square Rising, an ambitious redevelopment project by Related Urban, the Related Group's…
Elysee condo tower goes vertical after massive concrete pour
Crews delivered 5,000 tons of the building material in just 20 hours After breaking ground in December, Miami's striking Elysee condo tower has begun its 57-story vertical climb along the Bay of Biscayne. The start of above-ground construction comes after crews completed a nearly twice-around-the-clock, 20-hour concrete pour to create the future skyscraper's base. No fewer than 260 truckloads…
Spider lists Edgewater site for $7M after axing condo project
Spider Investments just listed the site of Spark, a canceled condo project in Edgewater, for $7 million. The developer, led by Andres Goldenberg and Alejandro Eskenazi, is one of a handful in South Florida to list the sites of their now-defunct projects, including the former Flagler 626 property in Fort Lauderdale's Flagler Village and the Boulevard 57 site in Miami. Spider launched sales for Spark, a 27…
East End Capital scores $30M financing for Wynwood Arcade, nearby warehouses
More retailers and restaurants are coming to Wynwood. East End Capital just scored $30 million in financing for the build-out of tenant spaces at its Wynwood Arcade development, as well as for some surrounding warehouses that the developer assembled between 2014 and 2016. The warehouses along Northwest 24th and 25th streets recently signed on taco and tequila restaurant Bartaco and the…
Miami Office Tower Fetches Area's Second-Highest Sales Price Since 2012
The recent sale of Sabadell Financial Center in downtown Miami for $248.5 million ($475 per square foot) cements the transaction as the second-highest price paid for a South Florida office property in the last six years, CoStar data shows. Global investment firm KKR (Kohlberg Kravis Roberts & Co LP) and Orlando-based office landlord Parkway Property Investments LLC bought the 30-story tower at…
Good News: Disclosure of Cash Buyers for Lux Real Estate Effective in Curtailing Money Laundering; Bad News: Homes Sales Cut by 70%
The Department of Treasury's crackdown on potential money laundering involving all-cash buyers of real estate that began in 2016 deflated the value of luxury homes sold in the nation's largest markets by more than 4 percent. It also reduced the number of all-cash sales by 70%, according to a new authoritative analysis by the Federal Reserve Bank of New York and the University of Miami.