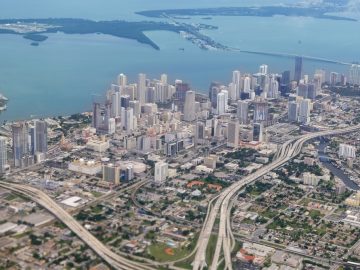 TV dinner scion buys Little River site in Opportunity Zone
An entity tied to an heir of the Swanson food fortune just picked up three parcels in a designated Opportunity Zone site in Miami's Little River… for $5.6 million, with plans for a 7-Eleven. SP Miami, which is connected to W. Clarke Swanson Jr. bought the 35,489-square foot vacant site at 2 Northwest 79th Street, 22 Northwest 79th Street, and 38 Northwest 79th Street for $156 per square foot…
Dalfen Industrial Acquires 201,491 SF Warehouse in Metro Miami
Dalfen Industrial has bought Golden Glades Fulfillment Center, a 201,491-square-foot, multi-tenant industrial building in Miami Gardens. The property was 100 percent leased at the time of the sale to tenants including Amazon and Packaging Corp. of America. The asset sits on 10.2 acres about 15 miles north of downtown Miami and within 10 miles of 1.6 million people. The seller and sales price were not…
Miami-Dade waffles on proper use of transit tax funds
Miami-Dade commissioners Tuesday punted on whether to stop using "half-penny" tax funds to pay for transit services that existed before 2002, the year voters approved the tax to expand transportation throughout the county. They are now to vote March 19 on an item that would disentangle the tax from the county's general fund in fiscal 2020-21, one year later than recommended by the half-penny's…
University of Miami Health System OKs North Miami center
The University of Miami Health System plans to debut a medical center in a $4 billion mixed-use development in North Miami called SoLé, with a target opening date in early 2023. The medical center is nestled in the 184 acres developed by Miami's Soffer family and New York's LeFrak family. Developers envision 12 residential towers and 500,000 square feet of retail and commercial space surrounding a 7-acre…
PortMiami dredging hinges on Army Engineers test simulation
The decision on whether to proceed with another round of dredging at PortMiami will depend on results of a harbor simulation at an Army Corps of Engineers testing facility, part of  $3 million study of the port, Corps personnel said last week. Miami-Dade commissioners in July authorized the county in fully funding the three-year study, which commenced in September when the Corps executed the …
Strong Miami employment numbers track state and nation
Mixed signals from external events may complicate a coherent economic outlook for Miami, but one thing is sure: employment is booming today. In interpreting where we're heading locally, how much heed should we pay to the tragedy of Venezuela or the potential fallout of Michael Cohen's testimony, to the failure of talks with North Korea or the Brexit debacle? Which of these or other externalities…
Sabadell Financial Center, Telemundo Lead Miami's Top Office Sales Of 2018
Miami was so close to breaking the quarter-billion-dollar mark with an office tower sale last year, but hey, $248.5M is nothing to sneeze at. Courtesy of Swire Properties Brickell City Centre is in the foreground of the dense Brickell skyline. That was just one of two deals over $200M, according to CommercialCafé in its roundup of the city's biggest office deals of 2018. In that top spot, Sabadell Financial Center…
Michaels building on Alton Road hits the market for $47.5M
The newly built retail building on Alton Road in Miami Beach home to Michaels just hit the market for $47.5 million, The Real Deal has learned. Saber Real Estate Advisors developed the 110,000-square-foot building, called 1800 Alton, last year on the former site of a Chevron gas station. Marcus & Millichap's Brett Chetek, Alex Perez and Chris Garavaglia of the Chetek Group have the listing. The five…
FBI opens Miami task force to shut door on foreign corruption, money laundering
The FBI is looking to clamp down on foreign corruption with a new task force in Miami, a city that has long served as a gateway for illicit money laundering. The squad will concentrate on Miami and on international corruption in South America, according to the Associated Press. The FBI said it often finds people hiding their money in luxury South Florida real estate and and luxury boats. And in recent…
Beach Towing scores a victory over Deco Capital Group
In a blow to Deco Capital Group's ongoing battle with Beach Towing, the Miami Beach Board of Adjustment denied the developer's appeal challenging the tow company's operations as a legal zoning use in the Sunset Harbour neighborhood. In its appeal, Deco Capital sought to overturn a determination by Miami Beach Planning Director Thomas Mooney that Beach Towing is allowed to…
Miami OKs deal for lighted park under I-395
Miami city commissioners have approved the first step of a deal with the Florida Department of Transportation (FDOT) to help design and manage several blocks of land under a rebuilt I-395 freeway downtown. Last fall, FDOT's James Wolfe met with commissioners and announced the start of construction on the long-awaited I-395/SR 836/I-95 project, including a "signature bridge" near the Adrienne…
Is the U.S. Economic Expansion Due to End?
In her Dec. 16, 2015, press conference, then-Federal Reserve Chair Janet Yellen famously stated "I think it's a myth that expansions die of old age. I do not think that they die of old age. So the fact that this has been quite a long expansion doesn't lead me to believe that…its days are numbered." Nevertheless, there remains an idea in the public forum that the longer the expansion, the more likely that it will…
The Story of Storage's Success? : A look at the rise of the warehousing and storage industry
Some industries change for understandable reasons, at least in hindsight. For example, the horse buggy sector collapsed when the automobile became widespread, and the electronics industry has grown tremendously in recent decades because of innovation and high demand for its products. For some sectors, though, expansion is a little more puzzling. The graph shows some statistics about the…
Industrious co-working firm inks first South Florida lease on Brickell
Industrious is heading to Brickell. The co-working provider signed a lease for 45,000 square feet at 1111 Brickell, and expects to open by the end of this year. A joint venture between KKR and Parkway Properties paid $248.5 million for the 30-story, 539,000-square-foot Class A office tower in June. It plans to spend up to $10 million on renovations and upgrades. New York City-based Industrious was…
Turnberry partners and siblings Jackie and Jeffrey Soffer split
After 25 years of joint ownership of the family real estate development company, Turnberry Associates, siblings, co-CEOs and co-chairmen Jackie and Jeffrey Soffer have split up to pursue individual projects. Jackie Soffer will retain the Turnberry Associates brand as CEO and chairman, and will be the principal owner of Aventura Mall and Town Center Aventura. She will also continue to develop the 800-key…
ArtCenter/South Florida buys Little River property for new HQ
A Miami visual arts organization is planning to build a $30 million headquarters in Little River. The ArtCenter/South Florida, which is changing its name to Oolite Arts, bought two parcels at 75 and 77 Northwest 72nd Street for about $6 million to build its new home, a 50,000-square-foot facility that's projected to open in 2022. The organization hired Jones|Kroloff to conduct an architect search for…
White House allows Americans to sue for seized Cuban properties
Americans are now able to sue about 200 Cuban companies that control real estate previously confiscated by the Cuban government. The White House plans to announce the decision Monday, as part of a partial implementation of Title III of the Helms-Burton Act of 1996. Congress has suspended Title III six months at a time since it was passed. The move will allow Americans to file lawsuits in U.S. courts…
Del Frisco's steakhouse inks lease at Met Square; other restaurant news…
Del Frisco's Double Eagle Steakhouse signed a 15,000-square-foot lease in downtown Miami, the company confirmed. The steakhouse chain will be on two floors at Met Square, the final phase of MDM Group's Metropolitan Miami project that includes Met 1, 2 and 3. Whole Foods anchors the Met 3 building, a luxury apartment tower by Zom. In Florida, Del Frisco's has one location in Orlando…
Homebuilder picks up 22 parcels in Coconut Grove for $25M
A South Florida homebuilder acquired 22 parcels in Coconut Grove for $25 million. Send Enterprises LLC acquired the parcels and got a $25 million mortgage loan from Fuse Funding in connection with the acquisition. The managers of Send Enterprises are Douglas Cox and Nicole Pearl in Coral Gables. Cox has developed many of the newer houses in Coconut Grove. The sellers of the 22 parcels are three…
Company that oversaw construction of collapsed FIU bridge files for bankruptcy
The contractor behind a pedestrian bridge at Florida International University that collapsed last year said it filed for bankruptcy to reorganize with protection from creditors. In a press release issued Friday, Munilla Construction Management (MCM) said it filed for Chapter 11 bankruptcy but provided no financial details. Court papers from the bankruptcy case were unavailable Friday night.
Amazon is launching a new supermarket brand
Amazon is planning to launch a new line of grocery stores in several major U.S. cities. The first store is set to open in Los Angeles as early as the end of the year, as the e-commerce giant grows its footprint in the food business, the Wall Street Journal reported, citing people familiar with the matter. The company has reportedly already signed leases for at least two other locations slated to open early next…
Miami commissioner delays approval of Little Haiti mega-project
Miami commissioner Ken Russell, whose proposal to curb overdevelopment in Coconut Grove stalled Thursday night, single-handedly derailed the first vote on Magic City at a marathon meeting that stretched into Friday morning. Citing a pair of city ordinances, Russell, chairman of the Miami City Commission who resides in and represents the Coconut Grove area, stopped a vote on first reading of the…
South Florida's biggest office sales in January
Baptist Health South Florida's purchase of the site of the planned Collection Residences in Coral Gables marked the biggest sale of January. Baptist Health bought the 2.8-acre property, home to office and retail space, that was at the center of a contentious lawsuit between developers Masoud Shojaee and Ugo Colombo for $37 million. Shojaee, a homebuilder, and Colombo, a developer and owner…
Gap to close half of their locations & split Old Navy into separate company
Old Navy will have to go it alone from now on. Owners Gap Inc are closing 230 of their branded stores, roughly half of all their locations, and splitting Old Navy into a separate publicly traded company. Most of the closures will be in the U.S. "Following a comprehensive review by the Gap Inc. board of directors, it's clear that Old Navy's business model and customers have increasingly diverged from our…
Michael Stern targeting Opportunity Zones in New York and Florida
Michael Stern is jumping on the Opportunity Zone bandwagon. His company JDS Development Group has invested at least $139 million in property purchases in Opportunity Zone sites in Brooklyn, Queens and Allapattah and Opa-Locka in Miami-Dade County, Florida. "Opportunity Zone money is starting to flow," Stern told Bloomberg,"There are still some out there that are cautious. But I think…
Two Hialeah construction execs convicted of low-income housing tax fraud
The president and vice president of a Hialeah construction company were convicted Wednesday of defrauding a federal low-income housing program. Aaron Construction Group President Javier Estepa, of Davie, and Vice President Diego Alejandro Estepa Vasquez of Boca Raton, were each found guilty of one count of conspiracy to commit wire fraud and three counts of wire fraud, as well as charges of…
Soho Beach House scores $117M refi
Soho House closed on a $117 million refinance of its Soho Beach House in Miami Beach. Citigroup is providing a $55 million senior loan and Rexmark is providing the $62 million mezzanine loan, according to the Commercial Observer. Mission Capital Advisors arranged the financing. Billionaire Ron Burkle's The Yucaipa Companies owns a majority interest in Soho House, in addition to founder Nick Jones.
SoFla construction starts plummet in January
South Florida construction starts in January plummeted year-over-year, with steep declines in both residential and commercial sectors, a recently released report shows. Total construction starts fell 45 percent to $640.8 million in January. Residential construction dropped by 55 percent to $333.2 million, while non-residential construction dipped by 28 percent to $307.6 million, according to Dodge Data…
When it comes to Opportunity Zone sites, investors say buy now, plan later
The rush to buy Opportunity Zones sites has already begun, but then what? Investors have started buying up properties and vacant land in designated Opportunity Zones sites around the country, even though some have no set plan about what they will build, according to the Wall Street Journal. In one example, McDougal Cos. bought an 8,000-square-foot former movie theater in an Opportunity Zone in…
Parque Towers developer J. Milton faces mounting lawsuits over construction delays
Developer J. Milton & Associates is facing four lawsuits from buyers seeking to get out of their contracts at Parque Towers, an unfinished luxury condominium project in Sunny Isles Beach. Three separate suits were filed in Miami-Dade County Circuit Court during the past two months against Parque Towers Developers, an affiliate of Coral Gables-based J. Milton & Associates, over construction delays at the…
Opportunity Zone program has loads of potential but is not a cure-all: panel
The burgeoning Opportunity Zone program could be one of the best development initiatives the country has ever seen, but investors and developers still shouldn't expect it to turn every deal into a winner, top real estate executives said Wednesday morning. "While the Opportunity Zone program certainly offers benefits that should over time reduce the cost of capital and therefore…
Miami's antiquated permitting system gets a reboot, but developers remain wary
Being a developer can take a good amount of patience, but in Miami that virtue has long been put to the test. Initial approval for a commercial or residential project can take between six months to a year. Physical plans are carried from one city department to the next, and any changes in an application can lead to more submissions and more delay. Once the initial step is secure, a developer usually…
Deco Capital's crusade to shut down Beach Towing in Sunset Harbour heats up
Deco Capital Group' s two-year battle to shut down Beach Towing next to its planned Sunset Park mixed-use residential and retail project in Sunset Harbour is taking a new turn. The developer is appealing an administrative determination by Miami Beach Planning Director Thomas Mooney that concluded towing services are allowed on Beach Towing's property at 1349 Dade Boulevard. The issue is going…