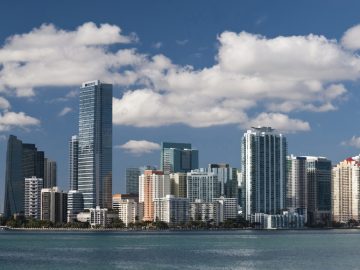 Beckham partners eye Melreese golf course for MLS stadium site
David Beckham and his partners are considering a new property for their multimillion-dollar Major League Soccer Stadium. Miami City Manager Emilio González met with Beckham partner Jorge Mas on Monday to discuss building the stadium on the city-owned Melreese golf course near Miami International Airport, according to the Miami Herald. The Mas brothers, who joined the stadium venture last year…
Macy's on Flagler Street to get 50-story towers on either side
Plans to possibly renovate the historic Macy's on Flagler Street downtown are in early developmental phases with the addition of two adjacent 50- to 55-story buildings that are to be built from the ground up as well. This Macy's, long considered one of downtown Miami's landmarks, is to close this year as part of the corporation's nationwide cutback plan. Aetna Realty Group bought the building in 2013'…
Rent prices have been somewhat stable in Miami in 2018, study says
Miami still ranks 11th nationwide in terms of the most expensive rental markets  This might be a bit of a relief to renters in Miami: Apartment search site ABODO recently released its March 2018 National Apartment Report featuring new data and pricing for Miami, and Miami rents are have only increased slightly since last month. "In terms of rent increase or decrease from February to March, Miami saw…
Miami based Summit Property Group sells Lauderhill rental complex
Miami-based Summit Property Group just sold a 352-unit apartment complex in Lauderhill for $28.5 million. Federal Capital Partners is the buyer of Summit Palms at 4491 Northwest 19 Street according to a press release. The deal breaks down to about $81,000 per unit. Records show an affiliate of Summit Property Group paid $7.8 million for the rental community in 2012. Since then it has invested more…
Video: Grandbridge Real Estate Capital SVP Tom Walsh on the Outlook for Rates for Real Estate Financing
Tom Walsh, SVP at Grandbridge Real Estate Capital, joins Michael Bull on America's Commercial Real Estate Show to discuss interest rate trends and what they're observing in the financing of commercial real estate. They discuss, among other topics, overall market trends, mortgages, rate increases, rate standards, rate compression, inflation, bank underwriting, general financial pressures in the marketplace…
Video: Tim Bodner and Byron Carlock of PwC Discuss Tax Act Impact on Multifamily Properties
Leaders Tim Bodner and Byron Carlock of global accounting and professional service company PwC appears on The Commercial Real Estate Show with its host Michael to discuss what they view as the impact of the Tax Cuts and Jobs Act on the multifamily commercial property sector. Amng the topics they discuss include reduced tax deductions, property tax deductions, residential property trends…
Video: Senior Economist at Moody's Analytics Adam Kamins Discusses Sectors and Regions Benefited by the Tax Act
Adam Kamins, Senior Economist with Moody's Analytics, a firm that helps capital markets and credit risk management professionals worldwide respond to an evolving marketplace, joins America's Commercial Real Estate Show to talk about the commercial real estate sectors and regions within the USA affected by The Tax Cuts and Jobs Act. Also discussed are the topics of tax rates and changes in tax…
What happens when a lease doesn't say how to calculate rent after renewal?
Leases often contain options to renew the lease between the landlord and tenant provided that specific conditions are met.  Options to renew can be worded in a variety of ways, but what may seem to be small semantic differences can have a dramatic difference in the meaning a court places on a particular clause. Where a lease says that the tenant shall have an option to renew for a specific period of…
Video: Economy and Business Trajectory is Discussed by Anthony Graziano, Chairman of Integra Realty Resources
Integra Realty Resources's Viewpoint 2018 report is discussed by its Chairman, Anthony Graziano. Among the topics discussed are the Tax Cuts and Jobs Act, interest rates, cap rates, investments, challenges, and opportunities for the economy, market and one's business.  Integra Realty Resources, based in Miami, is considered an industry leader as the largest independent commercial real estate…
Video: Ryan Burke of Green Street Advisors Remains Positive on Self-Storage
In this video interview Ryan Burke, Senior Analyst of real estate data and analytics firm Green Street Advisors, makes the argument that the long-term outlook for the self-storage commercial property sector is rather good despite some near-term pressures. He still sees more room for the overall self-storage utilization rate to increase, even though mobility is at a cyclical low in the United States.
Video: Integra Realty Resources Chairman Anthony Graziano on Hotel Occupancy and Rents
Anthony Graziano, Chairman at Miami based Integra Realty Resources, considered an industry leader as the largest independent commercial real estate valuation, counseling, and advisory services firm in the United States and the Caribbean, appears on America's Commercial Real Estate Show to discuss aspects of his firm's report, Viewpoint 2018. Topics covered include expected hotel occupancy…
Michael Liu: Miami-Dade Housing director seeks incentives for others to build
Miami-Dade's Public Housing and Community Development Director Michael Liu says he isn't short of creative ideas to increase the number of public housing units in the county and make living in Miami more affordable for everyone. In the past, the county's narrow focus inhibited it from thinking comprehensively about affordable housing solutions, Mr. Liu says. Now, the county is looking at…
Personal Rapid Transit moves into study for Baylink route
Amid commissioners' complaints that the SMART plan for the county's transit expansion has a moving deadline and no momentum, Miami-Dade may soon find relief in one of the six planned corridors. Commission Chairman Esteban Bovo Jr. gave the informal OK for the county to include Personal Rapid Transit [PRT] in its study of Baylink, the corridor crossing Biscayne Bay to connect Miami Beach to…
This Miami golf course could be the MLS soccer stadium's new home
It may be an alternative to the Overtown site Miami City Manager Emilio González floated another option for Miami's MLS soccer stadium rather than Overtown, the Miami Herald reports. David Beckham's partner Jorge Mas met with González about the city-owned Melreese golf course, which could have more room for Mas's ambition plans involving retail, a soccer academy, and more. Mayor Francis Suarez…
Alex Karakhanian buys another building in the Design District
Investor Alex Karakhanian just picked up another building in the Miami Design District. Karakhanian's LNDMRK Development paid $5.5 million for the building and lot at 3622 and 3628 Northeast Second Avenue in Miami. Dwntwn Realty Advisors' Devlin Marinoff, Tony Arellano and Jordan Gimelstein brokered the deal. The property includes a roughly 4,800-square-foot building on 5,750 square feet of…
Developer gets green light for $100 million Drivers Club Miami project
South American developer Carlos de Narváez is moving forward with his $100 million luxury auto club project, Drivers Club Miami. Miami-Dade County commissioners unanimously approved the developer's proposal to turn county-owned land just west of Miami Gardens into a "country club for cars," according to a press release. The approval paves the way for Narváez' 13 Pista LLC to build a massive car…
Comras nabs $35M construction loan for Miami Beach retail project
A company led by Michael Comras closed on $35 million of construction financing for BLVD at Lenox, a Target-anchored retail project in Miami Beach. City National Bank is providing the loan to Mac 1045 5th Street LLC, led by Comras. The five-story building will have about 67,000 square feet of retail space and 224 parking spaces. The developer broke ground in January. CBRE's Jonathan Rice and Jeff…
Vlad Doronin's OKO Group launches new condo project in Brickell
Slowdown? What slowdown? Russian billionaire Vlad Doronin is launching a new project in Brickell. Doronin's OKO Group and investment firm Cain International released plans for Una, a 47-story, 135-unit luxury waterfront condo building for the site at 175 Southeast 25th Road. Fortune Development Sales, which is handling OKO's Missoni Baia tower in Edgewater, was hired as the exclusive sales and…
Self-storage developer scores $83M loan for SoFla portfolio
Self-storage developer Miami City Self-Storage just scored $83.3 million in financing for a portfolio of self-storage facilities spread throughout South Florida. New York-based real estate investment trust, Jernigan Capital Inc. is the lender, according to a release.
The portfolio consists of three self-storage facilities in Brickell, Coconut Grove and the Airport West-Doral submarket. The portfolio also…
Nestle Waters Signs Full Bldg Industrial Lease in Medley
Nestle Waters North America has signed a lease for 257,074 square feet of industrial space at the 4-Star Airport North Logistics Park in northwestern Miami-Dade County. The bottled-water company will take a full building at 8501 NW 80th Street in Medley, FL and expects to move in by the summer, according to Gian Rodriguez, a director with Cushman & Wakefield. Rodriguez, along with Cushman's Wayne…
Prime Redevelopment Parcel in Miami Hitting the Market
Point View Brickell is for sale and approved for 12 stories and 400,000 square feet of development. Credit: Avison Young. Bay Shore Cooperative, Inc. is selling a prime redevelopment site in downtown Miami already zoned for 12 stories of commercial development totaling up to 400,000 square feet, CoStar News has learned. Point View Brickell is a 1.83-acre parcel at 1430 Brickell Bay Drive.
Company-owned Publix stores now exceed 30% of the total
Publix Super Markets now owns nearly a third of its grocery stores and plans to invest more than $1 billion this year in its property portfolio. The Lakeland-based grocer owned 31.8 percent of its stores last year, up from 29.1 percent in 2016, according to the company's 2017 annual report. Publix has increased the percentage of company-owned stores it operates for 11 consecutive years, starting in 2007…
Michael Swerdlow wins bid to negotiate Overtown development deal with Miami
City officials in Miami will negotiate the terms of a $130.5 million mixed-use development in Miami's Overtown area that a group led by developer Michael Swerdlow would build. A company affiliated with Swerdlow Group submitted the winning bid to develop a 3.4-acre site at 249 Northwest 6th Street owned by the board of the Southeast Overtown Park West Community Redevelopment Agency (CRA).
See inside the very sunny Paraiso District's Beach Club
Take a dip in this plunge pool Check out the beachy hangout that awaits residents at Paraiso District: this is Paraiso District Beach Club, a shared amenity for the four-towered megaproject. Guests will travel upstairs, past the ground floor which houses Amara at Paraiso, the new restaurant from James Beard award-winning Michael Schwartz. The second floor of the Beach Club will be private for Paraiso District…
Trump's big hike on steel, aluminum tariffs could raise building costs
President Trump's decision to sharply raise tariffs on imported steel and aluminum will likely raise homebuilding costs even further, a cost that would get passed on to consumers. "Tariffs hurt consumers and harm housing affordability," said Randy Noel, chairman of the National Association of Home Builders, in a statement following Trump's decision on Thursday, according to the World Property…
Blue Road buys Miami Beach rentals, plans boutique hotel
Blue Road just picked up another apartment complex in Miami Beach with plans to convert it into a boutique hotel. Blue Road, led by Jorge Savloff and Marcelo Tenenbaum, paid $14.27 million for Park Terrace, a 32-unit apartment building at 355 19th Street. Investor Rod Eisenberg sold the 22,000-square-foot building. Eisenberg also sold Blue Road the Sadigo Court Hotel for $13 million in 2016.
Brickell co-op hits the market
A 13-story co-op building in Miami's Brickell neighborhood has hit the market unpriced, and has already drawn an offer from Alta Developers' Henry Pino. According to the South Florida Business Journal, Pino has offered to pay $65 million for the 66,000-square-foot site at 1430 Brickell Bay Drive. But the offer is contingent on the city rezoning the property to increase the height limit to 48 stories…
Wildfires and a trade dispute with Canada creating US lumber shortage
A perfect storm of politics, logistics, and natural disasters has created a shortage of lumber that's become a bona fide "crisis," for suppliers, industry experts say. Suppliers are having a hard time getting material to builders, and wood that does make it to construction sites comes at a premium, according to a report in the Wall Street Journal. That is making home building more expensive, and could…
Amazon Courtship Continues – Behind Closed Doors
Economic development leaders Michael Finney, Kelly Smallridge and Bob Swindell (pictured, left to right) addressed Amazon and other issues during an NAIOP forum Thursday in Fort Lauderdale. Credit: NAIOP South Florida. Economic development officials in South Florida keep getting asked about Amazon, and they keep having to politely plead the Fifth. An NAIOP forum on Thursday in Fort Lauderdale…
Suit demonstrates costliness of construction disputes
Miami and South Florida have seen tremendous development of infrastructure over the past several years. From rail corridors and airport projects, to improved freeway and tollway systems, the region is expanding at a breakneck pace. Unfortunately, the pressures of major construction projects can lead to disputes between developers and contractors or subcontractors. And disputes may result in…
Here's what David Beckham partner Jorge Mas wants in the MLS stadium site
Will it all fit in Overtown? Are the ambitions of the MLS Miami partners too big to fit in the proposed Overtown soccer stadium site? The Miami Herald interviewed David Beckham partner Jorge Mas, who confirmed he has met with developers about other stadium sites. Mas wants to create a "tech hub" near the stadium, a youth soccer academy, and entertainment that extends beyond the stadium itself.
Will Amazon HQ2 bid help South Florida market itself as a region?
Inter-county cooperation got South Florida on Amazon's short list of possible sites for a second headquarters — and may signal more collective marketing of Miami-Dade, Broward and Palm Beach County. "Individually, we're okay. Collectively, we actually are impressive," said Mike Finney, president and CEO of the Beacon Council, Miami-Dade County's economic development agency, who spoke at an…
Mobile home park in Hialeah sells for $10M
A nearly 10-acre mobile home park in Hialeah just traded hands for $12 million. The Sunny Gardens Mobile Home Park at 2901 West 16th Avenue, was sold by a Miramar-based company, led by Michael Kemp, for about $30 per square foot, property records show. The five-parcel sale included properties at 1571 West 29 Street and 3099 West 16 Avenue. The buyers are two Delaware LLCs, both led by…
Icon Brickell condo associations file suit against John Moriarty over alleged defects
The construction defect saga at Icon Brickell is far from over. On Feb. 16, the master association and the two condominium associations for the two-tower luxury residential building sued general contractor John Moriarty & Associates of Florida and 20 subcontractors in Miami-Dade Circuit Court. The complaint alleges that Moriarty and 20 subcontractors were negligent and violated Florida's deceptive…
SLS LUX Brickell is now fully sold-out
Closings are slated to begin soon for the 450-unit luxury tower SLS LUX is 100% sold out: the 450-unit luxury tower in Brickell recently sold its final penthouse unit and closing are slated to begin in the coming weeks, according to a release from The Related Group. The development's hotel and culinary components (like Katsuya by sbe from sushi chef Katsuya Uechi) will open after that.
Neighbors are vowing to fight David Beckham's proposed MLS stadium in Overtown
The Beckham group doesn't own its chosen stadium site yet.  How hard is it going to be for David Beckham and his MLS Miami franchise team to bring a 25,000-seat soccer stadium to their proposed site in Overtown? A fascinating Miami Herald article lays out all the obstacles in the soccer star's path, and that includes city residents and activists digging in against the plan. Here's what one organizer…
Bill allowing state to oversee vacation rental regulations put on hold
Local regulations regarding short-term rentals are likely to stay in place, as this year's Florida legislative session comes to an end next week. New rules that would allow the state to take over vacation rental regulations and eliminate local government authority have stalled during the session, according to the Florida Times-Union. Earlier in the month, a bill governing vacation rentals passed the state…
Miami-Dade is swimming in condos, with 4 years of luxury supply: report
Miami-Dade County has four years of luxury condo inventory – not including the glut of preconstruction condos being marketed for sale.
Nearly 2,800 units are on the market asking at least $1 million, according to a new report from Condo Vultures Realty. In 2017, 681 luxury units sold in the county, meaning an absorption rate of about 57 units a month. Six months of supply generally makes for a balanced…
Angelo, Gordon & Co. and partner plan self-storage facility in Homestead
A joint venture between the New York-based investment manager Angelo, Gordon & Co. and Andover Properties is planning to develop a 110,000-square-foot self-storage facility in Homestead, and is expecting to score nearly $6 million in construction financing, The Real Deal has learned. Brian Cohen, president of Andover, which does business as Storage King USA, said the partners expect to close on the…
Here are the roadblocks that are facing David Beckham's MLS stadium
Bruce Matheson's fight against David Beckham's Major League Soccer stadium will go on, new court records show. Attorneys for Matheson, a wealthy activist and landowner, are alleging that Miami-Dade County gave Beckham and his partners "a secret discount from the taxpayers" when it gave them a no-bid, $9 million deal for 3 acres of county-owned land. Matheson is suing the county to block…
Miami commission approves Avra Jain's restoration project in Overtown
Five garden-style apartment buildings in Overtown are in for a major restoration led by developer Avra Jain. The Miami City Commission unanimously approved a proposal submitted by the Omni Community Redevelopment Agency, which included a request by Jain's Vagabond Group to buy and rehabilitate the rental buildings at 1541 and 1535 Northwest First Place and 1540 Northwest First Court.
Arch Companies, partner complete Edgewater assemblage for mixed-use apartment project
Arch Companies and its partner, Canadian investor William Wiener, just completed assembling land for a mixed-use project to include apartments in Edgewater. Wiener's 35 Oak US 4 Inc. paid $9.7 million for the Sion International Center Church buildings at 2511 and 2521 Biscayne Boulevard from the Sion Church of the Assemblies God, according to property records. The land totals 22,400 square feet…
Florida Again Ranks in Top 5 for Commercial Real Estate Development, Study Finds
Florida remains among the top five states for commercial real estate development, according to a report Wednesday from NAIOP. The Sunshine State's commercial real estate industry created and supported 155,926 jobs last year and also contributed $19.32 billion to the Gross Domestic Product, the study found. Florida maintained its No. 5 ranking from 2016. Texas ranked No. 1 in the latest study, with…
Evaluating Options for Amazon's HQ2 Using Stack Overflow Data
Amazon is a technology behemoth, employing half a million people globally and hiring nearly 130,000 people in 2017. Amazon has been headquartered in Seattle since its early days in the 1990s, but in September 2017, the company announced a search for a secondary headquarters elsewhere in North America. Over 200 cities entered bids to be considered, and last month, Amazon announced a list of 20…