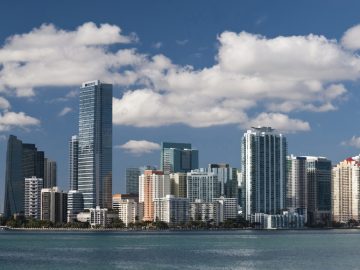 City swap, three-tower development on Miami River cast adrift
A complicated deal to gain a new office complex for the City of Miami in exchange for a triple tower private development on the Miami River is not as advanced as recently proclaimed. In fact, City Manager Emilio González said it's far from being a sure thing. The deal arises from the city's intent to sell or lease Miami Riverside Center, its office tower complex on the river at 444 SW Second Ave. Saying they…
Never Mind South Beach. Miami's Downtown Is Undergoing A Multibillion-Dollar Transformation
In 2010, when LeBron James announced during a televised ESPN special that he would be "taking his talents to South Beach" and joining the Miami Heat, Floridians chuckled, because while South Beach is the main tourist drag on a barrier island, the Heat's stadium is actually located across a causeway, on the mainland in downtown Miami. Bisnow/Deirdra Funcheon Developers Art Falcone and Nitin Motwani…
Macken sells Walmart-anchored center in Miami Gardens
Macken Companies just sold a Walmart-anchored shopping center in Miami Gardens for $11.85 million. The newly developed Palmetto Design Center at 3791 Northwest 167 Street sold for about $190 per square foot to Rise Star LLC, a Hollywood-based company led by Valentina Georgescu, according to a press release. The plaza, completed in 2016, was developed in a joint venture between Macken…
Mall Of America's Developers Are Planning A Bigger, $4 Billion Project On Outskirts Of Miami
Triple Five Worldwide says its three North American malls — Mall of America in Minnesota, West Edmonton Mall in Canada and the under-construction American Dream Meadowlands just outside of New York — will draw more tourists annually than Disneyland, Walt Disney World, Times Square, the Las Vegas strip, the French Quarter, the Grand Canyon and Yellowstone combined. Now, the company…
Hyatt Regency riverfront deal gets a slowdown
Hyatt Regency executives are eager to lock in a new long-term lease of Miami riverfront so they can build a new hotel and more, but city commissioners are in no rush and made that clear May 10. Proposed legislation to put the matter on the August primary election ballot was deferred for at least two weeks. The City of Miami owns the 4.2-acre site at 400 SE Second Avenue, home to a Hyatt Regency hotel…
GreenOak Raises $1.55 Billion for Real Estate Deals in Miami, Other Major U.S. Cities
GreenOak Real Estate has raised $1.55 billion for its third U.S. fund, the largest yet for the firm formed by former Morgan Stanley property executives. While GreenOak has historically spent most of its capital in New York, San Francisco, Los Angeles and Boston, it will also target other major cities, including Seattle, Washington and Miami.
Downtown Miami's largest office lease gets boulevard penthouse
Downtown Miami just saw its largest office lease in 2018 signed and secured. Duane Morris LLP is the new penthouse tenant at the CitiGroup Center with the help of Tower Commercial Real Estate. Duane Morris LLP is making a short jump from its current location at 200 S Biscayne Boulevard to its new offices at 201 S Biscayne Boulevard According to Jon Blunk, president of Tower Commercial Real Estate…
Miami-Dade courthouse bidding D-Day: June 5
Brightline's parent company might still have a chance to build a new downtown Miami-Dade civil courthouse — in spite of the county mayor's opposition. On June 5, the Miami-Dade County Commission will decide whether or not to merge two bidding processes for real estate developers and contractors interested in building a new courthouse that will replace the deteriorating circa 1928 civil courthouse…
Success In The Suburbs: Build For Underserved Customers Outside The Urban Core, Florida CRE Experts Say
In South Florida, the focus is usually on the flashy, the sexy, the chic. But developers working in the suburbs of Fort Lauderdale are finding that it is profitable to leave trendy developments to others and focus on quieter deals in underserved areas, like the small cities of Sunrise, where the Florida Panthers hockey team plays, and Plantation, where major companies like Magic Leap and Virgin Cruises have recently…
L'Atelier developers score $28M refi for sold-out North Beach tower
The developers of L'Atelier Residences in North Beach refinanced their construction loan with a $27.8 million loan from Bank of the Ozarks. The Disney family's Shamrock Holdings, SMG Management and W Capital Group are the developers behind the 18-story, 24-unit building under construction at 6901 Collins Avenue in Miami Beach. The lower leverage, lower interest rate loan replaces the $57 million…
Miami-Dade's resi sales suffered the most in Q1: Realtors reports
Fewer South Florida homes sold in the first quarter compared to the same period last year, with Miami-Dade taking the brunt of the slowdown, new reports from the Florida Realtors show. Still, prices continue to rise across South Florida. Residential closings fell 6.5 percent in Miami-Dade County to 5,770 during the first quarter. The decline was marginal in Miami's counties to the north. In Broward…
Triarch buys North Miami Beach retail building near planned SoLē Mia
Triarch Capital Group just picked up a retail building along Biscayne Boulevard in North Miami Beach for $6.55 million, property records show. The 15,000-square-foot retail building at 14652 Biscayne Boulevard is leased to Boga Style Home. Online marketing materials show its lease is set to expire in about three years, with four five-year renewal options that would run through 2044. The seller, Glazer…
South Florida Retail Summary (Q1 2018)
Market Snapshot for South Florida Retail A summary of the highlights, trends, and current market activity of Q1 2018 for South Florida commercial real estate focusing on Miami-Dade County: Analysis derived and compiled from leasing data and transaction reports in order to better understand the health of the CRE market in Miami-Dade County. In Q1…
SunTrust building in downtown Miami sells for $127M
SunTrust International Center in downtown Miami just sold to PCCP for $127 million. Crocker Partners sold the 31-story office building at 1 Southeast Third Avenue about three years after renovating the tower. The 440,000-square-foot office building has nearly 170,000 square feet of vacant space, José Lobón of CBRE said in a press release. The 33,500-square-foot retail portion is fully leased…
American Dream Miami developer Triple Five under contract to buy Archbishop Curley site in Little Haiti
Triple Five Group, the developer of the proposed American Dream Miami mall, is under contract to buy the Archbishop Curley-Notre Dame High School site in Miami, with plans to build apartments, condominiums and retail space, The Real Deal has learned. Robert Gorlow, a Miami Lakes-based consultant for Triple Five, confirmed that the Edmonton, Canada-based company has the 15.56-acre site…
Nearly 3M sf of retail space will be delivered this year in South Florida: report
Who says brick and mortar retail is dead? More than 2.8 million square feet of retail space are projected to be delivered this year in South Florida. And in Miami-Dade County alone, about 1.8 million square feet will open by year's end, including several shopping centers that are more than 100,000 square feet, according to a report from Marcus & Millichap. While traditional retail stores across most of the…
SunTrust International Center Sells for $127M
SunTrust International Center, a 4-Star office tower in downtown Miami, has sold for $127 million, or roughly $283 per square foot, to institutional investor PCCP LLC. The seller, Crocker Partners, paid $82.5 million as part of an auction sale in 2011 that valued the office property at roughly $54.79 million, or about $122 per square foot, according to CoStar data. See CoStar COMPS #2155498.The 449,076…
Multifamily Concessions Creeping Up in Miami, Fort Lauderdale
Despite hyper-supply in Miami's multifamily market, lease-up of new apartments remained as strong in 2017 as it was in 2016. However, an uptick in concessions indicates property managers may be working harder to maintain that same level of lease-up momentum. Concessions increased year-over-year for Miami and Fort Lauderdale. Strong population growth in South Florida has kept demand for…
Take a virtual reality tour of Paramount Miami Worldcenter
The tour shows what the 27-acre, Miami development will look like once it's finished Paramount Miami Worldcenter, home to the largest construction site in Miami's history, aims to build a city within a city in Downtown Miami. Unlike Metropica, a $1.5 billion mixed-use project by Joseph Kavana that aims to transform Sunrise's corridor in Broward County into a city within a city, the Miami development…
Can landlords discriminate against porn stars?
Adult film stars say they often get screwed when it comes to finding housing. Adult-film actress Aurora Snow claims she and others face discrimination from landlords due to their line of work, Inman reported. "I was young, had great credit and plenty of money, and had even agreed to put down three times the deposit," Snow wrote in an op-ed for the The Daily Beast. "But it wasn't enough. He grilled me…
Two Little Havana retail properties command $11.19 million
A company run out of Broward County paid $11.19 million for two properties that span two acres in Miami's Little Havana. Gamla LLC, managed by Dov Ohayon in Plantation, paid $7.5 million for a 1.59-acre property in the 1100 block of Flagler Street that extends to Northwest First Street and Northwest 11th Street. The property has 26,223 square feet of retail space and is located in an area of Little…
All aboard: Brightline train services start May 19
Brightline will host a two-day celebration at the MiamiCentral station for the public Commuters in Miami-Dade County will have a new form of transportation to visit Broward and Palm Beach counties starting next week. Brightline, a passenger rail that offers non-stop service between Miami, Fort Lauderdale, and West Palm Beach, will officially launch Saturday, May 19, revealed Brightline representatives…
Miami officials to expedite $45 million Flagler, SW 1st Street roadway project after construction delays
Store owners near West Flagler Street and Southwest First Street have seen a 50 percent dip in profits since the project began The City of Miami Commission passed a resolution Thursday that allows the City Attorney to take all necessary actions to expedite the construction delays relating to West Flagler Street and Southwest First Street. One of those actions includes suing the Florida Department of…
Midtown Miami Hotel Lands $21M Construction Loan
Aztec Group has arranged $21.3 million in construction financing for the development of AC Marriott Hotel, a 153-key hotel in Midtown Miami. Florida Community Bank provided the loan, secured by Aztec Managing Director Boaz Ashbel on behalf of Midtown Lodging 2 LLC. Located at 3400 Biscayne Blvd., at the corner of Northeast 34th Street and Biscayne Boulevard, the new hotel is scheduled for…
Estates at Acqualina breaks ground with skydivers, a marching band and 25 Rolls-Royces
Three skydivers parachuted onto the sand as a marching band played "The Champion" alongside 25 Rolls-Royces — all to celebrate the groundbreaking of the Estates of Acqualina in Sunny Isles Beach Thursday evening. The luxury condo project, developed by the Trump Group, will include two 50-story towers with a total of 247 units at 17895 Collins Avenue. The south tower will have 154 units, and the…
Duane Morris signs $17 million lease at Citigroup Center in downtown Miami
Duane Morris LLP is moving into the penthouse office suite at the Citigroup Center in downtown Miami. The law firm signed a lease for more than 23,000 square feet on the top floor of the 34-story building at 201 South Biscayne Boulevard. The lease is valued at $16.8 million, marking one of the largest office deals in downtown Miami so far this year, according to a press release. Duane Morris is moving…
Mast Capital, partner close on Miami River dev site for $26M
Mast Capital just closed on a 6.3-acre site along the Miami River where the developer is planning a 688-unit project. The firm, led by CEO Camilo Miguel Jr., paid $26 million for the property at 1001 Northwest Seventh Street in a joint venture with AEW Capital Management, according to a press release. Colliers International South Florida's Gerard Yetming and Mika Mattingly brokered the deal. Property…
Former offices of South Florida's biggest Ponzi schemer now available to lease
The space once held a massive aquarium, a private elevator and was protected by a high-tech security system in what a U.S. Attorney called "the structure of a secretive man." The former offices of one of South Florida's most well-known convicted Ponzi schemers and a beleaguered bankrupt insurance company are now available for lease in downtown Fort Lauderdale. The 36,537 square feet of office…
Hyatt's redevelopment dreams for the Knight Center strike out again
For the second time in less than a year, Hyatt Hotels Corp. failed to win the Miami City Commission's permission to let residents vote on their redevelopment proposal for the site of the James L. Knight Convention Center and the adjacent Hyatt Regency Miami. Citing pressure to rush through an Aug. 28 ballot measure that could grant the company a new 99-year lease, four out of five commissioners…
688-Unit Apt. Complex Coming to Long-Vacant Miami River Site
Mast Capital.A $26 million land deal that closed late Thursday clears the way for a large rental development along the revitalized Miami River. Mast Capital bought the 6.3-acre site at 1001 NW 7th Street in Miami's Little Havana neighborhood from RAD Miami. Mast already has site plan approval for Miami River Walk, featuring four buildings of 688 apartments and nearly 3,000 square feet of retail.
Spectacular recoveries : Comparing the strongest economic recoveries in recent U.S. history
In a previous post, we discussed how the economic recoveries from recessions are longer and slower than the downturns that lead to those recessions. Today, we compare the sizes of recoveries across the economic history of the United States. In the graph above, which shows the unemployment rate, the current recovery is clearly remarkable: The drop from unemployment's high point of 10% down to…
How Industrial Became CRE Financing's Newest Sweetheart
Over the last few years, industrial properties have risen through the ranks among banks and other commercial real estate lenders to become financing's new sweetheart property type. These include core market warehouse and distribution centers, refrigeration/cold storage centers, flex buildings, manufacturing properties and R&D facilities. Lenders are aggressively targeting these specific property…
Starwood Capital wants to build a new HQ in Miami Beach
Barry Sternlicht's Starwood Capital Group plans to develop a new headquarters in Miami Beach to move into by 2021, according to a memo sent out to employees reviewed by The Real Deal. In the memo, Starwood-owned LNR Partners said it is "in the process of finalizing plans with Barry [Sternlicht] and our partners at Starwood Capital to build a new world-class headquarters office here in Miami…
Jack's Miami to open second location, Pharrell to partner on new Design District restaurant, other restaurant news
Jack's Miami is opening a second location at Mary Brickell Village. The restaurant, which has its original location near Wynwood, is opening a pop-up at The Craftsman Miami, unit 135 at 900 South Miami Avenue. Jack's has a sublease with the bar, and is taking about 1,000 square feet, which includes an 800-square-foot kitchen. The homestyle restaurant's second outpost is an "express" location for…
Law firms want smaller offices amid SoFla's shifting real estate market
Law firms' office spaces are shrinking in South Florida. The average office size for a law firm in South Florida decreased from 800-1,000 square feet per lawyer to 550-700 square feet per lawyer, according to a recent CBRE study cited in the Daily Business Review. Nationally, law firms' average square footage reduced 27 percent between 2010 and 2017, according to the study. Andrew Smulian, former…
The end of real estate's flashiest foreign buyer: Anbang's ex-chair Wu Xiaohui gets 18 years in prison
Wu Xiaohui, the former chairman of Anbang Insurance Group, has been sentenced to 18 years in prison after being convicted by a Chinese court of orchestrating a $12 billion fraud. Wu had become the poster boy for Chinese debt-fueled U.S. real estate purchases, acquiring some of New York's most notable assets between 2014 and 2016. In addition to his prison term, Wu will also have $1.65 billion…
Hines Eyes Amazon for Downtown Miami Office Tower
The Hines real estate firm plans to build a 47-story, multi-tenant office tower in downtown Miami, unless retail behemoth Amazon swoops in to make it single-tenant. Michael Harrison, a senior managing director for Houston-based Hines, said on Thursday that the firm has hired CBRE to begin marketing the building, which could be as large as 600,000 square feet. It's scheduled to open in 2021 in the mixed…
Video: Director of Leasing at Hines on retail tenant success in today's changing environment
In this video, Nick Grazia, Director of Leasing at Hines, appears on America's Commercial Real Estate Show, discusses the retail sector with an emphasis on maximizing tenant success. This includes tips for landlords,  helping tenants, Yelp and other reviews of tenants, mall REITs, retail operator issues, franchisee relations with franchisors and their landlords, and retail landlord and tenant rep relations. Hines, per its…
South Florida Parking in the 21st Century
One of the greatest thrills for South Florida city drivers these days is to find available parking, whether it's in front of a specific destination or in a convenient garage. That gift, though, is becoming fewer and farther between, which is why so many commercial and corporate locations provide valet services. Drivers and passengers get to walk a short distance, while valets run all over the city to park and retrieve…
Shopping and Entertainment Mecca in South Florida Nearing Final Approvals
As South Florida awaits word on its chances to land Amazon's coveted second headquarters, another massive development moves closer to reality. Triple Five Worldwide, the company that built the Mall of America in Minnesota, is working on an even bigger retail and entertainment destination at Interstate 75 and Florida's Turnpike in northwest Miami-Dade County. Topping 5 million square feet at full…
Turner & Townsend Releases International Construction Market Survey 2018
Global construction volume is on the up and the future is looking bright. But the industry faces more work with fewer workers. The challenge for the supply chain is how to convert this increased output into profit. There is an expectation of increasing construction activity around the globe with a few exceptions, notably a reduction in the UK. Our survey shows that of the 46 markets examined 21…