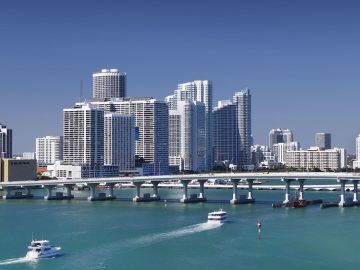 Jungle Island's new owner seeks approval for Watson Island hotel vote
The new owner of Jungle Island is returning to the Miami City Commission later this month seeking referendum approval to build a hotel on the Watson Island site. In July, ESJ Capital Partners pulled the plug on a referendum request due to a lack of commission support. The Aventura-based asset management firm paid $60 million for the theme park, and said last year that it needed to quickly move on the…
Acre Cos. has big development plans near Hard Rock Stadium in Miami Gardens
Some vacant plots of land near Stephen Ross' Hard Rock Stadium in Miami Gardens are being developed, amid a push by investors to capitalize on the recently renovated attraction. Property records show a partnership between an affiliate of Acre Companies and commercial real estate developer Education Development Specialists just scored a $10 million construction loan to build a 24 Hour…
Voters get last word on Jungle Island hotel, lease extension
The owners of Jungle Island plan a long, slender hotel designed like the curves and cascading balconies of a cruise ship, only smaller, as a key to a multi-million-dollar redevelopment of the animal theme park on city-owned Watson Island. City of Miami voters will be asked to approve the hotel as part of a proposal extending the lease of ESJ Capital Partners. The city leases the land at 1111 Parrot Jungle Trail…
Michael Cohen once pitched Miami-Dade on an 800-acre Trump film studio
Back in 2012, Donald Trump had big plans for Homestead. So big that he sent his attorney, Michael Cohen, to pitch the Miami-Dade County Commission on Trump Studio City, an 800-acre production facility on county-owned land near Homestead. Cohen is now the subject of a federal criminal investigation that reportedly includes suspected bank fraud, wire fraud and campaign finance violations.
Owner of Iconic Bookstore Buys Buildings for $15M
Mitchell Kaplan was a law school student who spent more time in bookstores than he did in the law library. So he knew what he had to do. Kaplan dropped out of school and started Books & Books in 1982 in Coral Gables, FL. The independent book dealer became an icon in the community south of Miami, with crowds coming for the poetry readings and big-name book signings. Last week Kaplan partnered…
Books & Books, accounting firm pay $15M for Coral Gables property
A joint venture that includes Books & Books' owner Mitchell Kaplan just paid $15 million to acquire the Coral Gables property that serves as the bookstore's flagship location. Lopez Levi Lowenstein Glinsky, P.A., led by Raimundo Lopez Levi and Eric Glinsky, and Kaplan closed on the Books & Books office complex at 255 to 265 Aragon Avenue, Glinsky told The Real Deal.
With Florida's Industrial Market Super Hot, Opportunity Is In Mergers, Off-Market Deals
"It's getting a little hairy. Somebody's going to be upset." That is CBRE First Vice President Larry Genet's outlook for the South Florida industrial market, where rental rates are hitting record highs and investors are clamoring to get in. Bisnow/Deirdra Funcheon Bisnow's South Florida Industrial event included JLL Managing Director Brian Smith, CBRE First Vice President Larry Genet and Prologis Vice…
County pitches Miami Marlins court winnings (if any) for transit
Any available funds that the county claws back from the Miami Marlins in an ongoing lawsuit over the team's stadium contract should be allocated to the county's planned six-corridor transit infrastructure expansion, Miami-Dade commissioners recommended in a vote Tuesday.. After the Miami Marlins changed ownership, the prior owners, headed by Jeffrey Loria, claimed there were no profits from the…
International travel up 5% through Miami International Airport
The number of international passengers traveling through Miami International Airport this year is nearly 5% ahead of the same period in 2017, most recent data from the Miami-Dade Aviation Department show. Those international passengers are coveted in most areas of business, from real estate to retail sales, and in restaurants and hotels. Those who stay in Miami tend to stay longer and spend more…
Miracle Mile, Giralda Plaza lure more businesses
Pedestrians strolling along Giralda Plaza and the widened sidewalks of Miracle Mile can spot a handful of new businesses, with another soon to open its doors as Coral Gables welcomes more merchants and plans to keep long-standing businesses competitive. The Coral Gables Business Improvement District, the Coral Gables Chamber of Commerce and city aim to lure more proprietors. They're relying…
Miami tourism industry records a flock of record gains
Despite facing setbacks such as Hurricane Irma, Zika and the closure of the Miami Beach Convention Center for renovations, Bill Talbert, president and chief executive officer of the Greater Miami Convention & Visitors Bureau, points to 2017 as "a year of headwinds turning into tailwinds," with the tourism industry setting records in overnight visitors, hotel demand and tourism jobs. "Overnight visitors spent…"
Coral Gables office occupancy, demand soar
With office occupancy reaching 93.34% in Coral Gables and leasing costs increasing up to 20% in the past few years, industry experts anticipate a continued healthy office market in the Gables across all Class A, B and C markets. "The Coral Gables market is very healthy overall," said Steven Hurwitz, director of office leasing and partner at CREC. "Total occupancy is in the low 90s percent-wise across all…
Blast from the past: Photos show 'Miami that was never built'
A University of Miami employee creates a photo slideshow that includes a car-less Flagler Street. Getting caught up in Miami's past is easy to do especially when you work at the University of Miami. Jorge Damian de la Paz, the program manager for Office of Civic and Community Engagement at the Big U, shares his photo slideshow that includes renderings of Miami's historic developments that were…
Fed leaves interest rates under 1.75 percent following May meeting
The Federal Reserve offered no surprises this month. The country's central bank held target interest rates steady at between 1.5 and 1.75 percent but said nothing to indicate it won't follow through next month with an expected second hike in 2018, according to the Wall Street Journal. The Fed made its announcement Wednesday, following a two-day meeting of its Federal Open Market Committee.
Dade Paper & Bag leases at Flagler Station II, other leasing news
Flagler Station II gets 70,000-square-foot industrial lease.  PriceSmart just terminated its lease for 122,000 square feet at Flagler Station II in Medley, and signed on a 70,424-square-foot sublease with Dade Paper & Bag. PriceSmart still has two 35,000-square-foot spaces available for sublease, according to a press release. The deals chip away at a 262,898-square-foot block that PriceSmart listed for…
Sam Zell isn't hot on industrial real estate
It seems everyone is bullish on industrial real estate except for at least one well-known billionaire who has made a fortune investing in distressed real estate. Equity International founder and chairman Sam Zell told Bloomberg he was more than skeptical about demand for the large amount of industrial space coming online nationwide. As e-commerce continues gain ground on brick and mortar retail stores…
South Florida's Downtown Miami, Southwest Broward Submarkets Leading the Way for New Retail Development
South Florida developers aren't buying the "retail is dying" mantra. Three major shopping centers are in development across downtown Miami and Southwest Broward, ranking those areas as the leading submarkets for retail construction in the tri-county region, according to CoStar data. Miami Worldcenter and MiamiCentral, both 5-Star projects, account for more than three-quarters of the downtown…
The Future Of Non-Bank Real Estate Lending: 10 Predictions For The Next 10 Years
Non-bank real estate lending has become much more prominent in the wake of the financial crisis as banks pulled back dramatically from this asset class, which played such a large role in causing the crisis. With the U.S. government and regulators injecting hundreds of billions of dollars to avoid a collapse of the financial system, banks…
Chart: Florida Just Ahead of Georgia as Leading Exporter to Cuba
Looking at the first chart herein, one can see that among U.S. states Florida exports the most to Cuba in the most recent year (2015), albeit with less margin versus number two ranked Georgia that one might guess. Florida's near $35 million in exports, presumably much of which originates from Miami, represents 18.8% of a total of $180 million in exports by the USA as a whole. There are a number of…
What Miami's Skyline Could Mean For All Of Miami's Residents
Over the last decade, Miami's skyline has transformed. Where once there was only a handful of tall buildings, skyscrapers now crowd the horizon, standing alongside cranes promising more construction of buildings reaching taller heights. Even while standing in awe at the feet of these striking symbols of economic growth and progress, I can't help but pause and wonder, how much of this development is…
Miami, home to five WeWorks, ranks as the 14th-best place to launch a startup
The WalletHub list shows that Miami outranks Orlando and Port St. Lucie. According to WalletHub, Miami ranks 14th as the best large city to start a business in the United States. While other Florida cities, such as Orlando and Port St. Lucie, made the cut, Miami outranked both.
"Miami's diverse population, access to education and capital, and innovative partnerships with the private sector strengthen the city's…
Singaporean investment group pays $61.5M for industrial buildings in South Florida
A Singaporean investment group just paid $61.5 million for a bundle of industrial buildings throughout South Florida as part of a national portfolio sale. Mapletree Investments purchased two buildings in Boca Raton, seven in Tamarac, one in Weston and one in Pompano Beach from Philadelphia-based Exeter Property Group, according to property records. In Boca Raton, Mapletree bought the 55,899…
Cranes Again Dotting the Skyline in Miami, Fort Lauderdale Metros
The Miami metro has clearly led new office deliveries over the last three years. While new office construction has been mostly muted over the current economic cycle, it has started to pick up across the Miami and Fort Lauderdale metros over the past three years or so. As of the second quarter of this year, the Miami metro is a clear leader in new construction, with 2 million…
Lennar buys farmland near Zoo Miami approved for 85 houses
Miami-based home builder Lennar Corp. paid $4.5 million for 32.7 acres of farmland in southern Miami-Dade County near Zoo Miami.
Lennar paid $137,614 per acre for the land, which has county approval for construction of 85 "estate" houses with 3,001 to 5,000 square feet of space. The property's zoning designation is estate residential, which requires a minimum lot size of 15,000 square feet.
March hotel occupancy dips in Broward, rises in Miami-Dade, Palm Beach
Hotel occupancy in March increased in Miami-Dade and Palm Beach counties and fell slightly in Broward County, according to hotel data specialist STR. Hotel occupancy in Miami-Dade rose to 87.9 percent in March from 85.7 percent in the same month last year, and the average daily room rate in March was $268.22, up from $232.86 last year. The average daily room rate also jumped in Broward County…
Related sues Gran Paraiso crane suppliers over collapse during Hurricane Irma
The Related Group is suing the companies that provided a tower crane that collapsed at an Edgewater construction site during Hurricane Irma. Related's PRH Paraiso Two LLC and PRH NE 31st Street LLC are suing Connecticut-based manufacturer Terex Corp. and Pennsylvania-based Maxim Crane Works LP in Miami-Dade Circuit Court, alleging the crane was defective, and that the collapse damaged Gran Paraiso…
The Related Group Bets Big on Wynwood
Jon Paul Perez, a vice president at The Related Group, spends most Saturdays in the car looking for development opportunities in Miami's most popular neighborhoods. And he notices the same thing just about every time he zooms through Wynwood: The place is packed. "People love Wynwood," Perez said of the revitalized, 50-block corridor north of downtown. "But if someone wanted to live…"
What Is the Bank Secrecy Act, and Why Does It Exist?
Almost 50 years ago, concerns about large amounts of cash coming into the country from the drug trade led Congress to pass what's become known as the Bank Secrecy Act (BSA).1 The BSA was designed to help identify the source, volume and movement of currency and other monetary instruments transported or transmitted into or out of the U.S. BSA Basics: To meet the law's objectives, the BSA assigned…
What Are Indicators Saying about a Potential Recession?
Forecasting recessions is notoriously difficult. Even so, knowing that a recession may be imminent enables consumers and businesses to make better strategic decisions. For example, households may want to increase their savings in case they lose jobs, while companies may reduce investments to adjust for lower expected future demand. Identifying Recessions through Yield Curves: It is therefore not…
Is the U.S. Due for a Recession?
The U.S. economy has been expanding for the last eight and a half years, but how much longer will that expansion last? On the one hand, economic conditions show few signs of slowing down. On the other hand, economists have found evidence of "positive duration dependence," which says that the longer an economic expansion goes on, the more likely it is to end soon. Hence, there is a concern…
Resi construction outpaced commercial in March in South Florida: report
Residential construction starts outpaced commercial starts in South Florida last month, according to a new report from Dodge Data & Analytics. Overall, spending was up 4 percent in March to $1.06 billion. The amount of nonresidential construction contracts fell 3 percent to $458.7 million, while residential starts increased 10 percent to nearly $600 million. For the first quarter, construction spending has…
Jackson Memorial Hospital files building permit for $174M rehab center
Jackson Memorial Hospital is moving forward with its plans to build a $174 million paralysis rehabilitation hospital on its Miami Health District campus. Jackson submitted a building permit for the Christine E. Lynn Rehabilitation Center For The Miami Project To Cure Paralysis at UHealth/Jackson Memorial Medical Center, according to the city of Miami's building department. The permit is pending…
Miami's EB-5 regional center to shut down
Miami's EB-5 regional center will be shut down for failing to generate economic activity and create jobs. Founded in 2014 under former Mayor Tomás Regalado and led by attorney Mikki Canton, the center was supposed to inject foreign investment into Miami's economy through a visa program known as EB-5. But the regional center did not generate any money, nor did it produce any visas. Miami City…
After Becoming World's Largest Restaurant Chain, Subway's Sales Struggles Lead to U.S. Store Closures
Milford, CT-based Subway said this week it will close, consolidate or move "a few hundred locations" in 2018, adding to the hundreds of its restaurants shuttered in recent years. Subway said it has nearly 26,000 locations in the United States and 43,700 worldwide. All the restaurants are owned and operated by franchisees. The decision to shutter hundreds more of its restaurants nationwide is likely the…
Miami Shopping Centers: 2018 Trends & Analysis
Miami's incredible, sunny climate and outdoor, social lifestyle create a foundation for the fundamental presence of retail shopping centers and malls in the region. In fact, out of the Top-10 Shopping Destinations in the USA, Miami and Palm Beach are both featured, making Florida the only state with 2 locations on the list. This is…
MMG acquires Pinecrest Shoppes in Pinecrest, FL
An affiliate of MMG Equity Partners acquired Pinecrest Shoppes, a 14,558 SF shopping center located at 11635 South Dixie Highway, Pinecrest, FL for a purchase price of $6,200,000 or $425 psf. The property last sold for $6,850,000 in 2007. Pinecrest Shoppes, adjacent to Suniland Shopping Center, is strategically…
How to Maximize the Value of Your Commercial Real Estate Properties
Summary: How to impact NOI for commercial real estate owners How to maintain tenant retention Why is Florida's commercial real estate market consistently a Top performer nationwide? Florida's commercial real estate market is heading into 2018 with positive news for landlords. The metrics at the end of 2017 illustrate the potential and benefits of currently owning property…
Mayor attends groundbreaking for Max Strang-designed waterfront condominiums
The 26-unit residency includes a marina, dock, gardens, and esplanade. There's a new residential property coming to Coconut Grove.
The Fairchild Coconut Grove, a 26-unit residency designed by architect Max Strang, is "the only new waterfront luxury development rising in Coconut Grove." Strang and ROVR Development held the property's groundbreaking on April 10 to commemorate the sale of 60…
Top gear for the top tier: Why develop a supercar-branded condo?
When Miami was bracing for Hurricane Irma last September, Gil Dezer offered the city's superrich a very different kind of shelter: a refuge for their supercars. Dezer offered to house some of the city's elite collection of Maseratis, Ferraris and Lamborghinis in his Porsche Design Tower, which has a patented car elevator. "It's really the safest place for billionaires to hold their toys when this kind of thing…
NFL player buys North Miami Beach apartment complex
NFL linebacker turned investor Elvis Dumervil is growing his real estate portfolio. Property records show a company tied to Dumervil's property management and development firm, Prestige Estates, paid $9.5 million for an apartment complex in North Miami Beach. The buyer financed the deal with a $9 million loan from UC LDBA Fund I Ventures LLC. Investor and developer George Heinlein, who runs…