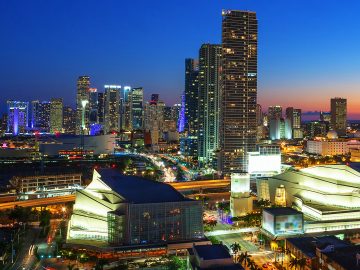 Here's what's next for Adler Group's Miami River project
On Tuesday, Miami residents voted to approve a referendum allowing the Adler Group to lease city-owned land along the Miami River, placing the developer one step closer to breaking ground on its multi-tower project. But before that, the city has to decide where it will move its administrative offices. As part of the deal, the developer will build a public riverwalk and a 230,000-square-foot administrative…
End of boom-times: The impact of a looming slowdown in the multifamily market
A decade-long apartment boom may be coming to an end. Federal data shows that multifamily building permits have declined every month since March, suggesting that apartment construction could slow in the next two years, the Wall Street Journal reported. According to the latest Census Bureau data, permits were pulled to build 351,000 units in new properties with at least five units in September.
New Flagler Street civil courthouse meets 'significant cost inflation'
A new Flagler Street civil courthouse that county commissioners OK'd in July has run into "significant cost inflation" due to costlier construction materials, higher interest rates and need for a taller building, Mayor Carlos Giménez said last week. In late August he predicted costs, first projected as over $280.71 million, would surpass that number for those exact reasons. The first of 30 annual…
Miami Beach Convention Center hotel to open within 5 years
Miami Beach is finally coming into its own as a full-fledged convention destination after voters approved lease components of a hotel adjoining the newly-renovated Miami Beach Convention Center. Developer David Martin says Miami Beach Mixed Use Investment LLC is moving forward with hotel design, engineering and permitting and going through a series of approvals at the city level. He said his goal…
Preserving historic districts pays off in Miami-Dade
Preserving historic districts isn't just good for protecting Miami-Dade's past for posterity's sake; it's also a smart financial investment, according to recent economic impact reports published by the county. "Together these studies indicate preservation has made a positive fiscal impact on Miami-Dade and its residents," Miami-Dade Mayor Carlos Giménez wrote in an accompanying Oct. 31 memo. The two…
It's official: Amazon will split headquarters between LIC, Crystal City, and open new hub in Nashville
It's official: After more than a year of hype, Amazon has announced that it will split its two new headquarters between Long Island City and Crystal City. And in a last-minute surprise, the company also revealed it will be opening a "regional hub" in downtown Nashville. The news comes after several reports indicated that Amazon had settled on moving…
Amazon's HQ2 was a con, not a contest
To dozens of cities across the United States, Amazon's widely publicized search for a "second headquarters" looked like thousands of new jobs, up for grabs. To Pivot co-host Scott Galloway, it now looks like a "ruse." "I lease office space all the time for my businesses and I always tell my real estate agent, 'We can lease any office in the world as long as I can walk there from where I live,'" Galloway said on…
Miami To Amazon After HQ2 Snub: Call Us When You Want To Set Up A Latin American Hub
Jeff Bezos went to high school in Miami, and Florida loves to dangle its lack of state income tax in front of out-of-state businesses. But despite those factors, South Florida was unable to land Amazon's second headquarters. Bisnow/Deirdra Funcheon Caoba, left, an apartment building that is part of Miami Worldcenter. The zigzag platform is part of Miami Central station, where Brightline rail service…
The Wynwood Yard Team Is Opening The Doral Yard At Downtown Doral
It's just been announced that the Doral Yard at Downtown Doral will open in spring 2019. The project is a partnership between Della Heiman and Ken Lyon of Yard Hospitality, Joseph Furst of the Wynwood Business Improvement District and formerly of Goldman Properties, and Downtown Doral developers Armando Codina and Ana-Marie Codina Barlick.
Amazon to officially name New York and Crystal City as new headquarters: report
It's about to be official: New York City and Crystal City will soon be named the lucky winners of Jeff Bezos' golden tickets. More than one year and an innumerable amount of free publicity later, Amazon's planned $5 billion HQ2 will be split among the two cities, the Wall Street Journal reported late Monday. The e-commerce giant is expected to make an official announcement on Tuesday. The competition…
Balans and Skorpios close and other South Florida restaurant news
Balans restaurant in the MiMo District closed in late October and a new concept is moving in next month. Miami.com first reported that Balans closed at 6789 Biscayne Boulevard. Jonathan Balan, CEO of the restaurant group, told the publication that it "just wasn't doing as well as we'd hoped." He's renovating the original location on Lincoln Road and another in Brickell, and looking for a third. In its place…
Starwood Capital proposes office complex – likely HQ – in Miami Beach
Starwood Capital Group is proposing a new office and retail development in Miami Beach, likely the site of its new headquarters. Records show North Bay Owner LLC plans to go before the Miami Beach Planning Board on Nov. 27 for a 144,430-square-foot building at 2318, 2322 and 2340 Collins Avenue, across the street from 1 Hotel & Homes South Beach, which Starwood co-developed with LeFrak.
Opportunity Zones: Watch The Pitfalls
"The Opportunity Zone program is truly a game changer," Hunt Real Estate Capital director Marc Suarez said at Bisnow's multifamily event in Miami Wednesday, echoing a sentiment felt by many around the country. But other panelists warned that the new program — which lets people defer or eliminate taxes on capital gains if those gains are invested in certain areas for up to 10 years — could tempt people…
Global Chemical Distributor Inks 44,000 SF Lease Renewal In Miami Airport West
Transwestern's South Florida industrial team has secured a 44,101-square-foot lease renewal with Univar USA at a 64,086-square-foot industrial building at 7120 NW 74th Avenue in Miami. Transwestern's Senior Managing Directors Ben Eisenberg and Walter Byrd, Managing Director Thomas Kresse, and Vice President Carlos Gaviria facilitated the transaction on behalf of Terreno Realty Corp., which…
North Miami Beach property approved for hotel development sells for $11.38M
A vacant property in North Miami Beach approved for hotel development has been sold for $11.38 million. The buyer paid $2.74 million an acre for the 4.14-acre site at 17400 West Dixie Highway in North Miami Beach, near Greynolds Park. The city government approved a 10-story, 260-room hotel at the West Dixie Highway site, but the hotel project never advanced to the construction stage. The seller of…
Starwood's Barry Sternlicht optimistic about rising interest rates: "We're going to make a lot of money"
Starwood Property Trust's Barry Sternlicht isn't worried about rising interest rates. In fact, it's the opposite. "We're going to make a lot of money," he told analysts during a conference call on Friday. The Miami Beach-based real estate investment trust, an affiliate of Starwood Capital, reported slightly lower third quarter earnings due to high acquisition costs, yet its results met analysts' expectations.  The…
Baptist Health pays $11M for office project across from hospital
A company affiliated with Baptist Health South Florida just paid $11.3 million for a medical office property directly across from the hospital. Baptist Health Enterprises bought the 43,000-square-foot Plaza Galloway at 9055 Southwest 87th Avenue for $263 per square foot. Plaza Galloway sold the five-building property, which is managed by Joanne Mitchell. Plaza Galloway initially bought the property…
Video: PwC Partners Mitch Roschelle and Byron Carlock Discuss CRE Market Outlook and Economic Cycle
Byron Carlock and Mitch Roschelle, both Partners at PwC that are involved with its Real Estate Practice, appear on the host of America's Real Estate Show in studio to talk about the PwC/ULI Emerging Trends in Real Estate 2019 Outlook. In this segment, the discussions include the current economic cycle and factors affecting real estate.  They note a cautious optimism, and discuss how market players…
Estate Investments Group scores $51M construction loan for apartments in West Miami
Estate Investments Group just scored a $51 million construction loan for its 306-unit Soleste Almeda apartment project in West Miami. The development group, led by Robert Suris, secured the loan from Arkansas-based Centennial Bank and Miami-based LV Lending for its project at 6290 and 6320 Southwest 8th Street. Estate Investments Group has been an active developer in the city of West Miami and…
King of Diamonds loses its throne
King of Diamonds has vacated its castle near Miami Gardens. The strip club — once a famous hangout for hip-hop stars, NFL athletes and undefeated boxing champ Floyd Mayweather Jr. — was evicted last week from the 60,622-square-foot converted warehouse at 17800 State Road 9 that King of Diamonds has called home since it opened a decade ago. The strip club only occupied a little more than half…
Dissent in Surfside: Developer withdraws plans for mixed-use town hall project
A joint venture between Pointe Development and Monceau Realty withdrew its bid for a public-private partnership in Surfside after facing opposition from residents. In September, the developer received the votes to move forward with the $33.5 million project that calls for a new town hall and civic center between 87th and 96th streets. But a group of residents moved to kill the bid ahead of a meeting…
What's next for David Beckham's MLS soccer stadium?
Voters gave David Beckham and the Mas brothers the green light to move forward with their plans to bring a Major League Soccer stadium and an ambitious mixed-use project to Miami. But what happens next? The project known as Freedom Park could include a 25,000-square-foot soccer stadium as well as more than 1 million square feet of retail and office space and about 750 hotel rooms…