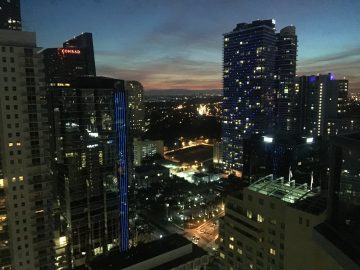 Developer plans $74 million mixed-use project along Grand Avenue in Coconut Grove
A Miami developer is under contract to purchase a large assemblage in the West Grove where it's planning a $74 million, mixed-use project. Ricky Trinidad's Metronomic announced plans for Grand Plaza, a 12-building development on Grand Avenue in Coconut Grove. Trinidad's firm isn't the first to try to purchase the properties. In 2016, David Martin's Terra canceled a $35 million offer for the buildings.
Developer has plans for Coconut Grove Village West
Get ready for passenger drones, or not. There is a new plan to build 13 buildings including a hotel, offices and micro-unit apartment buildings in Village West, all low-rise – five stories are planned. A new developer to the Grove, Metronomic, Inc., bought up the land and has plans, including the passenger drones. This multi-block project is called Grand Plaza. The land has been sitting for years, waiting…
Archbishop Curley Notre-Dame sells for $60 million, Avenues to open private school
An heir to The Gap family fortune just bought the former Archbishop Curley Notre-Dame High School site in Little Haiti for $60 million, with plans to bring an exclusive private school to Miami, sources said. A Delaware company, VE FL I Operating LLC, bought the 15.5-acre former Catholic high school at 4949 Northeast 2nd Avenue for $3.8 million per acre, according to property records. The LLC's address…
Lissette Calderon plans apartments in Allapattah
On the heels of renovating a rental tower on the Miami River, developer Lissette Calderon is now planning to build an apartment building in Allapattah, The Real Deal has learned. A permit application filed with the city of Miami shows Calderon's TCG Allapattah 17 plans a 13-story, 192-unit building at 1569-1652 Northwest 17th Avenue. Her entity paid $1.7 million for the property, currently home…
Virgin Voyages unveils plans for $150 million terminal at PortMiami
Virgin Voyages unveiled its proposal for a multimillion-dollar terminal at PortMiami. Virgin Group founder Richard Branson on Wednesday announced plans for the new 100,000-square-foot cruise terminal located on the northwest side of the port. Construction would begin if and when the Miami-Dade County Commission approves the project, which would be completed by November 2021. The $150 million…
Irrational exuberance? Rising commercial real estate prices could signal warning for economy: Fed Reserve
Ever-rising commercial real estate prices nationwide could be a risk to the stability of the U.S. financial markets, as they were in the last recession. That was the assessment from the Federal Reserve in its inaugural financial stability report on Wednesday. Fed officials cited commercial real estate — in which purchase prices continue to outpace rent increases — as well as nonfinancial corporate borrowing…
MetLife scores $170 million refi for Wells Fargo Center in downtown Miami
Metropolitan Life Insurance Co. just scored a $170 million refinance for its Wells Fargo Center at 333 Southeast Second Avenue in downtown Miami, property records show. The deal comes shortly after its $74 million purchase of a retail center in Wellington. New York Life Insurance Company is the lender for the Wells Fargo office tower. The loan takes over a previous $144.4 million mortgage issued…
BHS names Bess Freedman as first CEO
Less than a year after being named co-president of Brown Harris Stevens, Bess Freedman has been tapped as the luxury brokerage's first chief executive. As CEO, Freedman will oversee operations in New York City, the Hamptons, Palm Beach and Miami — consolidating leadership of those regions for the first time. The promotion was announced Tuesday in a companywide email signed by Hall Willkie…
Video: PwC Partners Mitch Roschelle and Byron Carlock Discuss Market Trends and Current Cycle ~ PwC/ULI Emerging Trends in Real Estate 2019
Mitch Roschelle and Byron Carlock join the show host in studio to discuss the PwC/ULI Emerging Trends in Real Estate 2019 Outlook. Discussions in this brief clip include the our current economic cycle and factors that are affecting commercial real estate. They discuss their Emerging Trends Barometer and its apparent reflection of optimism, as well as Black Swan risk with a concentration on the…
Miami Beach commercial market outpacing condos
The Miami Beach real estate market is holding steady from last year as 2018 nears to a close. On the one hand, condominium sales remain flat as a majority of domestic buyers enter the market and look elsewhere in Miami-Dade County for new inventory. On the other hand, commercial spaces are faring better following a stream of natural crises in previous years. Domestic buyers in Miami Beach are…
Olympia Theater: Police, white knight, screen hero don't quell theatrical peril
What's the longest-running theatrical drama in Miami? Hint: it's been running for 30 years, tying the longest-running Broadway show in history, "The Phantom of the Opera," which to date has had 12,380 performances. If you're still puzzled, here's another hint: the drama is not played out on the stage; it's what's happening to the stage itself. And this drama is not yet in its final performance. No, the top…
Fashion Brand Diesel Is Building a Luxury Wynwood Apartment Complex
Miami's Wynwood used to be a low-income neighborhood full of warehouses and fashion-supply companies. Then it morphed into a neighborhood full of art galleries. Now developers are pricing out cool places such as the Wynwood Yard. The one arthouse movie theater is on its way out while condo towers and a micro-city called the Americas-Asia Trade Center are on the way in. And now, to complete…
Miami moves toward requiring affordable housing in projects
The City of Miami has taken a big step toward creating affordable housing with the inclusionary zoning measure sponsored by Commissioner Ken Russell. City commissioners voted unanimously Nov. 15 to approve on first reading an ordinance to require developers of certain projects to include a portion of affordable residential units. The initiative would affect the area east of Overtown and west of…
Miami Tentatively Approves Mandatory Affordable Housing in Parts of Downtown
Rent in Miami is not quite as expensive as New York, San Francisco, and other major metro areas. But the Magic City's median income — around $46,000 — is absurdly tiny, so renters here spend some of the largest portions of their salaries on housing in America. This is not an affordable town. Back in 2016, Miami-Dade County Commissioner Barbara Jordan tried to alleviate that issue by passing what's…
Get Real; Miami was Never a Viable Choice for Amazon
The only thing Miami / Florida can offer Amazon is that Bezos went to school in Florida and the tax advantage? Maybe he doesn't want to go back to where he went to school? Knowing the school system in Florida, I would not be surprised. Tax advantage? Many other States offer the same or better – thus this is no real advantage. Now we try to get him because of the Latin American market? Mexico is our…
Frank Stronach, Billionaire Owner of Gulfstream and other U.S. Racetracks, In Family Feud With CEO Daughter
The billionaire who has long run Gulfstream Park and other racetracks across North America is suing his daughter over mismanagement of the family's assets. His son is suing her, too. Paige Alonso via Flickr Creative Commons Horse racing at Gulfstream Park in Hallandale Beach, Fla. Now 86, Frank Stronach grew up in Austria during Nazi rule, then emigrated to Canada, where he started Magna International…
Miami seeks firm to run expanded Marine Stadium complex
Miami is looking for a company to manage Miami Marine Stadium, the flex park that surrounds it and a planned welcome center west of the iconic waterfront facility. On the day before Thanksgiving, the city issued a formal request for proposals for management of the city-owned property on Virginia Key. The 64-page solicitation says the city is pleased to offer "an exciting opportunity for a well-qualified…"
In Florida, Medical Marijuana Companies Battle For Dominance
Liberty Health Sciences is on track to open five new medical marijuana dispensaries — or, as the company calls them, "cannabis education centers" — in Florida by the end of the year, adding to the seven it has already established here. It is far from alone. Several players are in quick-expansion mode and competing for market share as the state has now set rules and issued 14 licenses following the legalization…
Terreno Realty Reports Sales Of Industrial Property
Terreno Realty Corporation (NYSE: TRNO) sold an industrial property located in Miami, Florida on November 21, 2018 for a sale price of approximately $4.3 million. The property consists of one light industrial building containing approximately 25,000 square feet on 1.2 acres at 7500 NW 26th Street which is 100% leased to one tenant on a short-term basis. The property was purchased by Terreno Realty…
Move over Amazon, Google's got some news of its own
Alphabet Inc., Google's parent company, has just scooped up a $1 billion business park near its Mountain View headquarters. The tech behemoth purchased Shoreline Technology Park, a 51.8-acre property a few blocks away from its Googleplex, Bloomberg reported. Google is already the main tenant of Shoreline's 12 buildings. Google's been on something of a real estate tear. The company recently…
Punch Bowl Social opening in Wynwood & other restaurant news
Time Out Market Miami unveiled new chefs opening at its Miami Beach food hall in February. Chefs Norman Van Aken, Antonio Bachour and Giorgio Rapicavoli are each taking space at the food hall, at 1601 Drexel Avenue. Veronica Menin and Diego Tosoni will open Love Life Cafe; Suzy Batlle is bringing Azucar Ice Cream; Christian and Dominica Plotczyk, the owners of Ella's Oyster Bar, will open Salt & Brine.
Aston Martin Residences nabs $200 million construction loan
The Coto family of Argentina closed on a $200 million construction loan to build Aston Martin Residences, a luxury waterfront condo tower in downtown Miami. Riverwalk East Developments LLC, an affiliate of the Coto's G&G Business Developments, secured the financing from Brazilian lender Itaú BBA International, property records show. G&G broke ground on the 66-story, 391-unit tower at 300 Biscayne…
Video: Here's how Amazon's HQ2 incentives add up
Amazon recently announced it will be splitting its second headquarters, commonly referred to as Amazon HQ2, between Queens, New York and Northern Virginia. However, the incentives given to the company have inspired a marked backlash due to a general feeling that the incentives were unfairly extracted from the winners. The gist of the complaint is that Amazon made the search process look like a…
Rockwood and Mill Creek JV buys Modern Miami rental tower
A joint venture between Rockwood Capital and Mill Creek Residential just bought the Modern Miami apartment building near the Miami River for $47.45 million. Chicago-based Waterton Associates is the seller. Property records show the 166-unit apartment building at 1444 Northwest 14th Avenue sold in addition to a vacant, 16,714-square-foot lot directly west of the property. Waterton Chairman and CEO…
Public officials push back on NDAs in wake of Amazon's HQ2 search
Public officials across the country are questioning whether they'll sign nondisclosure agreements in the future after facing some backlash surrounding the secrecy around Amazon's HQ2 search. It's not uncommon for companies looking to land tax breaks and other incentives to require local officials to sign NDAs as part of economic-development deals. But as part of its high-stakes search for a second…
Randall Hilliard files complaint against Miami Beach Historic Preservation Board members
A political consultant has filed an ethics complaint against three members of an influential Miami Beach land use board, accusing them of violating the state's Sunshine Law because they're also members of a non-profit. On November 19, Randall Hilliard, who also goes by the nom de plume "Prince of Darkness," filed a complaint with the Miami-Dade Commission on Ethics against Jack Finglass, Nancy Liebman…
Doral's Westside Office Plaza secures 27,650 sf of leases & other leasing news
The Westside Office Plaza in Doral just secured 27,650 square feet of new leases. The master-planned office park at 8200-8400 Northwest 33rd Street sits on 22 acres of land and features 363,328 square feet of office space. Avanti Way Realty leased 6,615 square feet and the Latin American healthcare business Guidewell-Sanitas inked a 21,038-square-foot lease at 8400 Northwest 33rd Street. State Street…
Amazon opens 100,000-square-foot distribution center in Sunrise
Amazon decided against putting its second headquarters in South Florida, but the online retailer opened another distribution center to ensure speedy deliveries in the tri-county area. Amazon has opened a distribution center in 100,000 square feet at the Sawgrass International Corporate Park in Sunrise, according to Lou Sandors, the city's economic development director. The space formerly was…
Wexler family lists two Lincoln Road retail properties, each with $6.5M minimum bid
Two retail properties along Lincoln Road in Miami Beach are up for grabs. The two 8,000-square-foot retail buildings, at 222 Lincoln Road and 298 Lincoln Road are owned by the Wexler family. The properties are part of a larger 25,600-square-foot retail development, built in 1946, that is currently anchored by the Alvin's Island beachwear shop. The properties are located between Collins Avenue and…
Mattress One faces evictions across Miami-Dade County
There won't likely be Black Friday doorbuster deals at most Mattress One stores in Miami-Dade this weekend. Instead, the doors may be padlocked as the mattress retailer has been kicked out of its locations from Midtown Miami to Kendall, according to recent eviction complaints… 10755-10805 Southwest 72nd Street… 8200 Flagler Street… 3160 North Miami Avenue… 18355 Northwest 57th Avenue…
Contractors and subcontractors must be paid promptly
Construction projects in Florida vary in size and complexity, but many involve various different types of trades in order to complete the project. This is especially true for large projects such as office buildings and apartment buildings. These types of projects will include heavy equipment operators, steel workers, electricians, people to put up sheetrock, painters and many more professionals. Generally…
Brightline parent company sells industrial site to JPMorgan subsidiary
Florida East Coast Industries just sold a warehouse near Miami International Airport for $31.1 million to a subsidiary of JPMorgan Asset Management. Coral Gables-based FECI, the parent company of the high-speed passenger rail Brightline, sold the 9.2-acre property at 3200 Northwest 67th Avenue for $3.4 million per acre, property records show. The warehouse is part of the South Florida Logistics…
CK Privé Group's principals allegedly took out loan without partners' consent: lawsuit
A brewing legal war among a group of real estate development partners could have negative consequences for a slate of new commercial projects in Aventura and North Miami Beach, including the redevelopment of Dean's Gold strip club. RH 18 Development and Carf 18 last month sued Alberto, Jacobo and Shlomo Kamhazi, as well as their company Biscayne 18 Development LLC, which owns a complex of…
South Florida's largest office sales in October
The second largest office sale of the month was Bob Brockway's $10.9 million purchase of a building directly across the street from his Mercedes-Benz of Coral Gables dealership. A company led by architect F. Michael Steffens and Marjorie Goldman sold the 36,600-square-foot, three-story office building at 300 Sevilla Avenue. The deal breaks down to about $300 per square foot. South Miami Medical Arts…