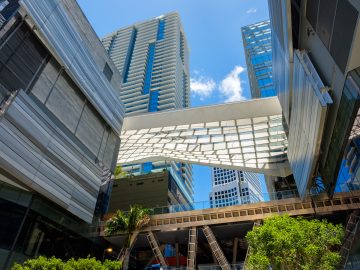 Metronomic plans Little Havana office project SieteOcho
A new office development is planned for Little Havana. Metronomic just announced plans to build a five-story office project called SieteOcho at 640 Southwest Eighth Avenue. The project would mark one of the first new office developments in the area, amid a surge of new boutique multifamily construction. The company recently acquired the 2,450-square-foot development site, but it has not yet…
Miami election: Voters approve Beckham's MLS stadium, convention center hotel
Voters in the city of Miami approved two major mixed-use projects in Tuesday's midterm elections, paving the way for a Major League Soccer Stadium from David Beckham and his partners and a separate riverfront project from the Adler Group. In Miami Beach, voters backed a referendum approving a lease between the city and MB Mixed Use Investment LLC, an entity led by Jackie Soffer and David…
Miami Yacht Show cruising across bay from Miami Beach
Producers plan to move the Miami Yacht Show from Miami Beach to the City of Miami's Omni area beginning in 2019. Yachting Promotions Inc. is asking the city for a revocable license to stage the annual yacht show offshore of the former Miami Herald site, between the MacArthur and Venetian causeways. The city commission may decide on the temporary license next week. Spencer Crowley, an…
Coconut Grove Business Improvement District gets new lease on life
Property owners have granted another 10 years to the Coconut Grove Business Improvement District's lifespan. The organization has just won approval by a 61% vote from property owners within its boundaries – 140 of 229 affidavits. The votes now move to the Miami City Commission for formal ratification. Business Improvement District (BID) board members say they are elated at the election results.
Famed Miami Strip Club King of Diamonds Has Been Evicted
Miami's King of Diamonds is, quite possibly, the most famous strip club in America. It's a blue-neon-lit beacon on the side of I-95 where TV star Blac Chyna danced. KOD, as it's informally known, has been referenced in countless rap songs. It regularly showed up in hip-hop videos. But as of this month, the club is basically no more: It was sued for foreclosure in August 2017, and now, according to court…
Midtown Realty Affiliate Buys Miami Shopping Center
In a $78.2 million deal, an affiliate of Midtown Realty Group has acquired Downtown Dadeland, a 126,000-square-foot retail lifestyle center in Miami, from a joint venture between Duncan Hillsley Capital and Pebb Capital. CBRE facilitated the deal on behalf of the sellers, with the firm's Dennis Carson and Casey Rosen handling the transaction. Downtown Dadeland was 98 percent leased at the time of sale.
Four-block-long street mural coming to Wynwood
A mural spanning four blocks in Wynwood is expected to arrive next spring. The organization leading efforts to revamp Northwest Third Avenue plans to collaborate with 200-plus volunteers in either late February or March to bring the vision of two artists to life. Street Plans Collaborative is overseeing the planning of Walk Wynwood. The county first held a competition called the Miami-Dade County Quick…
Hotel on Miami River to be made of shipping containers
Investors are advancing a plan to build a boutique hotel on a vacant lot on the Miami River, with an adjacent food plaza offering dining options. On Monday, the Miami River Commission unanimously recommended city approval. The conditional approval directs the owner-developers to come back to the river commission when the project is more defined. The site is on South River Drive, between the…
Issues aplenty face a growing, successful Wynwood
In many ways, Wynwood is a victim of its own success, as leaders face issues that weren't even on the radar years ago, when the area was a hive of factories, warehouses and body shops. The Wynwood Business Improvement District (BID) is determined to find workable solutions while preserving the area's character, leaders say. "Being a good neighbor is a priority for the BID and we are working to build…"
Florida governor's race: DeSantis defeats Gillum; both had strong real estate backing
Former Rep. Ron DeSantis won the race for governor of Florida on Tuesday night, defeating Tallahassee Mayor Andrew Gillum in one of the most closely-watched races across the country. Gillum conceded to DeSantis at about 11 p.m. on Tuesday and delivered an emotional speech to his supporters vowing to continue to fight for his beliefs. Both candidates secured significant donations from real estate…
Miami City Self Storage Opens New Storage in South Florida
Miami City Self Storage has added three new storage facilities to its portfolio in Miami, Doral and Ft. Lauderdale, totaling approximately 240,000 square feet. The firm appointed CubeSmart as the manager of the properties. Located at 3951 NW 77th Avenue, the Doral asset is situated near the intersection of freeways 826 and 948. The area is densely populated, with approximately 220,00 people living within…
Don Peebles, Jackie Soffer among last-minute donors to Florida candidates
In a last-minute effort to get their preferred candidates elected, a handful of South Florida developers and investors are making big contributions to political action committees. On Thursday, developer Don Peebles gave $100,000 to Forward Florida, a PAC supporting Tallahassee Mayor Andrew Gillum's bid for governor, according to the Florida Division of Elections data from the last…
Amazon HQ 2 cities: The company will split new headquarter locations, report says
After months spent deliberating which of the 20 finalist cities will host its second headquarters, Amazon appears to have made a decision. And it's a surprise. The e-commerce giant will split its planned $5 billion HQ2 between two cities, according to a report in the Wall Street Journal. The offices will be the same size and both will employ up to 25,000 people each, the Journal reported. The news comes just…
CIM Group pays $17 million for Wynwood Square property
CIM Group just paid $16.6 million for a 1.78-acre site in Wynwood where a 12-story mixed-use project is planned. Los Angeles-based CIM Group, which has more than $29 billion in assets, bought the property for $214 per square foot at 2201 North Miami Avenue from One Real Estate Investment, according property records. According to a press release from CIM, the site is fully-entitled and One Real Estate…
Add Lowe's to the growing list of retailers shuttering stores nationwide
Lowe's Companies said it will close 51 stores in the United States and Canada, the latest national retailer to shed its brick and mortar locations amid increasing e-commerce competition. On Monday, the home improvement giant announced it will shutter 20 stores in the U.S. — including two in Manhattan — and 31 stores in Canada, according to the Wall Street Journal. The closures affect 13…
Bloomberg relocates to Brickell City Centre & other news in South Florida leasing
Media company Bloomberg just expanded and relocated its Miami office to Two Brickell City Centre. Bloomberg inked a 3,642-square-foot lease at 78 Southwest Seventh Street at Swire Properties' 4.9 million-square-foot mixed use project. It previously had a 2,600-square-foot office at 1111 Brickell Avenue in the Sabadell Financial Center. According to…
S&S Diner's relocation doomed by Miami's building boom: lawsuits
Two years after moving from its longtime Miami home on Northeast Second Avenue, S&S Diner has been kicked out of its current location at 2699 Biscayne Boulevard amid a three-way legal battle with its landlord and the developer of a neighboring mixed-use project, Biscayne 27. Alexis Read, the attorney for landlord Biscayne Rentals, said S&S was evicted from the premises last week. "We did try to…"
Amazon "close" to picking HQ2 location: sources
Crystal City in Northern Virginia seems to be the front-runner in the drawn-out competition to win Amazon's $5 billion second headquarters, widely known as HQ2. Sources familiar with the company's negotiations say Amazon is in advanced stages of discussing the location of HQ2 in Northern Virginia, according to the Washington Post. Topics such as the timing for a public announcement and…
Arrests shed light on how an ex-president of Argentina may have used bribes to buy properties in Miami and New York
Following the arrests of four people, authorities in Argentina have uncovered how a former president of the South American country may have used bribe money to buy U.S. properties, including luxury condos in New York City and South Florida. The arrests were ordered by an Argentine judge overseeing a corruption case against the former president, Cristina Fernández de Kirchner. She is accused of accepting…
Owner of South Beach hotel development site faces foreclosure suit
The owner of a mortgage loan secured by a Miami Beach hotel development site filed a foreclosure lawsuit against the developer that owns the site. The defendant in the foreclosure lawsuit, a limited liability company managed by Gianfranco Rondón of RG Group, listed the development site for sale with an asking price of $10.95 million in August. Rondón, a Venezuelan businessman, manages RG…
Co-working firms aren't happy about CBRE launching competitor company
Some co-working companies aren't happy about CBRE's new flexible workspace venture. The brokerage announced on Wednesday that it will start inking property management agreements with landlords to provide flexible office space to large corporate clients. But some of CBRE's would-be clients aren't thrilled that the brokerage will now compete in the co-working space, Crain's reported. "Going forward…"
Florida AG candidates draw contributions from Philip Levine, Jimmy Tate and others
In the race to replace Florida Attorney General Pam Bondi, Democrat Sean Shaw and Republican Ashley Moody have scored contributions from real estate developers, investors and brokers. Moody, who's raised significantly more than Shaw, has drawn donations from industry executives across the state, including Walt Disney Company's The Celebration Company, development companies tied to the Villages…
EB-5 immigrant petitions are at lowest levels in at least five years
Only 617 new EB-5 immigration petitions were filed with United States Citizenship and Immigration Services in the third quarter of 2018, the lowest quarterly figure for new applications in at least five years, according to data released by USCIS this week. Last quarter, there were 1,607 applications and 4,402 a year ago. The drop comes as Chinese investors increasingly express their dissatisfaction with long…
Miami-Dade judge faces suspension after allegedly accepting free RIU Hotel stays
The fallout continues in the case of the former Miami Beach building department director who allegedly accepted bribes. His wife, a Miami-Dade County judge, now faces a possible 30-day suspension for failing to disclose free and discounted hotel stays from RIU Hotels & Resorts. Judge Maria Ortiz of the Eleventh Judicial Circuit received the free trips after her husband, former Miami Beach Building…
Soffer family, Stephen Ross among big donors to Florida Senate candidates
Citadel founder and Palm Beach property owner Ken Griffin is the biggest donor to the New Republic PAC, giving a whopping $7.5 million since June to the committee backing Gov. Rick Scott's bid for Senate. The PAC has spent nearly $10 million on media buys over the past week, according to Florida Politics. Scott is running against incumbent Sen. Bill Nelson in Tuesday's midterm elections. In addition to…
LDG scores $10M construction loan for Aventura Village
Land Developers Group just scored a $10.4 million construction loan from New Wave Loans to finish building its 108-unit Aventura Village townhome project. Aventura-based LDG's new construction loan increases its financing for the project to $13.9 million. The development will include 96 townhouses and 12 lofts at 19380 Northeast 26th Avenue. The townhomes will be built close to Aventura Mall and…
Contract disputes over revocation of offers
People and businesses in Florida generally conduct their businesses by offering certain goods and services in exchange for money or other consideration. At a very basic level this type of offer and acceptance creates a contract between the parties. These can be very complicated, though, so many times these contractual relationships are put into writing and signed by the parties to ensure the…
CBRE is launching its own co-working company
CBRE is entering the co-working business. The brokerage announced on Wednesday that it is launching Hana, a subsidiary that will enter property management agreements with landlords to provide flexible office space to large corporate clients. In getting into the co-working business, the world's largest real estate services company is betting that landlords want co-working components in their buildings but…
Coconut Grove's Villa Woodbine to become a private school?
There is talk about Carrollton School purchasing Villa Woodbine at 2167 South Bayshore Driveto turn it into a boys school. Their current location at 3747 Main Highway is an all girls school. This brings up the issue of added traffic to the area. This would affect S. Bayshore Drive, Kirk Street, SW 22nd Avenue and Tigertail. Currently traffic is a mess at school start and end dates due to Ransom Everglades…
Report: Amazon In Advanced Talks To Put HQ2 In Northern Virginia
Amazon appears to be closing in on Northern Virginia as the long-awaited winner of its HQ2 competition. The tech giant is in advanced discussions about selecting Arlington's Crystal City neighborhood, the Washington Post reports, citing anonymous public and private sector officials. The discussions are reportedly more detailed than those Amazon has had with other jurisdictions. The Post reports…
The Shipyard hotel and food court proposed along Miami River
A team of investors is proposing a new hotel and food court along the Miami River. Levy Gomez, Marcos Corminas and chef John Gray presented their proposal for The Shipyard on the River to the Miami River Commission, which will take up the project at its next meeting on Monday. The project would be built on a vacant site at 5 to 27 Southwest South River Drive. Records show South River Warehouse…
Video: PwC Partners Mitch Roschelle and Byron Carlock Discuss Emerging Trends in Real Estate Report 2019
Mitch Roschelle and Byron Carlock, both Partners at PwC involved with its Real Estate Practice, join the host of America's Real Estate Show in studio to discuss the PwC/ULI Emerging Trends in Real Estate 2019 Outlook. Discussions include the current economic cycle, REITs, and the democratization of real estate. In this segment, the CMBS market, the advent of REITs, lending sources, and assets sources are…
Two Developers Leverage Art and Placemaking in Miami
Perhaps it is no coincidence that both Craig Robins, president and chief executive officer of real estate development company Dacra, and Kieran Bowers, president of Swire Properties, were schooled in the humanities before becoming real estate developers. Bowers earned a degree in oriental studies with a concentration in Japanese from Pembroke College at Oxford University, while Robins, himself the son…