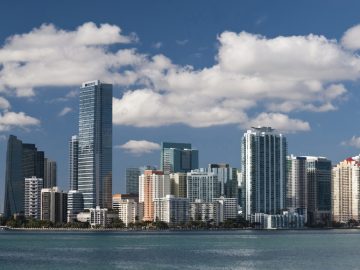 Video: Everything you need to know about Opportunity Zones, 67 of which are in Miami-Dade
Developers and investors across the United States are turning their attention to a new tax benefit program introduced as part of President Trump's tax plan known as Opportunity Zones. These incent developers to build in low-income communities by providing tax benefits. In Miami-Dade county there are 67 designated opportunity zones, making this topic very much of interest to area commercial real estate…
Interactive Map: Locate Miami-Dade's 67 Opportunity Zones
The Miami area, or more broadly Florida's Miami-Dade county, has 67 Opportunity Zones within it. Opportunity Zones, introduced as part of President Donald Trump's tax plan known, provide incentives for developers to build in low-income communities by providing substantial tax benefits. Within Miami-Dade county there are 67 designated Opportunity Zones. These are easily located using an…
South Florida's largest office sales in September
South Florida's five biggest office sales in September occurred outside of Miami, in Broward and Palm Beach counties. September lacked any large trophy office sales, but data compiled by The Real Deal suggest that there is still a lot of activity in South Florida's broader office market. It also speaks to the continued strength of the Class B office market in Broward County. Three Broward medical office buildings…
Downtown Miami Office High-Rise Commands $117 Mil
In what evidently is one of the larger office building transactions in South Florida so far in 2018, a joint venture of Banyan Street Capital, Independencia Asset Management and Crocker Partners has sold Miami's Brickell City Tower. CBRE Capital Markets represented the sellers in the deal. The buyer was not officially disclosed, but the South Florida Business Journal reported that the buyer was Madison-OFC…
Jay Kislak, Versatile Executive, Dies at 96
Jay Kislak, a well-known Florida real estate mogul and philanthropist who was also an avid collector of historic artifacts, died October 3. He was 96 years old. Kislak was born in Hoboken, N.J., and got his real estate license while still in high school at Newark Academy. He went on to earn a degree in economics from the Wharton School of Finance at the University of Pennsylvania, where he graduated early…
Hotel developers get specific in South Florida as new projects get delivered
The 275-room Biltmore Hotel in Coral Gables recently began a $25 million dollar renovation. The historic Biltmore Hotel in Coral Gables has never lacked for luxury. A stroll through the property's resplendent hallways and alongside its swimming pool — once the largest in the world — serves as a testament to the old-school elegance of a property that came of age during Florida's original land boom of the…
Florida Department of Transportation studies U.S. 1 congestion
The Florida Department of Transportation is studying traffic congestion on US 1 from Kendall Drive to I-95 and is asking Miami-Dade residents to take a survey to help develop appropriate solutions. The roughly 18-mile stretch of US 1 running through or along the Village of Pinecrest and cities of Miami, Coral Gables and South Miami "has significant impacts on community travel times, the environment and…
How a fake Saudi prince allegedly swindled Turnberry's Jeffrey Soffer
Turnberry Associates developer Jeffrey Soffer thought he had an offer from the prince of Saudi Arabia to buy the Fontainebleau Miami Beach in 2017 for $140 million more than what it was worth. Negotiations spanned for months, as Soffer allegedly wined and dined the supposed prince and bought him a Cartier bracelet worth $50,000, along with expensive artwork to court his investment, according to…
Getting Serious: Amazon Executives Return To Miami For Another HQ2 Visit
Amazon continues to seriously study Miami for the company's HQ2. Amazon executives were in Miami within the past 30 days for a follow up visit to scout HQ2 sites, according to three confidential sources cited by the SFBJ. It is at least the second such visit to Miami this year. During the most recent visit, Amazon officials took a close look at the Park West and Overtown area, a source said. The Miami…
Lissette Calderon will turn Miami River project into luxury rental tower and marina
Lissette Calderon plans to turn her recently-purchased waterfront tower into luxury rentals after a major renovation, The Real Deal has learned. The new property was just renamed Pier 19 Residences & Marina. Formerly called River Oaks Tower & Marina, the 21-story building on the Miami River has 199 apartments at 1951 Northwest South River Drive. A year in the works, Calderon's Neology Life…
The SoFla lowdown: Trump Group's big loan, spec home partners form amid slowdown and investors target mobile home parks
A Trump-sized loan: It was among the biggest financing deals to hit the South Florida condo market. The Trump Group's $558 million construction loan for The Estates at Acqualina in Sunny Isles turned heads. Not surprisingly, it was Bank OZK that provided the loan. Formerly Bank of the Ozarks, the deal again shows the Arkansas-based bank's aggressiveness  in the local condo market, where it has…
13th Floor and Adler plan 40-story skyscraper next to Douglas Road station
A planned mixed-use development next to the Douglas Road Metrorail station is nearly doubling in height – unbeknownst to many nearby residents and city officials. 13th Floor Investments and Adler Group are now planning to build a 40-story skyscraper at the project, which is near Coral Gables and Coconut Grove. The developers won the bid for the project about two years ago, but their updated plans…
Developers plan mixed-use hotel near Wynwood Walls
Another development group has filed plans for a mixed-use hotel in Wynwood near the popular Wynwood Walls. 111 Wynwood LLC filed plans for a five-story, 72-key hotel at 111 Northwest 26th Street. Developers Eduardo Vargas and Andres Hogg plan to break ground on the 50,000-square-foot project early next year and open in 2020, Vargas said. Alain Bartroli is the architect of record, and Richter Dahl…
AvalonBay's New York City Apartment Profits May Head to Denver, South Florida
Invesco Real Estate to buy an 80 percent stake in five apartment buildings owned by AvalonBay, including the Avalon Morningside in Manhattan. Real estate investment trust AvalonBay is considering a shift in its latest focus from apartments in New York City to Denver and southeast Florida, areas where the company expects steady job growth, consistently high occupancy rates and other solid real…
Shared Working, Living Spaces 'Coming on Us Like a Tsunami'
Real estate brokers and developers must get comfortable quickly with both shared office and living spaces — concepts that are bringing about the "flexible intertwining of life and work," according to Richard Florida, a nationally known urbanist. "It is coming on us like a tsunami," he said in Fort Lauderdale, Florida, during a presentation to members of NAIOP, the commercial real estate development…
How does The Estates at Acqualina's $558M construction loan stack up?
When Trump Group, the developers of The Estates at Acqualina in Sunny Isles Beach, scored a $558 million construction loan from Little Rock-based Bank OZK this week, it marked the largest condo construction loan of this cycle in Miami-Dade County. How did it compare to others? It was nearly 1.7 times as big as the next biggest condo loan this cycle — a $315 million construction loan in 2016 by Wells…
Lights out: Mattress Firm to shutter hundreds of stores nationwide
The nation's largest specialty mattress and bedding company will have some rough nights ahead. Mattress Firm Inc. said it will close up to 700 retail stores nationwide after filing for bankruptcy Friday, according to the Wall Street Journal. The closures will start with around 200 stores over the next few days. The company has dozens of locations in Miami, New York, Chicago and Los Angeles. Mattress..
Kislak's Legacy Still Spans US Commercial Real Estate
Jay I. KislakJay Kislak, who built one of the largest privately held U.S. mortgage banks, celebrated his 95th birthday last year with a big party on a World War II museum and relic: The USS Intrepid aircraft carrier. It was fitting, because the ship was part of his own history – Kislak had been an aviator on the carrier, years after he had already earned his real estate license while still a New Jersey high school kid.
Jay Kislak, 96, real estate mogul with passion for history, dies
Businessman Jay I. Kislak, a philanthropist whose love of history benefited both scholars and students through millions in donations, died on Wednesday in Miami. He was 96. Kislak, an avid collector of books and artifacts, made donations to the Library of Congress, the University of Pennsylvania, the University of Miami and Miami Dade College Freedom Tower — always with his wife, Jean Kislak by his side.
Urbanica buys Edgewater site for mixed-use hotel
A developer just picked up another property along Biscayne Boulevard with plans for a mixed-use project. Urbanica Management paid $7.95 million for the 18,800-square-foot site at 3001 Biscayne Boulevard and 325 to 311 Northeast Fourth Avenue, according to a press release. The development firm, which owns Urbanica The Meridian Hotel in Miami Beach, will build an Urbanica 220-key hotel with retail…
The History of Brickell: Miami's Manhattan
Bordered by the Miami River to the north, Biscayne Bay to east, the Rickenbacker Causeway to the South, and I-95 to the west, Brickell is one of Miami's oldest neighborhoods. Constantly evolving, Brickell has changed radically over the years, including an incredible development boom in the last twenty years. Brickell is a hub of the Latin American financial industry, and home to many of Miami's…
Jules Trump on his childhood, the Trump name and his start in real estate
It's quite a time to be a Trump. Though this 74-year-old developer is no relation to the current occupant of the White House, Jules Trump has delivered his own set of glitzy projects, like Williams Island, Acqualina Resort & Spa and the Mansions at Acqualina. And the South African-born Trump also opts to work with family, having built all of his projects in partnerships with brother Eddie. Despite a general…
The $2.7 Billion Miami Worldcenter is Progressing Rapidly. Downtown Miami Will Never Be the Same
Construction is proceeding rapidly at Miami Worldcenter, the $2.7 billion mixed-use megaproject that will finally fill the blighted gap between downtown Miami and the Omni area directly to the north. Spearheaded and master planned by developers Nitin Motwani and Art Falcone, various elements of Miami Worldcenter are being built either by them or other developers, and the first part of the massive…
Moishe Mana offers blockchain space in downtown Miami
There's an opportunity for cool blockchain companies to be one of the new economic pillars of a revitalized downtown Miami. Developer Moishe Mana is leasing six floors (2, 3, 7, 8, 9 & 10) at 100 E. Flagler Street and is targeting blockchain companies. The announcement comes as Miami is about to host a major blockchain event. Colliers International South Florida Executive Vice President Mika Mattingly's…
Broker hired to manage 275 former Toys "R" Us properties amid selloff
Raider Hill Advisors has hired JLL to manage 275 former Toys "R" Us stores across the country as the bankrupt retailer continues to sell off its entire portfolio. Even amid the orderly liquidation, the New York company's stakeholders have plans of their own for the brand. JLL will handle retail and facility management, tenant coordination, construction, accounting and tax services for…
Jay Kislak, chairman of The Kislak Organization, dies at 96
Jay Kislak, a prominent real estate investor and chairman of Miami Lakes-based The Kislak Organization died at 96 in his Miami home, the company announced. Kislak grew the investment company from a small family business with just six employees to more than 1,000 employees with multiple lines of business. Born in Hoboken, New Jersey, Kislak became interested in real estate at an early age…
Senators call for investigation into real estate money laundering law vulnerabilities
The risk of money laundering in residential real estate is high. That's according to two U.S. senators who are calling for an investigation to probe the potential vulnerabilities of existing U.S. money-laundering provisions, according to the Wall Street Journal. Chris Van Hollen of Maryland and Sheldon Whitehouse of Rhode Island, both Democrats, sent a letter to the Government Accountability Office, saying the…
Terra, Banyan buy Coconut Grove site, ink ground lease with co-working company
A joint venture between Terra and Banyan Street Capital just bought the site of a vacant mixed-use building in Coconut Grove, and inked a ground lease with co-working space operator URBIN. The 31,000 square-foot mixed-use property at 3138 Commodore Plaza traded hands for $7.2 million, or about $247 per square foot, with URBIN inking a 99-year ground lease. A spokesperson declined to comment…
That empty feeling: Shopping mall vacancies hit a 7-year high
Despite all the doom and gloom over shopping malls, one key figure remained fairly strong. Nationwide, average rents have either stayed the same or ticked up from one quarter to next for the last seven years. Until now. In the third quarter, the average rent for malls was $43.25 a square foot — down from $43.36 in the second quarter, the Wall Street Journal reported. Rents had not slid quarter over…
MMG picks up Pinecrest shopping center
MMG Equity Partners' portfolio along South Dixie Highway corridor is growing. The firm just paid $9.72 million, or about $280 per foot, for the 34,300-square-foot shopping center at 11975 South Dixie Highway. Earlier this year, MMG acquired Pinecrest Shoppes, a 14,560-square-foot shopping center at 11635 South Dixie Highway. Records show Ann D. Bowen, listed as a trustee of Marlin Family Trust, sold…
Coral Gables medical office building sale ignites lawsuit among brokers
A disbarred attorney with a troubled past is accusing two Miami commercial real estate brokers of muscling him out of a commission… Among the properties were several buildings owned by real estate investor Kevin Fox, including a two-story office building at 4950 Southwest Eighth Street, and Borell allegedly provided Zelonker confidential information about these pocket listings, the lawsuit….