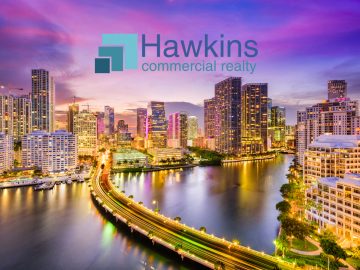 Miami accounting firm pays $17M for Blue Lagoon office building
Accounting firm Benitez & Co.'s principals rang up a $16.9 million purchase in Miami's Blue Lagoon neighborhood, acquiring a four-story office building with a helipad. Juan and Maria Benitez bought the roughly 61,000-square-foot Waterford Corporate Centre at 5835 Blue Lagoon Drive, said their broker, Manny Chamizo III with One Sotheby's International Realty.
Russell Galbut wants to heighten South Beach hotel, add rooms
Russell Galbut's Crescent Heights wants to stack two more floors on top of an Art Deco building that is part of the Gale South Beach hotel at 1690 Collins Avenue. The addition would house 12 new guest rooms and four meeting rooms to help accommodate spillover business from a nearby convention center hotel that is under construction. The Gale's owner…
South Beach office project backed by Google ex-CEO Eric Schmidt launches leasing
Ex-Google CEO Eric Schmidt and his New York-based partners are ready to start courting high-profile, deep-pocketed tenants for a planned office project… In a statement, Schmidt's partners Sumaida + Khurana and Bizzi & Partners… with 3,125 square feet of ground-floor retail on two vacant lots at 944 Fifth Street and 411 Michigan Avenue. It is not yet under construction.
Inside look at planned Edgewater mixed-use condo tower
From left: Ansorg Development's Karl-Ulrich Ansorg, Tulip Group's Kobi Elbaz, and Ofir Gabriel in front of 234-264 Northeast 34th Street in Miami: A partnership of four developers wants to build a mixed-use tower with condominiums in Miami's Edgewater neighborhood. Karl-Ulrich Ansorg, Yakov Elbaz, Ofir Gabriel and Amit Kort plan a 44-story building…
Shvo wants to redevelop aging Lincoln Road clock tower building
Shvo is betting big on Miami Beach. Michael Shvo's firm is seeking to redevelop a 13-story office tower at 407 Lincoln Road, according to plans filed with the city. The aging tower is one of the tallest office buildings in Miami Beach and is known for its clock display on the top. It sits directly in front of SoundScape Park. The tower would mark Shvo's third office…
Major Food Group to open Contessa in Miami Design District
Major Food Group is opening Contessa in the Miami Design District, marking its 10th South Florida restaurant. The New York restaurant group, whose partners have relocated or expanded to Miami over the past couple of years, inked a long-term lease on the northeast corner of Northeast 41st Street and Northeast First Avenue, said Major Food Group partner…
Inside Ytech's plans for 70-story Brickell condo tower
Developer Yamal Yidios revealed plans for his luxury condominium tower on Brickell Avenue, a 70-story building with 80,000 square feet of amenities partially powered by solar energy. Milan, Italy architecture firm ACPV Architects, led by Antonio Citterio and Patricia Viel, is designing the 189-unit tower, called The Residences at 1428 Brickell.
Residential tower advances on scarce Midtown land
A development planned for one of the last undeveloped parcels in Miami's Midtown neighborhood is moving forward. A mixed-use residential tower at 3001 NE First Avenue. is proposed by owner-developer PPF AMLI 3001 NE 1ST Avenue LLC. Under the Miami 21 zoning code, approval of a Major Use Special Permit (MUSP) would allow the construction of a 31-story…
Doral transit-oriented development near groundbreaking
One of the largest transit-oriented developments to date is about to break ground. Developers of Upland Park, a project with almost 2,000 residential units, a hotel, retail space, and general office space adjacent to Miami-Dade County Smart Plan's Dolphin rapid transit station, are working with the county to get the necessary permits and close the lease on phase one…
Lawsuit could set back Coconut Grove Playhouse reopening
A plan to revive the Coconut Grove Playhouse is back in court as a group complained to the 11th Judicial Circuit against Miami-Dade County. The 14 plaintiffs, represented by attorney David Winker, argue the county is violating the Florida Constitution by using public funds at the closed playhouse contrary to what voters authorized. The filing seeks a…
Newgard Acquires Key Miami Parcels
Three Miami, Fla. land parcels have been acquired by Harvey Hernandez' Newgard Development… master-planned three-tower residential and marina project in the city's Brickell… the parcels commanded a $7 million purchase price. That brings to $57.5 million… the parcels are 66 SW 6th Street, 625 SW First Avenue and 69 SW Seventh Street in Brickell…
As Miami targets lighted ad signs for parks, bigger signs sought elsewhere
Miami city commissioners today (10/13) are prepared to give final approval to a measure that will allow outdoor advertising signs in three of its premiere parks, while one of the commissioners has introduced a much more aggressive proposal that would allow digital advertising signs on city-owned properties. On today's agenda are two related items: The second…
Leading Swiss investment firm Lurra Capital completes $42.5 million multifamily acquisition in Miami
"This is another strategic acquisition in Miami within…" Located at 1501 SW 37th Avenue in Miami, Blume Coral Gables is a boutique, Class-A, 100-apartment high-rise community that was developed in 2019. The property has large floorplans—almost 900 square feet—with a mix of lofts, one-, and two-bedroom units, along with 6,191 square feet of ground floor retail.
Drawn-out negotiations over purchase agreement result in extensive litigation
A recent case weighed the extent to which a purchaser was able to negotiate terms when exercising a purchase of property under an option in a lease. The litigation began when, after the tenant/buyer exercised its purchase option, the landlord/seller refused to honor it. The case went to trial and the buyer won, with the trial court ordering the buyer to draft…
Record rent hikes had slowed. Ian may change that
South Floridians had begun to see a slowdown in record apartment rent hikes. Now Hurricane Ian could change that. After the deadly Category 4 storm pummeled much of southwest Florida, some seasonal residents are expected to opt out of the Gulf Coast and make a beeline for South Florida, the Miami Herald reported. "We can expect some temporary…"""
North Bay Village commissioners to decide fate of Sunbeam's multi-tower project
North Bay Village commissioners will take a final vote Tuesday on zoning changes that would allow for up to 650-foot towers in Sunbeam Properties' bayfront assemblage. Sunbeam, led by president and CEO Andrew Ansin, is a subsidiary of Sunbeam Television. It is the owner of WSVN-Channel 7, whose headquarters is in North Bay Village, which is part of the…
Miami-Dade faces suit over water park, hotel project near zoo
Michael Diaz Jr., Bernard Zyscovich, Paul Lambert and renderings of the Miami Wilds project: After years of delays, plans for the controversial Miami Wilds water park gained ground this summer when the developer leased the project site. But a new lawsuit adds another twist to the proposed development that has been in the works for a decade. Developers Paul…
Lease roundup: PMG's Elser, Terra's Doral Square nab tenants
Property Markets Group's Ryan Shear, Kevin Maloney, Dan Kaplan and Greybrook's Peter Politis with Elser Hotel & Residences; Terra's David Martin and Doral Square: Sky Technologies I The Elser Hotel & Residences I Miami Smart-home technology firm Sky Technologies leased an office and roof signage space at one of downtown Miami's newest towers. Rani…
Inside James Batmasian's complicated legacy
James Batmasian was ready to give most of his wealth away. In 2019, the real estate investor and developer applied to join a campaign established by Warren Buffett and Bill Gates that encourages the world's wealthiest people to contribute the majority of their riches to philanthropic causes of their choosing. Three years later, his photo still isn't among the more than…
Renaissance Properties buys Boca Raton offices for $51M
Renaissance Properties' Bradley Fishel and Kenneth Fishel with Penn-Florida Companies' Mark Gensheimer and 1515 South Federal Highway: More than a year after selling the Aventura Corporate Center, Renaissance Properties New York scooped up an office property in Boca Raton for $51 million. The Fishel family's New York-based company bought the…
Core pays $45M for West Kendall shopping plaza
Core paid $44.8 million for a fully leased, grocery-anchored shopping center in West Kendall. The Miami-based retail real estate investment firm picked up Deerwood Town Center, a retail complex spanning more than 205,000 square feet at 11905 Southwest 152nd Street and 12107 Southwest 152nd Street, according to a press release. Core, led by managing principals…
Inside Robert Rivani's wild Beverly Hills mansion
The castles in the seven kingdoms of Westeros can't compete with the lavish palace that retail real estate investor Robert Rivani and his wife Krystal have curated in Beverly Hills. "Being 'extra' is everything to us," Krystal Rivani told the Wall Street Journal for a profile on Castle Rivani, a 1.7-acre, chateau-style compound the couple bought for $13.7 million…
Centner Academy owners sell Edgewater dev site
David and Leila Centner, owners of a controversial private school in Miami, sold a development site in an Opportunity Zone in Edgewater. Amit Kort and his investment partners, through an entity called Tulip Developments Group, bought the almost 1-acre property on the southwest corner of Biscayne Boulevard and Northeast 34th Street in Miami for $16.5 million…
Alchemy plans mixed-use project on Salvation Army parking lot in Wynwood
Alchemy-ABR Investment Partners wants to develop a Salvation Army parking lot in Wynwood into the firm's first Miami project. An affiliate of the New York-based developer paid $18 million, or about $526 a square foot, for the 0.8-acre development site at 18 Northwest 23rd Street, records show. Israel Discount Bank of New York provided…
South Florida Is the Office Market's Bright Spot
South Florida's regional office market continued to improve from the impacts experienced as a result of the COVID-19 global pandemic. All three counties, in fact, recorded more than 100,000 square feet (sf) of positive net absorption during the third quarter of 2022, bringing year-to-date net absorption to more than 1 million square feet (msf). Overall vacancy…
Related-led team wins approval for oceanfront Bal Harbour tower
Jorge Pérez's Related Group, Two Roads Development and Rockpoint Group scored approval from a Bal Harbour board for their plans for the oceanfront Carlton Terrace property. The Bal Harbour Architectural Review Board voted unanimously in favor of the planned Residences at Bal Harbour, a 24-story, 61-unit luxury condo tower that would be built…
Bridge bets on Miami Gardens' Palmetto Lakes Industrial Park
Already among the biggest South Florida industrial real estate players, Bridge Industrial further extended its empire with the purchase of a pair of Miami Gardens buildings. Bridge, headed by Steve Poulos, bought the fully leased properties at 16175 Northwest 49th Avenue and 16250 Northwest 48th Avenue that sit on 6 acres at the Palmetto Lakes Industrial Park…
Bridge Industrial Acquires Miami Warehouse Properties For $26.26 Million
Chicago-based Bridge Industrial recently acquired a 6.19-acre warehouse property in Miami for $26.26 million. The property at 16175 N.W. 49th Ave. in Palmetto Lakes Industrial Park consists of two warehouses totaling 123,814 square feet and 200 parking spaces. The acquisition was financed by a loan provided by Chicago-based CIBC Bank USA. Jose Sasson of…
888 Brickell Supertall Developer Files Revisions; New Rendering Released
JDS Development Group has filed revised plans with Miami-Dade County for the 888 Brickell tower. The tower is still planned to rise to a supertall height of exactly 1,049 feet, the maximum permitted in the area. With the revisions, 888 Brickell is now planned to include: 259 residential units; 52,144 square feet of health/fitness; 38,727 square feet of food and…
Developer Pitches 70-Story Brickell Condo Tower With Solar Panel Windows
Yamal Yidios' Ytech is launching an ambitious project on the site of its current offices, planning a high-end, 70-story condo tower slated to be run partly on solar power generated by the building's glass facade. The 850-foot-tall Residences at 1428 Brickell will offer 189 for-sale apartments and be designed by Arquitectonica and Italian firm ACPV Architects, which…
Analysis Shows Most Office Spaces, Even Fancy Ones, Are Vastly Underused
The return-to-office in the wake of the pandemic has happened in fits and starts, but a consistent theme is that offices are far less full than they once were. While building swipe data from Kastle Systems has shown that office occupancy nationally is still less than half of the pre-pandemic average, a new analysis by proptech firm Density shows how spaces inside the…
South Florida Based Talkin' Tacos to Open in Wynwood; Will be Third Corporate Location
Talkin' Tacos, a food truck turned fast-casual Mexican eatery based in South Florida, will open their third corporate restaurant in Wynwood located at 172 NW 24th Street, on October 7. The growing Miami sensation serves scratch-made, innovative and Instagram-worthy Mexican dishes. The new 1,600 sq. foot restaurant will provide the same authentic halal Mexican…
Hotel in Lauderdale-by-the-Sea approved to replace aging inn
Lauderdale-by-the-Sea approved a site plan for Sea Glass Beach Place, a three-story, 31-room hotel that would replace a one-story inn built 70 years ago near the beach. The town's commission voted last week in favor of the plan to build the 21,990-square-foot Sea Glass Beach Place after demolition of the aging Dolphin Harbor Inn. The current three-building, 21-room…
Covenant bets on Margate multifamily with $61M deal
The Blue Isle apartment complex at 5100 West Sample Road in Margate, FL and Covenant Capital Group's Frederic Scarola and Govan White: A Nashville-based multifamily real estate firm scooped up an older apartment complex in suburban Broward County for $60.9 million. Covenant Capital Group, through an affiliate, bought the Blue Isle community at…
Key International to build 377 apartments on former Publix site in Coral Springs
Key International advanced its plan to build a mixed-use project with 377 apartments on the former site of a Publix supermarket in Coral Springs. Publix Super Markets demolished its former Coral Springs supermarket at 9201 West Sample Road, on the northeast corner of West Sample Road and University Drive, in 2007 after Hurricane Wilma damaged it in 2005…