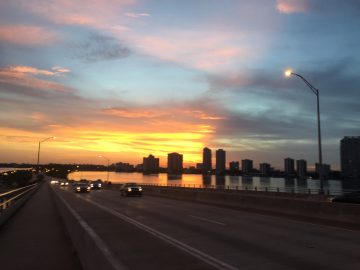 Developers propose mixed-use projects in Allapattah, Edgewater and Overtown
Developer Robert Wennett, Mill Creek Residential, and Estate Investments Group are taking their projects to the city of Miami's Urban Development Review Board on Wednesday. Modera Biscayne Bay: Mill Creek Residential plans to acquire the properties at 412 Northeast 22nd Street and 436 Northeast 22nd Street in Edgewater and build a 29-story apartment building. The developer is proposing Modera…
City National Bank inks lease, gains signage rights to Miami Tower
City National Bank of Florida and UBS just leased a combined 142,000 square feet of office space at the Miami Tower at 100 Southeast Second Street , in a deal worth $75.1 million. City National Bank will also make the building its new headquarters and plans to take over signage rights for the iconic downtown tower at 100 Southeast Second Street in downtown Miami that was featured in the opening…
Say What? CCIM Senior Economist Thinks Amazon HQ2 to be Multi-City Co-Sharing Arrangement, Cites Loan Proposal in Process
"My new wild forecast is – get my red shoes out again – is that Amazon's HQ2 is not going to be in one city. I think that between now and the end of the year they're they're exploring an option with some cosharing entity like a WeWork to say what if we had you provide us with 10,000 offices across five cities in the eastern southeastern United States where our IT, our sales, our engineering folks could travel…"
Foundry and partner to expand Miami Free Zone complex
More industrial space is planned for Doral. Foundry Commercial and Oakwood Real Estate Partners will add two new buildings to the Miami Free Zone, which they plan to rename Miami Central Commons. A Foundry partnership acquired the 823,000-square-foot industrial complex for $85.5 million earlier this year. Established in 1979, the 47-acre foreign trade zone at 2305 Northwest…
Is Allapattah Really Miami's Next Hot 'Hood?
Even though it's blanketed with auto repair shops, printing presses and little taquerias, Miami's busy, grungy Allapattah area has been dubbed as the "next hot neighborhood," words that excite real estate speculators and give residents anxiety. Some of the retail stores in the Allapattah assemblage purchased by an investor from the Dominican Republic. At a panel discussion Tuesday…
Amazon Air joins Miami International Airport
Miami International Airport last week became part of Amazon Air's cargo flight operations, at the same time that the airport was marking a nearly 4% gain in cargo carried for the year to date. Amazon launched twice-daily freighter service at Miami Internastional to destinations across the US. The new service is being operated by Atlas Air Worldwide with Boeing 767-300F aircraft and includes an…
José Leonardo Martí: Growing Mexico's Miami-based CMX Cinemas chain
As CEO of CMX Cinemas, the North American subsidiary of Mexican cineplex corporation Cinemex, José Leonardo Martí has led an aggressive expansion campaign that since 2016 has seen the company develop into the eighth largest movie theater chain in the US. Counting last year's acquisition of Cobb Theaters, Cobb's luxury dinner-and-a-movie CinéBistro brand and theater spots across 10 states…
Miami-Dade grows affordable housing inventory by 3%
Miami-Dade's Public Housing and Community Development department is working to meet the needs of low-income elderly residents through a combination of new construction, rehabilitated sites and novel ideas, according to Mayor Carlos Giménez, who reported Oct. 9 that the department grew its affordable housing inventory by 3% in one year. Between April 2017 and 2018, the department completed…
Bayside Marketplace unveils a basket of upgrades
Renovations continue at Bayside Marketplace. Senior general manager of Bayside Marketplace LLC Pamela Weller is overseeing a variety of facelifts occurring around the site and says they are on schedule. The north and south buildings are experiencing simultaneous renovations. Elevating portions of Bayside is underway for the north side. The first floor of the building will be elevated and a food…
Florida Department of Transportation asks city to run 30-acre illuminated park under bridge
The Florida Department of Transportation is looking to the City of Miami to develop and run a 30-acre illuminated park under a rebuilt and elevated I-395 and its long-planned "signature bridge." It appears the state is finally ready to start the I-395/SR 836/I-95 project, with major work by early 2019. James Wolfe, who heads the state transportation department for this area, reported on the project to Miami…
Sites near Wennett's proposed Allapattah development hit the market
Now that plans for Robert Wennett's mixed-use project in Allapattah have been unveiled… 1101 and 1109 Northwest 22nd Street… a warehouse at 1395 Northwest 22nd Street, which is asking $3.85 million… SunTrust bank branch building at 1400 Northwest 20th Street… reportedly under contract… the warehouse at 1034 Northwest 23rd Street for $8 million… Mana… 2301 Northwest Seventh Avenue…
Co-living concept might be finally taking off
Co-living may have reached its maturity phase. The concept is less than 10 years old, but developers are now getting ready to build some of the continent's biggest new co-living properties, indicating its growing popularity, according to the Wall Street Journal. Starcity, a co-living startup based in San Francisco, agreed to buy a development site in San Jose, California, last week where it is planning a co-living…
Senator says Opportunity Zones guidelines will be released soon
The federal Opportunity Zones program has drawn increasing interest — despite limited details on its rules — from real estate investors and developers who have launched funds to take advantage of the expected incentives. Since the program was created late last year, the government has been promising more guidance. The wait may soon be over. Greater details are expected to be released by month's end…
Video: CCIM Institute Senior Economist KC Conway Discusses Which Commercial Sector Wins Going Forward
CCIM Chief Economist KC Conway appears on America's Commercial Real Estate Show with its host Michael to present various predictions, principally comments on which commercial real estate sector will come out on top. Included in the discussion are some the the innovations in retailing concepts, experiential and otherwise. He discusses how the bulk of industrial property transactions are actually…
Video: A Discussion with CCIM Institute Senior Economist KC Conway; Headwinds or Tailwinds for Commercial Real Estate?
CCIM Institute Senior Economist KC Conway joins Michael on his commercial real estate show to give his overall economic forecast and discuss how factors like trade wars and disruption can affect commercial real estate. He discusses things like the risks of tariffs and trade war risks and what history tells us about these, the risk of rising interest rates, and other potential negatives on the mind commercial…
Scott requests to freeze property insurance rates following Hurricane Michael
Florida Gov. Rick Scott is seeking to keep insurance property rates steady in the wake of the damages caused by Hurricane Michael. Scott directed Florida's Insurance Commissioner David Altmaier to freeze property insurance rates for 90 days as businesses and residents recover from the hurricane, according to the Tampa Bay Times. He also directed Altmaier to give policyholders more time to find…
Industrial investors buoyed by strong economy and e-commerce, but wary of tariffs and interest rates
Boosted by e-commerce and steady economic growth, investors are shaking off their doubts over the staying power of the country's industrial development boom. Nearly half of investors surveyed in Real Capital Markets' annual Industrial Investor Sentiment Report said they believe investment activity will remain steady headed into next year, and another 43 percent said they expect investment to…
Fed Policies' Continued Effects on Short-Term Liquidity Markets
The Federal Reserve implemented a number of policies to combat the effects of the 2007-08 financial crisis and the recession that followed. Three of these are notable for their persistent impact on short-term liquidity markets: Keeping interest rates low; Paying interest on banks' reserve balances; Buying securities on a large scale. The Federal Funds Rate: First, the target for the federal funds rate (FFR)…
Chinese investors sue Nick Mastroianni over alleged EB-5 fraud
Nearly 80 Chinese investors have filed suit against EB-5 fundraiser and Jupiter developer Nicholas Mastroianni II, alleging he defrauded them of their EB-5 investments. Mastroianni, who's been tied to President Trump's longtime attorney, Michael Cohen, as well as to the Kushner Companies, founded the U.S. Immigration Fund for EB-5 investment. He's known to have raised EB-5 funds for a number of…
Sears files for bankruptcy; will close another 142 stores
Sears Holdings filed for bankruptcy protection early Monday, with immediate plans to close 142 stores near the end of this year. The closings are in addition to 46 locations the once-mighty retailer already planned to shutter, though it did not specify how many of the new closures would be Sears or Kmart stores, according to the Chicago Tribune. Despite efforts to cut costs by closing hundreds of…
Morgan Stanley's offices are getting a millennial makeover
Morgan Stanley is revamping its offices to bring techies and brokers closer — and to attract millennials. Over the next 15 months, roughly 1.2 million square feet of the bank's office space will get a makeover, Bloomberg reported. The changes come as the bank builds up its focus on blockchain, automation and other technologies. The renovations will bring the company's…
Politics may divide the siblings who run the Turnberry real estate empire
Two referendum issues on the Nov. 6 ballot may have caused a political divide between the senior partners of the Aventura-based Turnberry real estate empire: Jackie Soffer and her brother Jeff Soffer. Miami Beach voters will decide whether to approve an 800-room, city-owned hotel that Jackie Soffer wants to build next to the Miami Beach Convention Center. The operator of the hotel would be…
As Sears totters on the edge of bankruptcy, talks are reportedly underway to save part of the chain
Sears Holdings' executives and lenders are supposedly negotiating over the fate of the long-standing, much-beleaguered retail chain.
According to Bloomberg, Sears could declare Chapter 11 bankruptcy as early as Sunday, as the Oct. 15 maturation date of a $134 million debt package looms large. The retailer would then file for court protection, secure a loan of between $300-$500 million and a smaller…
Mattress Firm closing at least 10 stores statewide, including 3 in South Florida
Bankrupt retailer Mattress Firm will close at least three stores in South Florida and seven others elsewhere in the state. Mattress Firm, which filed for bankruptcy on Oct. 5, is immediately closing 200 stores, including two in Miami and one in Fort Lauderdale.
The Miami stores that are closing or already have closed are at 7703 West Flagler Street and 14200 Southwest 8th Street…
Hurricane Michael is a new test of Florida's odd property insurance market
Hurricane Michael's damage to property in the Florida's Panhandle region on Wednesday will provide a fresh test of the state's unusual property insurance market. Florida is odd because such industry leaders as Allstate and State Farm play a much smaller role in protecting home owners than they do in other states. Small Florida property insurers with backing from larger reinsurance companies…
Midtown Capital Partners drops $78M on Downtown Dadeland shops
A joint venture between Pebb Capital and Duncan Hillsley Capital just sold Downtown Dadeland to Midtown Capital Partners for $78.2 million. The deal includes about 126,000 square feet of ground floor retail space at 7270 North Kendall Drive that's 97 percent leased to tenants like Pasión del Cielo, West Elm, Orangetheory Fitness, Ghee and Harry's Pizzeria. The development, which features 416 condos…
River Oaks Among South Florida's largest multifamily sales in September
The second-priciest deal also marks developer Lissette Calderon's return to real estate since leaving the Related Group in 2016. Calderon's firm, Neology Life paid about $61 million for the River Oaks Tower & Marina with plans to renovate the waterfront apartment building. Calderon developed Neo Lofts and Neo Vertika, also on the Miami River. Neology Life financed the deal for the 199-unit, 20-story rental…
This tax bill would be a massive win for condo developers, if it ever makes a vote
A stalled bill in the House of Representatives would grant luxury condominium developers the same tax benefits homebuilders already receive, saving them millions during construction. The "Fair Accounting in Condominium Construction Act," introduced last summer by Miami Republican Carlos Curbelo and co-sponsored by Queens Democrat Joe Crowley…
Canadian family feud puts ownership of horse race tracks in doubt
A Canadian billionaire's dispute with his daughter over his fortune involves valuable horse-racing tracks in Los Angeles and South Florida. Frank Stronach, who built the Magna International car parts empire, is suing his daughter, Belinda Stronach, and other family members, for about $400 million, claiming they mismanaged the family's assets and worked to limit his control over the fortune he…
Making a splash: Aston Martin Residences to offer yacht service to beach as latest amenity
The developer of the Aston Martin Residences in downtown Miami is aiming to make a splash with the latest amenity offering: a butler service that takes owners from the luxury high-rise to the sand – via yacht. G&G Business Developments is working with International Booking Services LLC to offer the amenity, which includes home management and luxury travel support. G&G, owned by the Coto family…
Video: SoftBank in talks to buy out WeWork; TRD Reporters Konrad Putzier and David Jeans Discuss
Konrad Putzier and David Jeans, reporters at commercial real estate news organization The Real Deal, discuss reports that SoftBank, a Japanese multinational holding conglomerate headquartered in Tokyo, is planning to invest an additional $15 to 20 billion in WeWork to then become the majority shareholder in the coworking behemoth. This would indeed be a seismic event for coworking, and for that…
Little Havana developers allege commissioner is using code violations as political retaliation
Late-night stakeouts, targeting businesses, and circumventing city procedure are among the allegations Barlington Group principals Bill Fuller and Martin Pinilla are making against Miami Commissioner Joe Carollo. Fuller and Pinilla are suing Corollo in federal court, alleging the commissioner violated their right to free speech, using code enforcement to retaliate against them for supporting his opponent…
Could Sears' demise spell doom for malls?
A possible Sears bankruptcy could mean the end for the 125-year-old retail legend and yet another headache for the nation's shopping mall owners. A Sears bankruptcy could leave malls already dealing with the loss of major tenants like Carson's with massive amounts of additional vacant space. Even worse, the malls would be losing an anchor tenant that for decades has successfully drawn shoppers to…
Nationwide demand for warehouse and distribution space at 18-year high: report
The growth of e-commerce has been a boon for industrial landlords and investors across the U.S., fueling demand for warehouse and logistics space that has reached an 18-year high. The third-quarter industrial availability rate — which measures properties that are vacant or about to be — stood at 7.1 percent, according to a new CBRE tally, the Wall Street Journal reported. That marks 33 straight quarters…
Video: CCIM Institute Senior Economist KC Conway Discusses the Economy's Effect on Real Estate
Kiernan "KC" Conway, Senior Economist at the CCIM Institute, appears on America's Commercial Real Estate Show to talk about the current economic cycle and how it is affecting the commercial real estate market. Conway notes general optimism, with a couple of caveats, the upcoming midterm elections and what is going on with tariffs. He believes the upcoming GDP numbers will be tempered…
The data behind the fear of yield curve inversions
FRED can help us make sense of the recent discussions about an inverted yield curve. But first, some definitions to get us started: The yield curve is the difference (or spread) between the yield on the 10-year Treasury bond and the yield on a shorter-term Treasury bond—for example, the 3-month or the 1-year. The yield curve is flattening if short-term rates are increasing relative to long-term rates, which is…
JMH Development must turn over remaining interest in 300 Collins: judge
A judge has ordered Jason Halpern's JMH Development to turn over its remaining interest in Three Hundred Collins to its silent partner, amid ongoing litigation. The five-story, 19-unit boutique condo at 300 Collins Avenue in Miami Beach's South of Fifth neighborhood was completed this summer, and has just one unsold unit remaining: Penthouse 2 priced at $5.3 million. JMH must turn over that unit and…
Mortgage rates hit 7-year high amid slowing housing market
Would-be homebuyers have another reason to be concerned: mortgage rates rose to nearly 5 percent, the highest in more than seven years and the biggest weekly increase in two years. Rising mortgage rates slow the housing market, which is an indicator of the overall economy. Long-term rates are now up nearly a full percentage point from the start of 2018, the Wall Street Journal reported.
$7.2M Sale of Mixed-Use Property in Miami's Coconut Grove Brokered
Cushman & Wakefield has arranged the sale of a mixed-use building located at 3138 Commodore Plaza in Miami's Coconut Grove neighborhood. A partnership between Terra and Banyan Street Capital purchased the property for $7.2 million, or $232 per square foot. Hollywood, Fla.-based MG|3 Development sold the property. Developed in 1986, the 31,000-square-foot, multi-tenant property features…
Mercedes-Benz dealer buys office building in Coral Gables
A company tied to Robert "Bob" Brockway, chairman and CEO of Bill Ussery Motors, just paid $11 million for an office building across the street from the firm's Mercedes-Benz of Coral Gables dealership. Property records show Brockway Limited Partnership bought the 36,600-square-foot, three-story office building at 300 Sevilla Avenue from OOOM LLC, led by architect F. Michael Steffens and Marjorie Goldman.
Judge rules against Matheson: Beckham's Overtown land deal stands
Bruce Matheson lost an appeal against Miami-Dade County's no-bid land deal in Overtown with David Beckham and his partners. The lawsuit and Matheson's failed appeal actually bought the Beckham group more time, according to the Miami Herald. While Beckham and his partners are now seeking approval from city of Miami residents to allow them to build a mixed-use soccer complex on the Melreese…
New York Life Real Estate Investors Buys Brickell City Tower in Miami for $117M
New York Life Real Estate Investors, on behalf of an institutional client, has acquired Brickell City Tower, a Class A office tower located in Miami's Brickell office submarket, for $117 million. The buyer was not disclosed but media outlets have reported that the seller was a joint venture between Banyan Street Capital, Crocker Partners and Independencia Asset Management. The 33-story tower features 291,554…
X Miami Retail among biggest retail property sales in September
Tricera Capital's sale of the retail space it bought from Property Markets Group netted a quick $3 million. Miami-based Tricera entered into a preconstruction contract last year to buy the retail units at 230 Northeast Fourth Street for a little more than $3 million. Exan then sold the commercial space, which includes 6,520 square feet of retail and 1,752 square feet of patio space, to Exan Capital for $6.3 million.
Is cheap debt creating a CRE bubble?
Former Federal Reserve chair Janet Yellen, her successor Jerome Powell, Wells Fargo CEO Tim Sloan and Goldman Sachs all agree on one thing: commercial real estate prices are too damn high. Cap rates have been falling across the country, leaving investors with minuscule returns. Goldman Sachs claimed back in May that commercial real estate may be overvalued by 16 percent. And yet there is no sign of a…
Wynwood vying for train station, saying density to rival downtown Miami
Wynwood property owners are pushing for a train station at or near 29th Street, arguing that the area is poised for nearly 65 million square feet of additional development. To prove that, the Wynwood Business Improvement District's board retained planner Cesar Garcia-Pons to create a study on the potential development capacity within a half-mile radius of 36th Street and 29th Street by the Florida East…
How Miami's Limited Supply Affects Office Investment
With more than 60 million square feet of office inventory, Miami has been characterized by steadily rising demand in the face of constrained supply. According to Yardi Matrix data, less than 1 million square feet are under construction. The slowly growing amount of office product has led to shifts in acquisition strategies, balanced with the needs of today's commercial tenants. Tom Farmer, vice…
Hurricane Michael Imperiled More Than $25 Billion in Florida Commercial Property
The commercial property in the area struck by Hurricane Michael spans the Florida panhandle along the Gulf of Mexico. Hurricane Michael smashed into beach resorts, shopping centers, apartments and office buildings with 155-mile-per-hour winds and rising seas, threatening more than $25 billion in commercial property along the Florida Panhandle…
Video: Reis Economist Barbara Denham on Whether Industrial Property Performance May Be Cooling Off
America's Commercial Real Estate Show host Michael Bull and Barbara Denham, Economist at Reis, discuss the current state of the industrial property market in the United States and whether it might be cooling off. She notes that tenants are likely on hold as they try to figure out where the trade war situation is more clear, although she only expects this to likely last a quarter or two. Also discussed is the…
After Sears Declares Bankruptcy, Kimco Looks To Recapture Below-Market Leases
Sears Holdings, which operates the Sears and Kmart retail chains, currently has 14 lease agreements with Kimco for three Sears and 11 Kmarts nationwide, according to a Kimco news release… A second Sears big-box location they are looking to take back is an 89K SF Kmart at the Bridgehampton Commons in Bridgehampton, New York. And another is a 114K SF Kmart at the Kendale Lakes Plaza in Miami.
Related Cos. Sees Future in $3 Billion of Senior Housing in Miami, Other Major Cities
Related Cos. has built luxury condos and hotels across the U.S. and is remaking Manhattan's far west side. But executives at the developer decided something was missing from the portfolio: senior housing. That's about to change. New York-based Related plans to build $3 billion of luxury senior high-rises over the next five years, in the same pricey urban areas where it has rentals and condominiums. A joint…
Sears explores bankruptcy filing even as CEO scrambles to avoid it
Sears Holdings is preparing for a possible bankruptcy even as CEO Edward Lampert continues his push to shrink the once-dominant retailer back to profitability. Sears has hired advisers to prepare a possible bankruptcy filing that could come as early as this week, according to the Wall Street Journal. The move comes as the struggling chain faces a Monday deadline to make a $134 million debt…
Neighborhood dive: Doral morphs from industrial business center to luxury enclave
Doral is still officially a young city, incorporated only 15 years ago. But Doral's roots date back to the 1950s, when Doris and Alfred Kaskel scooped up 2,400 acres of swampland for $49,000 on which they built a grand hotel, country club and golf resort nearly a decade later. The Kaskels, apartment developers from New York City who also built a pair of Art Deco hotels in Miami…
Softbank in talks to take a majority stake in WeWork: report
SoftBank is in discussions to take a majority stake in Adam Neumann's co-working firm WeWork, which could amount to an investment as high as $20 billion, a new report claims. If a deal were to materialize, the money would reportedly come from SoftBank's Vision Fund, according to the Wall Street Journal. SoftBank, an almost $100 billion fund backed by Saudi Arabia and Abu Dhabi sovereign wealth…
Wanted: Blockchain Companies for Fledgling Miami Tech Hub
Billionaire investor Moishe Mana plans to build a technology hub in downtown Miami, making him just the latest real estate owner across the United States building centers to house blockchain systems for increasingly popular cryptocurrency investments. The so-called Block Building in downtown Miami will serve as an incubator for tech companies, which analysts say the city lacks compared to other major…
What Edgewater Could Have Been: Incredible Projects In and Near this Miami Neighborhood that Never Happened
Around the time Biscayne Boulevard was being built by the Shoreland Company, in the style of a grand, palm-lined boulevard and shopping street stretching all the way up to Miami Shores, another developer, the Davenport & Rich Development Company, planned a plaza of four buildings centered on a fountain at 33rd Street and Biscayne Boulevard. Interestingly, the plaza was actually planned in…