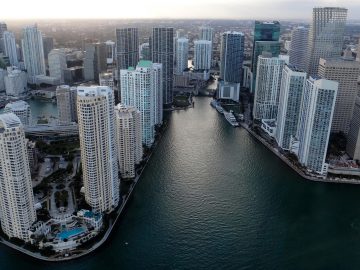 As HQ2 announcement approaches, Amazon execs are revisiting NYC, Chicago, Miami
Some cities are getting another look from Amazon as the announcement for where the e-commerce giant will set up its second headquarters looms. New York City, Chicago, Newark, Miami and the Washington, D.C. area all had recent follow-up visits from Amazon executives, according to the Wall Street Journal. In New York, the company is reportedly looking at sites in Long Island City and, more…
Allapattah to get 8 acres of offices, apartments, hotel, retail, farming, school
A developer is promising a cutting-edge mixed-use project in the heart of Allapattah's industrial district, bringing a hotel, apartments, offices, retail and restaurants, urban farming and a school. Miami Produce Center LLC is proposing the ambitious development on more than 8 acres, bounded by Northwest 22nd Street to the north, Northwest 12th Avenue to the east, Northwest 21st Street to the south…
Shoma to convert Hialeah retail center into apartment complex
Hialeah's city council just cleared the way for Masoud Shojaee's Shoma Group to convert an old shopping center into a new apartment complex. The council unanimously approved Shoma's rezoning proposal Tuesday. According to the application, the developer plans to build a 304-unit apartment complex called Shoma Village on a 5.2-acre corner lot at 401 and 435 Hialeah Drive. Shoma Village will…
The stock market is still riding high. So why are real estate stocks tanking?
Even a record-high stock market can't cheer up real estate investors. The Dow Jones saw a winning streak earlier this month. And the economy, broadly, is strengthening, with the unemployment rate falling to the lowest level since 1969. But real estate stocks across the board have been sliding downhill over the last year. "We are definitely in a soft market and it will continue to soften next year," said…
Estate Investments scores loan for Palmetto Bay apartments; may market as Opportunity Zone play
Estate Investments Group just secured a $34 million construction loan for its 200-unit Soleste Bay Village in Palmetto Bay, which could be sold to an investor seeking to benefit from a federal tax incentive program. The Miami-based development group scored the loan from Banesco USA and Spain-based Abanca for the property at 18301 South Dixie Highway, according to a press release. Miami-based Estate…
American Dream developer pulls out of deal to buy Archbishop Curley in Little Haiti
Triple Five Group, the developer of the proposed American Dream Miami mall, has pulled out of its contract to buy the Archbishop Curley-Notre Dame High School site where it had planned a mixed-use project, The Real Deal has learned. Robert Gorlow, a Miami Lakes-based consultant for Triple Five, confirmed that the… company withdrew its offer for the 15.56-acre site at 4949 Northeast Second Avenue in…
Developer Drawn to Miami River's 'Authenticity'
­Developer Lissette Calderon has lau­nched her fourth project along the Miami River – a once-polluted waterway that has turned into a commercial and residential destination in Florida's second-largest city. Pier 19 Residences & Marina is a planned 199-unit apartment complex formerly known as River Oaks Tower. Last month, Calderon's Neology Life Development Group paid $61 million for the property…
Flying electric taxis from Lilium on the horizon in Miami-Dade
In two years, you might see flying electric taxis streaking across the sky, linking travelers to four Miami-Dade airports. That's the vision of Mayor Carlos Giménez, who last week met with Lilium GmbH, a German engineering startup whose five-seat Lilium Jet could transform global mobility. "It's definitely cutting edge, so I'm interested in it," the mayor told Miami Today. "We have an interesting place to try…"
County chases new sponsor for what's now AmericanAirlines Arena
The home of the Miami Heat may have a new name after more than two decades, as Miami-Dade commissioners Tuesday directed the administration to secure a naming rights sponsor for what in two years may no longer be called AmericanAirlines Arena. Basketball Properties Ltd., the Heat sister company that manages the county-owned arena, is required to assist in the process. The arena manager…
Scott Robins: Targets Wynwood project after Miami Beach successes
Scott Robins, founder and CEO of Scott Robins Companies, has been changing the appearance, and consequently the culture, of Miami Beach since the 1980s. With a portfolio primarily localized in the Art Deco District of Miami Beach and downtown Miami, Mr. Robins specializes in developing, building, leasing and managing office, retail, hotel and resident spaces in some of the most famous spots in…
Golden Sky to follow Umbrella Sky in Coral Gables
Golden Sky will be the newest art installation decorating Giralda Plaza in Coral Gables, with a price tag of approximately $150,000. After the success of Umbrella Sky, the wildly popular art installation that hung hundreds of colorful umbrellas over Giralda Plaza, in August the city commission requested that staff come up with another idea to ramp up visitation to the area over the holiday season. City staff…
Downtown backs vast Miami City Centre add-on
Miami's Downtown Development Authority is supporting a proposal to add 972 residential units in two towers to the Special Area Plan (SAP) for Brickell City Centre. The revision would allow two sites to be redeveloped: the former Associated Photo site at 19 SW Sixth Street and 650 S Miami Avenue, site of the former Tobacco Road. "These are the missing pieces," said Christian Gondolfo of Swire Properties.
Miami is one of the country's top real estate market's to watch: report
In real estate terms, Brooklyn seems like it has already arrived, but but evidently there's more room for growth. The borough ranked as the No. 2 overall U.S. market to watch in the annual "Emerging Trends in Real Estate" survey, which also put Miami and Los Angeles near the top of the pack. Chicago came in at a middling 49 out of the 79 biggest real estate markets nationwide, down seven spots from last year…
Institutional investors flock to South Florida's industrial market: Q3 reports
South Florida's industrial market continued to remain one of the area's best performing asset classes in the third quarter of 2018, thanks in part to growing demand from institutional investors. In Miami-Dade County, vacancy rates fell to 3.8 percent from 4 percent on a year-over-year basis. Amid an influx of new industrial space, asking rental rates declined to $9.95 per square foot, a 3.8 percent decrease…
Hotel Astor shuts down after allegedly owing more than $300k
Hotel Astor is being sued by its ground lessor for allegedly defaulting on its lease, and faces separate lawsuits from its former law firm and ex-employees. In total it allegedly owes more than $300,000 in unpaid bills, court records show. The 42-key hotel at 956 Washington Avenue in Miami Beach has been closed for about three weeks, owner David J. Hart confirmed. Hart said he's in talks with a new…
Hostel or boutique hotel? Youth hostels are adding private rooms, services
Hostels are upping their efforts to win over youth, adding private rooms and more services to gain greater appeal as they expand nationwide. After finding that the term 'hostel' is a turnoff to majority of American guests, the London-based hospitality group Generator shifted its focus onto its bars and restaurants at its first U.S. location in Miami Beach, according to the Wall Street Journal. The recently…
PMG scores $39 million condo inventory loan for Muse Sunny Isles
Property Markets Group just closed on a $39 million inventory loan for Muse Residences in Sunny Isles. Pebb Capital, a Boca Raton-based real estate and private equity investment firm, is providing the financing for PMG, according to a press release. The developer and its partner, S2 Development, completed the 68-unit, 49-story tower at 17100 Collins Avenue earlier this year and began recording closings…
Sales of sites in Opportunity Zones up 80%
Property owners in designated Opportunity Zones are now seeing their sales prices and asking prices spike since the tax incentive program was announced last year. Sales of development sites in the 8,700 designated zones across the country increased 80 percent in the first three quarters of 2018 year over year, according to the Wall Street Journal, citing data from Real Capital Analytics. Opportunity…
Even All Those New Miami Apartments Can't Fill the Demand
Miami apartment demand is exceeding a surge in construction. Miami area residents are moving into apartments faster than new units are being built as developers struggle to keep pace with the ravenous demand and short supply following the latest surge of condominium conversions. But analysts warn that the demand may slow next year. Strong job growth, rising home prices and changing attitudes…
Commercial Borrowing Cost: Rate Watch Quarterly 2018 Q3
At the end of the 3rd quarter of 2018, both short and intermediate yields continued their climb begun nearly three years ago. As can be seen in the accompanying chart, five year rates, most closely tracked for commercial property borrowing cost, found themselves testing 3%, with short term (here 1 month) rates following close behind as they stayed at a spread similar to the one held in periods past as…
Notable Retail Leases Signed in South Florida Q3 2018
We've compiled a comprehensive list of the top retail leases signed by square footage in South Florida during Q3 2018. While there are a number of construction projects as well as acquisitions, retail leasing is striving with several major retail leases closed in the past 3 months. Retail leasing activity in South Florida remains robust. Vacancy…
Speculators descend on top contenders for Amazon HQ2
As cities continue to court Amazon, real estate speculators are betting on areas they think might be the home of the online giant's second headquarters. Investors are throwing cash at sites near top contenders for Amazon's new headquarters; a decision is expected by year end. They are also buying shares in real estate investment trust JBG Smith Properties, which owns a significant chunk of commercial…
National Security Review of Foreign Investments to Escalate
With its roots in the Exon-Florio Amendment to the Defense Production Act, the Committee on Foreign Investment in the United States (CFIUS), is an inter-agency committee that reviews certain foreign investments in the United States that implicate national security concerns. CFIUS generally determines its own jurisdiction within the parameters of regulatory framework ascribed to it by the federal…
Brazilian billionaire launches sales of 57 Ocean, beachfront condo in Miami Beach
Brazilian billionaire José Isaac Peres is moving forward with plans to build a luxury condo building, 57 Ocean, in Mid-Miami Beach. Peres' Multiplan Real Estate Asset Management is launching sales of the 81-unit, 18-story project at 5775 Collins Avenue with Fortune Development Sales. The beachfront property was previously home to the Marlborough House condo building, which unexpectedly…
Grove Isle condo owners fight to stop demolition of hotel, restaurant and spa
Three years after settling a lawsuit with the development firm that built Grove Isle, the luxury condominium's unit owners have launched a new legal battle against a proposal to redevelop part of the waterfront site. The Grove Isle Association last month filed a petition requesting Miami-Dade Administrative Judge Jennifer Bailey force the city of Miami to cancel a demolition permit issued to Grove Isle…
There's gold in them zones: How Opportunity Zones could impact real estate
At 9800 Grape Street in the Watts neighborhood of southern Los Angeles, gone are the low-rise complexes that were the epicenter of the Rodney King riots. In their place stand rows of wood-frame skeletons taking the shape of 12 garden-style apartment buildings, the first phase of an ambitious redevelopment. While funds for the first and second phases are largely being drawn from city and state coffers…
Condo owners in Little Havana band together to list building as dev site
In an unusual twist, the owners at an aging condo building in Little Havana have banded together to list their property as a redevelopment site. Norman Smith of Weichert Realtors Best Beach Real Estate is representing the 16 owners at Habana Condo at 424 Southwest Seventh Street in Miami. The 16,000-square foot building includes 18 parking spaces and sits on a 15,000-square foot lot.
Special servicing applied to $67.5 million loan secured by Southland Mall in Cutler Bay
A $67.5 million loan secured by the Southland Mall in Cutler Bay was transferred to special servicing, according to Trepp, a data bank for the commercial real estate industry. The loan was scheduled to mature in May 2016 but provided options for three 12-month extensions of the maturity date. The borrower has exercised all three options to extend the maturity date, which is now May 2019. Built in 1972…
Miami Industrial Real Estate Market Report 3rd Quarter 2018
The average vacancy rate decreased to 3.8% and the average lease rates have increased to $11.76 per sq. ft. Landlords continue to drive rates up while giving tenants fewer concessions. Over 5M sq. ft. is under construction in Miami's industrial real estate market, however the net absorption for this quarter was only about 200,000 sq. ft. The largest sales transaction this quarter was TA Realty's acquisition of…
Airport Palmetto Corridor Industrial Report
Surrounded by the municipalities of Doral, Sweetwater, Miami Springs, Hialeah, and Coral Gables, the unincorporated area of The Airport Palmetto Hub offers owners and users one less level of government bureaucracy. Heavy manufacturers and production companies find this especially appealing as zoning, electrical, water, and other government regulated items can often entangle their operations…
Pricey parking: Warehouses for wealthy car collectors emerge as new niche in storage
Collectors of vintage cars face a bigger storage challenge than owners of wine and art collections. That's why car warehouses are opening across the country with parking for 100 or more collector's items, from classic Porsches to Plymouth Barracudas, according to wealth-management advisers and and car collectors. For example, hedge fund partner Henry Robertelli of Axius Holdings is building out a…
The Clevelander and an adjacent hotel in Miami Beach sell for $28M
Montreal-based Jesta Group acquired the Clevelander South Beach hotel in Miami Beach and an adjacent hotel for $28.5 million. Clevelander Holdings, managed by Eric Aintabi, the chief executive officer of Jesta Group, bought the Clevelander for $20.6 million. Built in 1938, the Clevelander last sold in 1999 for $7 million. The property at 1020 Ocean Drive has 60 hotel rooms, a swimming…
BBX Capital to purchase 50% stake in the Altman Companies for $23M
BBX Capital's real estate arm announced on Friday that it plans to purchase a 50 percent interest in the Altman Companies for $22.7 million, expanding the company's luxury multifamily portfolio. The deal gives BBX Capital a big stake in a company that owns and manages more than 24,000 apartment units across the country with a strong focus on South Florida. Fort Lauderdale-based BBX Capital…
Coastline Management, Tower Capital buy Miami Gardens apartments for $33 million
A joint venture between Coastline Management and Tower Capital Group paid $33.2 million for an apartment complex in Miami Gardens.
EB Real Estate Group, an investment firm in New York, sold the 234-unit Park Plaza Apartments at 17600 NW 5th Avenue for about $142,000 per unit, according to a press release. Berkadia's Tal Frydman, Yoav Yuhjtman and Nicholas Perrone represented the buyer…
Opportunity Zones guidelines released, offering developers more details
Real estate developers and fund managers with questions about how to invest in the Opportunity Zones program are beginning to get more detailed answers. The U.S. Treasury Department today released more guidelines. The program, enacted late last year as part of the Trump administration's tax overhaul, provides tax deferments and tax breaks for developers who invest in projects in designated low…
Prominent Miami Construction Lender Bank OZK's stock drops nearly 24% after CRE write-offs
Bank OZK's stock tanked almost 24 percent in early morning trading on Friday after it reported two large commercial real estate write-offs in its third quarter earnings. The bank is one of the largest condo construction lenders in South Florida, New York City and Los Angeles. The Little Rock-based regional bank, with just over $22 billion in assets, also reported that net income declined 23 percent…
Bridge Investment targets $500 million in Opportunity Zone possibilities
A $12 billion real estate investment and management firm is the latest player looking to capitalize on the Opportunity Zones tax incentive development program. Salt Lake City-based Bridge Investment Group will launch what it's calling an Opportunity Zones initiative, targeting $500 million in "attractive opportunities" across the U.S. The Opportunity Zones plan, part of President Trump's tax overhaul…
AGM Builders Group is launching sales of a new luxury townhouse project in Coconut Grove
AGM Builders Group is launching sales of a new luxury townhouse project in Coconut Grove. The Puerto Rico-based firm is developing Habitat at The Grove, an eight-unit townhome community at 2924 Bird Avenue. The firm hired the Jill Penman Group of One Sotheby's International Realty to handle sales. Units range from $839,000 to $939,000. The four-story, 2,381-square-foot townhouses each have…
Fractured condo near Tropical Park sells for $12 million
A fractured condo deal near Tropical Park in Miami just sold for $12.45 million. 10th Street Realty, a New York-based real estate investment firm, paid about $160,000 per unit for a controlling interest in the condo complex at 5400 Southwest 77th Court. The deal gives 10th Street Realty 78 of 108 condos, allowing the company to control 72 percent of the association, Deme Mekras of MSP Group said.
Berkadia Secures $13 million Refi for Miami Beach Hotel
Berkadia has secured a $13 million loan for the refinancing of The Lord Balfour Hotel, an 81-key boutique hotel in Miami Beach, Fla. Mercantil Bank provided the 24-month mortgage that carries one 36-month extension option. Located at 350 Ocean Drive in Miami Beach's South of Fifth neighborhood, the hotel was constructed in the Art Deco style during the 1940s. Current owner Eidico, an…
Miami board approves two mixed-use projects in Edgewater and Overtown
A deal to transform the Unity on the Bay Church in Miami's Edgewater District into a 29-story mixed-use rental building moved closer to fruition following key approvals by two city of Miami boards. The Urban Design Review Board on Wednesday granted six waivers for a 541,000-square-foot tower and pedestal with 296 apartments, 11,600 square feet of commercial space and 432 parking spaces proposed…
Related Companies placing $3 billion bet on luxury senior housing
Related Companies sees a golden opportunity in seniors with a taste for luxury. The company announced this week that it plans to build $3 billion worth of high-rise luxury condominiums for seniors across the country, according to Bloomberg. The move follows a growing number of developers who have sought to accommodate a wave of Baby Boomers entering their twilight years. Last year, Maplewood…
Common types of construction disputes that arise
There are many buildings and other structures in Florida, and none of them built themselves. Each building required construction, and given the different aspects of any building project, they often require a general contractor and then various subcontractors to complete various aspects of the project. All of the people involved must do their job in order to complete the project correctly. Then, once their…
An offer they could refuse: Inside the failed bulk buyout of Isola Condominium
With nearly every acre of Miami waterfront land scooped up, developers have increasingly turned to the bulk buyout, targeting older properties in prime locations that can be demolished and replaced with glittering, taller versions. Developers 13th Floor Investments and Key International thought they had the ideal candidate recently in the aging 300-unit Isola Condominium on Brickell Key. The 23-story…
How a Reeling Retail Center in Miami Doubled in Value in Four Years
The once-struggling retail part of the mixed-use Downtown Dadeland in Miami has more than doubled in value in four years, a success story rooted in renovations, robust demand for outdoor urban centers, selective tenant choices and efforts to cater to the broader community. Retail developers across the…
Miami's Downtown Dadeland Sells For $78 Million
Whatever Miami shoppers need, they can probably find in the "Dadeland Golden Triangle," a special zoning district where three major roadways — U.S. Highway 1, Kendall Drive and the Palmetto Expressway — converge. On one side is the Dadeland Mall, with standard mall tenants like Macy's and Nordstrom, and across from it is Downtown Dadeland, seven additional acres of retail and 460 condo units…
Experts On The Ups And Downs Of Coworking From The City (Miami) Where It's Most Prevalent
Coworking has disrupted real estate, but is there room for more? Has it reached its peak? And will landlords hijack the concept from operators? In Miami, 3% of office space is designated as coworking, making it the city with the highest such percentage, according to Cushman & Wakefield Vice Chairman Brian Gale, who moderated the event. "Literally every single building in downtown and Brickell…
Berkadia Secures $46.9 Million Acquisition Loan for Mixed-Use Development in Miami
Berkadia has arranged a $46.9 million loan for the acquisition of Downtown Dadeland, a seven-acre urban retail development located 7250 N Kendall Drive in Miami. Brad Williamson and Mitch Sinberg of Berkadia secured the financing for the borrower, Midtown Capital Partners, a real estate investment and asset management firm led by Alejandro Velez and Alexander Saieh. A life company originated…
6 People Died In Miami's Bridge Collapse. Here's What Happened To The Property Next Door.
Florida International University is the fourth-largest university in the U.S. with more than 55,000 students. But it only has the capacity to house about 8% of them on its Miami campus. That's why a large student housing building at the foot of a planned pedestrian bridge to campus seemed like a can't-lose proposition. Courtesy of University Bridge Residences When University Bridge Residences was…
Eyzenberg & Co. Arranges Capital for Acquisition of Apartment Community Near Miami
Eyzenberg & Co. has arranged financing for the acquisition of Park Plaza, an apartment community in Miami Gardens. A joint venture between Coastline Management and Tower Capital Group purchased the 234-unit property from an undisclosed seller. Robert Ginsberg and Mila Babenko of Eyzenberg & Co. arranged a $7.5 million equity investment from JCR Capital, an alternative investment manager…