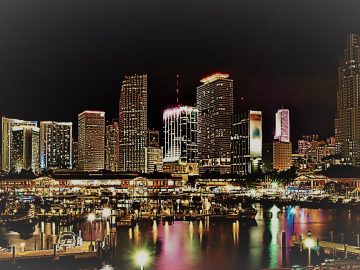 South Florida's suburbs dominate ranking of the top multifamily deals
Three of the top five multifamily transactions occurred in Miami-Dade County. In August 2017, TA Realty picked up the 398-unit Manor CityPlace in Doral for $135 million. The Boston-based REIT, which typically focuses on office and industrial, paid $339,196 per apartment. The Related Group, Shoma Group and PGIM Real Estate Investors developed the luxury six-story apartment building as part of the…
NYL Investors buys Brickell City Tower for $117 million
New York Life Investors just paid $117.25 million for the Brickell City Tower, property records show. A joint venture between Banyan Street Capital, Independencia Asset Management and Crocker Partners sold the 33-story, 291,554-square-foot office tower at 80 Southwest Eighth Street to Madison OFC Brickell FL LLC, an affiliate of NYL. The buyer manages fixed income and real estate assets, and is owned…
Sale Of $117M Downtown Tower Illustrates How Miami Office Market Is Thriving
The $117M sale of a 33-year-old, 87% leased Brickell office tower, closed last week, is yet another sign of investors' growing appetite for downtown Miami office real estate. Courtesy: CBRE Brickell City Tower, built in 1985, recently renovated and sold in September 2018 for $117M Brickell City Tower traded for just over $117M to NYL Investors from sellers Banyan Street Capital, Independencia Asset…
Waldorf Astoria Coming to Miami
In a sign of strength for South Florida's hospitality market, the Waldorf Astoria Hotels & Resorts is opening its first Miami location in what would become one of the tallest buildings on the East Coast. The Waldorf Astoria Hotel & Residences Miami, at 300 Biscayne Boulevard, is planned as part of a mixed-use development that also would include about 400 condominiums. The building would stand at 1,049 feet…
Miami's First Waldorf Astoria Will Be In A Supertall
Miami's first supertall tower, to be built at 300 Biscayne Blvd. in downtown, will carry the iconic Waldorf Astoria brand. Courtesy: Property Markets Group Rendering of the planned Waldorf Astoria tower in Miami, set to reach over 1,000 feet tall. The building, designed at 1,049 feet and approved by the Federal Aviation Administration last year, would be higher than Miami's current tallest building, the 868-foot…
Video: WeWork Senior Account Executive Ben Rickets Discusses Downtown Miami Presence, Plans
In this video, Ben Rickets, Senior Account Executive at WeWork Miami, briefly discusses is presence in downtown Miami and the Miami overall, and touches on its plans going forward. As he talks, the camera pans around their space, attractively designed, as WeWork spaces tend to be. WeWork is an American company dedicated to providing shared workspaces, to supporting technology startup subculture…
The Economic Risk of Yield Curve Inversion—and How to Avoid It
The possibility of nominal yield curve inversion—which occurs when the nominal interest rates on shorter-term government debt are higher than those on longer-term government debt—has drawn more attention from policymakers and financial markets in recent months.1 I see this potential inversion as a key issue in U.S. monetary policy in the near term. A Flattening Yield Curve: While the spread…
MMG Equity Partners Acquires Pinecrest Center in Pinecrest, FL
MMG Equity Partners has acquired Pinecrest Center, a 34,306 SF mixed-use shopping center located at 11975 South Dixie Highway, Pinecrest, FL for a purchase price of $9,725,000 or $284/SF. Drew Kristol and Kirk Olson, both Senior Vice Presidents of Investments and Associate Jean-Baptiste Ramet from Marcus & Millichap's Miami office represented the Seller, a family owned investment group.
Bus depot in Omni beneath a Genting hotel rolls ahead
The plan for a brand new bus terminal in the Omni neighborhood can advance after the recent move by the City of Miami to approve a street closure. At their Sept. 27 meeting, city commissioners approved a requested street closure of Northeast 14th Terrace between Biscayne Boulevard and North Bayshore Drive. The resolution will discontinue public use of the street. Resorts World Miami LLC and…
$200,000 check stalls Virginia Key marinas eviction by city
The City of Miami's eviction of the private operator of its marina on Virginia Key is on hold, after Rickenbacker Marina Inc. had its attorney show up at City Hall with a six-figure check in hand. The city commission approved a motion from Joe Carollo to stay the eviction order for now, upon the acceptance of a $200,000 cashier's check delivered to the city to cover additional rent of the city-owned marina.
North Beach Town Center plans stretch skyward
The North Beach Town Center development is another step closer to having some buildings that are 200 feet tall. The Miami Beach City Commission's Land Use and Development Committee voted Sept. 28 to accept the city staff's recommendation to allow buildings up to 200 feet tall in the development. The ordinance will come for a second reading before the full commission in November but there is still…
Price tag due for Coral Gables public safety building
Construction manager the Weitz Company is to set a guaranteed maximum price for Coral Gables' new public safety building by mid-October. The price tag is to include Aecom Technical Services design plans and pay for architects and engineers. The project continues its design development stage after city officials sought a fresh start in 2015 out of its Brutalist-style home at 2801 Salzedo St. Construction…
Miami approves creating parklets in city parking spaces
Miami city leaders are willing to try out a program designed to take back sections of paved street downtown devoted to parking and give it back to the people. The Miami City Commission on a split vote of 3-to-2 on Sept. 27 approved a one-year pilot program for parklets. The idea is to extend sidewalk depth and use the dedicated parklet space for people, from tables and chairs for an upfront and…
Prestige partnership plans $100 million rental complex to replace mobile home park
A joint venture between Prestige Companies and Summit Property Group is planning a $100 million multifamily community next to the planned Ludlam Trail, The Real Deal has learned. The partners want to develop 600 to 800 apartments in addition to commercial space on nearly 8 acres of land on the northwest corner of Southwest 12th Street and Southwest 70th Avenue, just south of Miami International…
Coral Gables Restaurant Row Project Scores Loan, Other Restaurant News
The developer of 120 Giralda Avenue, a retail and restaurant project on "Restaurant Row" in Coral Gables, secured a $6.25 million mortgage from City National Bank of Florida. 120 Giralda LLC, controlled by Marc and Barry Schwarzberg of Maven Real Estate, is redeveloping the building. The company acquired the property last year from the Church of Scientology for $5.8 million. The renovation…
Will the new NAFTA deal benefit the real estate industry?
Tariffs on imported steel have hit the construction industry nationwide but the newly-minted trade deal between the U.S. and Canada may not provide the needed relief, at least not immediately. With the final piece hammered out Sunday night, the United States-Mexico-Canada Agreement replaces the North American Free Trade Agreement, which took effect in 1994. President Trump has long denounce…
Exclusive: Fort Lauderdale Office Tower Fetching $108.5 Million
A prominent office tower in downtown Fort Lauderdale, Florida, is set to change hands this week. A group that includes institutional investor PCCP LLC and the NAI/Merin Hunter Codman brokerage in West Palm Beach, Florida, is buying 1 E. Broward Blvd. for $108.5 million, or about $308 per square foot, a source said. The new price tag is more than double its previous sales price of $42 million…
Video: Fordham University's Hugh Kelly, Ph.D Submits Outlook for Commercial Real Estate
Special Advisor for Fordham University's Real Estate Institute Hugh Kelly, Ph.D, appears on America's Commercial Real Estate Show to talk about his outlook for the commercial real estate industry. Among the topics discussed are economic trends and legislative changes, strategies for commercial property investors when economic growth slows, opportunities presented by lower valuation in stressed…
Fed Charts: Job and Wage Growth Since the Great Recession
Wage growth since the beginning of the Great Recession has been slow. In the figure below, the average hourly earnings of production and nonsupervisory employees in the U.S. are presented over the last four recession-recovery periods as defined by the National Bureau of Economic Research. For each period, the lowest point in wage growth is identified and then centered at zero. As can be seen, over the…
Tropical Foods beefs up in Doral; other corporate leasing news
Global food distributor Tropical Foods LLC is beefing up its lease in Doral. The company, which works with brands like Baileys, Blue Diamond Almonds and Hershey's Milk & Shakes, just doubled its space at International Corporate Park. Tropical Foods now occupies 64,000 square feet at 1665 Northwest 102nd Avenue. Records show the landlord is a partnership led by a company tied to Global…
Parking — who needs it? Miami gives initial nod to small-scale development incentives in Wynwood
A measure aimed at encouraging single-lot owners in Wynwood to redevelop their properties by relaxing their parking requirements is one step away from being implemented. The Miami City Commission last week narrowly voted 3-2 to approve the proposed legislation, which is backed by the Wynwood Business Improvement District. Commissioners have to vote on it one more time to make it…
Audio: The Real Deal discusses dirty money in South Florida real estate
For The Real Deal's latest subscriber conference call, editor-at-large Hiten Samtani spoke and reporter Keith Larsen gave readers an inside look at our fall issue's blockbuster cover story, "See no evil: How a culture of secrecy boosts South Florida's condo market." Check out the SoundCloud player to listen to the full conversation, and be sure to keep an eye out for more information about our next conference…
Key Waterfront Project in Coconut Grove Gets Financing
A new $33 million loan will help finance construction of a mixed-use project that the developer says will serve as a sorely needed waterfront centerpiece in the Coconut Grove neighborhood of Miami. FirstBank Florida provided the financing package to The TREO Group, a Miami-based real estate investment firm that is building Regatta Harbour at 3385 Pan American Drive. The project will offer…
Construction starts on 7-story self-storage building in Allapattah
A Fort Lauderdale-based commercial real estate firm got a $9.8 million loan and started construction of seven-story self-storage building in Miami's Allapattah neighborhood. Generation4 Partners started building a SpaceSpace Storage facility after an affiliate of the firm… The 143,080-square-foot SpareSpace Storage facility at 644 Northwest 30th Street is expected to open for business in the summer of 2019.
EB-5 extended again — until after midterm elections
The EB-5 program, which was set to expire at the end of this month, has been extended until the beginning of December. The controversial visa program, which was due to reach the end of its six-month extension period on Sunday, Sept. 30,  has been reauthorized through Dec. 7. President Trump signed the extension Friday at noon, as part of a spending package to avoid a federal government…
Miami Gardens office complex listed at $88 per square foot
An office complex in Miami Gardens has been listed for sale with a $16.9 million asking price, or $88 per square foot. Despite its 74 percent occupancy rate, the three-building complex yields net operating income equal to 7 percent of the asking price… the Miami Gardens office property at 18425 Northwest Second Avenue, called Lincoln & Washington Square…
Generator Hostels opens first U.S. location in Miami Beach
Generator Hostels last week opened its first U.S. location in a former Miami Beach condominium. The London-based company opened Generator Hostel Miami in a refurbished eight-story building at 3120 Collins Avenue in Miami Beach, previously known as Atlantic Princess Condominium. Generator Hostel Miami has 105 rooms with 300 beds and provides daily housekeeping. Introductory daily rates range…
Miami-Dade OKs Dolphin Expressway extension through the Everglades
"Another sexy highway" is one step closer to becoming a reality After winning preliminary approvals in June, a controversial plan to extend the Dolphin Expressway through the Everglades to West Kendall was OK'd by Miami-Dade commissioners on Thursday by a 9-4 vote. The 13-mile project, according to critics, defies sound urban planning practices and threatens natural ecosystems. Earlier this year, the so…
Supertall Waldorf Astoria hotel and condo tower pitched for downtown
The project is aiming to take the title of the city's tallest building Downtown's skyline could reach new heights thanks to a supertall tower unveiled by developers on Friday. Dubbed the Waldorf Astoria Hotel and Residences, the combination hotel and condo skyscraper slated for 300 Biscayne Boulevard represents the Waldorf Astoria brand's first foray into the Miami market. The project comes from New York…
PMG to build Waldorf Astoria tower in downtown Miami
The Waldorf Astoria is coming to downtown Miami. New York-based Property Markets Group signed a contract with the landmark hotel flag to build a Waldorf Astoria hotel-condo tower at 300 Biscayne Boulevard. The skyscraper, designed by Miami-based Sieger Suarez Architects as a stack of glass cubes, is projected to reach a total sellout of more than $1 billion, developer Ryan Shear told Bloomberg.
Rental prices are inching up — but there are still plenty of bargains
Yes, apartment rents are on the rise. But it's becoming a renter's market across many U.S. metro areas, where landlords are expecting more supply. Rents rose 2.9 percent in the third quarter, versus a year earlier, the Wall Sreet Journal reported. That's also an increase from 2.5 percent in the second quarter. The boost comes from factors including a weaker sales market — tight supply nationally has driven…
Miami's Development Spillover Leads Residents of a Tiny Nearby Town to Rail Against Getting a Free Municipal Center
A developer wants to build Class A offices and retail as part of a new governmental complex in the town of Surfside, Florida.   Credit: Pointe Development Company. In a one-square-mile seaside town bordering Miami Beach that's attracted celebrities and notables from Frank Sinatra to Winston Churchill, residents these days are angry over a problem that less wealthy communities might like to have…
Tricera Capital sells retail space at X Miami to Exan Capital
Tricera Capital just sold the ground-floor retail space at X Miami to Exan Capital for $6.3 million in an off-market deal. Miami-based Tricera entered into a preconstruction contract last year to buy the retail units at 230 Northeast Fourth Street in downtown Miami from Property Markets Group for more than $3 million, Tricera co-founders and managing partners Scott Sherman and Ben Mandell said. They closed…
SoFla commercial construction starts rise in August, but resi drops
South Florida construction starts fell slightly in August on a year-over-year basis. Total building activity declined 7 percent to $703 million, according to Dodge Data & Analytics. Residential construction starts plunged 20 percent to $327.8 million, while commercial construction increased 10 percent to 375.2 million in August, compared to August 2017. On a year-to-date basis, construction starts rose 11 percent…
Edgewater investor sells development site on Biscayne Boulevard
An Edgewater investor sold a development site on Biscayne Boulevard and 34th Street in Miami to a company tied to DLC Capital Management. Miami Sunrise Properties, led by Jose Afonso Assumpção, sold six contiguous parcels at 234, 242, 250, 254, 264 and 272 Northeast 34th Street for $11.5 million to 3350 Biscayne LLC. The buyer lists a mailbox at a UPS Store in Miami Beach that's tied to Jamie…
When is there a modification to a contract under Florida law?
People and businesses in Florida enter into a variety of different contracts each year. The types of contracts depend on the type of business, but every contract involves at least two parties each agreeing to do something or pay for something in exchange for the other party doing something. At the very basic level this is the basis of every contract, but the actions required to actually execute the terms…
Miami Marine Stadium plan 'going forward,' but it's late
The architect hired to bring Miami Marine Stadium back to life says his team is "going forward nicely" with restoration. Richard J. Heisenbottle offered a status report during a Sept. 20 community workshop on the Marine Stadium Flex Park, the land and shoreline hugging the iconic concrete stadium on Virginia Key. "We are in the design-development phase now," Mr. Heisenbottle told a crowded…
I-395 signature bridge bringing illuminated park downtown
When the I-395 "signature bridge" is finally in place about five years from now, Miami will have not only the landmark span that's been talked about for years but also a 30-acre illuminated park beneath the new road, said James Wolfe, secretary of the Florida Department of Transportation's District Six. Speaking to directors of Miami's Downtown Development Authority last week, Mr. Wolfe said the new…
JP Morgan Chase adding branches in Miami, Other Florida Cities
JPMorgan Chase on Tuesday announced plans to expand its Sunshine State footprint over the next three years with 35 branches, including 10 across Miami-Dade, Broward and Palm Beach counties. The announcement was made precisely 10 years after the company broke into the Florida market with the acquisition of Washington Mutual on Sept. 25, 2008. "We are continuing to fill in gaps across the state so…"
Marine Stadium flex park ideas greeted coolly
"We need to reclaim the space, without sacrificing what we have." That seemed to be the consensus shared by many members of the public who attended a Sept. 20 community workshop hosted by City of Miami planning department officials and a private urban design team working on a plan for the Marine Stadium Flex Park. The so-called flex park is the land and shoreline hugging the long-idled Miami…
Doral Office Building Hits The Market
A broker announced the exclusive listing of 2500 Building, a 97,476-square foot office property located in Doral, according to Scott Lunine, Regional Manager of the firm's Miami office. The asset is listed for $14,750,000. 2500 Building is located at 2500 NW 79th Avenue. The 2500 Building offers a very strong value add opportunity with huge upside in occupancy and redevelopment potential. The 5.06 acre…
Developer secures $228 million in bond financing for project near FIU bridge collapse
The developer of University Bridge Residences, a planned student housing project next to the Florida International University pedestrian bridge that collapsed earlier this year, raised nearly $228 million in bond financing to complete the project, and has transferred ownership to a nonprofit. Global City Development sold the property at 740 Southwest 109th Avenue to…
The Fed raises interest rates by a quarter percentage point
Federal Reserve Chairman Jerome Powell and the Federal Reserve headquarters in Washington, D.C. The Federal Reserve raised interest rates on Wednesday to between 2 and 2.5 percent, a move that is expected to push up the cost of borrowing for commercial and residential loans. The 0.25 percent hike is the third so far this year, following raises in March and June. The Fed opted not to increase…
CPA Firm to Anchor New Mixed-Use Project in Suburban Miami
The Kaufman Rossin CPA firm will take nearly 65,000 square feet of office space at the mixed-use Mary Street building in Coconut Grove, Florida. A certified public accounting firm has agreed to lease nearly 65,000 square feet at a mixed-use development in Coconut Grove, Florida, the first new non-medical office space in that suburban Miami market in more than 20 years. Kaufman Rossin…
Coconut Grove Mixed-Use Lands Anchor Tenant
Mayfair Real Estate Advisors and Terra Group have secured an anchor tenant at Mary Street, a mixed-use development taking shape in Miami's Coconut Grove neighborhood. Advisory firm Kaufman Rossin agreed to occupy 64,666 square feet at the Class A project. Developers are transforming a former parking garage, with delivery slated for mid-2019. Kaufman Rossin will lease the building's top…
Trump's Miami Golf Resort Revenues Have Plummeted Since He Became President
Lately, business has been good for luxury hotels in Miami. Revenues rose 4 percent in 2017, according to Forbes. But one Miami-area luxury club hasn't seen that same revenue jump, and it's not exactly hard to guess why. According to a major report today from Forbes, hotel revenues at the Trump National Doral, arguably the Donald's golf flagship, have dropped like a stone since Trump became president.
Watch Your Back, WeWork: Landlords Move To Cut Out Middleman, Offer Coworking Themselves
Miami has finally shed its reputation as a place for people to retire. In the past 10 years, the city has seen an influx of people with bachelor's degrees, and an entrepreneurial ecosystem has been evolving. Bisnow/Deirdra Funcheon Miami Mayor Francis Suarez was the keynote speaker at Bisnow's annual State of the Market event September 2018. The arrival of new-to-market tenants has created an…