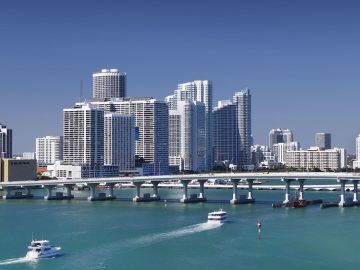 Commissioner 'Crazy Joe' Carollo takes on Little Havana developer
Go back in journalistic history to the year 2000 and there's a little gem in The Economist about Joe Carollo, who is currently a city of Miami commissioner. "When the mayor of Miami, Joe Carollo, was a budding city commissioner in the mid-1980s, he earned the nickname 'Crazy Joe' for calling the police chief a 'two-bit punk' and for making the even bigger mistake of feuding with the Cubans'…
Skyscrapers in Miami and the USA: Fact, Figures, and Charts
Both Miami, now with the third most dense skyline in North America (video: watch it grow 1990-2016; interactive growth chart), and Sunny Isles Beach make the list of 18 cities in the USA that have at least five skyscrapers. The tallest building in Miami is the Panorama Tower, rising 868 feet, while the Muse at the 649-foot mark is the tallest in Sunny Isles. By 2021, Miami will boast an 817-foot tall tower…
Flagler, Ware Malcomb Complete Build-to-Suit Industrial Facility in Miami-Dade County for Aerospace Firm
Construction is complete on the new KLX Aerospace Solutions global headquarters and distribution hub located in Hialeah, a city in Miami-Dade County. Ware Malcomb provided master planning and architectural design services for the 700,000-square-foot project, which is part of the first phase of the planed 95-acre Countyline Corporate Park, a logistics park developed by Flagler Global Logistics.
SunTrust Bank Renews Miami CBD Office Lease
Cushman & Wakefield has arranged a roughly 25,000-square-foot lease renewal and restructure for SunTrust Bank at 777 Brickell, an office property totaling 288,485 square feet in Miami's financial district. The longtime anchor tenant signed on for an additional 10-year term. Located at 777 Brickell Avenue, the property recently underwent an improvement program that included upgrades to the common…
Towns and cities want in on mall redevelopment game
Local governments around the country are doing what few investors will — buying up dead or underperforming mall properties. Towns and cities are scooping up the beleaguered malls with the hopes of redeveloping or repurposing them for the community, according to the Wall Street Journal. The acquisitions are often made through land banks at bargain…
Long-awaited plan for marinas on Virginia Key moving fast
With appeals and challenges from rivals exhausted, a new company's bid to take over the marinas on Virginia Key moves forward after a year of legislative limbo. Today's (9/13) agenda for the Miami City Commission includes two proposed resolutions that will determine the fate of Rickenbacker Marina and Marine Stadium Marina on the city-owned barrier island. The controversial matter that has lingered…
Urban Land Institute shows Miami Beach a path to resiliency
The City of Miami Beach is preparing to live with water in a much deeper way. As the climate continues toward warmer temperatures and South Florida's coastal cities see more frequent and damaging flooding, one of Miami-Dade County's most vulnerable cities is fighting back against the threat of flooding, rising waters and stronger storms. A part of this fight was the collaboration between Miami Beach…
Jackson Health System faces hearing on opening Doral hospital
The state received a "certificate of need" application from the Public Health Trust of Miami-Dade County last week for a Jackson Health System 100-bed acute care hospital in Doral, according to the Florida Agency for Health Care Administration. The next step in the application process is a hearing before Florida Administrative Law Judge William David Watkins scheduled to begin this week.
Metronomic plans apartments to accommodate residents with varying needs
Real estate development firm Metronomic is planning to build a series of apartment rentals to accommodate residents with varying needs. The first building will rise in East Little Havana. The two-story residential developments are being designed for families with special-needs children, multigenerational families or relatives who require special care, said Metronomic president Ricky Trinidad. The projects…
SALT and a hard place: House Republicans want to make tax cuts permanent
House Republicans introduced legislation on Monday that would make the new tax cuts for individuals — set to expire at the end of 2025 – permanent. The measure also includes the controversial $10,000 annual cap for state and local tax deductions (SALT), a provision that's particularly unpopular in high-tax states like New York and New Jersey. The legislation is up for consideration as the November…
112,000 Square Feet Of Space Leased In Miami Airport Industrial Submarket
State Street Realty recently closed 112,000 square feet of industrial and office space lease transactions at Prologis Beacon Centre Industrial Park and Prologis MIA Business Center valued at $5.5 million. The parks are located within the Miami Airport Industrial submarket. The following transactions were recently completed: Pharma-Wholesale Corp. Inc. leased 3,600 square feet of industrial space at 1904 NW 84…
Forget flipping houses: Here's how much flipping offices can net
Office-flipping is taking off in Hong Kong and New York as a reliable way to make quick–and sizable–returns. Flipping office space is done through strata-title office transactions, wherein ownership is parceled out over several sections of a building as opposed to the entire building. With just a few floors to consider, investors are increasingly finding office-flipping to be a good way to make a quick a buck…
SunTrust renews Brickell lease, other news in leasing
SunTrust Bank is staying in Miami's Brickell neighborhood. The bank just renewed its lease at 777 Brickell Avenue for an additional 10 years. The deal covers about 25,000 square feet in the office tower, including a new, 2,810-square-foot lobby bank branch within the building's ground-floor retail space. SunTrust takes up 22,000 square feet of office space on the ninth floor, and…
Prying inside Miami Arts & Entertainment District developer Alex Sapir's real estate empire
Last June, Alex Sapir's ASRR Capital announced plans to build a 1.7 million-square-foot mixed-use development in Miami's Arts & Entertainment District, in what would be the real estate mogul's biggest South Florida investment to date. The Miami 18 project would add to the portfolio Sapir's firm was building in the city, to go with other developments like a smaller luxury boutique condo building…
Starwood buys Marriott-branded Springhill Suites hotel near MIA
Starwood Capital Group bought a Marriott-branded hotel near Miami International Airport that underwent an extensive renovation a few years ago. The firm purchase SpringHill Suites Miami Airport South for nearly $30 million, property records show. The 150-key hotel at 6700 Northwest Seventh Street was sold by an entity tied to the lodging and hospitality real estate firm, Noble Investment Group of…
Is the housing price-rent ratio a leading indicator?
Economic forecasters are always on the lookout for variables that can help predict upcoming recessions. One such variable that has gotten some recent attention is the housing price-rent ratio. As this ratio becomes higher, the rental option becomes more attractive. If it rises high enough, some households might switch from owning their homes to renting them; then the demand for owner-occupied housing…
Planet Fitness inks lease in Little Havana
Planet Fitness is coming to East Little Havana. The New Hampshire-based gym franchise inked a 14,800-square-foot lease at 775 Southwest 8th Street, which was previously home to a Walgreens site. The gym tenant plans to convert the building into a workout facility. Arnaldo Cantero III, a principal at BGRS Commercial Real Estate Advisory, represented the landlord, Robert Wollberg, who is listed…
Nationwide overbuilding is causing rents in even the hottest markets to plummet
Timing is everything. It's a great time to be renting in America as a glut of new supply is causing rents across the country to take a nosedive. Meanwhile, the lag time between the planning and delivery of rental projects is hurting developers and landlords who are now feeling the crunch. But the signs were there for the past few years, as Zillow's senior economist Aaron Terrazas explained to…
Annual survey shows a worsening shortage of construction workers in Florida
A survey shows about eight out of 10 construction companies in Florida are struggling to find workers with trade skills. Bricklayers, drywall installers, electricians, pipe layers and welders are the workers most in demand across Florida. Iron workers and concrete workers also are scarce. The survey by the Associated General Contractors of America found that 79 percent of Florida construction companies are…
Hundreds came out in support of Grove Playhouse
It was estimated that 500 people showed up late Monday afternoon for the "Give It Back" rally, in support of the Coconut Grove Playhouse. After six years of being shuttered, the villagers of Coconut Grove feel that enough is enough and they demand that the Playhouse reopen in some way, shape or form. Local politicians, actor, Andy Garcia and so many neighbors showed up in support of…
New TOD Project For Low-Income Seniors Breaks Ground
A new, transit-oriented development for seniors called Caribbean Village will break ground this week. The seven-story, 123-unit project in South Miami Heights will be built for low-income tenants earning 60% or less of the area median income, which in Miami-Dade County is $52,300. Five percent of the units at 19755 SW 110th Court will be designated for extremely low-income people making as little as…
Fall opening expected for first warehouse at Miami Gardens business park
Rendering of EastGroup's first warehouse at a Miami Gardens business park. A Mississippi-based developer this fall expects to finish construction of the first phase of a business park in Miami Gardens on land purchased from Calder Casino and Race Course. Jackson, Miss.-based EastGroup Properties paid $27 million to buy the 61-acre development site from Calder in 2016. Miller Construction Co. has…
Going Green in Commercial Real Estate Investing: Finding Truth Behind the Hype
When it comes to investing in commercial real estate, there are some great ways to increase profitability. Additionally, there are some areas in which it can be difficult to assess whether an improvement will be a net positive in the long run. One of those areas is in going green or making green improvements just for the sake of it. Some of these kinds of improvements will help commercial owners see a…
Brickell's Una Residences tower clears key vote
The "yacht-inspired" proposal got the nod from Miami's Urban Development Review Board The Una Residences—a sculptural 47-story condo tower proposed for 175 SE 25th Road in Brickell – took a key step forward this week by gaining the approval of Miami's Urban Development Review Board. The 579-foot-tall building will contain 137 units, 251 parking spaces, and a public baywalk with landscape…
Codina Partners takes on property management services
Real estate development and investment firm Codina Partners just added property management to its roster of services. The company announced it will provide property management to all of its commercial assets, including mixed-use developments Downtown Doral and 2020 Salzedo, as well as its 1.5 million-square-foot Beacon Logistics Park in Hialeah. As part of the transition, Oscar Gurdian was…
TIAA entity pays $71.3 million for apartment complex in northwest Dade
An apartment community in northwest Miami-Dade County just traded hands for $71.3 million. Property records show TH Real Estate picked up the 358-unit Latitudes at the Moors rental community at 6200 Northwest 173rd Street, in a deal that breaks down to about $200,000 per unit. TH Real Estate is an affiliate of Nuveen Investments, which serves as the investment management arm of TIAA.
Miami board approves Russian billionaire's Brickell condo tower, Lennar's Wynwood project & more
Russian billionaire Oleg Baybakov is moving forward with development of a new waterfront luxury tower in Miami's Brickell neighborhood, and Lennar won the go-ahead for its plans to build a mixed-use multifamily project in Wynwood. The Miami Urban Design Review Board on Thursday approved Baybakov's Una Residences, a sleek 48-story condominium designed by Adrian Smith and Gordon Gill…
South Florida Investors Get In Position For Opportunity Zones
Around the country, real estate and finance experts are talking about the new opportunity zone program. And around the country, they have lots of questions. "It could be the best thing since sliced bread, or it could be a disaster," Urban League of Broward County President and CEO Germaine Smith-Baugh said. Several experts spoke to Bisnow about their questions, hopes and fears as the program relates…
Downsizing SunTrust Extends Lease on Miami's Signature Brickell Avenue
SunTrust Bank has at least another decade at 777 Brickell Ave., but in a smaller space as the bank is planning a major downsize in the Miami office tower it has anchored since the building opened in 1978. The bank extended its lease for 10 years beginning in July 2019, and will occupy 25,631 square feet, according to Cushman & Wakefield, which represented SunTrust as well as landlord Alliance Real…
Why Does the Yield Curve Typically Invert before Recessions?
Inversions of the Treasury yield curve, which occur when shorter-term securities have higher interest rates than longer-term ones, have preceded the past seven recessions. But why does the yield curve tend to invert before a recession hits? In this video, taken from a recent Dialogue with the Fed presentation, St. Louis Fed Director of Research Chris Waller discusses two reasons why: if people expect real…
Starbucks, vegan restaurant among new leases signed in Midtown Miami
Midtown Miami is hungry for restaurants. A host of eateries signed new leases there, with a vegan restaurant and Starbucks headlining the list. At Midtown Five, a new 400-unit luxury apartment tower, all 20,000 square feet of ground-floor retail space is now fully leased, said Jon Samuel, who handles leasing for the owners, a partnership between Magellan Development Group, J.P. Morgan Asset Management…
Bon appétit: Investor buys Wynwood site with plans to lure Montreal restaurant
A Canadian investor just purchased a Wynwood warehouse with hopes of bringing in a hip, new Montreal-style restaurant to the artsy Miami neighborhood. WYN Realty, led by Philip Kakon, bought the 3,717-square-foot mixed-used warehouse at 271 Northwest 23rd Street for $3 million. The sale equates to $807 per square foot. The building sits right across the street from Moishe Mana's massive…
MAPS Production House in Miami Beach hits the market
The historic MAPS Production House and an adjacent apartment building in Miami Beach's South-of-Fifth neighborhood just hit the market with an asking price of $16 million. The properties' owner, Paul Lardi, tapped Marcus & Millichap's Alex Zylberglait and Francisco Baserva to sell the sites at 200 and 212 Collins Avenue. The two buildings, built in 1940 and 1941, sit on a 13,000-square-foot lot on the…
Berkowitz scores $12 million construction loan to build Floor & Décor store in Kendall
Berkowitz Development Group just scored a $12 million construction loan from City National Bank of Florida to build a Floor & Décor store in Kendall. The 82,311-square foot store will be an anchor at the Kendall Village Shopping Center at Kendall Drive and Southwest 124th Avenue. The center, along with an adjacent parcel, totals 27.4 acres and 13 buildings. Other tenants include Regal Cinema, Old…
Affordable Rental Community Coming to Southern Miami-Dade County
An affordable housing rental for seniors is under construction 15 miles south of downtown Miami, the first project of its kind in the South Miami Heights neighborhood in a quarter century, the developer said. Pinnacle Housing Group expects to complete the 123-unit Caribbean Village at 19755 SW 110th Court in unincorporated Miami-Dade County by the first or second quarter of next year, said…
What is the business tort of usurpation of corporate opportunity?
Officers and directors within companies in Florida have many responsibilities. The most basic responsibility is to make sure that the business runs correctly and is profitable. In order to do this, they need to make sure that they maintain good relationships with potential clients and others who could provide the company with business opportunities. When these officers and directors receive various…
New Doral Office Building Goes On The Block
Doral 58, located at 10305 NW 58 Street in Doral, is on the market. The asset is a new office property which was designed with flexibility in mind. All of the 6 floors are able to house both traditional office spaces and medical uses along with both medical and retail opportunities on the first floor. Offices can have both high unfinished ceilings or traditional ceiling tiles with height of up to 11.5 feet clear. Each floor…