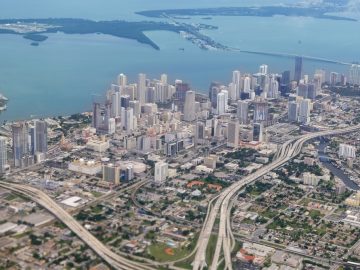 PMG Receives $106M Refinancing for 464-Unit X Miami Apartment Tower
Property Markets Group has received a $106 million refinancing for X Miami, a 464-unit multifamily community in downtown Miami. Pacific Western Bank provided the financing, which will pay off an existing $80 million construction loan from Centennial Bank. The 31-story tower that recently opened features units with floor-to-ceiling windows, large balconies, built-in closets, Nest thermostats and…
Little Haiti Activists Slam Huge Magic City Development, Ask City to Delay Vote
The proposed Magic City Innovation District development would instantly transform Little Haiti from an area of Caribbean immigrants and small local shops into a glitzy, landlocked version of Miami Beach. Though Little Haiti is already gentrifying at a rapid clip, locals worry the development would guarantee that the last stretch of affordable housing in the area would skyrocket in cost. Now, as the city…
Edgewater's Missoni Baia condos begin 649-foot climb
The waterfront high-rise project is going vertical After nearly a year of below ground work, the 57-story Missoni Baia condominium tower is beginning its skyward climb at 777 NE 26th Terrace in Edgewater. The start of vertical construction follows some serious foundation work comprising more than 345 tons of steel-reinforcing bars, 2,250 cubic yards of poured concrete, and 190 individual piles driven a…
Miami 15th in the USA for Office Property Construction Starts with 2 Million SF in Deliveries YTD
At almost halfway through the last half of 2018, it's time to check up on construction activity and the office properties pipeline in Miami and around the country. According to information tracked by CRE research and data platform Yardi Matrix, nationally new office and mixed-use projects encompassing roughly 101 million square feet are on track for 2018. Almost 42 million square feet of that total was…
Construction worker dies after possible electrocution at Midtown 8
A construction worker at Midtown 8 in Miami died on Tuesday afternoon after he was possibly electrocuted while working on the building's elevator system. Miami Fire Rescue Capt. Ignatius Carroll said the worker was transported from the construction site on the southeast corner of Northeast 30th Street and First Avenue to Ryder Trauma Center, where he was pronounced dead. Atlanta-based…
Terra scores Kaufman Rossin as main tenant at Mary Street
Kaufman Rossin just inked a lease to become the main office tenant in Terra's Mary Street project in Coconut Grove. The Coconut Grove-based accounting and advisory firm, one of South Florida's largest, signed a 15-year lease with options to renew to occupy 64,666 square feet in the planned Class A office building at 2860 Oak Avenue. The entire 77,840 square feet of office space in the building is now fully…
Michael Dell's MSD Capital buying 1 Hotel South Beach for more than $500M
Billionaire Michael Dell's MSD Capital is buying 1 Hotel South Beach for about $500 million, or more than $1 million per key. Starwood Capital Group, led by Barry Sternlicht, is selling the beachfront 426-key hotel at 2341 Collins Avenue for about $1.2 million a room, according to the Commercial Observer. The deal, which is reportedly in contract, would set a record for hotel sales in Miami, beating out…
The Billion-Dollar Magic City Innovation District Is Coming To Little Haiti. But What The Heck Is It?
The Miami City Commission will vote this Thursday on a billion-dollar real estate project in Little Haiti. The Magic City Innovation District, which will be headquartered at 6001 NE Second Avenue, is a massive development projected to take 10 to 15 years to complete. Its developers hope it will propel the Little Haiti area into an international draw for tourists, creatives and tech companies according to…
7 Reasons Why South Florida Remains One of the Most Attractive Commercial Real Estate Markets
Historically, Florida has been one of the strongest commercial real estate markets in the country, with continually solid returns and safety for the capital of global & domestic investors. Within the state, South Florida commercial real estate leads the way supported by strong population growth and tax-friendly laws. It's not just the population growth that makes it an…
Doral Warehouse Located Next To Miami International Airport Trades For $7.4M
State Street Realty and Parvani Commercial Group, two Miami-based brokerage and advisory firms working on behalf of the seller, have closed on the sale of a warehouse property located next to the Miami International Airport. The property, which traded for $7,400,000, totals 46,488 square feet and is well-located at 8975 NW 26 Street in Doral. State Street Realty Vice President Frank Trelles, SIOR…
Philip Levine and Scott Robins propose mixed-use hotel in Wynwood
More hotels are planned for Wynwood, as the artsy district continues to transform into a residential neighborhood. Fresh off their multimillion-dollar Sunset Harbour sale, Miami Beach developer and former gubernatorial candidate Philip Levine and his real estate partner Scott Robins filed plans with the city of Miami for a residential and hotel project in Wynwood. Levine submitted a permit for a…
How Opportunity Zones Help with Economic Development
The Opportunity Zones program—the first new community development tax incentive program enacted since the Clinton administration—has the potential to generate an influx of capital in distressed communities. At the same time, concerns have been raised about the potential unintended consequences of the program. Two examples of these concerns include: Displacement; Concentration in high-cost…
Pinnacle sells North Miami Beach apartments to Treetop Development
Pinnacle Housing Group just sold one of its affordable housing complexes in North Miami Beach for $24.5 million to Treetop Development, property records show. New Jersey-based Treetop paid about $108,000 per unit for Pinnacle Lakes at 18701 Northeast Third Court using the companies, TriSun 57th Avenue LLC and TT Family Pinnacle LLC. Treetop financed the deal with a $16.95 million…
Treo Group scores $33 million loan for Dinner Key redevelopment in Coconut Grove
The Treo Group just secured construction financing for a mixed-use project covering more than 9.5 waterfront acres of city-owned land in Coconut Grove. Treo closed on Friday on a $33 million loan from FirstBank of Florida for Regatta Harbour, which is under construction, said Otto Boudet-Murias, a principal at the Miami-based firm. The Dinner Key site includes the former Scotty's Landing restaurant, now…
TREO Group Receives $33M Construction Loan for Mixed-Use Waterfront Project in Miami's Coconut Grove
The TREO Group has received a $33 million loan from FirstBank Florida for the construction of Regatta Harbour, a mixed-use waterfront development located in Miami's Coconut Grove neighborhood. The project will be located at Dinner Key, a marina complex situated along the shore of Biscayne Bay. Upon completion, the 100,000-square-foot development will include retail space, three waterfront restaurants…
South Florida by the numbers: Miami real estate and cars connection
"South Florida by the numbers" is a web feature that catalogs the most notable, quirky and surprising real estate statistics. We may not be the biggest gearheads here at SFBTN headquarters, but we do love those cars. And since our tastes run a bit fancy, we are big fans of the recent trend of international automakers putting their brands and identities into Miami real estate. As we cruise the city streets with our…
See no evil: How a culture of secrecy boosts South Florida's condo market
A lawyer with ties to Venezuela's oil ministry, a member of the country's "boliburguesía" elite and a money launderer sat around a Caracas office table while armed guards and a German shepherd with a shock collar stood watch. The boliburgués placed his handgun on the table. It was November 2015, and the three Venezuelans were pressuring an unnamed associate to persist with a scheme that United…
Crocker and Chicago-based firm take over partnership that owns Miami business park
Crocker Partners and Walton Street Capital took over a limited partnership that owns Landing at MIA, a 1.52 million-square-foot business park near Miami International Airport. Angelo Bianco, managing partner of Boca Raton-based Crocker Partners, confirmed that his firm and Chicago-based Walton Street Capital acquired the property by taking control of the partnership. Bianco declined to comment on…
Seven-acre, mixed-use development in Coral Gables advances to construction phase
The developers held a ceremonial groundbreaking ceremony for The Plaza Coral Gables, a seven-acre mixed-use development on Ponce de Leon Boulevard. Agave Ponce, LLC is the company behind the 2.25 million-square-foot development with offices, retail stores, restaurants and residences, plus a 242-key hotel and 2,050 parking spaces. CallisonRTKL created the architectural design of the…
Last phase of Coral Gables mixed-use development adds 33 condos
The residential phase of a mixed-use development in Coral Gables opened with 19 of its 33 condominium units unsold. Prices start in the $900,000s for the remaining unsold units, which include a full-floor penthouse. The developers got a temporary certificate of occupancy for the residential tower, completing the mixed-use Giralda Place development with 57,000 square feet of previously built office space.
Petition could allow Miami Beach to annex two islands along the Venetian Causeway
Residents of two of the six artificial islands along the Venetian Causeway are circulating petition to allow Miami Beach to annex them. The Miami-Dade County planning board and county commissioners would have to approve a proposed annexation of Biscayne and San Marco, the two westernmost islands along the Venetian Causeway between South Beach and downtown Miami. The county code also…
A closer look at Jean Nouvel's Monad Terrace
The South Beach development is the French architect's first and only residential project in Florida As vertical construction continues on SoBe's Monad Terrace, the team behind the unique waterfront development has released fresh renderings showing new angles of its dramatic design from Pritzker Prize-winning French architect Jean Nouvel. The images provide the best glimpse yet of the project which…
Habitat Group plans another mixed-use project in West Brickell
Habitat Group, which is developing the mixed-use complex Smart Brickell, just bought another development site in West Brickell where it plans to build a hotel and condo project, The Real Deal has learned. The firm, led by president and CEO Santiago Vanegas, paid $14.5 million for an apartment building at 143 Southwest Ninth Street in Miami. Vanegas said plans are to replace the existing building with…
Zom lists Monarc at Met downtown Miami apartment tower for sale
Zom is looking to sell a luxury apartment tower in downtown Miami that could fetch "well over $200 million," according to CBRE listing broker Still Hunter. The apartment developer completed Monarc at Met, a 462-unit, 32-story building at 201 Southeast Second Avenue, in November 2016. Zom purchased the air rights to develop the rental portion from MDM Development Group, the master developer of…
Prologis Beacon Centre Business Park secures 28,000 sf of leases, Other News in Leasing
Prologis Beacon Centre Business Park, a 205-acre business park in Miami's Airport/Doral submarket, just secured 27,775 square feet of leases through four separate transactions. Of the four, two were new, including Pharma-Wholesale Corp.'s 3,600-square-foot lease at 1904 Northwest 84th Avenue and America-Loving Care Home Health's 4,600-square-foot lease at 1900 Northwest 84th Avenue. Church World…
Lionheart Capital proposes 2 new mixed-use buildings in Design District
Lionheart Capital is looking to speed up development of a pair of commercial buildings in the Design District, according documents filed with the city of Miami. Flagler Holding Group, a company managed by Lionheart founding partner Ricardo Dunin, is seeking approval of a development agreement that the developer will comply with the special area plan for the Design District. Lionheart previously obtained…
Ronny Finvarb scores approval for Miami Beach hotel near convention center
Miami Beach developer Ronny Finvarb secured the final approval for a Thompson Hotels-branded hotel near the Miami Beach Convention Center. Finvarb Group returned to the Miami Beach Historic Preservation Board on Monday for a vote on the Symphony Park hotel at 1685 Washington Avenue. After delaying approval in June amid concerns over the size and style of the building and how it relates to the…
Video: Reis Chief Economist & VP of Research Victor Calanog on the Future of Commercial Real Estate
Reis Chief Economist & Vice President of Research, Dr. Victor Calanog, joins Michael Bull on his show to discuss his outlook on trends in commercial real estate, including interests rates, tax reform, and where we are in the economic cycle. He talks about the effect of recent tax law changes on commercial property, makes some predictions about the future, and more. Dr. Calanog's firm, Reis, is the leading…
NFL star Elvis Dumervil is betting big on North Miami real estate
During his 12-year National Football League career, Elvis Dumervil tackled his way to success with teams like the Denver Broncos, Baltimore Ravens and San Francisco 49ers. He signed four multimillion-dollar contracts — but he knew the money and the profession wouldn't last forever. "I knew football was a great opportunity, but I knew it was a job, not a career – there's a big difference," Dumervil…
Alex Karakhanian teams with NY investors on luxury Wynwood hotel
Developer Alex Karakhanian is partnering with Wynwood Investment Partners to build a mixed-use hotel in Wynwood. The joint venture, called Triumph Wynwood, plans to develop the 1.2-acre site at 51 Northwest 29th Street into a 12-story hotel with more than 300,000 square feet of space, a 60,000-square-foot Class A office component and 20,000 square feet of ground-floor retail. The luxury lifestyle…
Miami Storage Facility Lands $10 Million Construction Loan
Walker & Dunlop has structured $9.8 million in financing for the construction of SpareSpace Storage in Miami. The firm worked with sponsor Generation4 Partners to place the debt assignment. The project is slated for completion by the summer of 2019. Located in the Wynwood/Allapattah neighborhood, the development will be less than 1 mile from Mana Wynwood, a roughly 24-acre assemblage…
Graham Cos. Picks AIG for $120 Million Loan on Miami Lakes Real Estate
Graham Cos., the developer of much of Miami Lakes, refinanced 29 properties in the northwest Miami-Dade County town. The lender? American International Group Inc., the New York-based global insurer. AIG provided a $120 million, 15-year loan. The long term is exactly why Graham Cos. decided to go with an alternative lender instead of a commercial bank. "Your normal banks and those kinds of lenders…
Basic requirements for a non-disclosure agreement
There are many different types of businesses in Florida. These businesses offer a variety of goods and services for people throughout the world. However, many businesses offer similar goods and services, and in some industries there can be a lot of competition. In many instances, each company has certain aspects that are unique just to that company, even if other companies are similar. These unique…