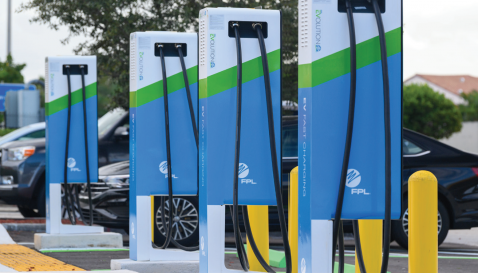 Florida Power and Light (FPL) recently reached out to me to inquire as to who I might know that could be interested in having FPL install a few electric vehicle (EV) fast charging stations at no cost. FPL will provide the EV chargers and cover the installation and maintenance. There also note that there would be no net impact on electricity costs.
They are looking for commercial property owner partners that can dedicate four to six parking spaces that own locations located in close proximity to the highway and local amenities. They reference a number of potential advantages. A property and its tenants can attract new customers as EV usage grows. It can offer more value to its customers and employees. There also is the Prius effect, also referred to as "conspicuous consumption," that of publicly representing a commitment to sustainability, enhancing a brand's image and building customer loyalty. Also, FPL has an app, FPL EVolution, that would promote the location as an EF fast charging station.
This call came within a couple of weeks of newly stated aggressive goals by the Biden administration and the announcement by General Motors that they would be 100% EV by 2030. Clean transportation in Florida appears to be on the fast track.
EV. It is coming. Tesla is increasingly not alone, and now fast charging stations are being aggressively rolled out. One has to wonder what this EV push implies for gas station economics.
Interested for your property? View their brochure for more info. Don't hesitate to reach out to me for an introduction to my contact at FPL for their EVolution Urban Charging initiative. I'm more than happy to help with such efforts.