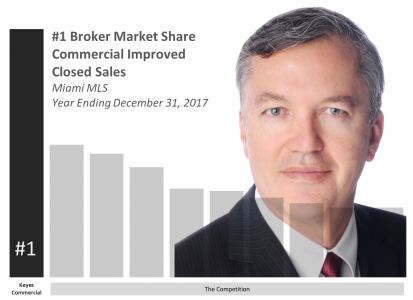 Perhaps best evidenced in the chart herein of closed sales of commercial property in the Miami-Dade MLS, we are market dominant players in the sale of commercial real estate. As can be seen, not only have we closed more commercial improved sales in Miami-Dade county than any other broker, we closed twice that of our next closest competitor.
With everything we do, we endeavor to be client-centric in our approach, asking ourselves at every turn how we might best apply our energy, expertise, and contacts to add value for our customer.  Acting as expert advisors, we strive to make things easier for our customers, not more difficult, and look for opportunities to serve those that have chosen to be customers.  When selling commercial properties, this involves a combination of marketing, technical expertise, and negotiating.
Marketing begins with the preparation of an institutional style offering memorandum (view samples) providing detailed specifics on the property.  These include square footage, zoning, floor plans (if available), financial information including pro-forma financials in most cases, hypothetical internal rate of return calculations given different variable assumptions, maps, demographics, traffic reports, and more. With our offering memorandums, which generally run around 30 pages, we diligently strive to point out things about the property that make it unique.
Even the best properties don't get top dollar unless they are properly presented to the market.
Marketing also entails effectively publishing the availability of the property.  Whereas some brokers may only publish a property internally only, or publish on one or two but not all of the three major commercial real estate listing platforms, we publicize a property's availability at every opportunity as long as it is consistent with a seller's directives.  We list properties in all major platforms, Costar, MLS, and Loopnet. At least equally important, we do so effectively, describing the property accurately and with appropriate detail but in a manner so as to maximize views and inquiries and thus, in turn, buyers.
Technical expertise, experience in skills related to every part of commercial real estate sales, helps at every stage of the process.  An intuitive understanding of the business of commercial real estate, how returns are derived and calculated, what affects them, how and to what degree, helps in the presentation of properties as well as in the negotiation process. Hawkins knows business. He was a top financial advisor for nearly two decades with Morgan Stanley, earning the title of Senior Vice President – Investments and Senior Portfolio Manager and membership in its elite Chairman's Council. He has founded, developed, bought, and sold businesses involved in web marketing, mobiles apps, retail, specialty finance, and maintenance services. All of these activities contributed to a honing of his natural proclivity for financial concepts and an ability to communicate them effectively. Commercial property owners generally know their stuff.  Discussions with brokers that speak the same language, that understand how they view things, helps considerably.
Most industry professionals would say there is an important digital component to marketing today. We would call that an understatement, as a reference to it as merely one component simply doesn't given it just due. The fact is, many times the first exposure to a property is online. In this area, Hawkins's technological skills and entrepreneurial spirit set his apart. To our knowledge, he has developed the most comprehensive – among the most trafficked if not the most trafficked – web and mobile sites related to Miami area commercial real estate. To our knowledge, he has created, and maintains, the only Miami area web and mobile site with commercial MLS listings that can be filtered by property type, square footage, and lot square footage. He developed and maintains the only proper off-market database we know of in the area, and the only one actually structured to attract buyers from the public, notably linked from this site's massive trove of listings and data. Further, to our knowledge Hawkins is the most prolific poster on Twitter, LinkedIn, and Facebook relative to Miami area commercial real estate, posting thousands of times per year on of these platforms. All of these activities mutually reinforce each other to result in a web and mobile presence that is dominant.
Working the deal.
No commercial deal is simply. Each one is dynamic, with all kinds of factors affecting it, and with parties whose objectives seldom align even on term structure, let alone price where their interests are clearly opposed. It is not for everyone. Frankly, it is not for most. To be effective, one has to know when to be quiet, when to wait, when to push, and perhaps most of all how to create solutions, how to get the terms to work for two parties whose only shared interest is that they desire to make a deal on a property. We work to move the process along, keeping all the parties talking until a deal is made. When a buyer is interested, we do everything we can to make the process as easy as possible for him or her.  If they have a broker less accustomed to the nuances of commercial real estate, we help them along, guiding them to resources they can utilize to help their customer close on your property. Simply put, we get deals one.
Go with a proven leader.
We dominate for a reason. We don't simply list properties on services; we actively market them, giving them every chance to be found by buyers that will more fully appreciate their value. We identify and proactively contact natural buyers via phone, mail, and e-mail. We list properties in all three primary listing platforms, wording descriptions for effectiveness at maximizing responses. Unlike many competitors, we go beyond just sharing commissions with buying brokers as we proactively market to other active commercial brokers in the area, in addition to our internal sales force. We display our listed properties via syndication in hundreds of websites and in Loopnet Premium, which is viewable by 50 times as many people as Loopnet's standard listings. Finally, perhaps most importantly, we respond; we get deals done.
Lets go!
Getting started with us is easy. Simply contact James Hawkins via email at james@hawkinscre.com, or reach him by phone at 786-581-7990.