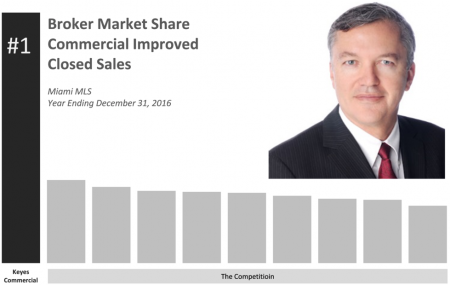 Perhaps best evidenced in the chart herein of closed sales of commercial property in the Miami-Dade MLS, we are market dominant players in the sale of commercial real estate. As can be seen, not only have we closed more commercial improved sales in Miami-Dade county than any other broker, we closed more than the next three highest combined.
With everything we do, we endeavor to be highly client-centric in our approach, asking ourselves at every turn how we might best apply our energy, expertise, and contacts to add value for our customer.  Acting as expert advisors, we strive to make things easier for our customers, not more difficult, and look for opportunities to serve those that have chosen to be customers.  When selling commercial properties, this involves a combination of marketing, technical expertise, and negotiating.
Marketing begins with the preparation of an institutional style offering memorandum (view samples) providing detailed specifics on the property.  These include square footage, zoning, floor plans (if available), financial information including pro-forma financials in most cases, hypothetical internal rate of return calculations given different variable assumptions, maps, demographics, traffic reports, and more. With our offering memorandums, which generally run around 30 pages, we diligently strive to point out things about the property that make it unique.
Even the best properties don't get top dollar unless they are properly presented to the market.
Marketing also entails effectively publishing the availability of the property.  Whereas some brokers may only publish a property internally only, or publish on one or two but not all of the three major commercial real estate listing platforms, we publicize a property's availability at every opportunity as long as it is consistent with a seller's directives.  We list properties in the three major platforms, Costar, MLS, and Loopnet (Premium). At least equally important, we do so effectively, describing the property accurately but in a manner so as to maximize views and inquiries and thus, in turn, buyers.  With Loopnet, we list properties as premium Loopnet listings, utilizing a corporate relationship we maintain with the service.  This is highly important as premium listings may be viewed by non-members of Loopnet.  Loopnet has estimated that the number of non-members browsing their pages is nearly 50 times that of members.
Our technical expertise, experience in skills related to every part of commercial real estate sales, helps at every stage of the process.  An intuitive understanding of the business of commercial real estate, how returns are derived and calculated, what affects them, how and to what degree, helps in the presentation of properties as well as in the negotiation process.  Commercial property owners generally know their stuff.  Discussions with brokers that speak the same language, that understand how they view things, helps considerably.
With negotiation, we aim to move the process along, keeping all the parties talking until a deal is made. When a buyer is interested, we do everything we can to make the process as easy as possible for him or her.  If they have a broker less accustomed to the nuances of commercial real estate, we help them along, guiding them to resources they can utilize to help their customer close on your property.
Go with a proven leader.
We dominate for a reason. We don't simply list properties on services; we actively market them, giving them every chance to be found by buyers that will more fully appreciate their value. We identify and proactively contact natural buyers via phone, mail, and e-mail. We list properties in all three primary listing platforms, wording descriptions for effectiveness at maximizing responses. Unlike many competitors, we go beyond just sharing commissions with buying brokers as we proactively market to other active commercial brokers in the area, in addition to our internal sales force. We display our listed properties via syndication in hundreds of websites and in Loopnet Premium, which is viewable by 50 times as many people as Loopnet's standard listings. Finally, perhaps most importantly, we respond; we get deals done.