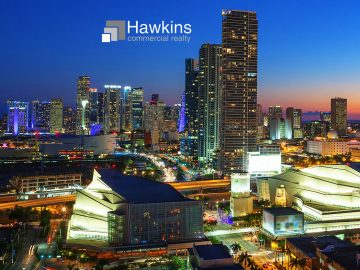 Miami leads nation with 58% rent spike during the pandemic
Miami led the U.S. in rent hikes during the pandemic. Miami's median apartment rent skyrocketed 58 percent to $2,988 per month since March 2020, according to a newly released report from Realtor.com. Median rents increased nationwide by 19.3 percent to a new high of $1,807, with Sun Belt cities seeing many of the biggest gains. The trend follows migration…
Major Supertall Tower Planned In Brickell Submitted To FAA At 1,049 Feet
A proposal to build an 82-story supertall tower on Brickell Avenue called Major has been submitted to the Federal Aviation Administration. Major is planned to top off at a height of 1,042 feet above ground, or 1,049 feet above sea level, according to the new FAA filing. The application was submitted on March 31. The developer of the project, JDS, is now based in Miami…
East End, BentallGreenOak sell South Beach office building for $52M
East End Capital and BentallGreenOak sold an office building in Miami Beach for $52.3 million. An entity tied to The Davis Companies, based in Boston, bought the four-story property at 555 Washington Avenue, according to a deed. The building consists of 46,000 square feet of Class A office space; 22,000 square feet of ground-floor retail and a 243-space…
Cambridge Lansdowne buys Urbanica Meridian Hotel in South Beach for $31M
From left: Urbanica Hotel partners Diego Colmenero and Charlie Porchetto in front of the Urbanica Meridian Hotel at 418 Meridian Avenue in Miami Beach: Cambridge Lansdowne paid $30.5 million for the Urbanica Meridian Hotel in Miami Beach's South of Fifth neighborhood, marking the third deal this month in the tri-county region's resurgent hospitality sector.
$21.8M Sale of Dairy Processing Facility in Miami Negotiated
Colliers has negotiated the sale of the Borden Dairy Co./Velda Farms dairy processing facility in Miami for $21.8 million. Steven Wasserman and Erin Byers of Colliers represented the buyer, CP Logistics Miami 95 LLC, in the transaction. Harold Ginsberg from Southern Asset Service Corp. represented the seller, New Dairy Florida LLC, in the transaction.
Midtown Doral scores $67M construction loan for apartment development
Mattoni's Ricardo Caporal, Century Home Builders' Sergio Pino and Conconcreto's Juan Luis Aristizabal Velez with rendering of Midtown Doral phase two: A group of developers scored a $66.8 million construction loan for an apartment project at Midtown Doral. Sergio Pino's Coral Gables-based Century Homebuilders is partnering with Ricardo Caporal's…
Tony Hernandez picks up office building in Fontainebleau for $13M
Miami investor Antonio "Tony" Hernandez picked up an office building in west Miami-Dade County for $12.7 million. An entity managed by Hernandez, principal of T-H Properties, bought Fontainebleau Park Office Plaza at 175 Fontainebleau Boulevard, according to records. The two-story building spans 49,150 square feet of office space, and the price breaks…
Related, Tricap launch sales of NoMad-branded condos in Wynwood with Casa Tua
A venture led by the Related Group and David Edelstein's Tricap launched sales of NoMad Residences Wynwood, a NoMad Hotels-branded condo building with a Casa Tua Cucina on the ground floor. The 329-unit, nine-story building is planned for 2700 Northwest Second Avenue in Miami's Wynwood neighborhood. Lndmrk Development's Alex Karakhanian…
Here's Where The Largest US Industrial Projects Are Set To Deliver In 2022
The big-box warehouse keeps getting bigger as e-commerce groups, third-party logistics firms and others are on the hunt for the largest distribution and manufacturing facilities they can find or build. CommercialEdge, part of Santa Barbara, California-based Yardi Systems Inc., recently analyzed the top warehouse markets and projects underway across the U.S. this year.
Court ruling allows Jason Halpern to develop Miami Beach resi project
A New York judge dismissed a lawsuit filed by an investor in two of developer Jason Halpern's Miami Beach properties, allowing his JMH Development to move forward with plans for a condo project on one of the sites. Investor Dhruv Piplani's PSB Indian Creek and affiliated entities filed the suit against Halpern, his JMH Indian Creek Development LLC and…
Take two: Blackstone affiliate proposes industrial complex with movie studio at Calder's horse racing track
Blackstone's subsidiary Link Logistics wants to build a 2.3 million-square-foot industrial complex on Calder Casino's horse racing track in Miami Gardens. The proposal is for 12 buildings on 115.7 acres at 21001 Northwest 27th Avenue, according to an application filed with the city by Calder Race Course. The complex would feature warehouses and distribution…
It's official: Miami-Dade declares housing crisis. Here's what it means for renters, landlords
Miami-Dade County is pushing to curb rental unaffordability. Mayor Daniella Levine Cava declared a housing crisis on Friday, setting the stage for the county to distribute $41 million in federal funds as rental assistance. The county is feeling the squeeze from skyrocketing rents that followed a population influx and ensuing high demand over the past year and…
Public housing goes middle class
From left: Waterford Property Company's John Drachman with the Oceanaire complex in Long Beach and Affiliated Development's Nick Rojo with the Bohemian project in Lake Worth Beach: Public housing has gone middle class. Billed as "workforce housing," it mimics a private-sector trend in places where home prices and rents have soared beyond the…
County deal would replace 11 Venetian Causeway bridges
A $10.6 million agreement between EAC Consulting Inc. and the Florida Department of Transportation will shift to Miami-Dade County and lead to design plans to replace 11 bridges on the historic Venetian Causeway from North Bayshore Drive in Miami to Purdy Avenue in Miami Beach. County commissioners approved the agreement in a transportation…
Speakeasy plan pushed for Gold Dust Motel
Developer Avra Jain, whose company has revived historic properties with bars and motels along Biscayne Boulevard, says it's time to bring back the speakeasy. As a part of that quest… in an individually designated historic structure commonly known as the Gold Dust Motel, at 7700 Biscayne Blvd. The city's Historic and Environmental Preservation Board on…
Noise claims drown out plans for Island Gardens growth
The sweeping development known as Island Gardens is moving forward with plans to turn a choice piece of waterfront property in Biscayne Bay into a first-class resort destination. But it can't seem to shake its history of controversy. Last week the city's Planning, Zoning and Appeals Board (PZAB) was set to hear a request from Island Gardens' developer…
Industrial 'Unencumbered' By Construction Challenges
A supply chain crisis and severe labor shortages are creating mega challenges for developers—but industrial projects are pushing through. Demand for industrial space is so strong, and as a result the asset class remains "unencumbered" by labor shortages, according to Louis Archambault, an attorney at Saul Ewing Arnstein & Lehr. "Labor and…"
Black Lion pounces on a restaurant space in South Beach for $12M
For the second time in five months, Black Lion Investment Group pounced on a restaurant space in Miami Beach's South of Fifth neighborhood. The Los Angeles-based real estate investment firm, led by President Robert Rivani, paid $11.5 million for a 12,000-square-foot building at 200 South Pointe Drive in Miami Beach, according to a press release.
5 minutes with hospitality magnate Giuseppe Cipriani
The bellinis, carpaccio and other tasty Italian antipasto were flowing at Cipriani Downtown Miami. Cipriani CEO Giuseppe Cipriani, developer Camilo Miguel Jr. and Arquitectonica founder Bernardo Fort-Brescia hosted a group of brokers to launch the planned Cipriani Residences Miami this week. Miguel's Mast Capital is teaming up with Cipriani to develop…
CenterPoint picks up Miami Gardens truck storage facility for $47.5M
CenterPoint Properties is continuing its buying binge of South Florida industrial real estate, scooping up a Miami Gardens outdoor truck storage facility for $47.5 million. CenterPoint bought the property at 17707 Northwest Miami Court from Relentless Capital and Drake Real Estate Partners, according to broker Jonathan Salk of ZYX Capital…
Office occupancy hits pandemic high
There have never been more office employees going into offices across the United States since the onset of the pandemic, but the in-office population is still less than half of pre-pandemic levels. A record number of employees were back at the office for the week of March 30, according to Kastle Systems' "Back to Work Barometer" reported by Bisnow. While that's…
Construction Of Industrial Space Continues Robust Growth
Construction and development of new industrial space in the U.S. remains robust, with all signs pointing to another big year in this market segment. According to a report by CommmercialEdge, 592.5 million square feet of industrial space was under construction nationwide by the end of February, amounting to 3.5% of existing stock. Over the past six […]…
Easton powers up industrial portfolio with $14M Hollywood truck yard
The Easton Group hitched a vacant truck yard in Hollywood to the company's growing industrial portfolio. An affiliate of the Doral-based commercial real estate development and investment firm paid $14.3 million for the 5.85-acre outdoor industrial site at 3811 Pembroke Road, according to records. The property includes a 29,897-square-foot truck terminal…
Ari Pearl completes luxury apartment tower in Hallandale Beach, scores $150M refi
Ari Pearl's mixed-use golf course development in Hallandale Beach completed its first phase, and he and his partner secured a $150 million refinancing, The Real Deal has learned. Pearl's PPG Development and Michael Herman's Premium Capital received a certificate of occupancy for the 26-story, 250-unit high-end rental building at 101 Diplomat Parkway…
Carroll buys Oakland Park multifamily complex for $49M
The Carroll Organization bought a garden-style multifamily complex in Oakland Park for $49.4 million. An affiliate of the Atlanta-based real estate firm acquired Arium Cypress Lakes, a 188-unit garden-style apartment complex at 2829 South Oakland Forest Drive, according to records. Carroll paid $262,766 per apartment and obtained…
Prospect buys multifamily dev site in Flagler Village, plans 252-unit project
Prospect Real Estate Group bought a multifamily development site in Fort Lauderdale's Flagler Village for $11 million, with plans for a 252-unit project. The New Smyrna Beach-based developer plans the 12-story Advantis Station at Flagler Village on the 1.4-acre assemblage it purchased on the northeast corner of Sistrunk Boulevard and Northeast Third…
Elion buys two Fort Lauderdale industrial buildings for $15M
Elion Partners bought a pair of warehouses near the Fort Lauderdale-Hollywood International Airport for $14.9 million. North Miami Beach-based Elion Partners bought the properties at 3000 and 3060 Southwest Second Avenue in Fort Lauderdale from Apogee Investment Partners LLC, led by Brian Neff, according to…
Fort Partners pays off largest construction loan in Fort Lauderdale history
Fort Partners paid off its $210 million construction loan for the Four Seasons Residences Fort Lauderdale, which is the largest such loan recorded in Fort Lauderdale's history. New York-based Madison Realty Capital provided the financing in late 2019. Miami-based Fort Partners, led by CEO Nadim Ashi, and its minority partner Merrimac Ventures…
Waterton doubles down on South Florida, buys Boynton Beach apartment complex for $80M
Waterton expanded its South Florida portfolio by paying $80 million for its second apartment complex in the tri-county region. An affiliate of the Chicago-based real estate investment and property management company bought the 216-unit garden-style Verona at Boynton Beach at 1575 Southwest Eighth Street…
Boca Center's offices, retail, restaurants trade for $261.5M
(L-R) Vanderbilt Office Properties CEO Casey Wold, Site Centers President and CEO David Lukes, and Macquarie Group Managing Director and CEO Shemara Wikramanayake with 1800 North Military Trail and 5050 Town Center Circle in Boca Raton: Boca Center properties traded for $261.5 million, marking one of the biggest deals this year of a South Florida…
Butters and Konsker propose $75M Boca Raton office project
A joint venture led by Butters Group is seeking to build a $75 million Class A office project in Boca Raton. Butters and partner Konsker Development recently submitted plans to the city of Boca Raton for Midtown Place at Boca Raton, a five-story building with 120,000 square feet of office space, according to a press release. The project would rise on a 4-acre site…
Hines, Frisbie launch two-tower luxury condo development in West Palm Beach
Frisbie Group partnered with Hines to launch a two-tower, luxury condo development in West Palm Beach, with units starting at about $10 million. The partnership joins a small but growing group of developers that are beginning sales of condo developments along the waterfront in West Palm Beach, due to increasing demand for luxury homes and a lack of…
CS Ventures pays $35M for Bankers Row office buildings in Palm Beach
CS Ventures purchased a pair of office buildings along Bankers Row in Palm Beach for $35 million, marking the buyer's continued bet on the ritzy town. Palm Beach-based CS Ventures, a partnership between Spencer Schlager and Charles Rosenberg of Rosemark Management, bought the buildings at 340 and 350 Royal Palm Way from Chicago-based Pearlmark…
Todd Nepola buys a pair of Palm Beach County shopping centers for $13M
In a double play, Hollywood-based investor Todd Nepola bought two shopping centers in Palm Beach County for a combined $12.7 million. Nepola, founder and president of Current Capital Management, told The Real Deal he acquired Shoppes of Lake Worth at 6651 Lake Worth Road, and Coco Plum Plaza at 2845 North Military Trail in…
Newly built micro-units in downtown West Palm fetch $84M after converting to hotel
A rendering of the property at 695 South Olive Avenue in West Palm Beach with Electra America Hospitality Group's Principal and Managing Partner Russ Urban, Korman Communities' co-CEOs Larry and Brad Korman and Transwestern Development Company's CEO Larry Heard (Gio Fausone of Gulfstream Real Estate Advisors, LinkedIn, Korman, Transwestern)
Pantzer drops $67M for Palm Beach Gardens apartment complex
Pantzer Properties closed its second multifamily deal in Palm Beach County in 11 months, buying a 136-unit apartment complex for $66.5 million. An affiliate of the New York-based multifamily real estate investment firm acquired Solera at City Centre Apartments at 2100 PGA Boulevard 100 in Palm Beach Gardens, according…
Lease roundup: Co-working company doubles down on downtown West Palm Beach
Vanderbilt Office Properties CEO Casey Wold, Quest Workspaces CEO Laura Kozelouzek, and C-III Capital Partners Chairman and CEO Andrew Farkas with Northbridge Centre at 515 North Flagler Drive in West Palm Beach: Quest Workspaces I Northbridge Centre | West Palm Beach Coworking operator Quest Workspaces expanded its space in the Northbridge…
Inventing Nora: Developers eye new district in West Palm Beach
The three-story, boarded-up white building near the train tracks in downtown West Palm Beach harkens back to old South Florida. Its ceilings and floors are made from Dade County Pine, a sturdy wood protected from commercial logging for decades. The back of the building at 905 Railroad Avenue has an out-of-order Otis elevator, with a plank to step on…
Multifamily craze carries on: Berkshire buys Jupiter apartment complex for $202.5M
From left: Maury Tognarelli (seller), CEO of Heitman, and David Olney (buyer), CEO, Berkshire Residential Investment, in front of The Sophia at Abacoa apartment complex at 863 University Boulevard in Jupiter: Berkshire Residential Investments bought a Jupiter apartment complex for $202.5 million, as South Florida's multifamily market continues…