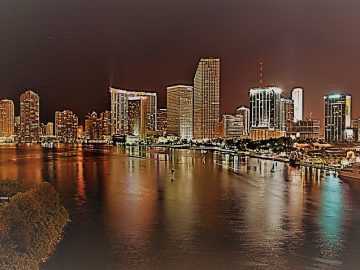 Video: PwC Partner Mitch Roschelle Discusses Coronavirus Impact on Economy, Commercial Property
The is significant and growing international concern with regard to the potential human and economic impact of coronavirus, also referred to as COVID-19. Mitch Roschelle, Partner withPricewaterhouseCoopers , joins America's Commercial Real Estate Show to talk about how markets may react and in turn how commercial real estate might be impacted.
Video: Miami developers Perez, Karmely, Defortuna discuss economy, dealing with coronavirus
In this video prominent MIami area developers Jon Paul Perez of The Related Group, Edgardo Defortuna, and Shahab Karmely of KAR Properties discuss dealing with coronavirus with Amir Korangy of The Real Deal. Among the topics discussed are the things that most keep the awake at night, i.e. their biggest concerns, how they plan to move forward on…
Miami's Small, Boutique Office Market Could Be Coronavirus-Resistant
The year was off to a sweet start for the Miami office market: 100K SF of positive absorption focused in downtown Miami and Brickell, much of that driven by move-ins of WeWork and Industrious, according to JLL. Icahn Enterprises moved into the penthouse in the new Milton Tower trophy office property at 16690 Collins Avenue in Sunny Isles Beach. The average…
US hotel occupancy inches down to 21%
The hotel industry's nightmare continued last week as occupancy nationwide dipped to a meager 21 percent. The country's occupancy rate for the week ending April 11 was one point worse than a week ago and 70 percent lower than a year ago, according to the hospitality data firm STR. Revenues per available room, or RevPAR, declined nearly 84 percent from…
Non-traded real estate investment trusts limit withdrawals amid investor rush to retrieve cash
Fund managers for non-traded REITs are limiting withdrawal amounts to maintain some liquidity and avoid having to sell assets at a loss (Credit: iStock) Thousands of people who poured billions of dollars into non-traded real estate investment trusts are now discovering that taking money out is a little more complicated. Many fund managers are limiting how much cash…
March retail sales plunge is worst on record
Last month saw the largest one-month drop in sales in three decades of record-keeping. March was the worst month for U.S. retailers on record. Sales dropped a stunning 8.7 percent from February as the coronavirus pandemic caused governments to close non-essential businesses, unemployment to skyrocket and millions to hunker down…
'Pretty Catastrophic' Month for Retailers, and Now a Race to Survive
"Total sales, which include retail purchases in stores and online as well as money spent at bars and restaurants, fell 8.7 percent from the previous month, the Commerce Department said Wednesday. The decline was by far the largest in the nearly three decades the government has tracked the data. Even that bleak figure doesn't capture the full impact of the sudden…
Miami bankers work to pull out of economic slide, plan ahead
The effects of Covid-19 have reached far and deep, spanning the globe and impacting individuals and businesses, governments and organizations of all types and sizes. But while the hurt is universal, albeit of varying severity, how successfully localities recover from what many are calling the greatest crisis of our lifetime will depend on a variety of factors. Key to that…
Processing small business loan program should get smoother
While the distribution of government aid to small businesses has been cumbersome in Florida, the process should be running more smoothly in the coming days, said the top executive from Florida Bankers Association. Alex Sanchez, the CEO and president of the organization, said bankers have been working around the clock to serve businesses in need of the loan…
Coronavirus Aid, Relief and Economic Security Act The $2 trillion CARES Act offers help to businesses, individuals, federal agencies, state governments and local governments. Here are some of its provisions: • Paycheck Protection Program: The $350 billion program encourages businesses to keep workers employed by providing government-backed loans from…
"Be very careful what you ask for," top broker warns borrowers seeking relief
As thousands of commercial real estate borrowers look for help to make their monthly mortgage payments, they should do so cautiously. "We're advising our borrowers, be very careful what you ask for," warned Ackman Ziff Real Estate Group president Simon Ziff. "Make sure you can back it up and have a need for it, or you may find yourself in special [servicing]…
Knotel says one-third of members want rent relief
Roughly one-third of Knotel's members are looking for a break on rent, the flex office space company disclosed Tuesday. As Knotel grapples with its own financial woes, the figure sheds light on the dilemma facing co-working firms: a sudden loss of income from tenants, including many small businesses, as the coronavirus pandemic keeps people home across the…
Starwood Gets $76M Loan For New Miami Beach HQ
When Starwood Capital Group moved its headquarters from Greenwich, Connecticut, to Miami Beach in 2018, it bought prime South Beach property from Avis, the rental car company. It has now secured financing to build a six-story headquarters for itself. A Starwood subsidiary has secured a $76.16M construction loan from Citizens Bank to build a 144K SF building…
Live Nation wants to renegotiate rents
Live Nation Entertainment is live music's dominant force and among the biggest occupiers of space in the events business. But the company is now looking to make big spending cuts, including renegotiating on $2.3 billion in lease deals. The Beverly Hills-based company said in a Securities and Exchange Commission filing Monday that it hammered out a new…
Retail landlords are creating a blacklist of tenants who aren't paying rent
While mom-and-pop retailers may be feeling the economic pain of coronavirus the hardest, some bigger companies have decided to forgo rent payments as well. But landlords aren't buying it. Owners of malls and shopping centers have been putting together a "blacklist" of financially stable tenants that haven't met their April rent obligations, the Wall Street…
How Will Lenders Respond to COVID-19?
Financial institutions face unprecedented measures in unprecedented times April 1 was a key milestone on everyone's mind—the first date that many payments would be due in a COVID-19-weary world on lockdown. In the weeks leading up to that date, the Federal government negotiated, passed, and signed a monumental $2 trillion relief package. The post How Will…
Don Peebles: A leader's role "is to look at things in balance"
Flattening the curve by keeping most of the country at home is what medical experts believe will allow the U.S. to recover from the coronavirus pandemic. But according to developer Don Peebles, doing so "with blinders on" will create an economic disaster that could be riskier than getting people back to work. "There are 17 million new unemployed Americans…
Only 20% of Related Group's commercial tenants paid rent in April
Only 20 percent of the Related Group's commercial tenants paid their rent in April, executive Jon Paul Pérez said during The Real Deal's webinar on Friday. "If you get 20 percent you're sort of happy and jumping up and down," he said. About 90 percent of Related's multifamily tenants paid rent, which Pérez said is much higher than the 50 percent the company…
Q&A – Commercial Real Estate Leasing – Remedies
Q.  If a tenant breaches the lease:  Are there any implied remedies available to the landlord, such as the acceleration of rent? Is there a limitation on the landlord's ability to exercise self-help? Is there a common form of an eviction proceeding and, if so, what is the typical length of time for the proceeding? Are there specific mechanisms for expedited remedies…
Q&A – Commercial Real Estate Leasing – Rent and Security Deposits
Are there any legal restrictions on:  How much rent the landlord may charge? Whether certain operating expenses (or other additional rent) may be passed through to the tenant? Maximum Rent Under Florida law, there are no restrictions on the rent a landlord may charge on commercial leases. Operating Expenses There is no limit to the operating expenses…
Mounting bills could mean a wave of restaurant closures this summer
Many restaurant owners who've been forced to close their businesses because of the coronavirus pandemic wonder if they'll be able to hold out long enough to re-open. Bills are mounting and many worry they won't be able to pay up even with support through the federal government's massive $2 trillion stimulus package, according to Bloomberg. That could mean…
Miami Industrial Real Estate Quarterly Market Report 1st Quarter 2020
The Miami industrial market starts Q1 2020 with a 4.7% vacancy rate and $12.53 per SF average (gross) lease rate. There was 1.4 million SF of positive absorption over the past 12 months, with deliveries totaling 3.7 million SF in the same time. Two significant deals include leases signed by Home Depot with a move-in date of September 2020 with 1.1 million SF in the…
Office Tenants of All Sizes Are Asking for Rent Relief. Some Institutional Owners Are Offering Them Deferrals
With the COVID-19 shutdown interrupting business operations across a large swaths of industries, office tenants have begun seeking rent relief. For example, Kenneth S. Fields, Los Angeles attorney at law firm Greenberg Glusker, says his office tenant clients are asking if they can stop paying rent, and landlord clients are seeking advice on what to do if tenants stop paying.
Money, forbearance, and evictions: Landlords want it all from Washington
Trade groups representing the biggest residential players have asked the federal government for an array of relief measures, while also requesting the right to keep evicting renters. In an April 7 letter addressed to the White House Coronavirus Task Force and Congress, a dozen landlord and developer groups called for the creation of an emergency rental assistance…
South Florida contractors on edge over threats of shutdown
Gov. Ron DeSantis (Credit: Joe Raedle/Getty Images) Construction firms across South Florida are on edge over threats of a shutdown. Earlier this week, Miami Beach shut down construction sites for failing to follow social distancing guidelines, issuing stop work orders for two commercial projects. At the same time, the city of Miami issued an emergency order…
Missed loan payments to approach Great Recession levels: Fitch
Missed loan payments will approach Great Recession highs, a new report finds (Credit: iStock, Getty Images) Missed loan payments are expected to approach Great Recession levels in the third quarter of 2020, part of the continuing fallout from a U.S. economy that remains virtually frozen. The hotel and retail sectors are expected to have the highest delinquency…
South Florida property owners offer free rent in April, May
Some South Florida landlords are going beyond rent deferments and case-by-case deals, as the majority of tenants struggle to make rent this month and next. William Kakon, who owns 14 retail and multifamily properties in Miami-Dade and Broward counties, is forgiving rent for his commercial and residential tenants in April and May, plus creating a fund for families…
These US real estate titans made Forbes' billionaires list
From left: Donald Trump, Jane Goldman of Solil Management, Jorge Perez of Related Group, Stephen Ross of Related Companies, Jeff Greene, Brian Chesky of Airbnb, Sam Zell of Equity Group Investments, Jeff Sutton of Wharton Properties with Adam Neumann, former WeWork CEO. More than 2,000 people — and hundreds of U.S. real estate titans — cracked Forbes…
Weiss Group scores $21M loan for mixed-use project near MIA
David Eyzenberg and a rendering of Towers at Blue Lagoon Weiss Group of Companies scored $21.3 million in bridge financing to build a mixed-use, multifamily and hotel project at the Blue Lagoon office complex near Miami International Airport. The financing will replace an existing bridge loan and fund predevelopment costs for the Kobi Karp-designed Towers at…
Eyzenberg & Co. Arranges $21.3M Construction Loan for Mixed-Use Development in Miami
Eyzenberg & Co. has arranged a $21.3 million construction loan for the Towers at Blue Lagoon, a planned mixed-use development featuring a multifamily community and hotel space. The borrower and developer, the Weiss Group of Cos., will build Phase I of the project to include 428 multifamily units across two buildings. The property will offer studio…
Fed ramps up lending with new $2.3 trillion program
The Federal Reserve is injecting an additional $2.3 trillion in loans to bolster a frozen economy, which continues to be on lockdown as the spread of the coronavirus accelerates. Thursday's financing announcement came as the U.S. Department of Labor reported that another 6.6 million Americans filed jobless claims last week. That figure was down from the adjusted prior…
Norman Braman, Jorge Perez and homeowner groups sue to stop Edgewater jai alai facility
Billionaire auto dealer Norman Braman and developer Jorge Perez have teamed up with two Miami homeowner groups to file a lawsuit aimed at short-circuiting a settlement agreement between the city of Miami and the owner of Magic City Casino. It's their latest effort to derail plans for a jai alai fronton on land in Miami's Edgewater neighborhood…
Hotels Are Being Impacted by COVID-19. What Can Owners and Lenders Do to Limit the Fallout?
COVID-19 is causing tangible disruption throughout the hotel industry. Daily decreases in travel and cancellations of meetings lead to quick drops in occupancy, followed by hotel pricing decreases (often irrational) that further exacerbate market jitters. A hotel market rate and occupancy shopping app, MSight, estimated downtown Los Angeles hotels had a…
Pandemic may bring the end of the office as we know it
If and when you return to your office after the novel coronavirus pandemic, you'll probably notice some differences. Upon entering your building, the doors may open automatically so you don't have to touch the handles. Before you board your elevator, you might tell the elevator where you'd like to go, rather than pressing the many buttons within the elevator.