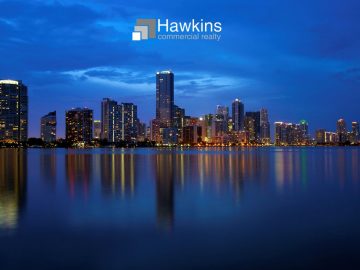 New York investor Bayview Partners pays $69.5M for Naranja apartment complex
Bayview Partners paid $69.5 million for an apartment complex in south Miami-Dade County's Naranja neighborhood. Bayview bought the South Pointe complex at 13720 Southwest 272nd Street from an affiliate of the project's developer, Garco, according to the broker. Tal Frydman of Newmark represented both sides in the deal. The buyer also scored…
PMG proposes pair of Brickell resi towers with over 800 units
Property Markets Group wants to develop a pair of residential towers with 803 units combined on a site it has under contract in Miami's Brickell. PMG proposes a 1.5 million-square-foot project with a 31-story tower and a 46-story tower on 1.2 acres between Southwest Eight and Ninth streets and west of Southwest First Avenue and the Metromover tracks, according…
NYC real estate titan Harry Macklowe makes his first move on Miami with $32M deal
Harry Macklowe is joining the ranks of New York City's real estate elite with a colorful past who are now turning to Miami, The Real Deal has learned. Macklowe Properties purchased 1.7 acres of land between Dadeland Mall and the Metrorail tracks with plans to build a pair of apartment towers with several hundred units, marking its first South Florida project. Rilea Group…
Attorney Alex Hanna pays $15M for Flagler Street office building
Miami attorney Alex Hanna and his wife, Lizet Hanna, bought an office building on Miami's Flagler Street for $15 million. Real estate development firm Keystone Holdings Group sold the 50,000-square-foot building at 4231 West Flagler Street and surrounding parking lots, according to the brokers. It was an off-market deal. Neyda Bravo of Bravo And Partners…
Battle of Normandy? Waterfront Miami Beach apartment complexes sell for $22M
Magnum Holding Company… Trams Property Management, paid $15.2 million for the 70-unit Pierre on the Bay at 2050 Bay Drive and an adjacent vacant lot at 2095 Bay Drive… $198,571 per apartment. A local company affiliated with Gustaf Arnoldsson… bought Normandy Villas, a 22-unit apartment complex at 946 and 950 Bay Drive for $6.4 million, according…
Collective undone: Lender targets planned co-living site in Wynwood
British co-living company The Collective collapsed last year after failing to find a buyer, and is now facing foreclosure on its Wynwood development site. New York-based Gamma Real Estate, led by the Kalikow family, filed a UCC foreclosure auction for The Collective's Wynwood site at 166 Northwest 29th Street in Miami, according to a public notice of sale. The auctio…
Blue Road, Fortune launch short-term rental-friendly condo project in North Miami Beach
Fortune International Group and Blue Road launched sales of Nexo Residences, a planned short-term rental-friendly condo project in North Miami Beach, The Real Deal has learned. The project joins a growing pipeline of South Florida condo buildings that will have few to zero rental restrictions, geared to appeal directly to investors…
Blackstone expands student housing stake in $13B deal
Blackstone's yearly report card will feature a larger stake in student housing after the firm's biggest move in the sector yet. The company has agreed to buy American Campus Communities in a deal that values the student housing provider at $12.8 billion, including debt, the Wall Street Journal reported. The Austin-based company is…
As dev site prices soar in Miami, buyers play a "dangerous game"
Developer Chaim Cahane bought a development site in Miami's Wynwood for $6.4 million in December. Three weeks later, a broker called him with an unsolicited all-cash offer: Flip it for 75 percent more. Then, in March, Cahane's Forte Capital partnered with investor Jon Krasner to buy a separate Wynwood site from East End Capital for $10.8 million.
Miami-Dade may move its Resources Recovery Facility from Doral
Miami-Dade is looking to replace its Resources Recovery Facility, located in Doral since 1982, with a state-of-the-art waste-to-energy plant on the same or a different site. The county aims for a mass burn combustion plant that is more efficient than the existing refuse-derived fuel plant, said Michael J. Fernandez, director of the Solid Waste Management Department.
Miami's Office Construction Slows, but Planned Stock High
As of February, Miami's office pipeline reached 5.4 million square feet, representing 7.8 percent of total stock, according to CommercialEdge. Month-over-month, the pipeline shrunk by 195,000 square feet. The metro's under-construction and planned stock amounted to 14.0 percent of total stock, the highest among gateway cities and the third-highest…
Co-Work LatAm, with 18 locations, expanding in Miami
Latin America's largest rental co-working space company is looking to expand through seven new locations in South Florida after opening its first US location in Brickell in December. Co-Work LatAm, which has 18 locations in Chile – its country of origin – five in Colombia, two in Uruguay, one in Mexico and now one in Brickell, is expecting to double its footprint…
Costs rising for Coral Gables Mobility Hub
Updated and redesigned elements for the Coral Gables Mobility Hub projected were approved last week by city commissioners, costing an additional $640,000. During the meeting, City Manager Peter J. Iglesias explained to city officials that the project's scope has been increased to allow for an enhanced rooftop park, micro-mobility, and electric…
Land scarcity drives up industrial rents in Miami-Dade
The industrial real estate market continues to be a hot topic in Miami-Dade as land is scarce and rental rates averages increase, according to local industry experts. The market is in such demand due to a combination of increased e-commerce, warehousing and logistics, said Louis Archambault, partner for law firm Saul Ewing Arnstein & Lehr, which advises…
Limestone Asset Management Sells/Closes a KFC Property in Pinecrest for $5.5 Million
Miami-based Limestone Asset Management sold/closed on a 19,845-square-foot Kentucky Fried Chicken (KFC) property in Pinecrest, Florida for $5.5 million on March 30, 2022. The 2,193-square-foot building is located at 9690 S Dixie Highway, Miami, FL, 33156. Limestone Asset Management invests in and acquires real estate properties over all asset classes throughout…
Madison Realty Capital Lends $55M to Build Rental in Miami's Edgewater
Colombian firms Grupo Diana and Korner SAS landed a $55 million construction loan for an Edgewater residential project, property records show. The 32-story development, Metro Edgewater, will feature 279 rental apartments spanning 266,306 square feet, as well as 4,230 square feet of retail on the ground floor and 312 onsite parking spots, according…
CenterPoint Buys Last-Mile Parking Lot Near Miami for $48M
CenterPoint Properties dropped $47.5 million for a "luxury" truck parking lot in Miami Gardens, Fla., property records show. The 12-acre property, located at 17707 NW Miami Court, sits right along I-95, South Florida's main north-south artery. The lot, which will facilitate last-mile deliveries, accommodates up to 360 container trucks. Drake Real Estate Partners…
New Jersey developer's Wynwood residences get approval
A New Jersey-based development company with more than 3,000 rental apartments in three states is planning to construct a midrise mixed-use residential project in the Wynwood Arts District. The plan was considered April 12 by the Wynwood Development Review Committee, which approved the project with several conditions. The owner-developer 26-60 NE 27th…
Notable Retail Leases Signed in South Florida Q1 2022
We've compiled a comprehensive list of the top retail leases signed by square footage in South Florida during 2022 so far and throughout 2021. This quarter was busy overall, especially considering the current pandemic, and saw several big box leases signed and sealed. Despite the sentiment… Read more » The post Notable Retail Leases Signed in South Florida Q1…
Miami-Dade and Palm Beach office markets riding high, while Broward flies at low altitude: report
Office markets in Miami-Dade and Palm Beach counties outperformed Broward in the first quarter, according to a recently released report. While rents and demand continued climbing to the north and south, Broward County slowed to a crawl, JLL report's states. In Miami-Dade, average asking rents grew for the seventh straight quarter, up 10.2 percent in the first…
Outdoor storage demand keeps on truckin': Seagis pays $15M for trailer parking lot in Medley
Seagis Property Group bought a trailer parking lot in Medley for $14.8 million, marking growing investment appetite for outdoor industrial properties. The Conshohocken, Pennsylvania-based logistics firm bought the property at 13399 Northwest 113th Avenue Road from RCR Investment Group, according to a Seagis news release. RCR Investment is managed…
Demand For Flex Workspace Up 58 Percent From Pre-Pandemic Across U.S., With Miami Outpacing All Other Cities
The Instant Group, a global workspace innovation firm working across 175 countries and whose digital platforms constitute the world's largest digital marketplace for flexible workspace, has found Miami leading the way in flexible workspace demand while San Francisco is seeing the largest decline, in its new U.S. Market Summary analysis. Demand has dropped…
Harbor pays $50M for Fontainebleau apartment building
Harbor Group International bought the 275 FontaineParc apartment building in West Miami-Dade County for $50 million. The Norfolk, Virginia-based real estate investment and management firm purchased the seven-story building at 275 Fontainebleau Boulevard from the property's developers, Marlon Gomez of Gomez …
Morningstar pays $30M for self-storage facilities in Fort Lauderdale's Flagler Village
Morningstar Properties bought two self-storage facilities in Fort Lauderdale's Flagler Village neighborhood for almost $30 million. Alan Hooper and Tim Petrillo's Urban Street Development, through an affiliate, sold the two adjacent properties at 421 Northwest First Avenue and 125 Northwest Fourth Street, according to a deed. The real estate was…
$11M Sale of Doral Park Centre in Metro Miami Arranged
The property sold for $11 million, or $789.72 per square foot. Edward Romo and Scott Sandelin of Marcus & Millichap represented the seller, an affiliate of IRAS Group, a Miami-based real estate investment firm. Kristina Filippone of First City Realty Partners Inc. procured the undisclosed buyer. Built in 2017, Doral Park Centre is a seven-suite property that…
Clara Homes wins approval for 28-unit first phase of luxury rentals in Bay Harbor Islands
Miami-based Clara Homes won approval for the 28-unit first phase of a luxury apartment project planned in Bay Harbor Islands. Construction of the six-story, 28-unit Clara Bay Harbor building will start by August, Clara Homes founder James Curnin told The Real Deal. It will be the first of three planned buildings with a total of 150 apartments. The first phase is…
Real estate investors eye student housing as college dorms come up short
Blackstone's Stephen Schwarzman (left) and Brookfield's Bruce Flatt People's Park, a Berkeley institution since then-Gov. Ronald Reagan called in the National Guard to quell protests there five decades ago, may be the epicenter of a national student housing crisis that has real estate giants like Blackstone on the prowl. After years of back-and-forth, the city…
Foundation Pour, Vertical Construction Underway At Overtown MXU Development Block 55
The large mixed-use Overtown project known as Block 55 has had a foundation pour. Vertical construction is underway, with several cranes now installed. FAA records show that several cranes were recently approved for the site. There will be a total of four cranes installed, according to a social media post by John Longarini. Photos by Ryan…
AHS Residential Opens 420-Unit Oak Enclave Apartments in Miami Gardens, Florida
AHS Residential has opened Oak Enclave, a 420-unit multifamily community in Miami Gardens. Oak Enclave offers one-, two- and three-bedroom floorplans in five buildings. Unit features includes a private balcony or… Located at 2301 N.W. 167th Street., the property is 13.4 miles from downtown Miami and 12.1 miles from Miami International Airport.
Canadian investor buys waterfront Pompano Beach development site for condos
A Canadian investor paid $9.3 million for a waterfront apartment building in Pompano Beach that he intends to redevelop into a boutique condominium, The Real Deal has learned. An entity managed by Jean Campeau, co-founder of Quebec City, Quebec-based Camaco, bought the 23-unit Stratford Apartments at 407-419 North Riverside Drive, according…
Lease roundup: BH3's Fabrick project in Fort Lauderdale's Progresso Village fully leased
Wood & Wick, Spartan Strength & Conditioning and more I Progresso Village | Fort Lauderdale BH3 Management has fully leased out its Fabrick project in the Progresso Village neighborhood of Fort Lauderdale. BH3's Fabrick consists of warehouses redeveloped into Class A office and retail space at 801, 807, 815 and 819 Northeast Second Avenue…
Related Group allegedly jilted investors in waterfront West Palm resi project: lawsuit
Investors who sold waterfront land to the Related Group for its Icon Marina Village development in West Palm Beach sued the condo developer, alleging they were cheated out of an agreement that would have given them nearly $13 million. Stephen and Louise Kornfeld, and Jody Weissman filed the lawsuit against TRG North Flagler Venture and RD IMV Owner, affiliates…
Lennar pays $190M for remainder of Arden homesites near Wellington
Lennar paid $190 million for the remainder of the homesites in the Arden community near Wellington. Boston-based Freehold Communities sold the land to an affiliate of New York-based global credit and real estate investment firm Angelo Gordon, according to a deed. Angelo Gordon, led by co-CEOs Josh Baumgarten and Adam Schwartz, has served as a land…