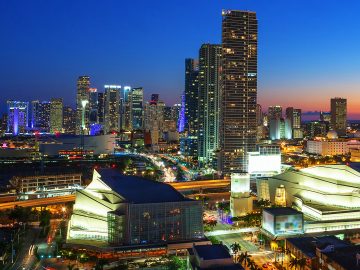 Amazon Plans New Facility In Miami Airport West
Miami-Dade County missed out on Amazon.com's HQ2, but it could gain a new delivery station for the e-commerce giant. Prologis filed a pre-application with county officials on March 20 to modify its warehouse at 6703 NW Seventh Street in a plan titled "Amazon Delivery Station." Developers file pre-applications so they can receive feedback from county…
Billionaire hotelier buys Wynwood property for mixed-use project
A billionaire hotelier based in the Bahamas has turned his sights to Miami, paying $26.4 million for an assemblage in Wynwood with plans to build a mixed-use project, The Real Deal has learned. Sarkis Izmirlian, the original developer of Baha Mar in the Bahamas, bought the properties at 201 Northwest 21st Street and 210 Northwest 22nd Street in Miami through a Delaware company, Miami Development…
Russia's Filthy Rich Have a Thing for Miami—but the Good Times May Be Ending
Here in the Russian capital, even though black snow has finally melted after the endless freezing winter, many people still feel a lack of vitamin D. But not everybody. Thousands of rich Russian citizens—those not under U.S. sanctions—have been working on their tans around Biscayne Bay in the United States. Many spend their winters relaxing at Sunny Isles Beach in North Miami, enjoying the multi…
Crazy Rich Russians and Sunny Isles Beach
U.S. sanctions on Russia are having an impact on real estate in Sunny Isles Beach, according to an in-depth report by The Daily Beast. Some Russians can't travel to their condos in Sunny Isles because they are blocked to traveling to the United States under measures taken after the Russian takeover of the Crimean Peninsula and meddling in U.S. elections. As a result, some Russians are renting out or…
Joint Venture Acquires 11.3 Acres in Miami to Develop $36M Mixed-Use Project
A joint venture between ZOM Living, Scout Capital Partners and Mattoni Group has acquired 11.3 acres of Ludlam Trail in Miami. The developers will transform the unused train tracks into a six-mile, 100-foot wide trail that connects Miami International Airport and Dadeland Station, a three-story, 330,000-square-foot retail shopping center anchored by Target, Bed Bath & Beyond, Best Buy, Dick's…
South Miami approves long-planned Shops at Sunset Place redevelopment
Two years after a redevelopment proposal for the Shops at Sunset Place died, the South Miami mall's new owners kept their plan alive long enough to get it approved. During a special commission meeting on Wednesday, the South Miami City Commission voted unanimously in favor of several ordinances that will allow a partnership between Federal Realty Investment Trust, Grass River Property…
Scaffolding firm wants to tackle ex-NFL star Dumervil for alleged nonpayment of $100K: lawsuit
Elvis Dumervil, the former NFL linebacker who has been on a real estate buying binge the last three years, allegedly sacked a Miami scaffolding company for nearly $100,000. J and M Scaffolds of Florida sued Dumervil in Miami-Dade Circuit Court two weeks ago for breach of contract and unjust enrichment. The complaint alleges Dumervil rented scaffolding from J and M since 2018 for construction…
This is how Miami-Dade plans to protect itself from climate change
Miami-Dade County is embarking on infrastructure projects that could total $20 billion as part of a push to protect the region from climate change. Miami-Dade Mayor Carlos Gimenez spoke to Bloomberg about the county's plan for a $10 billion water and sewer project that is the largest public works project in the county's history. It's expected to take 15 to 20 years, he said. The county is also planning…
Here are South Florida's five largest multifamily deals in March
Six apartment properties in Miami's Overtown neighborhood sold for $14 million, signaling growing interest in real estate in the area. A company tied to Thomas Neary and Arthur Bartholomew of Fort Lauderdale-based Walnut Street Capital bought the 2.2-acre assemblage, records show. All of the buildings were owned by companies tied to either Larry and Leslie Gratz or Teresa Matias of Miami.
Downtown Miami tower to mix church, offices, residences, retail
In what's described as a truly mixed-use project for the heart of downtown Miami, a developer plans a residential and office tower atop a new church and parking garage accented with retail uses. PMG X Biscayne is designed at 49 stories at 400 Biscayne Blvd., former site of First United Methodist Church of Miami. "The church has been our partner and will relocate back there," said Javier F. Aviñó, attorney…
Newmark Knight Frank Arranges Refi for Miami Office
Brickman has refinanced a 142,000-square-foot office building in downtown Miami at 200 SE First Street by $31 million. Per Miami-Dade County public records, the owner used the Varde Partners-originated financing to retire an existing loan. Brickman purchased the asset in 2016 for $33.9 million, using a $24.4 million loan from Canadian Imperial Bank of Commerce, according to Yardi Matrix data.
Six-tower Blue Lagoon growth to add 888 apartments
A major development project poised to bring hundreds of apartments and hotel rooms to land fronting the Blue Lagoon near Miami International Airport has gained zoning approval. Towers at Blue Lagoon is to include a half-dozen new buildings constructed in phases on vacant land at 4865, 4875, and 4885 NW Seventh Street. Owner-developer is Caroline Weiss, the Weiss Group of Companies, 7 at Blue…
Coconut Grove Playhouse restoration at turning point
Art Noriega, chief executive officer of the Miami Parking Authority, is predicting a win for Miami-Dade County's restoration plan for the Coconut Grove Playhouse. The final decision rests in the hands of Miami city commissioners who are today (4/25) scheduled to hear the county's appeal of a March 5 decision by the city's Historic and Environmental Preservation Board (HEPB). On a split vote of 6 to 4 the…
Investors believe in Miami more than we do in ourselves
Despite the end of our latest condo boom, Miami's powerful magnet keeps luring investment of all sorts. Why? Start with the well-known list: lifestyle, weather, arts and cultural, immigration from the nation and the globe, geographic position, broadly diverse population, low cost-to-value ratio, growing tax advantages, the rule of US law. While internally we highlight flaws – did someone mention transportation?
Video: CCIM Chief Economist KC Conway Discusses Strategic 2019 Real Estate Decisions
CCIM Chief Economist KC Conway appears on America's Real Estate Show to discuss the state of the commercial real estate industry, our lengthy market expansion, and whether or not we should have any fear an incoming recession. They discuss unemployment as this begins, then move on to sensitivity analysis. He believes that we are one trade deal away from 3% growth again, and that this in turn would put…
Another Linear Park Is Spurring Development, This Time In Miami
In Miami, TOD stands for trail-oriented development, as a newly designated linear urban park is spurring building along its path. Ludlam Park, a corridor that had been intended for railway operations but went unused, was designated public space last year. Developers are now jumping ahead with projects — but meeting some resistance along the way. The 6.2-mile linear park will run between Dadeland…
100K SF Leases Brokered in Miami
Geodis Logistics and Crowley Logistics have signed industrial leases totaling 104,055 square feet in Miami's Airport and Medley submarkets, respectively. Executive Managing Directors Walter Byrd and Ben Eisenberg, Managing Director Thomas Kresse and Vice President Carlos Gaviria of Transwestern's South Florida office worked on behalf of both tenants. Geodis Logistics signed a new long…
Notable Retail Leases Signed in South Florida Q1 2019
South Florida Retail Leases 2019 We've compiled a comprehensive list of the top retail leases signed by square footage in South Florida during Q1 2019. This quarter was very busy overall and saw several big box leases signed and sealed. Despite the sentiment that the traditional retail market is suffering due to several factors, particularly…
'Upscale Co-Living' Will Occupy 6 Floors At Gables Station
Upscale co-living might sound like an oxymoron, but Ollie has tested the concept in Long Island City and Manhattan, and is bringing it to Coral Gables, where it is filling space in an ambitious new mixed-use, transit-oriented development project. The company touts an "all-inclusive living experience" that combines furnished micro-studios and shared suites with "extraordinary lifestyle-relevant services," plus…
Metrorail station being transformed into mini-city
This is the new project by the Adler Group and 13th Floor Investments which has broken ground at the Douglas Road Metrorail station. It's called Link at Douglas. The 7-acre, $600 million project will consist of a public plaza surrounded by 250,000 square feet of office space, 25,000 square feet of retail shopping and 1500 residential apartments. The project will be built in phases over the next five years.
Port Cities, Miami and Others, and Industrial Real Estate
Surging e-commerce activity, increasing investments in seaport infrastructure and the proliferation of post-Panamax vessels are boosting shipping volumes and creating a boon for port cities and industrial real estate. Industrial real estate markets surrounding nine seaports—Charleston, Houston, Long Beach, Los Angeles, New York/New Jersey, the Northwest Seaport Alliance (Seattle-Tacoma), Oakland…
What Makes Miami International Airport Special?
Perhaps it is its location that makes this airport a little different than others. Located in South Florida, over 80 airlines serve the airport with 14 of those being U.S. all-cargo carriers and 21 being foreign-all-cargo carriers. Statistically, Miami International Airport (MIA) has started 2019 where it left off in 2018, with strong domestic cargo tons. For 2018, total cargo tons were up 2.8 percent, with international cargo…
Jolted: Elevator companies face lawsuits over injuries at two Brickell sites
Two recent lawsuits filed in Miami-Dade Circuit Court allege people experienced sudden drops in elevators at Brickell Heights and Brickell City Centre in Miami, causing injuries. Thyssenkrupp was sued over an incident at Brickell Heights East Condominium, at 315 South Biscayne Boulevard. Separately, Otis Elevator and Swire Properties are defendants in a suit that alleges an elevator at Brickell City
Lakefront Miami-Dade Apartments Trade for $23M in Multifamily Boom
With a booming Miami-Dade County multifamily market, it's been rare to see large transactions because owners prefer to keep the rising income stream. Yet Capital Commercial Real Estate Group Inc. broker Randy North and associate and agent Sofia Sagastegui, both based in Davie, closed the $23.3 million sale of the Silver Blue Lake apartment complex west of Interstate 95 at 1401 NW 103rd Street.
Billionaire Michael Dell is buying the 1,000-plus room Boca Raton Resort
Billionaire Michael Dell's MSD Partners is under contract to purchase the waterfront 1,047-room Boca Raton Resort & Club from the Blackstone Group. The deal is expected to close at the end of the second quarter, according to a press release. The 337-acre resort, which was developed in 1926, includes two 18-hole golf courses, a 50,000-square-foot spa, seven swimming pools, 30 tennis courts, a full…
Going private: Fed housing finance chief details plan to end Fannie-Freddie oversight
President Trump has not been shy about his desire to end the federal conservatorship of Fannie Mae and Freddie Mac. Now, he appears to have someone at the helm of the Federal Housing Finance Agency ready to put the plan in action. Newly installed FHFA chief Mark Calabria said he is working to re-privatize the two mortgage giants, which were brought under government control in 2008 following…
Virgin Trains closes $1.75 billion bond issue to fund expansion to Orlando
Virgin Trains USA, formerly Brightline, closed a $1.75 billion private-activity bond issue to fund an expansion of its passenger train service to Orlando. Investment banking firm Morgan Stanley was the underwriter for the bond issue purchased by 67 investors. A state agency, the Florida Development Finance Corp., approved the bond issue April 5. Part of the Virgin Group founded by Richard Branson, Virgin…
Developer finishes 10-story Coral Gables condo with 65% of the units under contract
The Astor Companies completed Merrick Manor, a 10-story building with 227 condominium units, the largest condo developments delivered in Coral Gables in nearly a decade. Astor received a temporary certificate of occupancy for the building at 301 Altara Avenue, a short walk from the outdoor shopping mall Shops at Merrick Park. The temporary certificate of occupancy will allow Astor to close sales…
Climate Experts: Don't Flee Miami, But Do Start Pricing In Risk
"Don't get too depressed," said Billy Grayson, the executive director of the Urban Land Institute's Center for Sustainability and Economic Performance. As Miami has become the poster child for the threat of climate change, residents may fantasize about abandoning the coast and running for the literal hills. "You could say the same thing about New York or Hong Kong or Shenzhen or Boston," Grayson…
Amid rising demand, investors acquire apartment portfolio in Little Havana
A group of investors has acquired a 103-unit apartment portfolio in Miami's Little Havana, with plans to upgrade the properties and flip them amid… The buildings are 676 Southwest Second Street, 529 Southwest Seventh Court, 967 Southwest Fifth Street, 977 Southwest Fifth Street, 1142 Southwest Fourth Street, 1012 Southwest Fourth Street, 1036 Southwest Fifth Street, and 1648 Southwest Seventh Street.
Risky business: Marijuana dispensaries present high risk, high reward for landlords, panelists say
Landlords who rake in rents from medical marijuana dispensaries may put their commercial bank accounts and title insurance at risk, according to cannabis real estate experts. Meanwhile, cannabis retailers are baking early termination clauses into leases in the event municipalities deny permits to open dispensaries. Dan Deitz, manager of real estate acquisitions for GrowHealthy, a Florida medical…
Leonard Abess buys 86 acres of farmland in western Miami-Dade County
Leonard Abess, the former owner of City National Bank of Florida, bought 68 acres in western Miami-Dade County, adding to his massive portfolio of farmland. A company tied to Abess bought the vacant land at Southwest 147th Street for $6 million, records show. Abess purchased the property from a company tied to Xavier Rosales Jr. The property was last purchased in 1990 for $2.1 million, records…
Moshe Popack pays $12M for senior living facility in Miami
A company tied to investor Moshe Popack bought the Grand Court Lakes senior living facility near Miami Gardens for $11.5 million. The New York-based Melohn Group sold the 140-unit facility at 280 Sierra Drive for $82,142 per unit. The building totals 183,828 square feet and sits on 3.4 acres. It was built in 1984. The Melohn Group is managed by Alfons Melohn. The company previously owned an assisted…
How many people visited the Wynwood Walls in March?
When touting Wynwood's popularity, developers and property owners boast that the trendy arts district is Miami's most walked neighborhood. Now, there's quantifiable data to back up those claims, according to one of Wynwood's pioneers. At the Greater Miami Chamber of Commerce's annual real estate summit on Wednesday, Jessica Goldman Srebnick, CEO of Goldman Properties, said close…
ZOM Living buys land, scores financing for Luma at Miami Worldcenter
ZOM Living bought the land and scored a $119 million construction loan to build a 43-story apartment tower at Miami Worldcenter. Records show ZOM bought the property near Northeast First Avenue and Northeast Eighth Street for $19.5 million. The Orlando-based developer secured the loan from the New York-based Moinian Group, records show. The Moinian Group will also be…
Officer and director duties of care and of loyalty
Companies in Florida vary greatly in size and therefore they vary greatly in the number of employees working for them. These companies need people to manage the employees and to do this they hire managers and other officers of the company to ensure everything runs smoothly. These officers can include chief executive officers, chief financial officers, chief operating officers and many others who may…
Banks face increasing competition from capital investors to finance Miami CRE
So much capital investment is flowing into Miami commercial real estate, developers can take advantage of financing options that traditional banks can't compete with — or offer, according to industry leaders. "Debt funds and institutional investors are getting very competitive in a universe where banks would traditionally refinance you," said Matthew J. Allen, COO of the Related Group. "Before we…"
New Opportunity Zones rules are released. Will developer money follow?
The government released its long-awaited and latest set of Opportunity Zone regulations Wednesday, hoping to provide investors who have been on the fence with the clarity needed to begin developing projects in distressed areas nationwide. Real estate developers have become enamored with Opportunity Zones, seeking to raise funds into the billions of dollars. But with…
South Florida's industrial market cooling after prices surged in 2018
South Florida's hottest asset class may finally be cooling down. Vacancy rates increased and rental rates decreased for industrial properties in some parts of South Florida in the first quarter, according to a recent report from Colliers International South Florida. Some experts project that the industrial market is due for a correction after prices have skyrocketed and inventory has soared. While many segments…